MTB index page for all MTB content
Otway Odyssey MTB Marathon - NE
Otway Ranges, Victoria, Australia, February 3, 2007
Spink and Thomas dominate Otway Odyssey MTB Marathon
Exhausted, but elated.
Photo ©: Andrew Connolly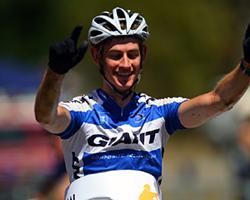 In hot conditions, Murray Spink came from behind to win the Otway Odyssey MTB Marathon in rampaging fashion today. In the women's race, Tory Thomas continued her domination of the Australian XC scene.
After starting in Apollo Bay, the Tiger Lane climb at the 6km point quickly sorted the field out on gradients exceeding 20 percent. A lead bunch of 10 soon formed with all the big names prominent. At the 30km point Sid Taberlay (Tas) and Shaun Lewis (SA) established a break and by the 50km feed zone had built a 1 minute 20 lead over Spink, Daniel McConnell (Vic), and Shaun Lewis (ACT).
The riders then entered the notorious 28km Magellan-Yaugher super loop - a series of sharp, rolling single track. Taberlay soon dropped Lewis (Tas) but Spink was flying. After Taberlay took a wrong turn, losing around two minutes, the leading four regrouped entering the 78km feed zone - Taberlay, Spink, Lewis and Lewis.
Leaving the feed zone, Spink attacked again, this time taking Taberlay with him. Taberlay held Spink's wheel for 10km, but as they reached the bottom of the final 6km climb, Spink went for home and quickly put time into his rival.
National Under 23 Champion Shaun Lewis
Photo ©: Andrew Connolly

Spink crossed the line in 4:59:48, nine minutes ahead of a fast finishing Shaun Lewis (ACT) with Shaun Lewis (SA) out sprinting Taberlay for third. Aiden Lefmann was fourth with Tim Bennett fifth.
Spink put his strong finish down to smart riding early. "I thought Sid and Shaun went too hard early," said Spink. "I knew it would come down to that last section, there was no way they could maintain that pace."
Once Spink had caught the breakaway leaders in the Magellan-Yaugher super loop, he realised that today was his day. "I was just rolling through that single track section - easily keeping up," he said. "Then Sid just blew once we hit the final climb."
Snaking up through the 9km climb
Photo ©: Andrew Connolly

Indeed, Taberlay struggled badly in the last 10km. "I was cramping and had to walk uphill," said Taberlay, who had ridden without a triple, "On the last few climbs I had nothing left."
Pre-race favourite Chris Jongewaard was a late withdrawal after being on the wrong end of a car door on Adelaide's North Terrace last Wednesday.
In the women's race, Australian Champion Tory Thomas broke away from her rivals early in the race and established a large break. By the 50km feed station, Thomas was 2:49 ahead of Caroline Jackson (Vic), and 5:00 ahead of Emma Colson (Vic). Thomas rode strongly through the Magellan-Yaugher super loop, while Colson, who had started slowly, began to reduce Thomas's lead as she passed Jackson who was struggling with mechanical problems.
An exhausted Thomas crossed the line in 6:04:30, with a jubilant Colson second in 6:10:20 and Jodie Willert (Qld) finishing well for third. Jackson finished fourth with Rosemary Barnes (ACT) in fifth place.
Women's winner
Photo ©: Jon Barter

Blanketed in dust, Thomas was barely recognisable at the finish. "I couldn't stay on," Thomas said of her adventure in the Magellan-Yaugher super loop. "I really struggled on that punchy single track. It was awesome, but it didn't end."
Colson started the race slowly, losing early ground on her rivals. "It's one issue I have with my racing," said Colson, who tends to wind up the pace in her races.
"The hardest section was the Yaugher Forrest - those little climbs take it out of you, especially the upper body," she said.
Over 700 riders raced the inaugural 100km Otway Odyssey with 300 riders racing the 50km Otway Shorty. Many of the tracks on the Otway Odyssey were designed by international course designer Glen Jacobs and were raced on today for the first time.
Photography
For a thumbnail gallery of these images, click here
Images by Andrew Connolly
Images by Jon Barter
Women's winner and current national champ Tory Thomas rode most of the first 30km near the front of the men's race.
Results - 100km

Open men
 
1 Murray Spink             4.59.48
2 Shaun Lewis (ACT)           8.34
3 Shaun Lewis (SA)            9.54
4 Sid Taberlay                9.55
5 Aiden lefmann              15.53
6 Tim Bennett                19.25
7 Russell Collett            21.25
8 James Maebus               21.29
9 Daniel McConnell           22.56
10 Brett Anderson            24.35
11 Dennis Van Mill           28.19
12 Lachlan Norris            28.33
13 Ben Mather                31.25
14 Rohin Adams               35.24
15 Mike Blewitt              36.30
16 Mitch Anderson            41.27
17 Ash Thomas                43.30
18 Warren Burgess            43.59
19 Chris Winn                44.33
20 Andrew Bell               50.26
21 Kel Boers                 50.38
22 Nick Both                 51.28
23 Ben Randall               54.07
24 Christopher White         54.45
25 Stephen Van Dyke          57.24
26 Brett Carr                58.55
27 Rob Meharry               59.08
28 Damien Jones              59.09
29 Travis Williams         1.04.12
30 Paul McEntee            1.04.22
31 Adrian Whitworth        1.05.49
32 David Thomas            1.06.59
33 Duncan Murray           1.07.19
34 Jack Lamshed            1.13.22
35 Jason Jackson           1.14.00
36 Andrew Blair            1.14.02
37 Dmitrii Antanovskii     1.14.07
38 Kelly Servinski         1.14.26
39 Simon Wright            1.15.32
40 Justin Wornes           1.15.33
41 Tim Retchford           1.19.54
42 John Claxton            1.21.14
43 Ashley Wass             1.23.25
44 Damien Angus            1.24.39
45 Matthew Jackson         1.26.20
46 Scott Caraher           1.29.22
47 Ashley Hayat            1.30.43
48 Nathan Lorkin           1.32.24
49 Dion Maber              1.33.00
50 Jason Archer            1.34.03
 
Open women
 
1 Tory Thomas              6.04.30
2 Emma Colson                 7.12
3 Jodie Willett              12.53
4 Caroline Jackson           21.37
5 Rosemary Barnes            27.15
6 Zoe King                   33.25
7 Rowena Fry                 38.02
8 Jacqui Hickey              51.56
9 Katrin Van der Spiegel     54.59
10 Alexandra Kiendl        1.03.47
11 Alexandra Harrison      1.06.46
12 Naomi Hanson            1.13.06
13 Christy Harris          1.29.37
14 Erica Gurner            1.34.34
15 Nicole James            1.59.49
16 Lisa Tasa               2.06.42
17 Juliette Begg           2.16.07
18 Britta Weller           2.19.25
19 Jane Ollerenshaw        2.21.39
20 Deanna Blegg            2.23.50
21 Jessica Douglas         2.30.47
22 Michelle Aitken         2.31.33
23 Kate Reeves             2.32.26
24 Turi Berg               2.52.17
25 Kath Copland            2.59.33
26 Karen McPherson         3.16.02
27 Tamara Lazzarin         3.29.29
28 Katie Mitchell          3.34.26
29 Bec Caskey              3.48.40
30 Bree Finlay             4.08.22
31 Liz Mulconry            4.08.23
32 Sarah Hoyal             4.21.45
33 Joanne Eadie            4.41.21
34 Heidi Gratton           4.45.00
35 Claire Stevens          4.48.23
36 Simone Bate             4.54.24
37 Fiona Lewis             4.59.42
38 Justine Gerdsen         5.06.35
39 Kirsty Robb             5.10.42
40 Kimberley Harrop        5.53.52
 
Veteran men
 
1 David Clark              5.56.56
2 James Davies               13.07
3 Jeff Williams              16.48
4 Paul Darvodelsky           24.57
5 Darren Clarke              25.42
6 Brian John                 28.05
7 Craig Flockhart            43.39
8 Tom McCloskey              54.42
9 Michael Hamilton           55.50
10 David McFarlane           59.31
 
Veteran women
 
1 Meg Carrigan             7.56.05
2 Carolyn Jackson            25.34
3 Martine Robin              35.50
4 Jane Kingston            1.14.17
5 Gaye Couchman            1.51.55
6 Annette Cullen           3.33.43
 
Vintage men
 
1 Hans Dielacher           6.03.56
2 Brian Scarbourgh           47.04
3 Neville George             48.47
4 Zack Pavelka               50.07
5 Kerry Ryan                 54.21
6 David Braddick           1.11.55
7 Charlie Bottero          1.30.45
8 Nicholas Brown           1.37.35
9 Peter Pink               1.38.52
10 Doug Whiteford          1.43.08
 
Vintage women
 
1 Jenny Caldwell           9.46.11
2 Ronice Goebel              31.42
3 Jeanette McLaren           32.18