Recently on Cyclingnews.com
MTB index page for all MTB content
Wigwam Ultimax Challenge- NE
Sheboygan, Wisconsin, USA, October 9, 2006
Schouten wins race, Matter wraps WORS series
By Adam Thompson
Cash payouts
Photo ©: Adam Thompson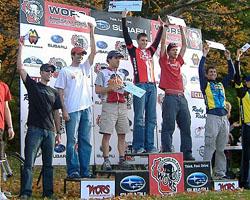 Tristan Schouten of Sheboygan and Doug Swanson of Minnesota were two of the more accomplished off-road cyclists competing in the 13th annual Wigwam Ultimax Mountain Bike Challenge, held at Quarryview Park on Sunday. They were also teammates, racing for Trek Volkswagen. And in the five-lap, 25-mile race of endurance, the two waged a battle at a pace that nobody else on the course could possibly keep up with.
In the end, however, it was Schouten who crossed the line with two fingers raised on each hand, one for each title he has won the last two years. Oddly, considering both were top contenders, Schouten and Swanson started in the third wave of the race. "We had to kill to get to the front," said Schouten. But alas, they got there. And once there, the two never let up.
Swanson led through the first two laps, and it looked good for the Minnesota native, as Schouten suffered cramps during the third lap, which eventually subsided. But then, Swanson missed his water relay, which meant he had to go the full fourth lap without water. At one point, Swanson, 28, of Plymouth, Minn., got stuck in lapped traffic and Schouten, 24, was able to pass Swanson and the other riders, and cruised to the win. Swanson also took second in 2005.
Meanwhile, with his fifth-place finish on Sunday, Brian Matter racing for PCW Hyundai of Sheboygan secured his overall championship in the 12-race Wisconsin Off-Road Series tour. The Sheboygan stop is annually the final race of the series.
Matter, 28, said his start was good, but "felt blah" for the next two laps, and lost ground on the leaders. He got a second wind for the final two laps to finish strong, 1:57:16. Another local rider, Tim Drankus, 30, of Sheboygan, finished 10th in 2:02.
"I was still riding fast, partly because I know the course so well," said Matter. "But when it came to the power sections, I was lagging. I came around in laps 4 and 5, but in a race this fast, that's not going to cut it." Matter was very happy with the overall result, however. He joined Schouten and Mike Spiro as Sheboygan-based two-time champs. "I'm happy. The competition in the WORS series is so hard, especially with the guys from Minnesota," said Matter. "To win the overall series, to race 12 races and be the most consistent, I'm pretty happy."
Sara Kylander-Johnson, 34, of Duluth, Minn., crushed the competition in the Elite women's division, earning her second straight Sheboygan victory. She finished the four-lap course in 1:49:52, nearly six minutes better than second-place Abigail Strigel, 23, of Milwaukee.
Photography
For a thumbnail gallery of these images, click here
Images by Adam Thompson
Results - 54 km
Elite men
 
1 Tristan Schouten (Trek/VW)                             1.52.51
2 Doug Swanson (Trek / VW)                                  0.43
3 Jeff Hall (Salsa Cycles)                                  2.12
4 Chris Peariso (Titus / Bike Hub)                          4.20
5 Brian Matter (PCW Cycling / Hyundai)                      4.26
6 Mike Phillips (Alterra Coffee MTB Team)                   5.30
7 Chad Sova (pcwcycling.org)                                6.59
8 Jesrin Gaier (RIVERBROOK)                                 8.09
9 Marko Lalonde (Bareknuckle Brigade)                       8.38
10 Tim Drankus (PCW Cycling/Hyundai)                        9.09
11 Nathan Guerra (Brookstone Homes)                        10.00
12 Jerry Long (Chainsmokers)                               10.41
13 Dallas Fowler (Stadium Bike)                            11.17
14 Thomas Bender (Team Wisconsin)                          11.34
15 Ronald Stawicki                                         11.36
16 Scott Kylander-Johnso (The Ski Hut)                     11.41
17 Sam Wellskopf (Team Pedal Moraine)                      12.39
18 Ted Hanes (Fond du Lac Cyclery)                         12.43
19 Michael Spiro (PCW)                                     12.49
20 Seth Lenss (Unattached)                                 13.41
21 Ryan Baumann (Stadium Bike)                             13.46
22 Tim Pacholski (Speedzone)                               14.14
23 Michael C Anderson                                      14.41
24 Matthew Racine                                          14.48
25 Ryan Krayer (Moosejaw)                                  15.09
26 Neil Swanson (Michael's Cycles)                         15.11
27 Chad Melis (Redstone/Oskar Blues)                       16.15
28 Ray Nelson (Skinnys Racing)                             16.29
29 MacIej Nowak (Polska Mastelock FDL Cyclery)             16.45
30 John Gatto (D'Arcy/SRAM Cycling Team)                   17.14
31 Carlos Haeckel (Alterra Coffee Team)                    17.15
32 Chris Strout (The Pony Shop)                            18.19
33 Jeremey Rodriguez (Team Wisconsin)                      19.20
34 Bob Weintz (RRB Club Skinnys)                           19.22
35 Josh Barrett (Skinny's Fat Tire Race Team)              19.37
36 Brian Schwaller (Fat Tires N Beer)                      20.30
37 Bill Nigh (Team Pedal Moraine)                          20.53
38 Eric Peterson (Wheel & Sprocket)                        21.21
39 Mitch Gantz (Bellin Health)                             21.41
40 Jan Rybar                                               21.42
41 A J Ettmayer, Jr (Team Pedal Moraine)                   22.48
42 Jerry Daanen (Hayes Sun Ringle)                         25.03
43 John Timm (Trek/Extreme Ski and Bike)                   26.07
44 Phil Ott (Michaels Cycles Racing)                       26.42
45 Andrew Hanson (Michaels Cycles)                         26.42
46 Douglas Pietz (Polska Masterlock FDL Cyclery)           27.29
47 Jerrod Collier (Muddy Cup)                              27.56
48 Butch Welke (Skinnys Racing)                            28.59
49 Cory Gwin (Michaels Cycles)                             30.18
50 Eric Lau                                                31.13
51 Bill Street (Fattires-N-Beer.Com)                       32.18
52 Mark Walter (Muddy Cup Racing)                          36.08
DNF M Tim Bates                                                 
DNF M Cole House (Slingshot)                                    
DNF M Jesse Lalonde (Gary Fisher/ BKB)                          
DNF M Jeff Melcher (Pedal Moraine)                              
 
Elite women
 
1 Sara Kylander-Johnson (Trek/VW/JBL)                     1.49.52
2 Abigail Strigel (Polska Masterlock FDl Cyclery)           5.26
3 Christina Betz (Michael's Cycles)                         7.33
4 Holly Liske (Hayes Disc Brakes)                           9.57
5 Lori Sable (Team Wisconsin)                              12.13
6 Sarah Hansing                                            15.00
7 Samantha Schneider (Hayes Brake)                         15.28
8 Katie Ross                                               15.55
9 Katja Maertens-Wilsin (Polska Masterlock FDl Cyclery)    19.36
10 April Dombrowski (Wheel & Sprocket)                     19.41
11 Patti Kaufmann                                          20.36
12 Michelle Peariso (The Bike Hub)                         22.14
13 Cathy Swanson (Michaels Cycles)                         22.45
14 Gabriela Baranova (Skinny'e Racing)                     27.50
15 Sarah Lukas (SpeedZone)                                 30.09