MTB index page for all MTB content
Australian MTB Series Round 2 XC - NE
Hobart, Tasmania, November 25, 2006
Results Photography Next event
Taberlay and Thomas back on top
Taberlay doing
Photo ©: Mikkeli Godfree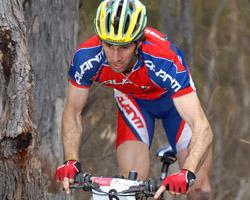 Sid Taberlay (Avanti-SRAM-Rock Shox-Truvativ) has made a return to the top spot after an average start to the national series in Yellowmundee. Not surprisingly, Taberlay put his dominating performance in Hobart down to 'training' something he hadn't indulged in before the first round of the national series.
Taberlay absolutely obliterated his competition in his hometown of Hobart today after a blistering start from Dylan Cooper (Ritchey-Conceptis) set the tone of the day. While Cooper, who was second in the first round of the national series, would drift off out the top five, the winner of round one, Aiden Lefmann (Cannondale-Maxxis) stepped up into second and held off a ferocious charge by Jongewaard (Avanti-Rock Shox), Shaun Lewis (Scott) and Lachlan 'Movember' Norris (Cannondale-Maxxis) to cement his lead in the national series.
Tory Thomas
Photo ©: Mikkeli Godfree
Meanwhile Tory Thomas (Orbea) took her first victory of the season in the Elite Women category after being beaten in a sprint at the opening race in Yellowmundee. Attacks by two English-sounding but technically Aussie riders Caroline Jackson and Kate Potter ensured the race went down to the wire.
The battle Saturday's race endured represents an increase in the competitiveness of the women's MTB racing in Australia largely contributed to by the Dirt Road to London program, which aims to get women's racing in tip-top shape for the 2012 Olympics. "Women's racing has taken a huge leap. It's actually racing now, not just a handful of people riding around," said Thomas. "For selfish reasons I wish they weren't here as they make it hard! But, they are benefiting the sport in a huge way. We all have to lift, there's no such thing as an 'easy win' in women's mountain biking any more."
As it happened
Elite Men
Shaun Lewis showed off his new-found confidence to charge off the start line into the start loop, but it was Dylan Cooper who wanted to make amends for his second place in the Yellowmundee who came out of the woods in front. Whether it was bitterness from round 1 or the determination that has taken him to national series wins before, Cooper went out very hard while Sid Taberlay and Chris Jongewaard fought they way up from positions further back on the grid.
Dylan Cooper
Photo ©: Mikkeli Godfree

As the first of six laps came to a close Cooper still clung to the lead with Taberlay up into second and Jongewaard in third. On the next climb Taberlay picked off his only obstacle, Cooper and looked ahead to a clear track. From there, it was curtains for anyone who even dreamed of winning this Hobart round of the national series as Taberlay took hold of the race with two powerful hands and a decent set of legs. In a matter of minutes the race turned into one for second place while the clearly motivated Taswegian set about tearing the course into little bits, setting the fastest lap of the day by a long shot.
Emerging from the dust behind was a flailing Cooper, his nemesis from round one Lefmann hot on his heels. Back in third Jongewaard was biding his time while fourth and fifth were occupied by Matt Flemming (Trek) and a fast-looking Lewis respectively.
As the race hit the half-way mark Taberlay went from strength to strength putting in a blistering set of laps while Cooper started to really struggle. Lefmann smelled the blood in the water and pounced, leaping over Cooper. Behind, Lewis was on the charge with Norris while Jongewaard was having a mid-race lull.
As the race entered its penultimate lap, Taberlay was seriously gone, amassing a 3 minute lead. It was a mere formality, a cat playing with some tired mice as Taberlay went through the motions of his last few laps.
However, while Taberlay had flown the coup, the race for second was an absolute nail biter with Lefmann still in the cross-hairs of Jongewaard who had come out of nowhere to hold down third. Meanwhile, Lewis was hot on the heels of Jongewaard while Norris was just keeping in contact, not suffering under the weight of his moustache.
Jongewaard
Photo ©: Mikkeli Godfree

The late charge was hurting Jongewaard and the technical sections on the climb had him unclipping with Lewis and Norris ready to pounce. Jongewaard was almost delirious in the closing stages grunting and moaning, saying that he felt like he was being beaten with a stick from the inside by a small child…hmmmnn, definitely pushing the boundaries.
The last lap had Taberlay smiling and doing wheelies for the cameras at the bottom of the long climb as if it was a dress rehearsal for the finish. Behind, youngsters Norris and Lewis couldn't take advantage of the tiring Jongewaard but Norris went about securing fourth.
At the finish it was a daisy fresh Taberlay who took the win by three minutes over a pleased Aiden Lefmann. Jongewaard somehow managed to hold down third. Lefmann's teammate Norris came through as first U23 to take a fantastic fourth. The Canberra crew took fifth and sixth with Lewis finishing just ahead of the early leader Cooper.
After the finish, Taberlay said of the race, "I was struggling a bit following on the first lap because of the dust so I just wanted to get out in front and ride my own pace. I'm pretty happy, it's always good for the confidence. This course suited me a bit better than Yellowmundee, especially with a bit more training under the belt."
"Today I went for some pretty narrow tyres, I knew the race had to be won on the climbs so I sacrificed a bit of downhill speed - it was a bit sketchy but it paid off."
"My main focus is overseas which will lead to Beijing Olympics but this is the biggest thing going on in Australia at the moment. It's good to know that I'm climbing well and I'll look forward to Thredbo."
Keeping the series lead, Aiden Lefmann said, "The plan today was to keep the series lead and to prove I'm not a one race wonder! I rode the race I dreamed of racing, it turned out just the way I wanted it to. It is an honour to finish behind someone like Sid [Taberlay]. I was worried with Chris Jongewaard and Shaun Lewis behind me, I couldn't relax. I've got a busy couple of weeks at work but I'll try to hold onto this number one plate."
Elite Women
Thomas led out of the blocks…
Photo ©: Mikkeli Godfree

Tory Thomas lead from gun, tearing away from the 20 starters in elite. However after the first small loop it was Caroline Jackson who led the charge back through the finish area to head out on the second, longer loop. Thomas was still in hot pursuit and seemed in control, well aware that Jackson likes to start fast. Round one winner Zoe King was in snapping at their heels but looked stretched on the more technical course.
As they hit the large climb the field splintered and Jackson had put twenty seconds into Thomas. Jenny King was a further thirty seconds back with Zoe King chasing in fourth. Kate Potter was keeping a close eye on proceedings in fifth. Potter has been living in France recently and doing some big endurance races (like the Trans-alp Challenge) so coming to sleepy Glenorchy for a short-format XC race was a different thing indeed.
Henderson showing her style.
Photo ©: Mikkeli Godfree

As the women hit the half way mark the race was taking shape. Thomas had clawed her way back onto the wheel of Jackson, the latter looking tired and the former looking like a female terminator in lycra. Meanwhile, the story of the day was Rebecca Henderson. The fifteen year-old was not only leading the U23 category but also had the measure of many Elite Women riders as she held down a top ten position.
In the second half of the race, the cracks started to show and Jackson dropped off the pace. It was then a race of two women, Thomas and Potter - the latter panting her way up to the wheel of the steely-eyed Thomas.
Kate Potter scared Thomas
Photo ©: Mikkeli Godfree

A showdown on the final laps was brought to an end as Thomas put in a hard final climb to put herself a handful of seconds clear of Potter. All eyes were glued to the top of the mountain cross course where two helmets finally flicked through the trees, separated by just thirty metres, as they tore down into the last few corners before the uphill sprint to the line.
Despite having a clear advantage over Potter, Thomas gave her all to the finish line to take a safe five second victory.
Thomas was clearly relieved and continues her amazing fairytale comeback to racing after her potentially career-ending crash a few years ago. Having just taken the national marathon championship title, Thomas showed that her training is spot on as she has adapted to the shorter format. "The course was really challenging, you could lose time anywhere," explained Thomas following her win. "It was everything a mountain bike race should be. It was challenging on the climbs but I was also laughing on the descents because it was really fun."
"Caroline [Jackson] started out strong as she usually does, which was good as I don't like being out in front early on," added Thomas. "I didn't want a sprint again today. Losing in a sprint at Yellowmundee has been hanging over me so this time I started my sprint half way through the last lap."
"That last lap was a little bit scary, I was trying to make myself as wide as possible on that singletrack up the top so I couldn't be passed! Kate [Potter] was buzzing my wheel the whole way. I was cramping a lot because I've had a few screws taken out of me not so long ago."
Photography
For a thumbnail gallery of these images, click here
Images by Mikkeli Godfree/Cyclingnews.com
Images by Evan Jeffery/www.evanjeffery.com.au
Results

Elite Men
 
1 Sidney Taberlay           1.49.25
2 Aiden Lefmann                2.46
3 Chris Jongewaard             3.36
4 Lachlan Norris               4.02
5 Shaun Lewis                  4.13
6 Dylan Cooper                 4.15
7 Perren Delacour              5.44
8 Matthew Fleming              6.08
9 Chris Winn                   6.52
10 Ben Mather                  8.31
11 Phillip Orr                 8.44
12 Andrew Blair                9.49
13 Adrian Jackson              9.54
14 James Maebus               10.56
15 Cal Britten                11.19
16 Adam Freeman               14.49
17 Ben Henderson              16.06
18 Daniel Mackay              18.00
19 Andrew Burford             18.15
20 Benjamin Grieve-Johnson    18.47
21 Daniel Johnston            24.23
 
1 lap down
22 Scott Liston             1.45.02
 
2 laps down
23 Nick Both                1.31.10
 
4 laps down
24 Tim Retchford              54.17
25 Daniel Braunsteins         54.18
 
DNF Warren Burgess                 
DNF Shane Paton                    
 
Elite Women
 
1 Tory Thomas               1.30.01
2 Kate Potter                  0.05
3 Caroline Jackson             1.19
4 Renee Fortunato              1.51
5 Zoe King                     2.18
6 Naomi Williams               2.51
7 Rowena Fry                   3.15
8 Rebecca Henderson            3.43
9 Emma Colson                  3.50
10 Imojen Pearce               6.31
11 Niki Fisher                 6.51
12 Jill Burston                9.36
13 Therese Rhodes             10.16
14 Julie Blake                11.56
15 Rachel Rademaker           13.12
16 Katherine O'Shea           14.00
17 Maria Papadopulos          18.03
DNF Kelly Linaker                  
DNF Jenni King                     
DNF Lindsay Gorrell                
 
Expert Men
 
1 Troy Glennan              1.43.31
2 Paul Traynor                 4.19
3 Stuart Keep                  5.40
4 Camm Winn                    7.44
5 Simon Fielding              13.10
6 Jeremy Hills                17.49
7 Alister Wyatt               22.49
8 Bevan Spaull                28.56
 
1 lap down
9 Brad Cox                  1.49.39
 
Under 19 Men
 
1 Paul Van der Ploeg        1.18.00
2 Robbie Hucker                4.35
3 Scott Chancellor             5.34
4 Luke Knox                    7.08
5 Daniel Hallam                8.28
6 Peter Braunsteins            9.51
7 David Robertson             11.30
8 David Johnston              13.50
9 Doug Hagger                 16.02
10 James Mowatt               19.19
DNF Nathan Haas                    
 
Veteran Women
 
1 Eleanor Patterson         1.12.25
2 Cathy Edwards                5.51
3 Jane Guiver                 16.44
 
Sport Women
 
1 Kathryn Skitt               55.13
2 Melanie Wainwright           1.34
3 Nadine Logan                 2.57
4 Dinna Dickenson              3.19
5 Sarah OCallaghan            17.02
6 Alison Mackay               23.44
 
Super Masters Men
 
1 Kevin Jones                 51.27
2 Craig Saunders               6.41
3 Martin Breheny              20.52
4 Russell Baker               22.22
 
Masters Men
 
1 David Olle                1.11.02
2 Nic Deka                     2.11
3 John Henderson               4.07
4 Glenn Hyland                 6.12
5 Mark Cashion                 6.32
6 Craig Chivers                8.03
7 Phil Kleywegt               10.23
8 John Whittington            13.13
 
Veteran Men
 
1 Mark Fenner               1.22.59
2 Dean Megahey                 1.29
3 Philip Madsen                6.03
4 Dion Shaw                    6.55
5 Richard Wilkinson            7.53
6 John DeVries                10.47
7 Lachlan Wainright           11.32
8 Justin Walls                16.31
9 Eoin Ryan                   17.21
10 Patrick Badger             20.00
11 Duncan McGlashan           21.40
12 Matthew Hunnibell          22.08
13 Andrew Ling                22.26
14 Damon Willmore             23.07
15 Clinton Turner             24.08
 
1 lap down
16 Seiichi Saeki            1.34.53
 
Under 17 Men
 
1 Michael Baker             1.08.53
2 Liam Melville                0.06
3 Stephen Pitt                 2.40
4 Oscar Phillips              17.29
5 Luis Hird                   57.02
 
Under 15 Men
 
1 Timothy McMillan            27.35
2 Brendan Pitt                 4.46
 
Sport Men
 
1 Brendan Rowe                43.39
2 Sam Robertson                1.10
3 Darren Smith                 1.17
4 David Marriott               3.02
5 Nick Morgan                  3.50
6 David Jolly                  4.03
7 Stephen Rolls                8.10
8 Christopher Crocker         13.28
9 Iain Davidson               14.47