MTB index page for all MTB content
Australian MTB Series Round 2 DHI - NE
Hobart, Tasmania, November 26, 2006
Results Photography Previous event
Cavalier takes the number one plate
Photo ©: Mikkeli Godfree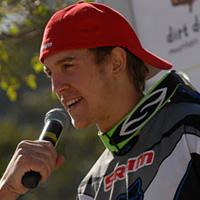 Youngsters dominate down hill meet
Despite talk of overnight snow falling atop of Mount Wellington, which towers above the Glenorchy course, the sun came out to shine on the day's winners - Amiel Cavalier (Giant) who claimed the Elite Men's category while Tracey Hannah (Edge cycles) was the victor in the Elite Women. Meanwhile, an impressive ride from Joel Bane claimed the youngster the Junior Men's victory with a time that would have earned him eighth spot in the elite class.
Despite the absence of the big hitters of Australian down hill, Cavalier was still very happy with his three and a half second win over Rick Boyer (Orange-Royal-Smith-Sram-RockShox). The victory further confirmed Amiel's position at the top the category, despite this being his first full season as a senior.
Tracey Hannah (Edge Cycles) was similarly pleased with her crushing forty-second win over the Claire Whiteman (Kona-Mt Buller). Hannah dominated the course, showing all the class of the junior world champion title she recently claimed in Rotorua.
As it happened
The irrepressible Amiel Cavalier takes the win.
Photo ©: Mikkeli Godfree
Elite Men
Amiel Cavalier is an extremely fast rider and if we didn't know it before today, it was rubbed in our noses. Cavalier tore out of the blocks in qualifying to post a super-quick time some four seconds ahead of next fastest qualifier Rick Boyer. The rest of qualifying went pretty much to script with none of the players missing out on the cut.
Finals were delayed after a rider's bike went off the track clipping a young spectator. The rider ended up the worst off requiring his gear to be cut from his body before being stretched away. The rider reportedly broke his collarbone while the spectator was unharmed.
Rick Boyer fast and low.
Photo ©: Mikkeli Godfree

With the course getting pretty chewed up, Adam Smithson (GT) made the most of the conditions to take the early hot-seat. From there Smithson just watched as first danger-men Ben Cory and Dave West (Giant-Rudy Project-SCU-Maxxis) who were both close but couldn't top Smithson's time.
However, with Cavalier and Boyer's qualifying times being faster than Smithson's hot-seat time, all eyes were up the hill. The final two didn't disappoint with Boyer putting down a quick time while Amiel opted to ride slightly more conservatively than his qualifying run on the deteriorating course.
Smithson was happy with third, despite it being equal to his result in opening round in Lithgow. The Lithgow race was shrouded in controversy as the final run never took place and results were taken from qualifying, which doesn't necessarily mean that the fastest rider was given the win. "This third feels 'earned' and it is good to finally prove that I can go this fast in a final," explained Smithson.
Rick Boyer happy with second.
Photo ©: Mikkeli Godfree

Having competed in the previous night's mountain cross, Boyer was pleased with the second place. "It was a big ask to beat Amiel. I had a good qualifier and just kept that going into the final. It worked out really well for me," he explained. "Racing the mountain cross last night took it out of me and Amiel a little bit but it didn't really detract from our down hill. It meant that we were a bit too tired to properly race mountain cross after training on the down hill the whole day...but I'm happy with today."
Cavalier, the '05 junior down hill champion, was pleased to take the victory having also competed in the previous night's mountain cross. "I went a little slower in my race run because the course was getting really chopped up," said Cavalier. "I knew the race would be won by just staying on the bike and riding pretty conservatively. My qualifying time was fast so I knew I could back off a bit in some places. I'm happy - I rode a smart race."
Of winning a National Series absent the 'big guns' Cavalier said; "I'd love to race the hardest race that I could, I'd love it if those guys were racing. But, I understand that they need an off-season. This is really just a transition year for me so I'm just teaching myself how to race smart - conservative but fast."
Tracey Hannah on her way to winning
Photo ©: Mikkeli Godfree

Elite Women
The Elite Women's category saw some new and fast faces with mountain cross and BMX specialist Caroline Buchanan (KHS) stepping up for her second downhill event. However, with Tracey Hannah pinning on a number, second was the only thing up for grabs.
Hannah aced the course hitting all the A-lines except for the road gap, which saw her hit the ground in Saturday's practice. "I'd been clearing it but I stacked after I landed one time and it hurt really badly," said Hannah.
Despite taking a high-profile victory at the world championships in Rotorua Hannah was still pumped by her win on home soil. "It's still sick to win any race," said Hannah. "I like setting and achieving goals. It's a lot more relaxing here though. I think racing my first World Championships was the most nervous I will ever be so it makes it easier to deal with nerves at other races."
Joel Bain yet again taking the unorthodox line
Photo ©: Mikkeli Godfree

U19 Men
The U19 category is a hotly contested one and with riders like current world champion Sam Hill and Amiel Cavalier dominating the junior ranks not so long ago, all eyes are watching when the U19 men hit the course.
With a few juniors slipping up into the Elite Men category, a changing of the guard is taking place and Joel Bain is doing his best to make the top spot his. Bain qualified second fastest behind Josh Button-Janco but broke loose in the final to chop five seconds off his qualifying time and win by four seconds from fourth place qualifier William Rischbieth. The ever-impressive James Maltman finished third while Button-Janco settled for fourth.
Photography
For a thumbnail gallery of these images, click here
Images by Mikkeli Godfree/Cyclingnews.com
Images by Evan Jeffery/www.evanjeffery.com.au
Results

Elite Men
 
1 Amiel Cavalier          3.07.38
2 Rick Boyer                 3.57
3 Adam Smithson              5.27
4 Dave West                  5.33
5 Ben Cory                   6.06
6 Michael Kearton            6.10
7 Dennis Beare               6.80
8 Shane Wode                10.56
9 Brad Kelly                11.72
10 Timothy Eaton            08.17
11 Steve Marsh              10.06
12 Craig Yates              12.29
13 Ryan Lennox              08.08
14 Deon Baker               12.71
15 Jarl Jensen              12.77
16 Gareth Paton             12.87
17 Ben Shingler             13.33
18 James Bashford           14.78
19 Simon French             14.06
20 Ayden Eves               15.26
21 Stuart French            15.36
22 Evan Winton              19.03
23 Chris Whitelock          19.67
24 Dean Robson              21.26
25 Adam Dossetor            05.91
26 Ricky Lee                12.71
27 Harry Armstrong          22.76
28 Robert Potter            19.16
29 Miles Mead               18.98
30 Christopher Panozzo      23.19
31 James French             25.27
32 Ben Watkins              27.42
33 Lindsay Klein            27.48
34 Josh McDonald            28.02
35 Oliver Kristevic         28.09
36 Mitch Afflick            28.46
37 John Farrow              28.77
38 Shane Gayton             29.93
39 Kaine Cannan             30.42
40 Geoff Grennan            30.99
41 Derek Ragless            31.09
42 Trevwah Burke            31.34
43 Scott Graham             32.16
44 Brendan Wood             32.25
45 Jason Mennitz            32.93
46 Julian Struthers         33.14
47 Joshua Lansdown          33.33
48 James McMillan           34.32
49 Christopher Perger       35.19
50 Tim McCullough           37.42
51 Ben Osborne              38.05
52 Josh Boyd                38.89
53 Thomas Cranston          40.54
54 Ben Morrison             40.90
55 Joe Mullan               41.89
56 Ben Goff                      
57 Mark Lennerth            43.17
58 Tom Kerney               48.37
59 Matthew Patten           49.97
60 Dean Davies              50.57
61 Steven Scoots            55.15
62 Alex Swann             1.16.78
63 Rhys Atkinson          1.20.23
64 Lincoln Verass         1.36.22
65 Aaron Bashford         5.40.88
DNF Kye Hore                     
DNF Wyn Masters                  
DNS Ben Tregoweth                
DNS Miikael Kinnunen             
DNS Will Tatchell                
DNS Scott Zecchin                
DNS Timothy Nielsen              
DNS Antony Kostiuk               
DNS Christopher Herron           
 
Under 19 Men
 
1 Joel Bain               3.14.75
2 William Rischbieth         4.23
3 James Maltman              4.92
4 Joshua Button-Janco        3.66
5 Tom Patton                12.26
6 Toby Breheny              13.27
7 Oscar Buckle              16.06
8 Matthew Vincent           14.12
9 Chris Coombe              10.70
10 Darcy Murrell            17.89
11 Elliot Smith             24.97
12 Jack Bellotti            44.25
13 Jamie Dunlop             45.93
14 Patrick Young            48.60
15 Cameron Allonby          57.12
16 Josh Clark             1.07.27
17 Mitchell McKinlay      1.25.47
18 Jonathon Rigby         1.30.46
19 Robert Mann            2.02.07
20 Joshua Cook            2.02.87
21 William Bailey         3.17.81
22 Rowan Saunders         4.32.53
23 George French         32.05.16
DNF Fergus Milne                 
DNS Tom Powell                   
DNS Dale Grixti                  
DNS David Gnany                  
DNS Nicholas McElwee             
 
Elite Women
 
1 Tracey Hannah           3.50.66
2 Claire Whiteman           29.53
3 Julia Martin              45.91
4 Caroline Buchanan       1.01.78
5 Edwina Huges            1.07.48
DNF Kristina Shiel               
DNS Sarsha Huntington            
DNS Jayne Randall                
 
Sport Women
 
1 Leigh Douglas           4.50.66
2 Rosemary Barnes         2.18.23
3 Anya Lagutina           2.51.12
4 Emma Ringer             7.32.40
DNS Emma Lewis                   
 
Super Masters Men
 
1 Stephen Coles           5.15.94
2 Martin Griffith         1.27.67
 
Masters Men
 
1 David Badman            4.20.94
2 Geoff Lovie                7.92
3 Daniel Pradal             14.03
4 Mark Cranston             27.77
5 Pat Pavlich               28.27
6 Glynn Hicks               42.57
7 Darryl Ashlin           1.15.26
 
Veteran Men
 
1 Karl Peel               3.29.69
2 Shane Pearse              21.25
3 Jason Archer              21.62
4 Juan Roncallo             25.49
5 Daniel Segeri             35.64
6 Gavin Finlay              38.42
7 Michael Stratton          43.89
8 Marc Ellis                55.17
9 Peter Symons            1.08.90
10 Andrew Smith           1.09.67
11 Leighton Burr          1.24.65
12 Scott Watkins          1.29.11
13 Jason Stalker          1.34.46
14 Justin Armstrong       2.16.16
15 Joshua Lester          2.30.82
16 Ben Strugnell          2.40.51
17 Tony Rutter            2.45.14
DNS Drew Hamilton                
DNS Tyron McLean                 
DNS Paul Kennerdy                
 
Expert Men
 
1 Dylan Wolsky            3.38.57
2 Callen Noble               3.29
3 Chris Barlin               6.21
4 Ben Randall               14.53
5 Nathan Chilcott           18.78
6 Harley Struthers          21.15
7 Jason Miller              23.56
8 Mikhail Chai              24.20
9 Leighton Smith            30.96
10 David Leach              35.62
11 Randal Huntington        39.18
12 Kenneth Cheung           44.50
13 Benjamin Rohloff         47.01
14 Nicholas Bailly          50.61
15 Benjamin Ayling          58.07
16 Steven Mathews         1.00.26
17 Damien Milhuisen       1.01.67
18 Rick Franzolini        1.05.62
19 Darren Sherman         2.00.96
DNF Tom Lewis                    
DNF David Andrews                
DNS Dave Mullins                 
DNS Andrew Fellows               
DNS Leon Wood                    
DNS Armando Florez Cabarcas      
 
Under 17 Men
 
1 William Gower           3.26.69
2 Rhys Willemse              0.04
3 Tamryn Murrell             4.67
4 Laurie Dinham             11.37
5 Blake Neilsen             29.04
6 Tom Rowe                  29.51
7 Alex Winten               32.64
8 Aaron Oates               37.72
9 Anthony Jones             39.85
10 Shaun O'Connor           45.14
11 Ryan Hunt                54.21
12 Oscar Lapstun          1.06.28
13 Lochlan Saunders       1.13.67
14 Kieran Duerinckx       3.16.98
15 Daniel Lavis           4.16.74
DNS Lewis Winton                 
DNS Liam Melville                
DNS Patrick Tully                
 
Under 15 Men
 
1 Troy Brosnan            3.57.69
2 Bradley Bellotti          12.97
3 Riley Wilson            5.22.07
 
Hardtail
 
1 Jeremy Webb             4.28.43
2 Joshua Lycett             16.92
3 Matthew Dooley            25.48
4 Tom Helleman            1.13.07
5 Gabor Winkler                  
6 Ben Maynard-Sprague            
7 Ben Sansom                     
 
Sport Men
 
1 Chris Lombardo          4.14.24
2 Peter Karas               11.45
3 Matthew Le Cornu        1.33.68
4 Anthony McLean          3.01.04
5 Michael Mills           3.54.79
6 Alex Lane                      
7 Dean Edsall