MTB index page for all MTB content
Australian National MTB Championships - CN
Mt Beauty, Australia, January 14-15, 2006
2005 results Schedule Preview Past winners
Schedule
Mountain Bike National's plus a Games spot
By Sharon Payne
Five National mountain bike champions
Photo ©: Shane Goss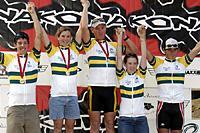 Like Kathy Watt, who at the age of 41 took out the National Road Time Trial yesterday and booked herself another Commonwealth Games spot, Emma Colson could also be heading for a ride with the Australian team in March. At 37 the determined Colson plans to defend her National Mountain Bike title at Mt Beauty this weekend. The current National Champion from Fitzroy in Melbourne is riding to hold onto her green and gold jersey plus the chance for a spot on the team of three women Australia could select for the Melbourne Commonwealth Games Cross Country race on the 23rd of March.
Over 300 cross country riders will head to Mt Beauty in the Victorian Alpine region to compete in the Hendry Cycles Cross Country National Championships. The elite men's and women's events will also be the final selection race for riders wanting to make the Commonwealth Games team.
Current National Champion, Emma Colson, has her sights set on a second National title. "Backing up and winning two National's even if there wasn't any Commonwealth Games selection, would be very important," she stated.
Colson plans to disprove any doubts as to her worthiness in winning last year's event. "Last year Lisa (Mathison) was out of the question. There's probably that feeling that I got lucky."
Colson is not leaving anything to luck this time and has been preparing herself by riding the race course over the Christmas and New Year's break. "It's a real mountain biker's course," she stated. "By winning on this course it means I am number one."
"I love the course, it's an absolute pleasure to race on," she said after training on it since Monday of this week.
In one of the best women's fields ever to assemble at a national title, Colson knows she can not discount many of Australia's top riders, several of whom come from Melbourne. "Dellys Starr (nee Franke) is one to watch. She's been racing Xterra in the States (United). At Lysterfield she was just off a plane," said Colson. Winner of the first selection race on the Commonwealth Games course at Lysterfield last month, Claire Baxter from Hawthorn, will line up alongside Jenni King from Box Hill. Athens Olympian, Lisa Mathison, will also return to the Cross Country National's for the first time since winning in 2004 after which she subsequently rested with a chronic bout of fatigue.
In the men's race, the current National Champion, Chris Jongewaard from Adelaide is also keen to become a dual National Champion.
Jongewaard is not so positive about the course. "I've had nothing but shocking races at Mt Beauty," he said. "When I first raced there, I got 5th, then next time it was muddy and I had a big crash and it felt like I was riding backwards."
By winning the first selection race by a comfortable margin, Jongewaard knows how good his form is. One of his main rivals is Athens Olympian, Sid Taberlay from Tasmania. "I think I proved I can beat him on a good day," said Jongewaard. At Lysterfield, Jongewaard also beat the rider who took his spot on the Athens Olympic team after a tribunal appeal. Sydney's Josh Fleming replaced Jongewaard, however this time around Jongewaard has left no doubt that he should be on the Games team after winning two of the three National Series so far this season.
Jongewaard also predicted another Adelaide rider, Shaun Lewis could be a top finisher. The 19 year old finished second in last year's National's at Eildon in Victoria. "Shaun Lewis could make the podium. He's had some good form recently," said Jongewaard. However, he did not discount another young rider, Daniel McConnell from Bruthen in Victoria. "Daniel Is the hot pick," he said. The 20 year old rider will line up alongside experienced Dylan Cooper from Canberra, Alistair Farley and Perren Delacour from Heathcote in Sydney. The hilly terrain is predicted to suit all round riders like Delacour.
Jongewaard will not race the inaugural National title for Short Course Track Country on Sunday afternoon. Instead he will travel back to South Australia to prepare for the Jacob's Creek Tour Down Under which starts on Tuesday. The Short Track titles will go to the men, women and junior winners of a tight criterium style race.
Officials will inspect the course on Thursday to decide if the women will ride the expected 4 laps and the men, 6 laps.
Past winners
Coming!
 
Past winners by Mario Stiehl, www.world-of-cycling.com