MTB index page for all MTB content
World 24-hour solo championships - NE
Whistler, Canada, September 3-4, 2005
Eatough makes it six
A long working shift.
Photo ©: Vic and Kathy Armijo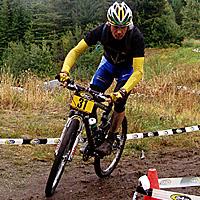 Chris Eatough (Trek/VW) rode to his sixth consecutive 24 Hours of Adrenalin World Championship this weekend in Whistler, British Columbia. After a full twenty-four hours of cold and rain, Eatough finished at 12:08 Sunday having completed twenty-two laps of the 14.3 kilometer loop for 314 total kilometers. He finished twenty-seven minutes ahead of Ernesto Marenchin of Kent, Washington.
Canadian adventure racer Marg Fedyna won the women's race ahead of 2005 NORBA Marathon Series Champion and NORBA 24-Hours Solo Champion Monique Sawicki (TeamMATA - Warrior's Society). Sawicki was racing in her second-ever 24-hour solo race.
Adrenalin-series promoters provided a world-class challenge for the field this past weekend. Held on the slopes above Whistler Ski Resort, 115 kilometers north of Vancouver, British Columbia, solo competitors rode a modified version of the team's competition course. The modification brought the per-lap climbing to 460 meters compared to the 13.1 kilometers, 380 meters standard lap.
A constant misty drizzle fell at noon on Saturday as Solo competitors were sent off five minutes ahead of the team's field. In a sign of the day to come, Chris Eatough was the first rider to finish the first lap at 49:56 (even with the extra kilometers and climbing). Nat Ross (Subaru - Gary Fisher) was hot on his heels only twenty seconds back. Missing on the start line was 24-hour solo legend Tinker Juarez, who opted out of the race to save himself for a competition in Ohio next weekend.
Eatough kept the pressure on, seeming to ignore the slick and muddy conditions; posting focused lap times and wasting no time in his efficiently run pit. By early afternoon, Eatough had put fifty minutes on his chasers; Canada's Galen Kehler, Ernesto Marenchin of Kent, WA and Ross.
Ernesto Marenchin rode to a startling second place
Photo ©: Vic and Kathy Armijo

Newly crowned NORBA Marathon Series Champ Monique Sawicki was the first woman in on lap one; 11 minutes behind Eatough. The challenge to Sawicki's lead came early as Canadian endurance specialist Marg Fedyna slipped into the front and Californian Louise Kobin (racing in her fourth 24 Hours of Adrenalin Solo Worlds) moved into second.
In twenty-four hour solo races though, it is the time between midnight and dawn that can test a racer's resolve more than any other; riders are usually past their training-ride limits and can struggle mentally. Drenched by the hardest deluges of the race, the constant rain and fatigue took its toll on many competitors. But not Eatough. He seemed infallible. He continued to pit methodically and pounded out the laps as evenly as conditions allowed. The group of three behind Eatough shuffled positions through the night but never drew within twenty-five minutes of the NORBA Marathon Series Champion.
Although by a slimmer margin, Fednya held onto the women's lead through the night as well. By morning, Sawicki, who had fallen to fourth earlier in the race, managed to regain one spot and sat third behind Kobin.
Drawing toward noon and the end of the race, the top riders in the men and women's fields held their positions as best they could. Eatough finished at 12:08 having ridden 22 laps. "I have nothing left," he said, "So many things have happened during this race, so much to go through. I'm just glad that it's over."
Fednya finished at 11:24, not needing the additional lap to win. She posted eighteen total laps won with a fifty-minute margin on Sawicki and a full lap ahead of Louise Kobin. The win was Fednya's first 24 Hours of Adrenalin Solo World Championship.
Photography
For a thumbnail gallery of these images, click here

Images by Vic and Kathy Armijo

ars now, this year completing 8 laps to finish 31st in elite male category.
Results
Solo WSC Male Elite                              Time     laps
 
1 Chris Eatough                                 24.08.15   22
2 Ernesto Marenchin                             24.35.17   22
3 Nat Ross                                      24.07.35   21
4 Josh Street                                   24.35.03   21
5 Mark Hendershot                               23.59.34   20
6 David Osmond                                  24.12.51   20
7 Sloane Anderson                               24.15.20   20
8 Dean Irvine                                   24.19.11   19
9 Bryan Bergman                                 24.26.54   19
10 Nelson Snyder                                24.37.21   19
11 Kip Biese                                    24.15.15   18
12 Jim Peterson                                 24.28.03   18
13 Steve Schwarz                                24.49.57   18
14 Jonathan Kindig                              23.12.34   17
15 Jeff Wardell                                 23.46.57   17
16 Galen Kehler                                 24.16.53   17
17 Graeme Allbon                                24.21.16   17
18 Brandon Raley                                24.52.04   17
19 Steven Johnson                               23.01.13   16
20 Francis Blesso                               24.10.55   16
21 Chris Gagnon                                 24.07.11   15
22 John Pitt                                    24.02.04   14
23 Rob Lichtenwalner                            15.13.37   13
24 Matt Peterson                                23.00.22   13
25 Karl Etzel                                   23.59.42   13
26 Alexandre Filion                             14.37.04   11
27 David Silvers                                23.08.10   11
28 Taylor Sullivan                              23.43.15   11
29 Thomas Hodlmoser                             10.30.25   10
30 Josh Oppenheimer                             11.08.30    9
31 Brett Wolfe                                  13.32.53    8
32 Jonah Clark                                   8.04.20    7
33 Spencer Fulkerson                            21.59.28    7
34 Dan Barger/Team Subaru                        6.33.56    6
 
Solo WSC Female Elite
 
1 Marg Fedyna                                   23.24.31   18
2 Monique Sawicki                               24.25.54   18
3 Louise Kobin                                  23.41.52   17
4 Freya Scollay                                 24.04.09   16
5 Kate Aardal                                   23.00.19   15
6 Danielle Musto                                23.28.49   14
7 Cyd Fraser                                    23.52.57   14
8 Jennette Allum                                14.30.16    8
9 Terri Wahlberg                                10.08.36    6
 
WSC Male Single Speed
 
1 Dejay Birtch                                  23.41.14   18
2 Dale Plant                                    23.47.04   17
3 Joe Partridge                                 23.00.41   13
4 Ted Tautges                                   23.48.58   12
5 Jake Kirkpatrick                               6.45.15    6
 
Solo WSC Male 55+
 
1 Bob Waggoner                                  23.18.09   11
 
Solo WSC Male 50 to 54
 
1 Randy Profeta                                 23.44.10   14
2 Dale greenhalgh                               23.03.19   12
 
Solo WSC Male 45 to 49
 
1 Max Schuster                                  23.53.26   17
2 Marshall Reeves                               23.38.03   15
3 Neil Dall                                     24.35.49   15
4 Rick Feese                                    23.58.17   12
5 Brian Culbert                                 12.11.15    9
6 David Piercy                                  18.37.06    8
7 Mark Rhode                                    23.00.26    7
 
Solo WSC Male 40 to 44
 
1 S. John Millon                                23.01.21   14
2 William McFadden                              23.37.11   13
3 Bruce Gordon                                  23.11.52   12
4 Brett Goett                                   23.02.29   11
5 Bob Stanhope                                  23.50.17   11
6 Peter Rajcani                                 24.44.16   10
7 Kent Stuckert                                 24.12.57    8
 
Solo WSC Male 35 to 39
 
1 Mike Gaertner                                 24.04.25   17
2 Jason Sandquist                               24.09.15   17
3 Craig Bartlett                                24.25.38   17
4 Stuart Kane                                   24.30.04   14
5 Dave Dacosta                                  23.02.33   13
6 Steve Swenson                                 23.34.17   13
7 Brian Vaughan                                 23.31.16   12
8 Jeff Welsh                                    23.54.12   12
9 Bart Stetler                                  23.00.18   10
10 Peter Oppenheim                              23.02.11    9
11 Charles Barnes                               24.36.07    8
 
Solo WSC Male 30 to 34
 
1 Rob Lee                                       23.13.48   18
2 Mario Amann                                   24.04.44   16
3 Matthew Hart                                  24.19.10   16
4 Garth Ludwig                                  24.48.21   16
5 Robyn Christensen                             24.50.24   14
 
Solo WSC Male 25 to 29
 
1 Gerald Bauer                                  23.12.14   17
2 Geoff Gasior                                  24.06.00   11
3 Russel Clarke                                 24.11.03    5
4 P.J. Lingley                                   2.49.43    2
 
Solo WSC Male < 25
 
1 Luke Rozanski                                 23.41.49   13
2 Glen Lombard                                  24.17.43   12
 
Solo WSC Female 45 to 49
 
1 Vivian Chwalinski                             23.02.05    9
 
Solo WSC Female 40 to 44
 
1 Maribeth Evezich                              24.11.17   13
2 Kim Birgh-Pitkanen                            24.15.10   13
 
Solo WSC Female 35 to 39
 
1 Sandra Tomlinson                              23.26.57   13
2 Melanie Dominguez                             24.13.42   12
3 Wendy Tynan                                   24.24.10   10
 
Solo WSC Female < 25
 
1 Sarah Kaufmann                                23.06.11   10
 
Solo Male
 
1 Thomas Schulz                                 24.21.06   17
2 Paul Sharman                                  24.40.26   17
3 Matt Klymson                                  23.25.48   16
4 Andrew Wilcox                                 23.03.36   15
5 David Scheer                                  24.34.37   15
6 Johnny Oshika                                 23.33.43   14
7 Sean Lukan                                    23.46.07   12
8 Shane Swanson                                 24.47.31   10
9 Michael Orr                                   24.32.43    9
10 Warren Staff                                 20.44.09    7
11 Sean Stephens                                 9.23.39    6
 
Solo Female
 
1 Penny Deck                                    23.13.29   10
 
Corporate 6 - 10 Person Team
 
1 Rocky Mountain - Business Objects             23.54.51   29
2 WB We are IT                                  24.22.35   25
3 MellowJohnnys                                 23.57.54   23
4 Sponge Butt Square Wheels                     24.18.26   20
5 Team Wood                                     24.22.10   20
6 Slayers                                       24.33.30   20
7 Back in the Saddle Again                      24.34.45   19
8 Westin Warriors                               23.50.23   18
9 Ready to Roll                                 24.30.09   18
10 Extreme Pleasure                             24.09.44   16
11 Crazy Horsemen                               21.33.28   12
 
5 Person (Co-ed)
 
1 Team Yeti                                     24.26.13   26
2 Team Atomic                                   24.32.37   24
3 Extreme Pain                                  24.35.36   24
4 The Dirt Digglers                             24.41.26   24
5 Fast For Dad                                  24.04.13   23
6 Team Pique                                    24.06.46   22
7 BiKe 'N BanDits                               24.21.43   22
8 Quit Lollygagging                             24.11.01   20
9 City Slickers                                 24.32.51   20
10 Muddi Buddies                                24.04.20   19
11 Off-Roadies                                  23.00.38   16
12 Endo-licious                                 23.12.21   15
13 DFL                                          24.21.09   15
 
5 Person 150-199
 
1 Race Day Magic                                24.20.28   26
2 Bearbackbiking.com                            24.11.35   25
3 Barking Spider Mountain Bike                  23.49.59   24
4 Bran Muffin Productions                       24.39.07   21
5 Looped                                        23.00.48   20
6 Spruce Grove Massiv                           24.19.18   20
7 Great West Chrysler Rock Stars                24.46.46   20
8 Dirty Daddies                                 24.57.46   19
9 Stunt Doubles                                 24.36.32   18
10 Ooglie Booglie                               23.45.31   17
11 Pie Men                                      24.17.40   17
12 Team Crank and Stank: Return of the Stink    24.35.28   17
13 Sprocketheads                                23.15.19   16
 
5 Person 200+
 
1 Outspokin'                                    24.44.20   25
2 Heavy Pedals                                  24.10.08   24
3 SORCE Team Chain Suck                         24.17.55   23
4 Extreme Pain (HCW)                            24.16.57   22
5 SORCE (Team B)                                23.27.12   20
6 Krinkum Krankum                               24.22.26   18
7 Burnaby Mountain Biking Association           23.20.38   15
 
5 Person Female
 
1 B-rides                                       24.08.52   20
2 Experience Cycle                              24.19.13   20
3 Randy's Girlz                                 24.43.35   20
4 Mountain FM Cicks                             24.49.17   19
5 Meet the Frockers                             24.04.42   18
6 Papa's Gorgeous Girls                         23.36.52   17
7 Spinning Sisters                              23.50.11   16
8 Seattle Team LUNAchix                         24.01.35   14
9 'Lil Angels                                   24.12.17   14
 
5 Person Under 149
 
1 Dusty Bottoms                                 24.25.41   22
2 The Dirt Busters                              23.47.24   21
3 Bangers & Mashers                             24.02.42   17
 
4 Person
 
1 Whistler                                      24.49.15   25
2 The Flying Flossmen                           23.48.18   23
3 Crestline                                     24.39.14   23
4 Team DumbAss                                  24.43.01   23
5 Morning Wood                                  23.56.03   22
6 Cairo Cycling Club                            24.26.38   18
7 Arrogant Bastards                             23.43.11   17
8 Rye'd Guys                                    23.46.42   17
9 Team Universal                                23.52.36   17
10 Three Albertans and an Englishman            19.08.38   16
11 Ill Tempered Sea Bass                        23.50.35   15
12 Team LaWigDo                                 24.37.17   14
13 A Hard Woman is Good to Find                 24.10.03   12
 
3 Person WSC (Co-ed)
 
1 Gerber Legendary Blades                       23.50.49   18