MTB index page for all MTB content
Colombian XC MTB Championships - CN
Tolua, Colombia, October 16, 2005
Paez comes back from crash to win
By Andrea Bianco
Leonardo Paez (Bogota)
Photo ©: Andrea Bianco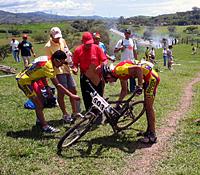 While the MTB season is almost over around the world, Colombia organized its XC national championship in the town of Tolua, Valle. The course is built around an old motocross racing track and offers 110 meters of elevation each lap measured at 5 kilometres. With an altitude of 1200 meters and a temperature of 30°C, the day offered a good show for the public.
favourite in the elite men's event was Leonardo Paez, back from his impressive campaign in Europe, which culminated with a 7th place at the World's in Livigno and a second and a third place in Marathon World Cups. But there is almost never an easy victory and a fall in the first lap saw him going over the handlebars and cutting his leg, which required 10 stitches after the race.
Making a pit stop to put a tape to stop the blood and extra oil on his chain, Paez started chasing and in the end won the jersey he so strongly wanted to be able to wear the colours of the Colombian flag next season around the world.
Photography
For a thumbnail gallery of these images, click here
Images by Andrea Bianco
Results
Elite Men - 7 Laps
1 Hector Leonardo Paez Leon (Bogotá)                   1.26.35
2 Jhon Jairo Botero Salazar (El Retiro (ANT))             4.07
3 Hector Fernando Pinilla (Ubaté-Cundinamarca)           11.22
 
Under 23 - 6 Laps
 
1 Fabio Castañeda Monsalve (El Retiro (ANT))           1.16.14
2 Julio Humberto Caro Silva (Bogotá)                      1.57
3 Iván Dario Avila (Cali)                                 2.37
 
Elite Women - 6 Laps
 
1 Flor Marina Delgadillo Ruiz (Chiquinquirá-Boyacá)    1.43.14
2 Viviana Andrea Maya Tabares (Caldas-Ant.)               1.30
3 Olga Marina Garcia (Cali)                               5.47
 
Junior Men 6 Laps
 
1 Jorge Camilo Castiblanco Cubides (Zipaquirá)         1.20.38
2 Hector Fernando Rivero Paez (Bogotá)                    3.59
3 Daniel Jimenez Cañas (Sevilla-Valle)                    4.25