Recently on Cyclingnews.com
MTB index page for all MTB content
World Cup XC # 4/DH/4X # 2 - B
Willingen, Germany, June 4-5, 2005
The Program
Race 1 - June 4: Women's XC
Race 2 - June 4: Men's XC
Race 3 - June 4: Women's 4X
Race 4 - June 4: Men's 4X - cancelled
Race 5 - June 5: Women's DH
Race 6 - June 5: Men's DH
MTB World Cup moves to Germany
By Rob Jones in Willingen
Sir Bart Brenjens signs a young fan's arm
Photo ©: Rob Jones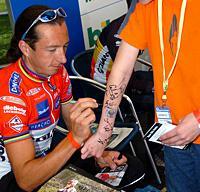 Round four of the cross-country World Cup takes place Saturday in Willingen, Germany, followed on Sunday by the second stop on the Downhill / 4-Cross circuit. Willingen is a new host to the World Cup, however, the ski village at the foot of the Ettelsberg is home to the BIKE-Festival, now in its eighth year. The Festival attracts some 3000 participants for the marathon event, and boasts that it is one of Europe's biggest bike expos.
So far, reviews of the courses have been mixed. The downhill and the 4-Cross runs are drawing rave reviews for their big air jumps, although there is a concern that the downhill is beyond the skill level of all but the top riders. On the other hand, cross-country riders are saying that their course is short, tough but not technically demanding. "Boring" was the term used by one former world champion.
The 5.1 kilometre circuit features a number of short and very sharp climbs (up to 20 percent). The course is mainly on loose gravel double track and through bumpy grass meadows, with only two short single track sections. Since the circuit is short, the women are scheduled to do seven laps (plus a start loop) and the men nine (plus a start loop). This means LOTS of times up those leg burning little climbs...
"With all those woods at the top of the course, I wish that they would have cut some more single track." lamented world champion Gunn-Rita Dahle (Multivan Merida).
Riders meet the fans
Photo ©: Rob Jones

In the 76 rider women's field, the main name missing is Marga Fullana. The favourite, without a doubt, is Dahle, who has two wins and a second place so far. Since the heat is not as intense as last week at Houffalize, or three weeks earlier in Madrid, expect to see Alison Sydor (Rocky Mountain-Business Objects) to be more of a factor (although the lack of technical riding will hurt both Sydor and her team mate Marie-Helene Premont). Sabine Spitz (Specialized), second last week, and impressively strong in the latter half of the race, will be hoping to score a victory also in front of the partisan German crowd. Spitz has finished 4th, 3rd and 2nd in the first three races, and hopes to continue the trend.
The men have 188 on the start list, so expect to see riders at the back getting lapped fairly quickly with the short laps.
The evening brought a brief but intense thunderstorm through the area, after sun all day. While the rain has moved through, it remains overcast, and locals say that there is a good chance it will rain again tomorrow.