MTB index page for all MTB content
Australian National MTB Series XC #3 - NE
Lysterfield, Victoria, December 10-11, 2005
Baxter & Jongewaard dominate Commonwealth Games selection race
Claire Baxter
Photo ©: Evan Jeffery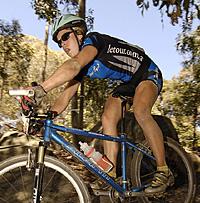 Victorian women dominated the first Commonwealth Games Selection Race today. The thirty riders raced five laps of the Commonwealth Games course at Lysterfield in hot conditions. Claire Baxter (Hawthorn) was not challenged and won in a comfortable time of 1.38.41. "I felt really calm cool and collected and together," she said. "I got into a pace early." Baxter's name now goes up for selection in the team of three women to represent Australia.
National champion, Emma Colson, Fitzroy left her charge too late and was unable to catch the strong road rider. "Claire was just too strong today," Colson claimed. "I knew I was making ground on her but she just had too much lead." Colson will hope to secure herself a position in the Commonwealth Games team by racing in the second selection race in Mt Beauty, Victoria on January 15.
Third was fellow Victorian, Jenni King from Box Hill. King was passed by Colson in the final laps of the race but rode strongly to finish just one and a half minutes behind Baxter.
Athens Olympian, Lisa Mathison from Brisbane, was visibly disappointed in her first race back after her year long battle with chronic fatigue "I'm just so happy to make it back to this point," she commented. Mathison will now prepare herself for Nationals in January. "I need to do a lot of focusing and a lot of training."
Chris Jongewaard
Photo ©: Evan Jeffery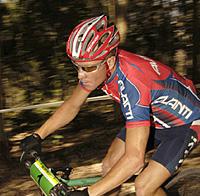 National champion, Chris Jongewaard from South Australia dominated the elite men's race and will now be put up for selection in the Commonwealth Games Team. Fourth at the end of the short starting lap which opened the race, Jongewaard then took the lead in the first full lap by a minute finishing in 1.56.48. "I've done a few things to plan specifically for this race," he admitted. The hot conditions and terrain took their toll on the forty riders. "Towards the end was getting pretty tough on the legs," admitted Jongewaard.
A puncture in the fifth lap saw Olympian, Sid Taberlay lose his second place to another Athens rider, Josh Fleming from Sydney. Fleming finished two minutes behind Jongewaard after a crash in the rocky section saw him lose valuable time. Fleming did record the fastest lap of 16.02 while trying to pull back Jongewaard's lead.
Taberlay from Tasmamia is quietly confident to get a spot on the three man team for the Commonwealth Games. According to National Cross Country Coach, Damien Grundy, "Sid certainly is the most experienced of the senior riders. He is the best performed on the key indicator races which are the World Cup events." Taberlay recently returned to training and found the early pace tough. "I haven't done any speed or intensity," he said. "I'm only going to get fitter between now and then." Taberlay was pleased to see Jongewaard win. "Chris is going strong. He is really motivated," he added.
Photography
For a thumbnail gallery of these images, click here
Images by Evan Jeffery
Results
Sunday
 
Elite Men - 7 Laps
 
1 Chris Jongewaard             1.56.48
2 Josh Fleming                    2.17
3 Sid Taberlay                    3.32
4 Daniel McConnell                3.51
5 Murray Spink                    5.01
6 Dylan Cooper                    5.07
7 Shaun Lewis                     5.46
8 Alistair Farley                 6.39
9 Joel Healy                      6.47
10 Aiden Lefmann                  7.22
11 Matt Fleming                   7.38
12 Perren Delacour                8.14
13 Lachlan Norris                 9.30
14 Russell Collett               10.01
15 Phillip Orr                   10.02
16 Chris Winn                    10.27
17 Hamish Elliot                 10.48
18 Adrian Jackson                11.23
19 Brent Miller                  12.41
20 Luke Stockwell                12.45
21 Ashley Wass                   12.46
22 Nick Both                     13.32
23 Stephen Van Dyke              14.12
24 Rohin Adams                   14.24
25 Cameron Carlyle               15.10
26 Adam Freeman                  15.12
27 Alex Randall                  16.14
28 Mark Van Der Ploeg            16.31
29 James Maebus                  16.32
30 James Dickey                  17.00
31 Damon Griggs                  17.24
32 Shane Paton                   19.23

1 lap behind

33 John Claxton                       
34 Gary Milburn                       
DNF James Williamson                 
DNF Damien Jones                     
DNF Peter Hatton                     
DNF shaun lewisu23                   
DNF James Devonshire                 
DNF Jason Tepper                     
 
Elite Women - 5 Laps
 
1 Claire Baxter                1.38.41
2 Emma Colson                     0.40
3 Jenni King                      1.25
4 Imogen Smith                    3.32
5 Dellys Starr                    3.58
6 Tory Thomas                     4.26
7 Niki Gudex                      4.35
8 Jill Burston                    5.35
9 Sam Jesney                      7.58
10 Lee Shultz                     8.30
11 Naomi Williams                 8.32
12 Kimberley Fleming             10.05
13 Rosemary Barnes               10.23
14 Lisa Mathison                 11.12
15 Donna Hamlin                  12.03
16 Erica Oldfield                12.21
17 Narelle Ash                   12.34
18 Anna Sheldon                  14.12
19 Kelly Bartlett                17.55
20 Renate Griese                 19.56
21 Alexandria Kiendl             22.55
22 Lauren Tanzen                 25.17

1 lap behind

23 Claire Graydon                     
24 Athena Wilson                      

2 laps behind

25 Rebecca McConnell                  
DNF Niki Fisher                      
DNF Eleanor Patterson                
DNF Caroline Jackson                 
DNF Joanna Harrington                
 
Saturday
 
Expert Men - 6 Laps
 
1 Clinton Avery                1.40.59
2 Nick Craig (Scott               6.38
3 Jacob Lea                       9.40
4 Mike Northcote                 10.25
5 Tim Retchford                  11.16
6 Scott Liston                   11.21
7 Christophe Stevens             11.57
8 Graeme Allbon                  12.20
9 Wayne Bower                    13.19
10 Ryan Gormly                   15.49
11 Andy Kuylaars                 16.10
12 Nathan Rickerby               16.20
13 Camm Winn                     16.48
14 Matt Ladner                   17.29
15 Simon Hughes                  19.00
16 Brad Glennan                  19.27
17 Rowan Smith                   19.52
18 Jason Jackson                 20.50
19 Sean Richardson               22.36
20 Matt Ligtermoet               23.54
21 Ivan Kallaur                  24.20
22 John Groves                   24.57
23 Richard Hawkes                27.26
DNF Jack Lamshed                     
DNF Shannon Foy                      
DNF Nathan Wilson                    
DNF Hayden Lester                    
DNF Brett Franklin                   
DNF Luc Plowman                      
DNF Joshua Atkinson                  
DNF Jack Garnett                     
 
Sport A Men - 5 Laps
 
1 Geoff Vietz                  1.33.50
2 Troy Bailey                     1.50
3 Devon Greetham                  2.32
4 Paul Traynor                    4.00
5 Gareth Heitmann                 4.48
6 Jasper Borutta                  7.45
7 Joe Lopresti                    8.26
8 Peter Malcolm                   9.15
9 Daniel Smidts                  11.46
10 Ross Wilkinson                12.45
11 Steven Martin                 19.30
12 Berin Broughton               19.32
13 Brad Powles                   19.35
14 Peter Kutschera               19.38
15 Tim Harman                    19.49
16 Alan O'Donnell                21.01
17 Joel Hossack                  23.07
18 Scott Needham                 23.55
19 Lee Stariha                   24.29

1 lap behind

20 Warrick Hall                       
21 Matthew Schepisi                   
22 Iain Davidson                      
23 Dean Craig                         
24 Andrew Martyn                      
25 James Bourne                       
26 Punnaray Hy                        
27 Scot Williamson                    
DNF Matt Phillips                    
DNF Colin Yeung                      
DNF Leigh Barratt                    
DNF Ash Scott                        
 
Sport B Men - 4 Laps
 
1 Peter Tarenidis              1.21.43
2 Michael Graham                  3.54
3 Lee Binner                      5.40
4 Sam Ward                        6.14
5 Andrew Dridan                   9.52
6 Ashley Manners                 15.10
7 Mark Lunn                      17.47
8 David Oram                     20.35
9 Sean Neumeister                21.07
10 Karl Neumeister               22.38
11 Jamin Crawley                 22.39
12 Geoff Martin                  22.51
13 Rhys Hartney                  24.51
14 David Norman                  24.53
15 Kevin Lui                     26.44
16 Benjamin Crapp                29.55
17 Heath Sutherland              30.09
18 Michael Harrington            30.25
19 Struan Law                    33.22

1 lap behind

20 Jarrod Achfield                    
21 Chris Tibb                         
22 Keith Lu                           
23 John Mills                         
24 Peter Miller                       
25 Kingsley Churchward                
DNF Adam Crapp                       
DNF Damian Richmond                  
DNF Deryck Walker                    
DNF Harley Owens                     
 
Sport Women - 4 Laps
 
1 Rosara Joseph                1.18.56
2 Robyn Wong                      1.22
3 Almut Grieb                    11.17
4 Kelly Linaker                  23.23
5 Joanne Greetham                25.23
6 Cailin Carrier                 25.25
7 Kim McCormack                  27.15

1 lap behind

8 Nicole Werner                       
DNF Kelly Linden                     
DNF Sonia Foote                      
 
Veteran Men - 5 Laps
 
1 Matthew Jackson              1.36.18
2 Mark Richards                   0.48
3 Tim McColl                      1.14
4 Duncan Murray                   1.47
5 Peter McDonough                 4.12
6 Chris Truett                    4.47
7 Tim Ferres                      7.32
8 Brent Tanzen                    8.10
9 James Aylmer                    8.42
10 Mark Fenner                   10.13
11 Tony French                   15.27
12 Christopher Howard            26.32
DNF Warren Key                       
 
Masters Men - 4 Laps
 
1 Brian John                   1.18.26
2 David Ollie                     1.47
3 Craig Peacock                   2.56
4 Jenk Akyalcin                   3.16
5 David McFarlane                 5.41
6 Chris Neenan                    8.01
7 Finlay Luff                     8.33
8 Paul Verheijden                11.37
9 Damian Bourke                  12.38
10 Matthew Aldridge              17.51
11 Adrian Wale                   19.05
12 Paul Selleck                  20.20
13 Steve Johnson                 22.28
14 Scott Lidgett                 36.45
15 Tony Wood                     43.26
16 Greg Maren                    49.12
DNF Peter Cooper                     
DNF Richard Early                    
 
Super Masters Men - 4 Laps
 
1 Jeff Weymouth                1.21.29
2 Kevin Jones                     2.07
3 Kahn Franke                     2.43
4 Paul Johanson                   6.25
5 Brian Case                     11.12
 
Under 19 Men - 6 Laps
 
1 Cal Britten                  1.46.41
2 Daniel Braunsteins              0.07
3 Glenn Stewart                   6.19
4 Ben Grieve-Johnson              7.22
5 Daniel Johnston                10.27
6 Jamie Paisley                  10.53
7 Scott Chancellor               11.11
8 Daniel Hallam                  13.12
9 Luke Knox                      16.16
10 Joey Esterhuyzen              16.18
11 Simon Wright                  17.13
12 Paul Van Der Ploeg            24.35
13 Luke Graydon                  28.20
14 Matt King                     34.00
DNF Andrew Lockhart                  
DNF Lewis Rattray                    
 
Under 17 Men - 4 Laps
 
1 David Johnston               1.13.54
2 Peter Braunsteins               0.34
3 James Mowatt                    3.23
4 Carson Tully                   14.55
5 James Peacock                  16.50
6 Nick Jackson                   17.18
7 Stuart Smith                   18.19
8 Timothy Sanelli                18.49
9 Alan Vanderbaan                20.38
10 Lachlan Grose                 21.28
11 James Woodward                29.30
 
Under 15 Men - 2
 
1 Liam Melville                  41.14
2 Ryan Macanally                  3.43
3 Brendan Jones                  11.21
DNF James Broughton                  
 
Under 15 Women - 1 Laps
 
1 Siobhan Jones                  45.49
 
Fun - 2 Laps
 
1 Raymond deBoer                 47.27
2 Jeremy Blackwell                1.08
3 Paul Inglis                    14.17
4 Megan Lawson                   20.22
5 Kate Lidgett                   24.41
 
Masters Women - 3 Laps
 
1 Sandy Magennis               1.09.33
2 Carolyn Jackson                 1.54
 
Under 13 Men - 2 Laps
 
1 Tom Hayes                      59.00
2 Jack Lidgett                    0.05
3 Dale Blackwell                  3.29
4 Max Gibson                      6.57
5 Edgar Druce                     7.56
6 Joel Richmond                  12.27
 
Veteran Women - 4 Laps
 
1 Tanya Britton                1.32.05
2 Jane Ollerenshaw                7.18
3 Heidi Gratton                  25.22
4 Libby Evans                    25.28