MTB index page for all MTB content
10th Crocodile Trophy - NE
Australia, October 16-30, 2004
Main Page Results Gatorade Dream Team diary Previous Stage
Stage 12 - October 30: Cooktown - Daintree, 139 km
Hansen wins 2004 Crocodile Trophy
Elli claims fifth stage victory
By John-Michael Flynn in Daintree, Queensland Australia
Adam Hansen crosses the Stage 12 finish line
Photo ©: Mark Watson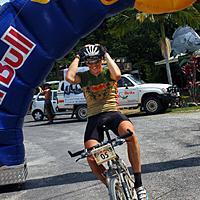 It has been said in sport, humility is the currency of true champions.
Today, when the cyclocomputers ceased to tick over at the end of 1655 kilometres, the bravado which characterised the Crocodile Trophy of 2004 was nowhere to be found, lost amid the dense rainforest of Australia's World Heritage Listed Daintree.
In its place were the softly spoken reflective words of exhausted men, their bodies burnt and bruised from two weeks of punishment in the searing heat of Australia's Outback. It was a day when the honours would be shared evenly among the event's key protagonists.
For Italian Alberto Elli, an ageing ex-professional who once wore the maillot jaune of cycling's La Grande Boucle and who at age forty is fast running out of chances for glory, it brought a fifth stage win to cherish.
For Australia's Adam Hansen, a young cyclist on an upward path, it meant confirmation of his goal to score overall victory in the Crocodile Trophy of 2004. A first for an Australian.
"This is probably my best victory ever, three times as good as any other race," a reflective Hansen said after avoiding near disaster when his chain snapped on today's final stage from Cooktown to Daintree.
The hometown boy, who hails from Australia's tropical city of Cairns, was cheered en-route by placard waving supporters of his Cairns Coconut Caravan Resort team. "I've got my family here, friends it's very special," Hansen politely added.
Elli too was in an understated mood as he savoured a fifth stage victory in the Crocodile Trophy of 2004 "It's good because I think it's the best and hardest stage," said the leader of the Gatorade Dream Team. "Last year I won four stages, I was fourth in the overall G.C., this year I won five stages and I am third, so I am very happy.
A stage for the purists
Yet another Hill climb on the CREB track for Alberto Elli
Photo ©: Mark Watson

The race finale, after the planned final stage into Cairns was cancelled, stage twelve of the 2004 Crocodile Trophy took riders on a spectacular journey from Cooktown to Daintree across the mountaintops of the iconic Daintree Rainforest, a jewel in the crown of Australia's seemingly endless natural attractions. It included numerous steep climbs and dangerous descents, putting the skills of riders to the test and effectively exposing the imposter 'roadies' in the 'off-road' bunch.
The pace was easy as the peloton rolled out of Cooktown along a tarmac road, so much so the 'tail-end-charlie' of the Trophy, Frenchman Charlie Blanc was allowed to ride off the front in the opening kilometres.
With placings in the overall standings on the line, there were several races within the race. The first major move of the stage coming at the start of the infamous CREB track when Elli and Gatorade team-mate Marzio Deho attacked.
"I want to win this year so I attack at the beginning of the CREB with Marzio, it was hard very hard the CREB, was very very hard," Elli said.
It was an attack everyone in the peloton expected. Although Deho was out of contention in the General Classification after blowing up early in the race and missing several stages, his credentials in this 'true' mountain biking stage were never in question. That and his ability to work alongside Elli without formally being able to assist or draft his team-mate, spelt danger if the pair managed to establish a gap on the main bunch.
Austrian rider Gerhard Gulewicz, one of the powerhouses of the Croc Trophy and a contender for top five honours, was forced to watch as his rivals pulled away. "After forty k's they pushed, it was a little bit hilly," Gulewicz recalled. "Alberto and Adam and the whole group they pushed and I had no chance to follow them."
Christoph Stephens takes a dip
Photo ©: Mark Watson

Defending an overall race lead of 48.30 on his nearest rival Czech Ondrej Fojtik, it was Adam Hansen's goal to ride conservatively, but not let the leaders out of his sight. His race plan almost evaporated, when mechanical failure intervened. "I gave the Czech guy thirty seconds on me and I just let him go," Hansen said. "I didn't want to fight for it, I really wasn't after a stage win and then my chain snapped."
The mechanical cost Hansen several anxious minutes before repairs were completed. But in the end the insurance policy the Australian invested in by opening up a sizeable margin with his first two stage wins, returned dividends when it mattered most on the final day.
To the same extent, Fojtik was about to pay dearly once again for his decision to attack when Elli and Hansen crashed during stage nine. The Italian, not one to forget the Czech Republic rider's breach of race etiquette, doing everything within his power to successfully drop Fojtik in the mountains.
"It was our first time mountain bike race and it was good for me," Fojtik said while hinting the earlier stages were more like a road race. "I'm very tired now and I was only a small distance from Elli and control the general position."
With his team-mate Marzio alongside, Elli powered away through the mountains, opening up a margin of eleven minutes on Fojtik by stage end, with Hansen a further nine minutes in arrears.
A ride to remember
After two weeks of negotiating mostly flat, long, corrugated stages in unbearable temperatures, today's final stage of the Crocodile Trophy was definitely a welcome change for the riders. For many it was their first chance to witness the sensational riding on offer in Australia's wet tropics, a region which enjoys a reputation as a mecca for downhilling and epic fire trail riding. And one thing's for sure, the cooler temperatures and shade on offer in the coastal rainforest were very welcoming.
Austrian Robert Hotter (7th overall), who was planning to attack during the stage in the hope of becoming the highest placed of his countrymen, didn't achieve all of his goals on the day, but finished the stage smiling and refreshed. "I think all the days before was a kind of road race and today was really mountain biking, tough mountain biking, it was really fun," Hotter said.
German Andreas Dunn (8th overall), who'd been talking about the CREB track for days leading up the stage was equally impressed. "It was great just the last stage was such a hard race," Andreas said. "I'm really glad to be here now, it was a great stage all up and down, up and down, great descents."
Australian Dave Woods who lives for the rush of a fast downhill and trains on the CREB track, was also finding it hard to wipe the smile from his face.. not that he was trying.
"Yeah it was sweet, yeah it was nice and hard pack, the jumps weren't too big it was good fun," Woods said.
Victory for the underdogs - how Hansen sealed his victory
Adam Hansen gets some air-time
Photo ©: Mark Watson
Of all the memories from the Crocodile Trophy of 2004, it will be the triumph of the Aussie underdogs which lives on in the folklore of this unique event. That an Australian won the Crocodile Trophy for the first time is a triumph in itself. That a highly credentialed team of mostly European professionals was decimated in the process speaks volumes for the three bold young riders who formed the Cairns Coconut Caravan Resort Team.
When asked about race tactics and where the foundation for victory was laid, Adam Hansen was quick to highlight the gutsy breakaway move during stage one by his team-mate James Grant who was off the front for one hundred kilometres.
"Team-mates made a huge difference," Hansen said. "On the first day James actually gave me the winning break, he tired the whole Gatorade team and wiped them out pretty much. Once he destroyed the team I put a final attack in and put eleven minutes into the next guy."
Grant, who trained for the Crocodile Trophy using an exercise bike on board a naval vessel at sea, was still coming to terms with his achievement late in the day. The amateur rider who slayed the European pro's kicked back post-race with a cleansing ale and toasted not only Hansen's victory but his own top ten finish.
"To recover after that first day I thought was pretty impressive," Grant said. "To come back and do well in a couple of stages and finish in the top ten is just awesome."
Adam Hansen (Cairns Coconut Resort)
Photo ©: Mark Watson

As for the race winner, Hansen is yet to score a European riding contract for 2005.
Like many young cyclists, he dreams of riding the Grand Tours and has shown during this event he has the bodily attributes to develop into a solid stage racer. "That's what I'm aiming for, that's why I do this race," a determined Hansen stated. "I find this race is a buildup to the Tour de France, even though I'm not in a team and I can't start it yet, this is as close as it gets in Australia."
Not so lonely ride for Crocodile Trophy's solo woman
Among the biggest cheers reserved for competitors at the finish of today's final stage of the 2004 Crocodile Trophy, one of the longest and loudest was for Austrian rider Anita Waiss. The Team Skinfit rider finished 21st overall, out-doing many of her male rivals by completing every stage of the event. It was by no means easy going either. Like just about everyone in the peloton Anita fell victim to 'busted ass' syndrome along with aching feet and legs.
Anita Waiss
Photo ©: Mark Watson

But somehow she found the strength to continue.
According to Anita, her secret was in the help supplied by Skinfit team-mate Andreas Muhlbacher, who rode alongside the Crocodile Trophy's sole woman for much of the race. "I had a mentor on the race, Andreas he pushed me," Anita said. "I had moments I had not finished but he helped me, in the mind he pushed me."
As for coming back for a second shot at the Crocodile Trophy Anita isn't so sure, but her advice to other women it to give it a go. "They can (laugh) they can come and look." Anita said.
The last word
Could this really be the world's toughest bike race? Certainly the opening three stages of the Crocodile Trophy 2004 will go down as the toughest in the history of the event. Rarely are riders put through such punishment as to have to endure a 200 kilometre stage on a corrugated dirt road, while enduring temperatures in the mid 40's. Put three stages back to back in such conditions and it's no surprise riders were fading fast or abandoning the race.
When asked if he would return for another shot at the trophy, following an impressive first up ride where he finished fourth on G.C., German Martin Kiechle was straight to the point. "Just one word, it's just like hell, the long distances, the temperature, just one word, hell," Kiechle said.
When asked if he would return Martin's reply was a definite 'maybe'.
Austrian Gerhard Gulewicz, a twenty four hour race specialist was more definite with his future plans. "Now I know how hard it is I would not come back, it was good I did not know it before," Gulewicz said. "The corrugations, the wind, the sand, all the pushing from the other riders it's unbelievable."
Experienced adventure racer and World Masters triathlon champion Willi Wagner also knows where the event fits in his resume. "No other race is as hard as this one," a weary Willi said.
Of the forty nine riders who lined up at the start of this year's Crocodile Trophy, most will be taking time out to consider if an assault on next year's race is viable. In the back of their mind will be Charlie Blanc, the Frenchman whose Crocodile Trophy adventure ended in tears on day one, when he blew up just forty kilometres into the first stage. Charlie battled on and as a mark of respect was allowed to lead today's stage out of Cooktown.
Sadly, his Crocodile Trophy campaign finished as it began, a disaster. A crash on the CREB track left Charlie with a suspected broken collarbone and he finished the event in a hospital emergency room.
Australian Kim Proctor who rode many lonely miles alongside Charlie during the Crocodile Trophy of 2004 won't be making any decision soon, but you can't help but get the feeling the macabre fascination with this event will overwhelm him again in the future. "Not so sure you'd be thinking tonight whether you'd bounce back and do it again next year," Aussie Kim said when asked if he'd return. "I think you need a bit of time to get over the soreness and the hardship."
Photography
Images by Mark Watson/mwphotography.com.au
Results

1 Alberto Elli (Ita) Gatorade Dream Team 1                    5.43.35
2 Ondrej Fojtik (Cze)                                           11.38
3 Adam Hansen (Aus) Cairns Coconut Caravan Resort               19.42
4 Martin Kiechle (Ger)                                          36.59
5 Sibl Radoslav (Cze) Team Sport Nora                                
6 Robert Hotter (Aut) Team Sport Nora                           37.56
7 Salvatore Paolo Albano (Ita) Pedale Tarvisiano                47.35
8 David Woods (Aus) Cairns Coconut Caravan Resort               50.26
9 Gerhard Gulewicz (Aut) bikestation-salinenimmobiloen.com      50.40
10 Andreas Dünn (Ger) Baier-Qantas-German A.                    51.53
11 James Grant (Aus) Cairns Coconut Caravan Resort            1.05.18
12 Loris Macor (Ita) Pedale Tarvisiano                        1.19.00
13 Thomas Moderbacher (Aut) skinfit TEAM AUSTRIA              1.22.22
14 Lars Erik Johnson (USA) Gatorade Dream Team 2              1.29.28
15 Adam Socha (Aus)                                           1.33.14
16 Perry Moerman (Bel) Gatorade Dream Team 2                  1.44.57
17 Peter Dammerer (Aut) Team Hervis NÖ 1                      1.45.26
18 Willi Wagner (Aut) Team Hervis NÖ 1                        1.46.45
19 Tilo Koch (Ger)                                            1.51.37
20 Andrew Wegener (Aus)                                       1.56.46
21 Anita Waiß (Aut) skinfit TEAM AUSTRIA                      2.24.47
22 Andreas Mühlbacher (Aut) skinfit TEAM AUSTRIA              2.35.31
23 Peter Raymann (Aut) Team Hervis NÖ 2                              
24 Hans Weber (Aut) Team Fluxus                               2.40.31
24 Stephan Adelsmayr (Aut) Drahteselklinik                    2.51.31
26 Toru Watanabe (Jpn) Team Sport Nora                               
 
Fastest Woman
 
1 Anita Waiß (Aut) skinfit TEAM AUSTRIA                       8.08.22
 
Category B 
 
1 Marzio Deho (Ita) Gatorade Dream Team 1                     5.43.36
2 Kim Proctor (Aus) SOHO                                      2.08.23
 
Final general classification
 
1 Adam Hansen (Aus) Cairns Coconut Caravan Resort            59.51.49
2 Ondrej Fojtik (Cze)                                           40.21
3 Alberto Elli (Ita) Gatorade Dream Team 1                    1.09.28
4 Martin Kiechle (Ger)                                        2.41.32
5 Sibl Radoslav (Cze) Team Sport Nora                         3.24.37
6 Gerhard Gulewicz (Aut) bikestation-salinenimmobiloen.com    5.40.22
7 Robert Hotter (Aut) Team Sport Nora                         6.11.08
8 Andreas Dünn (Ger) Baier-Qantas-German A.                   7.25.51
9 James Grant (Aus) Cairns Coconut Caravan Resort             8.08.31
10 Tilo Koch (Ger)                                            8.36.54
11 David Woods (Aus) Cairns Coconut Caravan Resort            9.48.51
12 Adam Socha (Aus)                                          10.33.19
13 Andrew Wegener (Aus)                                      10.42.55
14 Salvatore Paolo Albano (Ita) Pedale Tarvisiano            10.55.55
15 Thomas Moderbacher (Aut) skinfit TEAM AUSTRIA             11.59.23
16 Lars Erik Johnson (USA) Gatorade Dream Team 2             12.50.01
17 Peter Dammerer (Aut) Team Hervis NÖ 1                     14.46.58
18 Willi Wagner (Aut) Team Hervis NÖ 1                       15.53.14
19 Perry Moerman (Bel) Gatorade Dream Team 2                 16.13.38
20 Loris Macor (Ita) Pedale Tarvisiano                       18.50.13
21 Anita Waiß (Aut) skinfit TEAM AUSTRIA                     21.02.23
22 Hans Weber (Aut) Team Fluxus                              22.20.42
23 Andreas Mühlbacher (Aut) skinfit TEAM AUSTRIA             22.51.41
24 Peter Raymann (Aut) Team Hervis NÖ 2                      23.43.18
25 Toru Watanabe (Jpn) Team Sport Nora                       26.04.50
26 Stephan Adelsmayr (Aut) Drahteselklinik                   26.23.20
 
Fastest Woman
 
1 Anita Waiß (Aut) skinfit TEAM AUSTRIA                      80.54.12
 
Over 40
 
1 Alberto Elli (Ita) Gatorade Dream Team 1                   61.03.46
2 Salvatore Paolo Albano (Ita) Pedale Tarvisiano              9.43.58
3 Willi Wagner (Aut) Team Hervis NÖ 1                        14.41.17
4 Perry Moerman (Bel) Gatorade Dream Team 2                  15.01.41
5 Peter Raymann (Aut) Team Hervis NÖ 2                       22.31.21
6 Stephan Adelsmayr (Aut) Drahteselklinik                    25.11.23
 
Category B 
 
1 Marzio Deho (Ita) Gatorade Dream Team 1                    30.38.52
2 Kim Proctor (Aus) SOHO                                        19.52
 
Points classification
 
1 Adam Hansen (Aus) Cairns Coconut Caravan Resort                 165 pts
2 Alberto Elli (Ita) Gatorade Dream Team 1                        155
3 Ondrej Fojtik (Cze)                                             120
4 Martin Kiechle (Ger)                                             66
5 Sibl Radoslav (Cze) Team Sport Nora                              33
6 Robert Hotter (Aut) Team Sport Nora                              22
7 Jurgen Van de Walle (Bel) Gatorade Dream Team 1                  17
8 Lars Erik Johnson (USA) Gatorade Dream Team 2                    15
8 Mario Amann (Aut) Baustoff + Metall 1                            15
10 Marzio Deho (Ita) Gatorade Dream Team 1                         10
11 Gerhard Gulewicz (Aut) bikestation-salinenimmobiloen.com         4
12 Perry Moerman (Bel) Gatorade Dream Team 2                        2
 
Teams classification
 
1 Cairns Coconut Caravan Resort                             198.34.39
2 Team Sport Nora                                            16.41.48
3 skinfit TEAM AUSTRIA                                       36.54.15