MTB index page for all MTB content
3rd Wildside MTB powered by SRAM - NE
Tasmania, Australia, January 31-February 3, 2004
Main Page Results Previous Stage Next Stage
Stage 2 - January 31: Que River, 20 km
Crawford takes second stage; Mathison increases lead
By Mikkeli Godfree, Freewheel Magazine
Paul Rowney
Photo ©: Mikkeli Godfree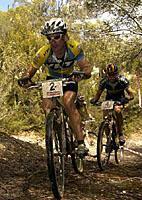 The beautiful weather continued into the afternoon's stage with rain never threatening. This allowed the track to dry up a bit and the riders happily had a faster stage than the soggy one in the morning.
Lunch gave us all a chance to see how spectacularly catered this race is with the Wildside crew offering fresh sandwiches with no expense spared, baked goods, juicy fruit, lollies and coffee!
Well fed, the riders headed out for the stage to Tullah. With Sid Taberlay in the lead, his plan was just to follow the wheels and watch what happened. Follow he did, and within the first few kilometres, his TIS-cyclingnews.com teammate, Jai Crawford had gone on the attack.
Nick Kiraly (SRAM-Rock Shox - Mongoose) tried to follow but Jai was too strong and powered away for the win. Jai really had to dig deep to stay away from the following group which was being driven by Trek's Peter Hatton who had Paul Rowney and Taberlay in tow. Behind this group the YETI pair of Perren Delacour and Trent Lowe were chasing hard to defend Lowe's third place overall and U23 lead.
This situation meant that Pete Hatton was in a tricky spot, "I dragged Rowney and Taberlay for the last 5km because Sid was happy to watch Jai go up the road and Paul was happy to see Trent ride back on from behind with help from Perren. So yeah, they were all ganging up on me!"
Delacour was not quick to deny this saying, "I was working for the team captain, Trent Lowe. It is all or nothing out there!" Trent, who is sporting a new SPOKE (N) outfit, was very appreciative of his team's work and is still in striking distance of the U23 (not to mention the overall) lead.
Crawford was really happy to take out the win, his first in three years of racing this event. Interestingly, Jai will hang up the MTB after Wildside, turning his attention to the road where he will race domestically this year with the hope of getting into the Herald-Sun Tour.
Lisa Mathison and Niki Gudex
Photo ©: Mikkeli Godfree

Rob Eva continued his good form by picking up another top ten, a really impressive ride only just behind the top elite men and ahead of a few more.
Lisa Mathison found her groove again this afternoon and commented that she was really enjoying the racing because she was able to ride with men of similar strength, "It is interesting racing with the guys because you can get in a group and start working. For me it really gives the mind a bit of a rest because with women's MTB racing we are often on our own."
Photography
Images by Mikkeli Godfree
Results
Individual Men Under 23
 
1 Jai Crawford (TAS)                  45.43
2 Peter Hatton (NSW)                   0.44
3 Trent Lowe (VIC)                     1.03
4 Aiden Lefmann (NSW)                  1.30
5 Alistair Farley (VIC)                3.36
6 Chris Winn (VIC)                     3.44
7 James Maebus (VIC)                   4.04
8 Mark Frendo (QLD)                    5.41
9 Luke Wisby (TAS)                     6.46
10 Shaun Lewis (NSW)                   6.47
11 Michael Skroblin (QLD)              7.46
12 Trevor McKenna (TAS)               10.43
13 Peter Herath (VIC)                 16.45
14 Duncan Handley (SA)                16.53
15 William Brodribb (VIC)             22.36
16 Phillip Miller (TAS)               23.31
17 Milford McArthur (TAS)             23.59
18 Steve Flynn (TAS)                  24.23
19 James Stevens (VIC)                28.33
20 Lloyd Hodge (TAS)                  32.13
 
Individual Men Open
 
1 Paul Rowney (NSW)                   46.26
2 Sid Taberlay (TAS)                   0.02
3 Perren Delacour (NSW)                0.21
4 Nicholas Kiraly (VIC)                3.10
5 Brian Sing (VIC)                     3.49
6 Ashley Wass (SA)                     6.20
7 Jason Chalker (ACT)                  7.01
8 Chris Jongewaard (SA)                7.48
9 Luke Webster (TAS)                   8.04
10 Richard Wilkinson (TAS)             8.38
11 Adrian Proietti (QLD)               9.03
12 Stuart Keep (TAS)                   9.35
13 Cameron Daniel (TAS)                9.58
14 Patrick Badger (TAS)               10.25
15 Mark Rapley (TAS)                  11.22
16 Bart Emerton (VIC)                 11.31
17 Brad Harris (NSW)                  11.32
18 Josh Hawkins (TAS)                 11.33
19 Alexis Bull (TAS)                  11.35
20 Ashley Howlett (QLD)               11.43
21 Cam Froomes (VIC)                  11.44
22 David Mason (TAS)                  12.12
23 Abe Moore (NZ)                     12.30
24 Adam Fletcher (QLD)                12.35
25 Nicholas Deane (VIC)               12.43
26 Nic Reid (TAS)                     12.55
27 Jason Briggs (SA)                  13.05
28 Adam Shepard (NSW)                 13.22
29 Dean Hunt (VIC)                    13.52
30 Simon Van der Aa (TAS)             13.58
31 Jez Spackman (ACT)                 14.04
32 Matthew Wilson (TAS)               14.13
33 Robert Symmons (NSW)               14.32
34 Scott Peddle (NSW)                 14.34
35 Jaison Hoernel (VIC)               15.40
36 Nikolas Preece (TAS)               15.48
37 James Sulzberger (NSW)             16.01
38 Andrew Paterson (VIC)              16.02
39 Steven Brown (TAS)                 16.09
40 David Cummins (NSW)                16.31
41 Matthew Bacon (NSW)                16.47
42 Ben Crabb (ACT)                    17.24
43 Tim Neal (NSW)                     17.36
44 Brett Stewart (TAS)                17.39
45 Leigh Barratt (VIC)                17.41
46 John Atkinson (TAS)                18.02
47 Danny King (TAS)                   18.07
48 Ross Morcombe (VIC)                18.22
49 Christopher Miller (ACT)           18.42
50 Steven Hanley (ACT)                18.48
51 Keith Ryan (TAS)                        
52 Paul Barry (NSW)                   18.53
53 Morgan Mellish (NSW)                    
54 Marcus Morse (TAS)                 19.17
55 Lloyd Pardon (NT)                  19.26
56 Matthew Spackman (ACT)             19.28
57 Martyn Sweet (TAS)                 19.53
58 Scott Williams (TAS)               20.00
59 Brendan Scarborough (SA)           20.05
60 Stephen Neill (NSW)                     
61 David Coward (NSW)                 20.09
62 Klaus Heil (NSW)                   20.21
63 Cory Griffiths (TAS)               20.34
64 Gavin Bowe (TAS)                   20.43
65 Dion Lester (TAS)                  20.50
66 Eoin Ryan (TAS)                    20.51
67 Daniel Handley (SA)                20.54
68 Andrew Ling (TAS)                  21.06
69 Joshua Charlesworth (VIC)          21.19
70 Shane Kennedy (SA)                 21.35
71 Nathan Germaine (NSW)              21.58
72 Cade Richardson (TAS)              22.00
73 Jason Mennitz (TAS)                22.31
74 Joseph Schifano (NSW)              22.48
75 Bradley Quinn (TAS)                23.13
76 Jonathan Elliot (TAS)              23.39
77 Stefano Pittau (VIC)               23.49
78 Martin Fox (TAS)                   23.56
79 John Koslowski ()                  24.02
80 Robert Bradley (TAS)               24.16
81 Peter Kennedy (VIC)                24.50
82 Justin Matthews (VIC)              25.06
83 Andrew Findlay (NSW)               25.18
84 Justin Whelan (QLD)                25.26
85 Kim Wiggins (TAS)                  25.40
86 Evan Hayes (SA)                    25.41
87 Brook Teale (TAS)                  26.12
88 Nigel Hardie (QLD)                 26.45
89 Mark Dwyer (TAS)                   27.15
90 Peter Effeney (TAS)                27.42
91 Jason Benton (QLD)                 27.51
92 Chris Evanson (VIC)                27.55
93 Grant Joyce (TAS)                  28.17
94 Steven Lee (SA)                    28.22
95 Greg Beard (NSW)                   28.30
96 Nigel McGinty (ACT)                29.22
97 Nathaniel Vervaart (TAS)           29.24
98 Rahsn Witt (NSW)                   29.26
99 David Sutton (NSW)                 29.32
100 Hieu Nguyen (NSW)                 29.33
101 Craig Lawn (VIC)                  30.16
102 Curtis Smith (NSW)                31.09
103 Damon Bennett (NSW)               31.30
104 Martin Quinn (TAS)                32.15
105 Andrew Thomas (ACT)               33.21
106 Sam Thompson (TAS)                34.17
107 Brendan Robinson (QLD)            34.36
108 Adam Luttrell (TAS)               34.42
109 Darren Marks (ACT)                37.19
110 Grant Wise (TAS)                  37.33
111 Simon Milwright (QLD)             38.11
112 Glenn Woodfall (TAS)              38.37
113 Ben Strugnell (TAS)               40.01
114 Douglas Miller (TAS)              40.21
115 Adam Hughes (TAS)                 42.33
116 Troy Grundy (TAS)                 46.18
117 Jacob Mitchell (NSW)              53.01
118 Andrew Tracey (TAS)               53.40
119 Simon Williams (TAS)              56.42
120 Brendan Leihy (VIC)             1.24.52
DNS Iain Davidson (NSW)                    
DNS Darren Stewart (ACT)                   
DNS Tim Fenton (USA)                       
DNS Mikkeli Godfree (VIC)                  
DNS Colin Ralph (TAS)                      
 
Individual Women Open
 
1 Lisa Mathison (QLD)                 56.53
2 Niki Gudex (NSW)                     6.28
3 Samantha Jesney (TAS)                9.24
4 Anna Sutton (NSW)                   10.49
5 Maria Papadopoulos (NSW)            11.17
6 Heidi Flaxman (ACT)                 13.19
7 Tanya Britton (QLD)                 13.39
8 Tracey Wilson (TAS)                 14.57
9 Philippa Morse (TAS)                17.48
10 Victoria Grigor (NSW)              17.51
11 Jessica Rosevear (TAS)             18.06
12 Danielle McMillan (VIC)            18.35
13 Robyn Holmes (TAS)                 18.56
14 Kim Whitehouse (NSW)               19.55
15 Jane Guiver (TAS)                  21.57
16 Anne Pardon (NT)                   22.36
17 Edwina Hughes (TAS)                24.59
18 Anna Crabb (TAS)                   25.31
19 Alison Anderson (NSW)              26.17
20 Kelly Linaker (VIC)                27.03
21 Kate Miller (ACT)                  29.15
22 Emily Fewster (NSW)                30.04
23 Rebecca Botten (SA)                30.08
24 Moira O'Rourke (TAS)               34.34
25 Cheryl Hennessy (USA)              39.44
26 Natalie Martin (TAS)             1.04.20
DNS Sam Reinhardt (ACT)                    
 
Individual Men Veterans
 
1 Robert Eva (VIC)                    48.26
2 John Gregory (TAS)                   2.44
3 Ian Goodwin (QLD)                    6.00
4 Hugh Stodart (NSW)                   7.02
5 Bill Chilvers (TAS)                  8.42
6 Christopher Cantor (VIC)             9.44
7 Saul Britton (NSW)                   9.52
8 Andrew Rowe (ACT)                   10.27
9 Rob Davis (VIC)                     10.42
10 Phil Grant (VIC)                   10.43
11 Mark Matthews (TAS)                10.49
12 Peter Beggs (NSW)                  11.48
13 Rodney Hart (NSW)                  12.05
14 Wayne Bradbury (ACT)               12.18
15 David Morgan (ACT)                 12.57
16 Christopher Edwards (NSW)          13.19
17 Roger Hawley (QLD)                 13.40
18 David Adams (TAS)                  13.50
19 Matthew Coulter (NSW)              14.16
20 Glenn Myler (TAS)                  14.17
21 Michael Daish (NSW)                14.32
22 James Davies (SA)                  14.49
23 Robert Mathews (TAS)               15.23
24 Mark Wilkie (TAS)                  15.50
25 Duncan McGlashan (TAS)             16.02
26 Darren Greentree (QLD)             16.04
27 Adrian Marti (VIC)                 16.08
28 Paul Angel (NSW)                   16.51
29 Dalen Court (VIC)                  17.25
30 Mark Evans (QLD)                   17.26
31 Jan Bredenkamp (QLD)               17.28
32 Andrew Robertson (ACT)             17.41
33 Ian Blakey (TAS)                   17.56
34 Jim Trail (ACT)                    18.35
35 Stephen Watchorn (TAS)             18.56
36 Keith Hannan (NSW)                 19.19
37 Warren Borlase (New Zealand)       20.00
38 Dave Cummins (NSW)                 20.05
39 Phillip Bishop (TAS)               20.08
40 Jody Dennison (TAS)                20.17
41 David Willis (VIC)                 20.21
42 Matthew Aldridge (VIC)             20.35
43 Brad Adams (NSW)                   20.39
44 Tony Frazer (ACT)                  20.48
45 Michael Symons (TAS)               21.04
46 Simon Foster (TAS)                 21.59
47 Ian Ferrier (TAS)                  22.02
48 Dale Lisson (TAS)                  24.09
49 Tim Tribe (NSW)                    26.05
50 Keith Murfet (TAS)                 26.24
51 David Golby (VIC)                  26.47
52 Andrew Cooke (TAS)                 26.57
53 Dominic Sims (ACT)                 27.49
54 Marcus Langham (TAS)               27.56
55 Paul Strong (TAS)                  28.25
56 Mark Connelley (TAS)               29.02
57 Andrew Strugnell (TAS)             29.25
58 James Down (TAS)                   29.32
59 Geoffrey Fielding (NSW)            30.09
60 Michael Fenton (TAS)               30.42
61 Jack Birrell (TAS)                 32.17
62 Konrad Blackman (TAS)              32.55
63 Andrew Cassie (VIC)                33.22
64 Frank Clark (TAS)                  35.00
65 Dean Robinson (VIC)                35.07
66 Jonathan Herron (NSW)              35.58
67 John Borg (NSW)                    36.57
68 Gerard Ward (NSW)                  38.51
69 Richard Green (NSW)                40.31
70 Craig Bennett (TAS)                41.10
71 Andrew Hynes (ACT)                 44.19
72 Michael Chan (NSW)                 45.47
73 Norbert Eisele-Hein (Germany)    1.13.19
DNS Allen Chong (WA)                       
DNS David Benwell (USA)                    
 
Individual Women Veterans
 
1 Tracey Angove (ACT)               1.08.34
2 Susan du Plessis (WA)                0.24
3 Carolyn Jackson (VIC)                2.42
4 Rosemary Packer (VIC)               15.31
5 Wendy Peattie (NSW)                 18.35
6 Jane Rusden (VIC)                   19.48
7 Katrina Roper (ACT)                 22.29
DNS Katherine Costello (NSW)               
 
Individual Men Masters
 
1 Brian Scarborough (SA)              59.01
2 Nick Tilbrook (SA)                   1.05
3 Bryan Wharton (QLD)                  1.31
4 Finlay Luff (VIC)                    1.33
5 Martin Baker (NSW)                   3.08
6 Kerry Ryan (VIC)                     3.32
7 Phillip Dent (TAS)                   3.59
8 Hans Dielacher (VIC)                 4.19
9 Paul Verheijden (VIC)                6.52
10 Neill Grant (NSW)                   7.14
11 Philip Dunn (TAS)                   7.20
12 Dave Sutton (ACT)                   7.27
13 John Fisher (TAS)                   7.59
14 Stephen Foster (TAS)                8.46
15 Jeffrey Weymouth (VIC)              8.51
16 James Sloan (NSW)                   9.07
17 Stephen Bence (TAS)                 9.35
18 Ted van Geldermalsen (VIC)          9.46
19 Stephen Stinton (NSW)              11.01
20 Griff Weste (SA)                   11.39
21 Andrew van der Vliet (NSW)         13.27
22 Paul Haynes (NSW)                  13.47
23 John Dalco (TAS)                   15.23
24 Peter McLean (QLD)                 16.40
25 Neil Cocks (NSW)                   17.11
26 Kimberley Overington (WA)          20.25
27 Phil Mathewson (NSW)               20.53
28 John Bonnett (NSW)                 21.43
29 Allan Westnidge (NSW)              23.57
30 Richard Roffe (TAS)                24.09
31 Ian Stanley (TAS)                  26.58
32 Bruce Stewart (VIC)                29.54
33 Malcolm Burnett (VIC)              30.41
34 Raymond Hill (SA)                  31.48
35 Peter Daniel (TAS)                 32.51
36 Richard Pullinger (NSW)            36.30
37 Anthony Smith (NSW)                38.12
38 Terence Packman (NSW)              38.47
39 Brian Wallace (New Zealand)        42.13
40 Carey Wells (TAS)                  52.05
DNS Stephen Spray (VIC)                    
DNS Noel Allen (SA)                        

General classification after stage 2
 
Men

1 Sid Taberlay (TIS/Avanti/Cyclingnews.com)

Women

1 Lisa Mathison (Ghost)