MTB index page for all MTB content
Australian MTB Championships - CN
Eildon, Victoria, February 27-29, 2004
Main Page Results Previous Day Next Day
Day 2 - February 28: Long course XC
By Mikkeli Godfree
Mathison and Baylis go head-to-head
Mathison
Photo ©: Mikkeli Godfree/CN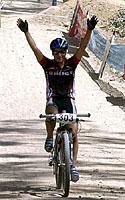 With Anna Baylis back from her German-base for the 2004 National Titles, the defending champ, Lisa Mathison would have her work cut out for her. With a few solid years of Euro-MTB racing under her belt, Baylis looked a real threat to the title. Interestingly though, the two favourites are Ghost teammates who will spend the next 8 months together, but despite this, no love would be lost.
Baylis went out very hard to assert her authority but the dual junior world champ, Mathison, was always within striking distance as Niki Gudex settled down in third position. Near the end of the first lap, Baylis dabbed and Mathison took her chance. Immediately applying the pressure, the junior of the two teammates, Mathison, got a gap and put Baylis in trouble.
Although Baylis fought hard to stay within reach of the win, Mathison was ultimately untouchable and ended up winning comfortably. The young gun was very happy while a slightly disappointed Baylis was full of praise for her new teammate. Baylis could hardly be upset though as the Ghost Team is her brainchild - a 1-2 result is a great way to start the year.
Lisa explained that she started off a little easier in the first lap because last year she was a little over-excited and that resulted in her having a crash. "This year however," said Mathison, "I was more conservative and waited to make my move but I was very intent on getting out in front because the dust just made it too hard to breathe."
Taberlay too good
Sid Taberlay (TIS/Cyclingnews.com/Avanti)
Photo ©: Mikkeli Godfree/CN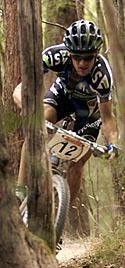 After an extremely dominant Wildside showing for the Avanti team, all eyes were on Chris Jongewaard (Avanti) and 2002 national champ Sid Taberlay (TIS/Cyclingnews.com/Avanti). These two dominated the Wildside 4-day MTB stage race and were obviously coming into some good form before the 2004 National Championships.
Indeed, these two didn't disappoint and Jongewaard set a blistering pace on the start lap. It was so hot that by the time they hit the first lap, the two Avanti boys had established a gap which they worked on for the next few laps. They had the rest of the field on the ropes with only a select few able to stay within eyesight of the front pair - previous national champions, Josh Flemming (Felt) and Paul Rowney (Yeti-blue flame), the only two who could keep the Avanti guys within one minute as they hit the midway point of the race.
As the race entered its last two laps, Taberlay had made his move and had left Jongewaard behind. He quickly built up a thirty second lead while Jongewaard drifted back toward a strong-finishing Flemming. The race looked to be won for Taberlay, but he crashed and lost a bidon, meaning he didn't have any fluid for the fifth lap. With Taberlay struggling with the dust, his lead was whittled down to 19sec with only 2/3 of a lap to go!
Jongewaard must have thought all his Christmases were coming at once when he saw Taberlay coming back to him, but with fluid on board again, Taberlay was able to hold on to win by barely half a minute. Taberlay was so exhausted by the effort of the last few laps that he could hardly savour his victory, post-race interviews were slurred and it was only when he had the champagne in his hand and the green and gold jersey on his shoulders that he perked up.
"I was really happy to win this one, I had to dig really deep because of fact that I did the second last lap without a bidon. I couldn't breathe properly without water because of the dust but when I got some fluid into my mouth again, I was able to ride quicker again, lucky I got it in time for the last lap!"
Flemming came through close behind Jongewaard in third, making it one of the closest national titles podium in quite a few years. It is no coincidence, as this year sees Athens on the calendar and the boys are very hungry to represent the green and gold.
Lowe defends U23 title
Trent Lowe (left) and Sid Taberlay
Photo ©: Mikkeli Godfree/CN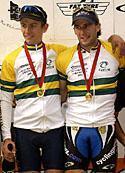 Trent Lowe (Yeti-Spoke(n) was the defending U23 champion coming into this race, but having come across the line second in the 2003 National Championship race, he was keen for a good overall result. With a ding-dong battle set between him and Pete Hatton (Trek) the two went out really hard in pursuit of the elite leaders Jongewaard and Taberlay.
Hatton and Lowe were together until the third lap when Hatton, sitting in 5th place overall, put 15secs into Lowe. Meanwhile, Lowe was working with Craig Gordon to stay in contention. However, on the fourth lap, Pete Hatton disappeared, leaving Lowe a clear-run to the U23 win. Although Lowe was not as competitive as he was late last year he was pleased to have defended his title, so much so that he pulled a 100m-long coaster wheelie across the line, much to the delight of the crowd.
Lewis crushes junior field
A super-fast Shaun Lewis was lapping faster than the elite men at the last round of the national series so big things were expected of him at the national championships. He lived up to these expectations, absolutely punishing the junior field over a dusty course.
"I wasn't expecting such a hard start but I knew the course would suit me. Justin Case went out really fast and pushed the pace. He is a talented rider and he ended up a strong second. He worried me a the start but I got a fair gap and got out of sight, I was more confident then."
Lewis is a big talent and is heading over to Europe this year to do some World Cups where he will surely develop even more - look out for him at this year's World Champs.
Photography
Images by Mikkeli Godfree/Cyclingnews.com
Results
Elite Men
 
1 Sid Taberlay (TIS/Cyclingnews.com)
2 Chris Jongewaard
3 Josh Fleming
4 Paul Rowney
...
7 Trent Lowe (First U/23)
 
Elite Women
 
1 Lisa Mathison (Team Ghost)
2 Anna Bayliss (Team Ghost)
3 Niki Gudex (Intense)
4 Claire Baxter (Mascot Cycles)
5 Tory Thomas
6 Lynne Vaughan
7 Emma Colson (Topbike.com.au)
 
Masters Men 40+
 
1 Rob Eva (SRAM)
2 Warren Key (Melbourne Bicycle Centre)
3 Paul Burbidge-Smith (CORC)
 
Sub-Junior Men U/17
 
1 Cal Britten
 
Junior Men U/19
 
1 Shaun Lewis
 
Veteran Women
 
1 Vick Kirkby