Recently on Cyclingnews.com
MTB index page for all MTB content
Siemens mobile X-Lake Jump - CC
Lugano, Switzerland, September 4, 2003
World's best freestyle jumpers jump for kudos, cash, chocolates and an M55 phone
Igor "The Eagle" Obu's record-breaking leap
Photo ©: Agency Planet Talk/Siemens mobile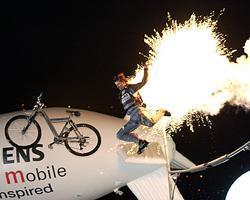 For a second time in a row, the Siemens mobile X-Lake Jump was the spectacular highlight of the opening celebrations of the UCI Mountain Bike World Championships. An estimated 10,000 spectators watched some of Europe's best mountain bike and BMX stunt riders speed down a seven meter tall ramp, shoot off a two meter steep kicker, climbing up to five meters high in the air, then pull off a range of unique and original tricks before plunging into Lake Lugano.
Slow motion on two giant screens slowly repeated what was hard for the eye to believe: Superman Seat Grab, Cliff-hanger, Cordoba, Hart Attack, Front Flip No Hand, Back Flip Look Down, and Timo Pritzel's two and a half Back Flip were just some the of thrilling moves performed by the who's who of European dirt jumping. Igor "The Eagle" Obu from Germany - the master of X-High Jumps with pyrotechnics - had worked two full days on his new 'glowing fireball' effects. The crowds screamed and squealed each time he ignited another stunning effect on either his bike or his back. In the hunt for a new high jump world record together with record holder Timo Pritzel and Julien Botella, Igor fulfilled one of his biggest goals in mountain biking - to win the Siemens mobile X-Lake High Jump competition and to beat the current world record of 5.12m. The long distance world record holder from Germany was the only one after an exciting record battle to jump with his bike over the impressive height of 5.50m. As he crossed the high jump bar, Igor ignited his biggest pyrotechnical explosion of the night on his back - what an outstanding staging for a new world record.
In the competition 'Best Trick' the riders - split up into the categories BMX and MTB - had to perform three different tricks like a rotation, an inverted trick (head down) and a freestyle stunt (e.g. Superman Seat Grab). The riders from France, Germany, Austria, Hungary and the UK were marked by a panel of expert judges including Siemens mobile Cannondale team rider and downhill world cup leader Cedric Gracia on criteria such as difficulty, execution, and creativity. With a seven meter high stylish Ramp Diver, a two and a half Front Flip over the handle bar, and a two and a half Back Flip, 26 year-old Timo Pritzel from Berlin won his fifth Siemens mobile X-Lake Jump competition in the category MTB.
With one point advance in his total score, the Austrian Roland Harrer secured after Kaprun-Zell am See and Fort William his third victory in the BMX category at the Siemens mobile X-Lake Jump. Like Romuald 'Bibi' Noirot from France on second place he performed a stunning Back Flip Double Tale Whip.
In addition to prize money and typical Swiss delicacies, the competitors were awarded with a brand new Siemens M55 mobile, with built-in Cubasis DJ mixing software - the perfect phone for the 'x-traordinary' daredevil world of the X-Lake Jump community.
Photos
Images by Agency Planet Talk/Siemens mobile
Results

Best Trick MTB
 
1 Timo Pritzel                 71 pts
2 Daniel Preining              69
3 Cyril Cabiak                 67
4 Antoine Botella              62
5 Julien Botella               61
6 Niels Peter Jensen           60
7 Attila Nagy                  59
 
Best Trick BMX
 
1 Roland Harrer                70
2 Romuald Noirot               78
3 Markus Hampl                 72
4 Simon Stevens                66
 
X-High Jump
 
1 Igor 'The Eagle' Obu        5.5 metres
2 Timo Pritzel                5.4
=2 Julien Botella             5.4