MTB index page for all MTB content
Mount Sdom Bike Race - E1
Dead Sea, Israel, November 15, 2003
Philip Tavell and Ivvone Kraft take double victories
By Danny Zaken, Israeli Cycling Federation
Philip Tavell (Sweden)
Photo ©: Miki Bar Or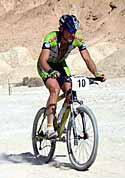 The last UCI MTB events of the year were both raced in Israel, attracting over 600 riders across all categories with the UCI E1 ranked main event attracting record numbers of foreign riders. This was the last chance for Olympic hopefuls to gain ranking points to qualify for next year's summer games in Athens.
In the men's race 50 riders from Israel, Cyprus, Estonia, Russia, Denmark, Sweden, Turkey, Hungary, Slovakia, Greece, Ireland and the U.K. took the start in both races in the town of Shoham on November 8 and the Volvo XC MTB race that was held near Ein Bokek on the shore of the Dead Sea this weekend.
The winner of the previous week's Shoham E1 race, Sweden's Philip Tavell (Merida international), was the favourite from the equally impressive runner up Christen Poulsen of Denmark. The course, a dusty rocky affair with long wind-blown straights, short steep descents and extremely rocky and sandy sections, combined with the heat and 10% humidity, took its toll on the riders, with Tavell and Poulsen moving clear after two searingly fast laps.
Halfway through the penultimate lap Tavell made his move and escaped to a comfortable 2 and a half minute win over Poulsen. Robin Seymour (Ireland) filled the last podium spot another 2 and a half minutes behind just holding off the fast finishing Sergiy Rysenko of the Ukraine and Constantin Symeldis of Greece who finished 4th and 5th respectively after a fantastic sprint to the line.
Ivonne Kraft
Photo ©: Miki Bar Or
Israeli champion Eyal Steinitz clinched the overall title of the Israeli national series by riding strongly to 11th place and first Israeli finisher, ahead of his closest rival for the series Doron Amitz who came home for 13th place.
In the women's race, it was business as usual for this year's 4th place finisher at the world championships and last week's winner Ivonne Kraft of Germany. Kraft and Mette Anderson of Denmark quickly opened an unassailable lead with Kraft moving clear after 2 laps and soloing to a comfortable win over the remaining 2 laps. Next to finish were the Irish Duo of Tarja Owens and Jenny McCauley.
6 time winner of this event and Israeli champion Laurie Copans in her last International event came home for 5th place ahead of Elina Sophocleous of Cyprus.
Photography
Images by Miki Bar Or/Israeli Cycling Magazine
Results
Elite Men - 40 km
 
1 Philip Tavell (Swe) Merida International    1.38.15
2 Christian Poulsen (Den)                        2.30
3 Robin Seymour (Irl)                            4.54
4 Sergiy Rysenko (Ukr)                           5.16
5 Konstantinos Symelidis (Gre)                   5.17
6 Igor Bogdan                                    6.23
7 Szilard Buruczki (Hun)                         6.26
8 Lubos Kondis (Svk) Ceska Sporitelna MTB        8.25
9 Yury Trofimov (Rus)                            8.54
10 Sigvard Kukk (Est) Kalev Chocolate Team       9.52
11 Eyal Shtainitz (Isr)                         11.03
12 Emmanouel Kotoulas (Gre)                     13.10
13 Doron Amitz (Isr)                            13.17
 
Elite Women - 32 km
 
1 Ivonne Kraft (Ger)                          1.34.10
2 Mette Andersen (Den)                           1.37
3 Tarja Owens (Irl)                              2.49
4 Jenny Mccauley (Irl)                           8.11
5 Laurie Copans (Isr)                            8.46
6 Elina Sophocleous (Cyp)                       10.54
7 Keren Ekeshtein (Isr)                         19.39
8 Antri Panteli (Cyp)                                


Past winners

Men                                   Women

2002 Elan Edelson (Isr)    1.59.04    Jindriska Bejstova (Cze) 1.41.36
2001 Doron Amitz (Isr)     1.59.38    Laurie Kopens (Isr)      2.35.17
2000 Doron Pecketz (Isr)   1.43.44    Laurie Kopens (Isr)      2.07.27
1999 Kirk Molday (USA)     1.38.35    Laurie Kopens (Isr)      2.09.53
1998 Travis Brown (USA)    1.33.07    Laurie Kopens (Isr)      2.02.44
1997 Edo Sirkin (Isr)      1.18.47    Laurie Kopens (Isr)      1.36.53
1996 Elan Edelson (Isr)    1.14.41    Laurie Kopens (Isr)      1.32.03