MTB index page for all MTB content
NORBA Series #1 - E1
Big Bear, California, USA, May 17-18, 2003
Race 1 - May 17: Cross-country
Dunlap & Hesjedel take cross-country NORBA opener
By Kristy Scrymgeour
Mary Grigson
Photo: © Bob Wilson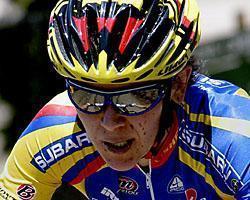 Alison Dunlap (Luna Chix) lived up to expectations today when she took out the first round of the NORBA National Mountain Bike Championship Series in Snow Summit Mountain Resort, Big Bear Lake.
Dunlap took the lead early, with only Kiara Bisaro (Gears Racing) able to go with her. The pair stayed together until the final climb when Bisaro just couldn't handle the pace of the 2001 world champion any longer. By the finish line Dunlap had powered away to a 20 second lead. Behind, Kim Anderson (T-Mobile), taking a short break from her road season showed that she can also hang in there on the dirt as she took third place from down under rider Mary Grigson (Subaru Gary Fisher). Rounding off the top five was Jimena Florit (RLX/Ralph Loren).
This is the first time Dunlap has won on this course and she was all smiles at the finish. "I'm really happy. On a long lap like this one you're never really sure where the other riders are. You always think they're coming up behind you".
Ryder Hesjedel
Photo: © Bob Wilson

In the men's race Ryder Hesjedal (Subaru Gary Fisher), coming off a calf injury, was too strong as he jumped away from a group of nine in the final lap to take the win.
The group of nine consisting of Hesjedal, race favourite Roland Green (Trek-Volkswagen), Seamus McGrath (Haro - Lee Dungarees), Jeremy Horgan-Kobelski (RLX/Ralph Lauren), and Geoff Kabush (Kona), among others, formed early in the race and remained together keeping a steady pace until Hesjedal made his move on the final descent. "I felt fresh and ready to go hard, so I went for it," said Hesjedal. With the chase group not able to make a dent in Hesjedal's lead, and the group slowly splitting up, it was McGrath and Kabush racing it out for second place. McGrath held off Kabush for second place, but had to work hard to do so." I was time trialing all the way to the end; I put my head down in the final two miles on the fire road and managed to hold him off".
Many were surprised that Green didn't have it today. Despite his recent crash at the Tour of Georgia, he was still the race favourite but just couldn't hold the pace on the last lap.
Photography
Images by Bob Wilson/www.wilsonsphotography.com
More photos by Bob Wilson/www.wilsonsphotography.com
Results
Women
 
1 Alison Dunlap (USA) Luna Women                 2.07.58
2 Kiara Bisaro (Can) Gearsracin                     0.36
3 Kim Anderson (USA) T-Mobile                       0.56
4 Mary Grigson (Aus) Subaru/Gar                     1.22
5 Jimena Florit (Arg) Rlx Ralph                     1.34
6 Susan Haywood (USA) Trek-Volks                    1.50
7 Alison Sydor (Can) Trek-Volks                     2.54
8 Mary McConneloug (USA) Seven Cycl                 3.45
9 Trish Sinclair (Can) Gearsracin                   4.46
10 Willow Koerber (USA) Rlx Ralph                   4.46
11 Dara Marks (USA) Sobe/Canno                      5.06
12 Gretchen Reeves (USA) Rocky Moun                 6.00
13 Lesley Tomlinson (Can) Rocky Moun                6.01
14 Jennifer Todd (USA) Sobe Canno                   8.41
15 Susy Pryde (USA) Specialize                      8.59
16 Jamie Whitmore-Cardenas (USA) Feltfssa M         9.40
17 Chrissy Redden (Can) Subaru-Gar                 10.12
18 Heather Irmiger (USA) Ritchey/K2                11.15
19 Lanie Mason (USA) Cane Creek                    11.47
20 Dellys Franke (Aus) Rocky Moun                  11.51
21 Katerina Hanusova (USA) Luna Women              12.14
22 Melanie McQuaid (Can) Ford Outfi                12.48
23 Kathy Sherwin (USA) Sobe Canno                  13.14
24 Nina Baum (USA) Lenz Sport                      13.15
25 Lisa Matlock (USA) Ford Outfi                   15.29
26 Jennifer Smith (NZl) Trek/Vw Ro                 15.30
27 Shelly Whisenhant (USA) Velo Bella              15.56
28 Melissa Thomas (USA) Ritchey                    16.12
29 Lorenza Morfin (Mex) Turbo                      16.39
30 Karen Dewolfe (Can) Cal Dried                   16.41
31 Karen Matamoros Zungiga (CRc) Costa Rica        17.08
32 Annemarie Huisman (USA) Sobe/Canno              17.31
33 Tonya Laffey (USA) Mtbchick.C                   18.03
34 Heather Szabo (USA) Tokyio Joe                  18.16
35 Sara Bresnick (USA) Team Dried                  18.18
36 Elena Felin (USA)                               18.25
37 Joan Orgeldinger (USA) Redhook                  18.39
38 Barbara Howe (USA) G6                           19.17
39 Linda Gabor (USA) Trek/Vw/Jb                    19.39
40 Sonia Lopez (Mex) Mexico Tea                    20.03
41 Kelli Emmett (USA) Hillenbran                   20.13
42 Tiffany Kenny (USA) Ford Outfi                  20.16
43 Stella Carey (USA) Kelly Bike                   20.17
44 Robin McGee (USA) Jackson Ho                    20.44
45 Loreen Lightfield (USA) Richards                21.21
46 Shannon Gibson (USA) Crazy Cat                  25.09
47 Jody Koch (USA) Ford Outfi                      26.30
48 Kimberly Flynn (USA) Team Peggy                 27.40
49 Dorothy Wong (USA) Kelly Bike                   28.24
50 Julie Emmerman (USA) Ritchey Ro                 28.38
51 Judy Freeman (USA) Sobe/Canno                   28.48
52 Rachel Massey (USA) Ford Outfi                  29.57
53 Alisha Engel (USA) Central Co                   30.06
54 Shari Hausbeck (USA) Trek-Vw/Ro                 31.10
55 Lora Heckman (USA)                              32.15
56 Julie Trimble (USA) Mountian V                  34.21
58 Becca Blay (USA) Tram Deam                      40.10
57 Lisa Peck (USA) Biogen                          37.02
DNF Kerry Barnholt (USA) Sobe Canno
DNF Sally Warner (USA) Biogen
DNF Gina Hall (USA) Clif Bar
DNF Shari Kain (USA) Subaru/Gar
DNF Nichole Wangsgard (USA) Laforza
DNF Jill Adelstein (USA) Dynatech R
DNF Leslie Gilmore (USA) Soulcraft
DNF Rhonda Quick (USA) Clif Bar
DNF Nicole Habay (USA) Speed Bike
DNF Molly Hummel (USA) Dean
 
Men
 
1 Ryder Hesjedal (Can) Subaru-Gar                2.25.02
2 Geoff Kabush (Can) Kona                           0.19
3 Seamus McGrath (Can) Haro Lee D                   0.25
4 Jeremy Horgan-Kobelski (USA) Rlx Ralph            1.22
5 Todd Wells (USA) Mongoose/H                       2.26
6 Joseadrian Bonilla CRI Costa Rica                 2.40
7 Ziranda Madrigal (Mex) Turbo                      4.04
8 Carl Swenson (USA) Rlx Ralph                      4.55
9 Walker Ferguson (USA) Subaru - G                  6.15
10 Andreas Hestler (Can) Rocky Moun                 6.32
11 Jeremiah Bishop (USA)                            6.39
12 Chris Sheppard (Can) Haro Lee D                  6.49
13 Frank Mapel (USA) Specialized                    7.45
14 Mathieu Toulouse (Can) Gearsracin                7.47
15 Ricky Federau (Can) Gearsracin                   7.48
16 Jimi Mortenson (USA) Specialize                  8.22
17 Travis Brown (USA) Trek/Volks                    8.45
18 Diego Garavito (USA)                             9.49
19 Carl Decker (USA) Giant/Pear                    11.16
20 Cody Peterson (USA) 3 D Racing                  11.50
21 Charlie Storm (USA) Cycling Sp                  12.04
22 Dave Wiens (USA) Rlx Ralph                      12.38
23 Neil Shirley (USA) Trek West                    14.24
24 Michael Broderick (USA) Seven Cycl              14.25
25 Brent Miller (USA)                              14.33
26 Paul Rowney (Aus) Sobe Canno                    14.54
27 Christian Cuesta Navarrete (Mex) Team Morat     15.37
28 Derek Wilkerson (USA) Hillenbran                15.39
29 James Van Toever (Can) Team Morat               15.57
30 Michael Janelle (USA) Tokyo Joes                16.16
31 Julian Hine (Can) Gearsracin                    16.33
32 Anthony Colby (USA) 3D/Go Jus                   16.44
33 Charles Pendry (USA) Krystal                    16.57
34 Cameron Brenneman (USA) Kb Home                 17.30
35 Ryan Trebon (USA) Krystal/Wc                    18.22
36 Doug Swanson (USA) Trek/Vw/Jb                   18.32
37 Stefano Barberi (USA) Mapei                     18.42
38 Deiber Esquivel Benavide CRI Costa Rica         18.54
39 Nick Waite (USA) Team West                      19.11
40 Micheal Lee (USA) Trek/Vw/Jb                    19.26
41 Jay Henry (USA) Specialize                      19.27
42 Matt Shriver (USA) 3D Racing/                   19.37
43 Matt Pacocha (USA) Ritchey/K2                   19.55
44 Alan Obye (USA) Team Balan                      20.24
45 Josh Bezecny (USA) Sobe Canno                   20.39
46 Russ Tiles (USA) Sling Shot                     20.54
47 Eric Jones (USA) Team Bioge                     21.29
48 Brian Smith (USA) Trek/Vw/Ro                    22.37
49 Peter Wedge (Can) Kona Usa                      22.53
50 Aiden Lefmann (Aus) Sobe Canno                  23.16
51 Anthony Slowinski (USA) Trek/Jeffe              23.31
52 Jesse Swift (USA) Dean Bicyc                    23.36
53 Andrew Lee (USA) Ice Box Mt                     23.57
54 Scott Keller (USA) Speedbikes                   24.15
55 Jason Tullous (USA) Telcel/Spe                  24.35
56 Salvador Barriga Vidales (Mex) Turbo            24.36
57 Adam Bucklin (USA) Dried Plum                   24.38
58 Bryson Perry (USA)                              25.06
59 Amon Pease (USA) Trek/Vw Jb                     25.19
60 Jeff Burnard (USA) Deschutesb                   25.37
61 Troy Barry (USA) Jhmr/Marmo                     26.10
62 Edgar Garcia (Mex) Adventureo                   27.04
63 Bart Gillespie (USA) Biogen                     27.21
64 Jesse Rients (USA) Penn Cycle                   27.47
65 Adam Craig (USA) Giant/Pear                     29.12
66 Barry Wicks (USA) Kona-Clark                    29.12
67 Brent Bookwalter (USA) Balance Ba               29.45
68 Eric Atwood (USA) Ritchey/K2                    29.48
69 Jeff Hall (USA) Salsa Cycl                      30.52
70 Duncan Meyers (USA) Soulcraft                   30.54
71 John Foley (USA) Team Dried                     31.14
72 Andy Guptill (USA) Coxsalkie                    32.16
73 Rob Scott (USA) Sobe/Canno                      32.28
74 Garnet Vertican US Odi /South                   32.34
75 Derek Prechtl (USA) Bells Beer                  32.38
76 Brandon Ott (USA) Tailwind B                    35.41
77 Brian Astell (USA) Independen                   40.15
78 Dan Swanson (USA) Nature Val                    41.20
79 Steve Kinney (USA) Steven K B                   43.31
80 David Binker (USA) Ritchey/No                   48.16
81 Brad Van Orden (USA) Ritchey/No                 48.16
82 Ben Moody (USA) Team Dried                      52.08
DNF Roland Green (Can) Trek/Volks
DNF Mike West (USA)
DNF Jamey Yanik (USA) Giant Bicy
DNF Brent Miller (Aus)
DNF Warren Gravely (USA) Dean Bicyc
DNF Nick Gould (USA) Santa Cruz
DNF Ladd McClain (USA) Subaru/Gar
DNF Kris Sneddon (Can) Kona
DNF Dana Weber (USA) Sobe/Canno
DNF Grant Berry (USA) 3D Racing/
DNF Alejandro Estrada (USA)
DNF Aaron Olson (USA) Schroeder
DNF Damon Roberson (USA) Nema Cloth
DNF Craig Sandstrom (USA) Tomac
DNF Clint Muhlfeld (USA)
DNF Kyle Dixon (USA) Reno Wheel