An interview with Jens Voigt, March 28, 2009
Jens Voigt: "Not someone who chases records"
On the eve of the defence of his Critérium International title, German Jens Voigt talked to Cyclingnews' Bjorn Haake about how he's won the race four times and why he is not concerned with breaking records.
Jens Voigt took his fourth trophy in 2008
Photo ©: AFP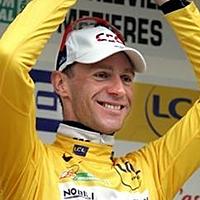 After a relatively quiet night at home with his wife and five children, Saxo Bank veteran Jens Voigt arrived in France on Friday to attempt a fifth career victory in the Critérium International, which begins Saturday in Monthois.
The race features a relatively flat and long stage on Saturday, the 190km trip to Charleville-Mézières, followed by a dual stage on Sunday. A "medium mountain" stage of 98.5km into the Ardennes followed by a 8.3km time trial on Sunday afternoon.
If he is successful in winning the race for a fifth time, Voigt will match the great Raymond Poulidor in his number of titles in the event. We caught up with the affable 37-year-old to find out what it is about the race which allowed him to win so many times.
Cyclingnews: We hear the weather isn't the best in France right now?
Jens Voigt: The weather is not good at all – it forced us to go on the trainer. First it was raining then it started hailing, really strongly. The wind picked up, too. We were really happy to be on the trainer then and not out on the street.
Then it cleared up and you could even see some blue skies, but then it started raining again. Tomorrow it is supposed to be iffy, too, but Sunday should be better.
CN: The bad weather is good news for you?
JV: Yes, you can say that anything that makes the race bad and difficult is good for me.
CN: What is it about the Critérium International that you like?
JV: It really suits me as it is short and intensive. You have to be focused 100% all the time and you have to have things under control. You cannot afford to miss anything. If you miss the group on Sunday morning it is very difficult to repair anything.
There is also the time switch [to Daylight Savings time -ed.]. I don't know if this is going to help me, but I am used to sleeping less with my five kids at home anyway – this race just really fits me. They always had the time change on the weekend of this race.
CN: You wear number one as defending champion, and will you be number one in the team as well?
JV: Yes, I think I am entitled to claim the leader's role. But I have to see, I am a little bit under the weather and coughing a little bit. But nonetheless I am highly motivated and I will try repeat my success from last year.
Jens Voigt's time trialing abilities
Photo ©: AFP

Of course we have a good 'backup team', with the Schleck brothers [Fränk and Andy] and Gustav Larsson. He finished second last year, with a superb time trial on Sunday afternoon. So if my hand isn't successful there are other cards that we can play.
We also have a good sprinter with JJ Haedo for the stage tomorrow. If he can maybe win or get onto the podium we could get a good position for the team car in that short, stressful mountain stage.
And of course it is good for the morale of the team if you have a little bit of success in the beginning. I think our team is very well assembled on all positions and we tackle that whole thing very offensively and courageously.
CN: Having the team car up front is important, but what if the sprint doesn't work out?
JV: One of us, and often me, will sprint for the bonus seconds, as that puts you further up in the overall. That is also a way to get the team car further up, with everyone on the same time in the sprint, but with the bonus seconds, you are ahead.
CN: The team is also quite experienced.
JV: Yes, our team has grown together well. In last year's Tour de France we were one of the teams with the oldest average age. We had four riders under 30 years, the rest was over 30. And that doesn't mean old and useless, but experienced and with the stamina. Bjarne Riis has seen that and takes advantage of it.
CN: If you win you can equal your number of overall wins with Raymond Poulidor (five times)...
JV: That's right. I am currently at four wins, tied with Jacques Anquetil. He already is not that bad of a rider... but it is really a side note. I want to win the race, as is the case with many other races where I start. If it happens, it is a nice bonus, but I am not someone who chases records.
Voigt excels on medium mountain stages
Photo ©: Sirotti

CN: Does the course vary a bit each year?
JV: On Sunday with the morning stage and the time trial it is absolutely identical. The stage on Saturday is usually the same over the last 20 or 30 kilometres, but up until then they vary it a bit. It is rolling and not too difficult. In the last 20km there are two pretty ugly bumps that are always in the race.
CN:Are there key sections where you know you have to be on the front?
JV: It is really the whole stage. I remember last year the peloton surprisingly broke apart on stage one. One of the so-called 'smaller' teams – really, there aren't things like smaller teams and smaller races – tried to put the other riders in the gutter and blow the race apart.
Everybody got so nervous and jumped as well, so it went "bam" and all of a sudden there were five groups and not everybody was able to get back.
You always have to have an eye on the situation and of course you don't want to be the one left behind. You can't rely on the first day ending a bunch sprint, although it is often the case.
CN: Your first win in the Critérium International came in 1999.
JV: Yes, it was my second professional win. I took my first one as a neo-pro in 1998, when I won a stage in the Vuelta al País Vasco.
The 1999 win was a nice one. We still had Chris Boardman on the [Crédit Agricole] team and he was the captain for that race. The race back then was in Avignon, but it was still the same, a flat Saturday stage, a hilly Sunday morning stage and a time trial. Boardman couldn't ride in the first group on Sunday morning. He ended up winning the time trial and I finished second, sealing my overall victory.
Among others I beat time trial world champion Abraham Olano; I was pretty proud with that victory.
CN:When you lead going into the final stage you leave the start house as the last person, is that a lot of pressure?
JV: It depends. Last year, I had gained 1:30 and I only needed to finish the time trial without crashing. But there was another year where I won the morning stage in a sprint of a group, so I only had something like four seconds towards the second guy, five in front of the third guy and so on.
Jens Voigt on his way to his second win in 2004.
Photo ©: Sirotti

CN:Is that positive pressure or does it make you nervous?
JV: It's a little bit of both, but I am not 21 anymore, where I get too nervous...
We have pressure year-round anyway. You also try to get a contract for next year by performing well. Somebody who can't handle pressure won't be racing still at age 37.
Also see the preview for Criterium International.