Miami and Ford rise to the MTB challenge
Miami's Ford No Boundaries MTB Challenge has been a popular local series this year. In this report from the second-last race E. Andra Whitworth* looks behind the scenes at a community mountain bike competition.
The single track of Markham Park in Miami was pitted with rocky drops, covered with roots and logs and held together by bridges, but for the mountain bikers who gathered Sunday, October 28, at the Ford No Boundaries Mountain Bike Challenge, there were no obstacles to participation. Begun in 1999 by the mountain bike division of Urban Trails Kayaking Co., the series' original intent was to "get people interested in mountain biking, and give them exposure to the park and recreation areas in Miami. We really worked at getting the inner-city kids out on bikes, getting them involved in outdoor activities and just making the community aware of the parks in general," says Ian Rothstein, assistant race director and course designer for the Ford series.
Now, with Ford's sponsorship, the race has grown from a local race of 150 participants to a major Southeast regional race with more than 300 entrants, and a prize purse so large that no one goes away empty handed.
The race series got corporate sponsorship this year when Scott Clouthier, Ford Motor Co.'s district manager for South Florida, discovered the series through his own interest in mountain biking.
"I found a brochure and made some calls," says Clouthier. "Ford in general has always been involved in cycling and Ford's interest in mountain biking and other types of racing is growing. This year at the Ford No Boundaries Series, we doubled race attendance, and will try for a spring series as well."
"We have a hand-picked professional mountain biking team that we support, and they travel the circuit as much as they can," he says.
One of those racers, Rachel Massey, has been racing the Ford series in the Expert division. Massey also conducts mountain biking clinics at the Ford races.
Community involvement is a major aspect of the Ford No Boundaries Mountain Bike Challenge, according to Karen Clarke of Marketing Concepts Inc., who handles event promotions for Ford Motor Co.
"One of our major purposes is to help grow the interest in mountain biking, and one of our methods is to partner in communities, and Ford is interested in this. We also partner with the Boys and Girls Club of Miami to give kids a chance to race," says Clarke.
Together, Ford Motor Co. and Urban Trails equip inner-city children with bikes to compete. Twelve boys and girls from inner Miami competed in Sunday's races.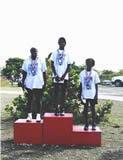 Franishia on the podium
Photo: © Marty Rogol

For 14-year-old Franishia Hammond, Sunday was a day of firsts. Hammond, who was first introduced to mountain biking through the Boys and Girls Club, placed first in the Junior girls division during her first racing series. "I have an old bike at home, but not to race on. They give me one here when I race," says Hammond. "I've done two other races in the series, and I'm going for the championship in November. I can practice at the parks. Mountain biking is fun and it's something you can try. It isn't scary. You get really dirty and I don't like getting dirty, but it's fun."

Maria Alonzo, 31, placed first in the women's Master Sport division. Alonzo has been mountain biking for 2 1/2 years and has participated in all the Urban Trail races. The Ford series is her favorite, she says, because it's for the whole family.

"My husband also races and it's a family thing for us. We have a five-month-old baby, but she doesn't race yet. But she'll absolutely race as soon as she turns two. We put her on a bike and hold and push. It's very cute and fun," says Alonzo. "The race is awesome and very well organized. There's face painting for the babies and free drinks and massage. It's just a good race."

But the family atmosphere doesn't mean the competition is any less rigorous. Alonzo, who trained on her road bike throughout her pregnancy until the ninth month, says "There are definitely more women in the sport. The girls are unbelievable! But there are lots of women racing and they're staying in the sport longer and harder, and they're doing the same amount of laps as the men and training just as hard as the men."

And the course is just as tough as the women who ride it.

"Markham Park is the most technical bike course in Florida," Alonzo says. "There are lots of places to get hurt. Steep, rocky and eroded drops, and there's lots of climbing, so you need strong legs. And mud. There was mud up to my calves! Sometimes my shoes would come off because there's so much mud."

Men's Senior Expert winner, Jorge Cortez, 26, has raced mountain trails all over the world, having come to Miami via Costa Rica and Switzerland. Cortez was a semi-pro racer in Europe, and he says the Markham Park race is as technical and tough as any he's raced on. "Here in Markham Park, it is very difficult, very technical. There are some dangerous parts, though. With more maintenance, it could be world class," he says.

"But we've got more people this year in the series, more organization and good prizes. I highly recommend the race."

Rothstein says the organizers will work to attract the professional racers for next season, but adds that he saw some early talent on Sunday with back-to-back podium finishes for 9-year-old Daniel Jimenez, of Colombia. Jimenez took the field for first in his age group by such a large gap that he was bumped up a division to race against the 11-12 year-olds later in the day.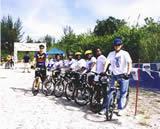 The boys race start
Photo: © Marty Rogo

"There's lots of kids and it's not hard. I like to get dirty," says Daniel. He also said he was ready to take on the older boys and predicted a win. He placed third.

Daniel says he's been riding mountain bikes for seven months. Although he can't remember why he started, he says knows that he likes it and he has fun at the races with his younger brother Sebastian, 6, and his father Andreas. Andreas says he trains with his sons in the parks four to five times a week. The training seems to be paying off for Daniel, whose early domination of regional races is startling.

Rothstein won't comment on whether Daniel is pro material, but he will say that "He's pretty good. It's the second time he's moved up. He's pretty good. We're gonna have to move him up to sport division. He's too good for a little kid."

The final race in the Ford No Boundaries Mountain Bike Challenge is November 11 at Amelia Earhart Park in Miami. The next Urban Trails race is 12-Hours of Oleta, to be held December 1 at Oleta Park. Information on either of these races is available at www.urbantrails.com.

E. Andra Whitworth is a writer in Athens, Ga. Her work has been published by the University of Texas Press, The New York Times, and the Athens Banner-Herald, where she is the cycling and outdoor features writer.
Photography
The boys line up - Scott Clouthier, Frederick Johnson, Frankie Hammond, Cody Saunders, Daniel Jennings and Greg Altherr
The winners podium at the Oleta River race on 10/14/01 - with DeAudra James and Franishia Hammond
Boys & Girls Club Team - all ready to go
The Markham race start - looks like plenty of practice in the sand
Franishia Hammond - wins the Boys & Girls Club Members beginners race from Danielle Beneby with Rose Brown (race escort)
Scott Clouthier - swaps his car for a bike
Results
Expert Division - 21 miles

Senior Men Expert
 
1 Kevin Lanford                         2.23.10
 
Master Men Expert
 
1 Jorge Cortez                          1.46.55
2 Steve LaRue                              1.31
3 Andres Villadiego                        1.53
4 Danny  Vlato                             4.27
5 Mike Sauerwein                           6.27
 
Master Men Expert (Over 40)
 
1 Allan Haimes                          2.07.49
 
Master Womens Expert
 
1 Jennifer Holcroft                     2.25.05
Sport Division - 14 miles
Senior Men Sport   
1 Robert Childers                       1.13.39 
2 Eric Stone                               4.08
3 Luis Gonzalez                            4.10
4 Shaw Cunkel                              4.12
5 Mike Cyarzun                             4.14   
Master Men Sport   
1 Rich Mularski                         1.14.46
2 Frank LaRue                              1.12
3 Stacy Cummings                           2.50
4 Julio Rojas                              3.41
5 Timothy Hignett                          3.47   
Master Men Sport Over 40   
1 Glenn Miller                          1.19.14
2 Perry Silver                             3.50
3 Steve Rodriguez                          7.25
4 Rich Pollum                              7.40
5 Ron Clossir                             10.07