To radio or not to radio?
Examining the issue and its effect on the professional cycling scene
By Anthony Tan
"Claude Criquiélion [Directeur-sportif and former winner] told me in my earpiece to stay calm. If I had not done this, the result would not have followed. I respected his advice to the letter. When he gave me the green light, I attacked. I then thought I could win."
These were the words of Lotto rider Mario Aerts, recent winner of the famous Belgian semi-Classic La Flèche Wallonne. Well, thank God for the race radio, otherwise Aerts may have made an error of judgement.
In actual fact, an error of judgement did occur, and it was made by his DS Claude Criquiélion. Criquiélion told Aerts to stay calm because he thought one of the men following was David Extebarria - which was incorrect. It was in fact Unai Extebarria, significantly more dangerous in this type of finish. Would Criquiélion's instructions to Aerts been different? - Probably. Would the outcome have been different? - Quite likely.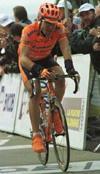 Unai, not David
Photo: © Sirotti
Is that a radio in your pocket or are you just happy to see me?
What's in your typical two-way radio: The Midland G-30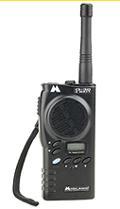 Just what the DS ordered
From the photos, all we can see is a wire running from a cyclist's jersey to their ear - heck, Lance could have been listening to Nirvana while decimating the opposition up L'Alpe D'Huez in last year's TDF! Unlikely though.
Riders tend to strap the main unit to their chest or underneath their jersey, which is wrapped in plastic (a lá Twin Peaks) to prevent possible corrosion. Measuring 4.75 x 2 x 1 inches (height x width x depth) and weighing in at 6 ounces (168 grams), the Midland G-30 is one of the smallest and lightest out there, so it's not a huge inconvenience for some words of wisdom from your DS.
Most models offer a number of sub-channels or codes to allow access to an "open" (i.e. unused) frequency. To determine the number of available addresses, you multiply the number of main channels (14) by the number of sub-codes (121) - which gives the G-30 a whopping 570 channels to choose from.
The G-30's programmable scan and custom code feature also enables you to easily scan for available frequencies and allows you to set and save a different code for each channel. This is particularly important, as DSs often need to switch between communication with all members of the team and certain individuals.

Johan: "Hey Lance, Kristen on line 3"
Critical for any cyclist are the speaker and mic jacks that allow hands-free operation - which tend to be important unless you have a way with words and can convince the peloton to take a coffee break while you take an incoming call from your DS or wife.
Equally important is the range available - the average is around 2-3 miles (3.2-4.8 kilometres) which is about the maximum allowable in the US before you are required to buy a GMRS (General Mobil Radio Service) licence from the FCC (Federal Communications Commission), which a large number of pro teams opt for.
The G-30 is a GMRS radio and therefore requires this type of licence; however the range is around 5 miles (8 kilometres). In the sport of cycling, the extra cost (around $85 per radio for five years in the US) is well worth the additional coverage.
In regards to frequency, the G-30 utilises the more expensive GMRS frequency that uses a larger power source than UHF (Ultra High Frequency) which provides extended range. Again, this is important due to the size of the race convoy and varying terrain profiles. The G-30 can also operate on the FRS (Family Radio Service) frequency, that, as the name implies, is designed specifically for family and recreational use.
The price - one of these will set you back around $100 (US). However chances are that if your team is employing this type of technology, your ability warrants the cost.
So just how effective is the race radio, and is cycling becoming too predictable because of it, turning once cunning tacticians to helpless pawns?
Note Mario Aerts' comments. He respects Criquiélion's advice "to the letter", and required the "green light" before attacking. Well it is important to respect your boss - no one disagrees there (I hope); however these comments also imply a one-sided relationship, where little or no thinking is required on behalf of the rider. Is this what professional cycling has become? More importantly, is this what we want pro cycling to be?
There are plenty of questions because there are no definitive answers. So long as technology evolves, the sport of cycling will be affected by its evolution, good or bad. Aerts' situation described above was only one rider in one team, although it is by no means uncommon within the modern professional peloton. In fact so uncommon it happened four days later in Liege-Bastogne-Liege - these were the comments of Paolo Bettini only moments after his victory:
Same situation in L-B-L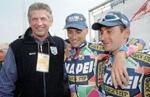 Serge knows best
Photo: © Sirotti
"Before the Cote St Nicolas, Serge [Parsani, Mapei DS] asked me how I felt. I told him 'very good' and he told me to stay with Stefano. When he attacked, Basso stayed at 10 metres, he could not come back. I gave it everything and we increased our gap to 300 metres. It was then 'the best rider to win.'"
Not only do the interests of the fans have to be taken into consideration, but also those of the sponsors, who ultimately fund the riders and the race itself. Some may say it's a Catch-22: The directeur sportif is doing it to please the sponsors with a win; however chess-playing DS's will kill the fans, and invevitably kill the sponsors.
Who's complaining?
However at this stage, both sponsors and fans are happy. Very happy in fact - there's now more pro cycling teams (30 Division I, 33 Division II, and 44 Division III men's teams in 2002); more fans tuned in watching cycling on television (Belgian TV broadcaster TV1 enjoyed a 69% audience share during this year's edition of Paris-Roubaix, the largest ever for a Classic); and more fans watching cycling on the roadside than ever before. The Amaury Sport Organisation (ASO) estimated there were more than 15 million spectators who witnessed the TDF last year, with one British TDF Tour operator, Graham Baxter Sporting Tours requiring 19 double-decker buses! Little wonder why Lance opted for the helicopter ride after one of the mountain top finishes.
Cycling can now be classed as a truly global sport, and with larger audiences, more money and higher rider salaries, there is more pressure to produce results. And one's ability to think clearly declines as pressure increases - anyone that's taken any sort of exam knows that. Then try and imagine taking that exam after 200+ kilometres of racing - how's your head feeling now? Better get on that radio and do what you're told.
Some may say that those unwilling to accept the introduction of race radios in cycling are old-school technophobes, and that the same people dismissed Greg Lemond's use of triathlon bars and Oakley sunglasses. However a large contingent feel that bringing such technology into the peloton is ruining the sport, as the race strategy is no longer decided by the team, but by an individual sitting in a team car.
No guts, no glory says Jacques
Jacques Landry, National Development Coach for the Canadian Cycling Association said this in June last year about the evolution of the race radio:
"A rider does not have to rely so much on gut feelings and the necessity to read the race because there is someone on the sidelines that sees the big picture and can call the shots."
In actual fact, one person often dictated the strategy, but it was the coach/DS at the dinner table the night before, or the breakfast table the morning prior. Or alongside the rider during a critical moment, which has proven to be incredibly dangerous - just ask Scott Sunderland how it feels to be massaged by a 1.5 ton TVM team car during the 1998 Amstel Gold Race.
However the reality is that pro cycling is now big business, and a gross tactical error is no longer tolerated in a major classic or grand tour. Relying on gut feelings in a sport so physically and mentally taxing may not be such a great idea. And for smaller teams, such mistakes could mean the difference between a sponsor's abstinence or their continued financial support; or accumulating sufficient points to get that start in Division I the following year.
Youngsters beware
Landry adds: "If we, as coaches, are constantly talking in our athletes ears and telling them what to do and what not to do we are invariably giving them a handicap. The handicap being that if and when the time comes where there is a breakdown in communications in a big race the athlete may not have the necessary tools to react to the outcome of the race by his or her own means."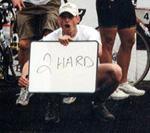 The old-fashioned way
Photo: © Mark V.Zalewski
A valid point - riders on the road need to know what they're doing, and that only comes with experience. Landry emphasises that "it is not in a youngster's long term interest to have them lose all sense of spontaneity and lucidity in a race scenario", which is why race radios should be limited to the professional peloton to foster the development of tactically astute athletes.
However if coaches don't keep plugging away, then they're not doing their job, and in pro cycling, a rider ideally has the support of eight other riders so he or she does not have to do it all on their own.
Crunch time: Sydney 2000
No radio = no win?
Photo: © Phil McKnight
Two years ago during the Olympic road race in Sydney, the trio of Jan Ullrich, Alexandre Vinokourov and Andreas Klöden had escaped - however Team USA didn't realise they had gone because their race radios were malfunctioning. Ullrich and co. put on a magnificent display of team time-trialling and Jan went on to win gold.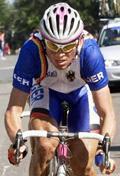 Spontaneous combustion
Photo: © AFP
After the race, U.S. coach Jim Ochowicz said: "If the radios would have worked, it might have affected the outcome." However Ochowicz refused to blame the radios for their performance - most likely an admission on the team's behalf that it was more a case of poor positioning at a critical moment. And you can hardly say what Ullrich and co. did to a class field was predictable. Race radio or not, Jan went for it and demolished all on that day. Spontaneity 1, predictability 0.
If we revisit the analogy that professional cyclists are now simply pawns in a chess game, is that really so terrible? After all, chess is arguably the most strategic game devised.
The situation experienced by Aerts and Claude Criquiélion in La Flèche Wallonne, and Paolo Bettini and Serge Parsani in L-B-L is not unlike the situation between players and coaches on the fields of football, gridiron, hockey, baseball - or just about any other sport, where a team of players unite for a common purpose - to win. In each of these sports, including cycling, the team captain still provides an important role, lending his or her experience to the competitive arena.
Did we still need a team captain? - Ullrich thought so in 1997.
Admittedly, the role of the team captain has shrunk in terms of providing instructions on the road in the presence of ongoing communication with the DS. But that's not necessarily a bad thing if your team captain has being blown out the back door with two hors categorie climbs to go, and is now sitting in the same seat as the DS in the team car. Or he's suffering from hunger-knock and the GC rider is asking whether or not to chase down a break, while the team captain is thinking more about a steak (medium-rare, please) and a beer (Heineken 'be lovely, cheers). Or he's been told the night before his contract will not be renewed, and he has a score the settle with the team. Get the picture? 'Thought you might.
However, by no means should le capitaine be dispensed with. Riders still need to learn by error, be able to read races, and trust their captain. Stage 14 of the 1997 Tour de France from Bourg d'Oisans to Courchevel provides an example that is still remarkably vivid in my memory:
On the way down the Col du Glandon, the men from Festina attacked to take advantage of Ullrich's only weakness - his descending skills. Herve, Brochard, Virenque and Dufaux, joined by Casagrande successfully built a gap that isolated Ullrich and placed him in a 25' deficit after the descent. Ullrich began to panic, with Riis and Olano 55' behind.
Like a lost boy waits for his mother at a theme park, Ullrich slowed down and waited for his captain and lieutenants. Totschnig, then Bolts and Riis, three of the most experienced riders in the professional peloton kept their cool and brought Ullrich 22' behind Virenque at the top of the Col de la Madeleine. Richard may have won the stage, but Jan won the Tour.
If the same situation arose again, Ullrich would be straight on the radio to Walter Godefroot, who would provide time splits to the lead bunch and would make the call to chase or to wait. The decision borne on the road and final outcome would most likely be indifferent.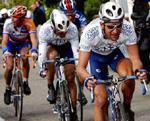 Bartoli in Amstel: "Ferretti gave us good direction in the break"
Photo: © AFP
Someone needs to give the orders around here
DS's have always been a part of trade team cycling, and their job is to decide on a race strategy in order to win. No matter how many permutations are canvassed before the race, the actual scenario will always be different, and the race radio helps to either reconfirm or re-evaluate.
Likewise, riders have always have always been told what to do and their job is to follow a race strategy in order to win.
So is it the extent and timing of that information what's really at the core of this debate?
There is certainly more information than ever at the riders' disposal, and at anytime during a race - weather, distance, and a set of charged AAA batteries permitting. Racing has actually become more tactical, so the element of strategy is still there - what appears to be missing is the element of spontaneity and unpredictability with the increasing reliance on the two-way radio.
Nothing's a safe bet in the sport of cycling
However the unpredictability only extends so far as the rider's response in certain races and certain situations. Pro cycling is one of the few sports where numerous external factors (that are often uncertain) form part of the equation to an outcome. Weather conditions, strength of the team, equipment and food are all factors that one can meticulously prepare for, but not always predict correctly on the day. Which is why most sane people would still not place all their money on Lance winning his fourth Tour, although he's clearly the favourite.
Speaking of Lance, one particular instance of a dodgy race radio never stopped LA from using his grey matter, as demonstrated by his game of poker during stage 10 of last year's TDF that finished at L'Alpe d'Huez: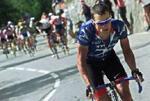 Lance used his grey matter
Photo: © AFP
LA's radio never worked the whole day, and so "the plan [to bluff] was born on the road, since we know that they [the other teams] are all watching on TV anyway - so we decided to bluff" said Armstrong after his coup de poker.
Now hands up how many LA fans thought their man was in trouble before the Alpe - higher please. And FYI - Team Telekom's radios were working just fine, which goes to show that at the end of the day, the war is still fought out on the road, not in the confines of the team car.
When Miguel Indurain's critics labelled his success in the Tour de France as boring, it wasn't due to the race radio. It was his ability as a freak cyclist. The variation in natural ability, preparation, weather conditions, ability to recover, luck and human nature will continue to produce exciting, unpredictable and sometimes spontaneous bike racing. Just don't let the young-uns get hold of these walkie-talkies too early in their cycling career.
Saturn's a believer
Feedback from Giana S.Roberge
Assistant General Manager, Saturn Cycling Team
"We use a radio system that now allows all the riders to talk to Jim (Copeland) and I as well as to each other. It is a good working system and the athletes are all very respectful of the fact that everyone has to listen to them.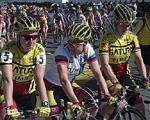 Totally wired - Ina, Anna and Petra all hooked up
Photo: © Jonathan Devich
"I think in women's racing, radios have certainly affected the racing. I came in on the scene when radios were just being used (one year without in '96 and then in '97 we had the Motorolas). So, I can say I did witness a change... the racing was more mechanical, more controlled and less spontaneous. It is great if you have a rider in the jersey and there is a crash, or mechanical or what have you. Great to let the soigneur know the rider needs a particular feed, or to ask everyone what they want when one rider comes back to the car.
"I think the down side is that a lot of newer riders learn to depend on receiving info from the director and not reacting quickly to things because it is intuitive, or they have been watching the race, trying to figure out how it will unfold instead of waiting for the director to tell them. And as you know, many times the directors are not getting accurate or prompt information - the riders don't always know that we can't see a whole lot, especially like how other riders are looking.
"I think older more experienced riders like Petra (Rossner), Anna (Wilson), Trent (Klasna), Harm (Jansen) all have so much experience and good tactical sense the radio is an enhancement. But with the newer riders I think it is still good for them to have to figure it out without the radio - that is how it is best to learn (although I also think it is great for the development riders to hear what is going on in the radio as they see the race unfold). So I mix it up. We race without the radios at times to remind everyone not to depend on them.
"I like the radios to encourage riders (in breaks or in TTs) and give them the positive reinforcement that they can do the task at hand. It is good for reminders, great for helping them find the team vehicles at the finish, great for the riders to ask questions, and really good for the dispersal of practical information. However, the tactics happen in the meeting beforehand and the radios are reminders (typical) only of the scenarios we have discussed - not instruction on what to do.
"You feel the reliance on radios when they don't work for one reason or another (batteries run out, or they don't transpond well for one reason or another)..."
Trent's special...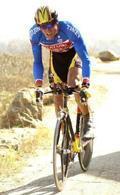 Trent loves listening to "American Badass"
Photo: © Rob Karman
"I do give my rider's updates on other races that are going on (like the World Cup in a US race) as well as play music for them in particularly boring stages.
"Trent (Klasna) likes to listen to one particular disk on the radio while he is time trialing. He happens to like the 'Kid Rock' disk - I know because we have to be very careful playing it, as every word is a swear word and in the US with the FCC, we really can't do it without a big risk - there is supposed to be no profanity on the radio waves."
What do you think about the race radio? - Tell us your thoughts