Tales from the (fund-raising) Peloton, December 11, 2003
Tom Danielson hands over the money
Rising star Tom Danielson is trying to give something back to cycling with a foundation to assist young riders at his alma mater, Fort Lewis College, Durango. Kristy Scrymgeour was there for the handover of biggest donation yet to the USA's first scholarship fund for cyclists.
Danielson and a big chequel
Photo: © Cyclingnews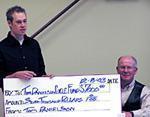 After the success of an on-line auction over the last couple of weeks, Tom Danielson held a press conference on Monday night in Durango to present the money raised to the Fort Lewis College Cycling Scholarship fund. Danielson, who is only in his third year as a professional cyclist is already giving back in an attempt to help other young hopefuls achieve success in cycling as well as receive a degree. To date, Danielson's Foundation has raised over $30,000 dollars in total, presenting on Monday a check for $7,000 to Bob Hill of the Fort Lewis College Foundation.
In attendance as Danielson handed over the cheque were many members of the community who have helped Danielson achieve success himself in cycling, as well as those helping with the fund now and those aspiring to excel in cycling and at school themselves.
Danielson was greeting people at the door when Cyclingnews arrived, buzzing with excitement at being able to present this money in front of so many people who are important in his life and have been vital to his success. "It is special for me to get up in front of everyone, my former team mates, class mates and professors," said Danielson. "When I was at school here I knew I wanted to be a pro and I also wanted a degree, although I have to admit that I was more interested in the cycling than the degree!
"There was a point where I became a bit lost in direction with school and cycling at the same time and I wasn't really riding well. It was this cycling team and this college community that helped me get back on track," said Danielson.
In 1990 Durango itself hosted the first ever mountain bike world championships and has since hosted eight national MTB championships and become a centre for cycling, attracting many world class athletes who live and race in Durango as part of a very enthusiastic cycling community. David Farmer, now helping Danielson with his gym program, began years ago developing the first university team and since then the team has won five collegiate national championships.
Behind it all as a cycling enthusiast in the community is Ed Zink. Zink has been involved in the cycling community in Durango for over 30 years and has recently been instrumental in re-invigorating the Durango Wheel Club which started in 1895 as an advocacy group for better roads for cyclists. At the press conference Gerry Garghity of the Durango Wheel Club presented a check for $2,300 to the college cycling fund on behalf of the club. Zink is excited about the new fund and about creating a stronger bond between the cycling community and the college. "With the help of Tom Danielson, Fort Lewis College is now introducing the first ever cycling scholarship program of any institution in the country. This is a big break for cycling and the Tom Danielson Foundation hopes that this will encourage other institutions to do the same."
This sentiment is one of the things that Danielson, the college and all the people involved in the Tom Danielson Foundation are most proud of, the fact that is the first time a higher education institution has offered scholarships for cyclists. In the USA, if you are good enough, you can obtain a scholarship to university for almost any sport, but it is only now that you can obtain a scholarship for cycling. The members of the Tom Danielson Foundation are hoping that this trend will continue so that cyclists all over the country can benefit from a strong collegiate program.
Dr Bob Dolphin & Tom Danielson
Photo: © Cyclingnews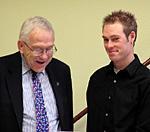 The president of the college, Dr Bob Dolphin, echoed this intent. "Thanks to Ed Zink's vision we now have a real opportunity to help future generations not only receive assistance with cycling but also receive a degree. I also want to thank Tom for investing back into the college and helping other young people in his situation.
For Tom, it seems only natural to return the favour of all those people who have helped him along the way: a remarkable attitude for someone so young and in the early stages of his career. "When I turned pro and started to have some success in racing, I thought the community that had helped me deserved the success as well. This is the first way I can give back a little bit and I hope there will be many more ways I can help as time goes on," Danielson said.
It seems that there are many people in Durango who are enthusiastic about contributing to this dream for "collegiate cycling to become a true farm system for professional outfits to look for tomorrow's champions much the same as the NBA and the NFL". "We want everyone to work together to accommodate the champions of the future," explained Danielson.
Danielson's efforts have also captured the attention of USA Cycling which is very enthusiastic in its support of the Foundation. Coach Mike Engleman was in Durango to represent the CEO of USA Cycling, Gerard Bisceglia to emphasize their support.
The enthusiasm within the Tom Danielson Foundation, the Durango Wheel Club and the Fort Lewis College is bound to ensure the Fort Lewis Cycling team many more opportunities to defend their National Champion status.
(Thank you to Ed and Patty Zink for being the perfect hosts and putting on a great dinner at their home in Durango).