Tales from the peloton, January 28, 2006
CSC rained out but still looking good
It's not all sunshine and blue skies in Italy, where several teams have opted to hold their 2006 training camps. Danish Team CSC copped a drenching during its training camp in Lido di Camaiore, but took it calmly, as Shane Stokes reports.
The team gathers
Photo ©: Shane Stokes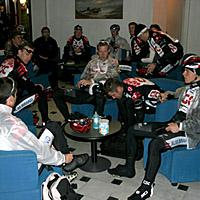 Team CSC recently underwent what should be some mild-weather training in Lido di Camaiore, near Pisa, but the elements were showing a distinct lack of co-operation when Cyclingnews came-a-visitin'. While teams such as Phonak and T-Mobile were working under blue skies in Mallorca, Bjarne Riis' CSC outfit was being rained out 800 kilometres to the east.
Tuesday the 17th's damp conditions weren't a concern for the ProTour-winning team as it was scheduled to be a rest day. However, Wednesday's morning training spin was first delayed and then put off until the afternoon as the rain got heavier and heavier.
"The riders were due to do four and a half to five hours today with some specific strength and power training. However that all depends on the weather," said directeur sportif Scott Sunderland, aware that colds or flus caught at this point of the year will set things back much more than a few missed hours on the bike. "We don't take the riders up into the mountains if it is wet and very cold. If it is ten or more degrees, they can stay out, but if it is only two degrees they won't train on the road for too long."
The team was due to stay a total of twelve days in the area, logging in some important endurance and higher-intensity kilometres. "We are working in blocks of three days on, one day recovery," Sunderland told Cyclingnews. "The longest spins are six hours in duration, while the recovery day sessions might be an hour and a half. The higher intensity days are somewhere in between; you don't do six hours of very hard work as it would just break the riders down."
CSC chief Bjarne Riis
Photo ©: Shane Stokes

There was a good atmosphere on the camp, with riders enjoying their time together and interacting well with the management and other workers on the squad. Paris-Nice winner Bobby Julich was impressed once again. "The first year I was with the team, I found that everything worked really well and we all clicked. I was a little worried last year as I thought that we couldn't possibly replicate that, but it was better again. It's the same this time round; there is a really good blend of riders and everything is working very well."
Julich said that Riis' management style is a big part of this. "Bjarne doesn't have any magic sprinkle dust or special spell that he works on us. His main gift is that he can pick riders who can work well together, get along, produce some good results and be friends. I think that is his main gift, how he can pick the riders from so many different countries that all get along.
"There is no tension; if there is, he is able to fix it and not let it eat away at you. This is where communication and his whole value system come in. It is this value system, combined with his talent at picking riders, which makes CSC the best team in the world. We had 54 wins last year, and a lot of that is down to the team spirit."
Zabriskie faces the press
Photo ©: Shane Stokes

Julich has stated in the past that the difference between Riis and other directeurs sportif was that the former treated him as an adult, encouraging him rather than dictating. Indeed, this management style was evident that Wednesday morning when Riis called a meeting at 11.30 to get feedback from the assembled bloc of riders on what the team should do. "With this weather, we have three options," he said. "One is to change out of the training clothes and see how things are later. The second is to do the training we were supposed to do, while the third is to go to the climb four kilometres from here and go up and down it to do the power training. We can spend two to two-and a half hours doing that, taking it slow on the descents to stay warm, then come back and change clothes and see what the weather is like later."
Many of the riders gave their suggestions as to what was the best course of action. The general consensus was that it was better to do the power training in the hills, something which Riis was happy with. "I am not going to ask you to do four or five hours in this weather," he said. "The worst of it is due to pass today and so we can do more tomorrow."
Basso and the others
Photo ©: Shane Stokes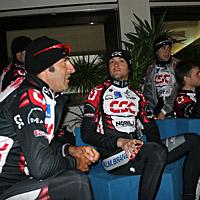 Julich felt that the team is on course for a very good season. "The other day we all did a test on a climb near here, the Monteserra, to see what our condition is like. It is done through a measurement of time and also using the power meters. I have taken things very slowly this year, planning to get into form later, but was surprised to see that my test was practically identical to that done last year. What was really noticeable was that many of the guys were very strong; they all performed well, showing the strength in depth on this team. I think it is going to be a big year for CSC."
Although the squad will be targeting races from the start to the end of the year, ranging from one day classics and the shorter stage races right up to the Grand Tours, their Giro d'Italia and Tour de France campaigns will most likely attract the most attention. The team's focus for both will be on its star rider Ivan Basso, who has finished third and second in the last two Tours de France and may well have won the Giro last year had he not fallen sick during the race.
Basso has seemed content during the camp, doing press and TV interviews in a good-natured manner and generally projecting an air of calmness. He looks both lean and relaxed - Julich was impressed. "Ivan is without doubt the most professional rider I have been around. And I have been around some good ones. Ivan is not only professional, but he is also very well balanced and very well grounded. I don't think I have ever heard Ivan talk about how expensive the watch is that he has on or how much the car he drives is worth. He does this for the absolute love of the sport. He has done it the right way, he has progressed the right way and there is no reason why he can't progress even more.
"His ultimate goal is to win the Giro and the Tour. I would be happy with us just winning one of the two, with obviously the Tour being the most important. But Ivan Basso will win the Tour and will win the Giro one day. Either this year or a little down the line. I am very confident that the sacrifices that we make for him will pay off with a big result."
Click here for the full team roster
Photography
For a thumbnail gallery of these images, click here
Images by Shane Stokes/Cyclingnews.com