Recently on Cyclingnews.com
Webcor Training Camp, February 18, 2005
Webcor meets in Menlo Park
Training in the Californian winter sun
Time for a chat
Photo ©: Ella Lawrence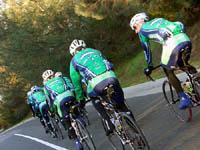 Despite the loss of Chris Horner to Saunier Duval for 2005, the Webcor team are as fired up as ever to repeat their year of success from 2004. Ella Lawrence went out to Menlo Park to catch up with the team and find out their inspirations for the season ahead.
The team
The Webcor Builders Cycling Team is composed mostly of working guys with day jobs, in addition to being one of the most promisingly strong domestic teams in 2005. If its 2004 season was any indicator (which it most likely is as the team has many of the same members), Webcor will deliver some solid results again this year. "Starting at Pomona in 2004, riders stepped it up, rode off the front and delivered, which was pretty much how things went all year," one of the team managers, Frank Scioscia, says.
2004 was a dream season for Webcor Builders, which climaxed with a victory at the San Francisco Gran Prix (of which Scioscia was the event director in its inaugural year). "Webcor discovered in 2004 what it really meant to ride like a team," says Scioscia. "Although Horner is gone, there is no trepidation or doubt among the riders as to how they will perform in 2005; they already know how to ride at the front and will continue to do so this year."
Sport scientist Max Testa at UC Davis (former coach of '88 Giro winner Andy Hampsten and one of the head doctors at Motorola and Italian superteam Mapei in the 1990s) is providing the riders with fitness testing and all have training schedules which are individually tailored to suit their needs. Because so many of Webcor's racers are also working guys, not everyone races every weekend. Most racers live in the peninsula, with Santa Rosa being the furthest Californian outpost, and Davis the furthest east.
Who to watch
Ted Huang, Webcor's CEO Andy Ball, Charles Dionne and Dario Falquier
Photo ©: Webcor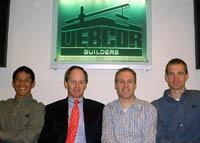 Although Chris Horner has left Webcor and the domestic racing world to fry bigger fish across the pond, Canadian Charles Dionne (winner of the 2004 San Francisco Grand Prix) is again riding for the team, and enjoyed his first outdoor rides of 2005 in gorgeous sunny peninsula weather. A true French Canadian, Dionne has no plans to defect from Quebec City, even if it is sunnier in California.
Once was David Clinger?
Photo ©: Christopher Norris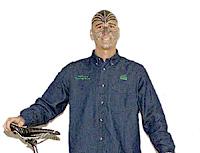 Tattoo you: Webcor, Clinger and those tatts
What do you do when your team's new star rider turns up at the first training camp looking like an extra from Once were Warriors? In Webcor's case, you ask, politely but firmly, that the tattoos be removed.
Webcor team management was at pains to stress that none of them had a personal problem with Clinger's new look, but it didn't match the image they wanted the team to project. Sponsorship for cycling teams doesn't exactly fall out of the trees and management was also worried that a facially-tattooed rider might deter sponsors.
"The concern is that we are not looking to create a bad boy image," says Scioscia. "David is in full agreement; he even offered to do something about the tattoos before the issue was addressed. We believe Clinger is an asset to the team and we are trying to work with him and towards a resolution."
While a 'wild' image might work in some areas of cycling - it never did downhiller Missy Giove any harm, for example - it's not the way the Webcor team wants to go.
"If you are another company, you may want an edgy image," Scioscia said. "If Webcor wanted an edgier image they would sponsor a skateboard team."
Clinger is now undergoing treatment to remove the tattoos from his face, leaving the markings on his scalp which will be covered by his helmet. "I'm doing laser removal for the next month and I can race after that," he says. "The doctors are doing two to three passes a week. It's really just a slight burn, like a sunburn. I keep cream on it and whatnot. The bottom half [of the tattoo] wasn't finished; I didn't finish it yet because I wasn't sure what the team would think."
It would be easy to beat this up into a team vs rider confrontation, but it seems both sides are actually trying to achieve a reasonable outcome. Certainly Clinger has not been sacked, nor was he sent home from the team camp. Webcor seems to realise that a veteran of the US Postal Service and the Mercury teams with four years' European racing experience under his skinsuit is too valuable to discard because of a couple of perhaps ill-considered spells under the tattooist's needle.
Once the tattoos are off, Clinger will be able to race in Webcor colours. "I've basically got two months on my own to decide what I want to do. The doctor's got to test my skin and then he'll know [when I can race]. If it takes two or three months to complete the surgery, that will be a problem but if we can get it done in one month I'll be okay to race at Redlands, Sea Otter."
New to Webcor in 2005 is David Clinger, a sprinter who raced with Mario Cipollini on Domina Vacanze in 2004. Clinger's arrival at the camp dropped the team into unexpected and unwelcome controversy when it turned out he'd had the upper half of his face tattooed in a design derived from traditional Maori decoration. The team asked Clinger to sign a statement that he hadn't fulfilled his contract obligations and to find out if it was possible to have the tattoos removed (see sidebar).
Webcor has also added some promising young talent to their roster in 2005, including Marc Collard, the current collegiate national road champion. Collard is working toward his Ph.D. in mathematics at U.C. Davis and shows great potential for 2005. Another fresh-out-of-college racer is Lucas Euser, a "little light climber guy," as well as Andy Jacques-Maynes, who has left his evil twin Ben to race alone for Ofoto/Sierra Nevada and will probably be going very fast again this year, thwarting all rumors that he's retired now that he's got a grown-up job as a product-developer at Specialized.
The camp
Friday: Out-of-towners Clinger and Dionne arrive at Specialized to pick up their bikes, get fitted out and some product education. They spin around Morgan Hill for a couple of hours to test the bikes.
Saturday: An easy, social ride, get to know each other, hang out. Four hours ride time.
Sunday: Social ride with the Alto Velo/Webcor club team for a few hours, peeling off to head toward Boulder Creek and Big Basin, a solid 5 hours on the bike.
2005 target races
In 2005, Webcor will race a full national calenda, with the highlight of the season being the San Francisco Grand Prix. (Last year 300 Webcor employees, contractors and friends cheered as Dionne soloed to victory.) The team will focus on road races more than criteriums. Webcor will begin with the California swing: Pomona, Redlands, Sea Otter (the team's other favourite race), directly on to the Tour of Georgia. Then Arkansas, Connecticut, Philly week, Cascade Cycling Classic and Altoona as well as the US Pro criterium champs and hopefully, World's!
The bikes and equipment
The 2005 Webcor steed is an all-new Specialized S-works Tarmac, a stylishly-designed, full-carbon frame. The frame is a monocoque: one piece as opposed to several bonded pieces. Because the S-Works Tarmac is a production frame, Webcor's team bikes are exactly the same bikes available to the everyday consumer. Although Specialized does not guarantee riding a Tarmac will make you as fast as David Clinger, or as good-looking as Marc Hagenlocher, it just might help.The bikes weigh in at approximately 15.5 pounds, and the '05 full-carbon Tarmac is a direct descendant of Specialized's long lineage of racing bikes.
Webcor will be riding the Specialized
Photo ©: Ella Lawrence

The wheelsets are Mavic Ksyrium SLs, long-proven performers of the pro peloton. Webcor will be rolling along with no worries on one of the most successful wheelsets of recent years. The team is running a Specialized finishing-kit as well: the handlebars, stems, and seatposts are all advanced-composite carbon. The groupsets are Shimano Dura-ace (10-speed). The Webcor guys are also sporting Specialized helmets and optics (the preferred fancy term this year for 'sunglasses'), and just when you thought they couldn't think of anything else to make out of carbon, Specialized went and put some in their 2005 helmets. The '05 Decibel boasts carbon sub-frames, which makes them the safest, lightest, and most aerodynamic helmet Specialized offers. In addition to their role as a key factor in the team's being able to say they're outfitted in really cool-looking carbon literally from head-to-toe, the helmet's sub-frame holds together much better in case of a crash.
Team roster
Andy Jacques-Maynes (USA)
Ben Haldemen (USA)
Ben Stafford (USA)
Bernard Van Ulden (USA)
Charles Dionne (Can)
David Clinger (USA)
Darren Baker (USA)
Dario Falquier (USA)
James Mattis (USA)
John Kelly (USA)
Lucas Euser (USA)
Marc Hagenlocher (USA)
Marc Collard (USA)
Owen Laine (USA)
Ted Huang (USA)
Photography
For a thumbnail gallery of these images, click here
Images by Ella Lawrence/CN
Images by Webcor