News feature, December 13, 2005
McQuaid: The ProTour is the best way forward
Friday, December 9, was a turbulent day for cycling. The rejection by ASO, RCS and Unipublic of the UCI's one year old ProTour project was a blow to the UCI, and a decision which has big implications for the sport. 12 months ago the talk was all about a new beginning, the ProTour set to increase sponsorship, media coverage and public interest in cycling, thus helping the sport to compete with others such as football and Formula One. Yet now this aim has unravelled, and as a result of Friday's big divorce, some of cycling's most historic events have now broken away from the new series.
Time will tell what effect this has on the sport. As of now, cycling is teetering on the edge of a civil war between some of the biggest players. It is, potentially, one of the most serious political crises in the sport's history, and it will not benefit the fans at all.
Cyclingnews' Shane Stokes talked to Pat McQuaid over the weekend to get his take on things. Despite what has happened in recent days, the UCI President says he still believes strongly in the ProTour concept and gives his reasons why he maintains it is the best direction to take for the overall development of the sport.
UCI president Pat McQuaid
Photo ©: Roberto Bettini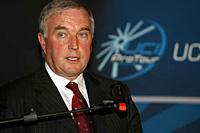 Cyclingnews: Having reflected on Friday's announcement, what is your reaction to the decision of the Grand Tour organisers?
Pat McQuaid: First off, I think the decision is something which could be very bad for cycling and runs the risk of causing some very deep divisions within the sport.
Secondly, I think there are elements of it that are obscene. To explain that, I was in Cairo at the African championships on Friday. I was talking to young cyclists there from places like Eritrea and Ethiopia and Sudan and Kenya, as well as officials and presidents from those federations. My time there was spent discussing the problems they have in developing cycling in their country.
I then got on a plane, and when I arrived at the airport I had about ten messages on my phone saying what had happened in Paris. I went straight onto the Internet in the airport to see the details of what the three Tours had announced. There, I was faced with the news that they are planning to spend over three million euros to buy the teams into their events. For me, that is obscene. It's hard to take that after being where I was [in Africa], dealing with the kids who are trying to get help to develop cycling in their country.
CN: ASO, RCS and Unipublic have announced about a Trophy of the Grand Tours, holding a three-race contest with a two million euro prize fund. However the UCI's press release issued on Friday evening suggested that this would only be considered for 2007. So, to clarify, do you see a situation whereby this could happen in the coming season [2006]?
"...what they [the Grand Tour organisers] want to do is to go back to the Seventies"
-McQuaid argues that a 'Grand Tour Trophy' will put cycling back by decades
PMcQ: Absolutely not, absolutely not. To be honest with you, I don't know that it ever existed before. I have spoken to one or two other journalists who have been around cycling a long time, and they don't remember it either.
CN: Does the UCI has the power to stop such a three race series?
PMcQ: It does, yes, according to our rules and regulations. Firstly, in terms of the series itself, the UCI has to approve all such competitions. The second issue is that of the rules of participation. These are also under the UCI's authority; organisers cannot just come along and say they are going to accept fourteen teams and eight wildcards. All that is subject to our approval.
CN: Is it correct then to conclude that as things stand right now, the Grand Tour organisers are entitled to withdraw from the ProTour, but not necessarily to put on this new series?
PMcQ: Yes. Putting on another series involves [the approval of new] rules and regulations. But at the end of the day, the big question is do they really want to go down that road? Do they want to go down the road whereby their events don't carry points, do they want to go down the road where eventually it could affect riders taking part in Olympic Games, which in turn affects federations getting finance from Olympic committees?
All of these things have to be taken into consideration here. It could get very, very messy. That is the route they are looking at. Yet this is all completely unnecessary. They claimed that the UCI said they don't want them in the ProTour, but it is quite the opposite. I have never made a statement like that and, in actual fact, I have always said that I wanted them in the ProTour. But I also said that they needed to be prepared to change, they needed to be prepared to negotiate a bit.
The problem was that at the Tour de France presentation, Patrice Clerc said that he will never accept the ProTour, he will never accept a closed circuit, as he called it. We disagree with that term, because we don't accept that it is a closed circuit. But he was completely in an intransigent position on it, though, and that is why the ProTour Council said 'Look, make your mind up, either you are coming into the ProTour or you are not coming into the ProTour.' That is all they asked them to do. They didn't say that they didn't want them in; by all means the UCI wanted them in.
CN: Do you still believe in the ProTour?
McQuaid and Archie
Photo ©: Shane Stokes

PMcQ: Yes. I was on the board for the last eight years and whilst I wasn't involved in the day-to-day discussions of setting up the ProTour, I was involved as a management committee member in approving the various elements as they went along. I still would be 100 percent behind the concept of the ProTour. I would accept that little changes need to be made; I would accept, for instance, as Theo de Rooy said in L'Equipe this morning, it is not perfect, but it was going in the right direction and with minor changes and adjustments, it would be improved. I would accept that situation and we were always prepared to look at that.
I have stated this many times that I look upon the ProTour as part of the development of cycling worldwide. The ProTour and the continental calendars cannot be taken in isolation, they have to be taken together in the development of the sport as a whole. Cycling needed to update itself and be able to compete against the Champions League and other big sporting events which we are up against in the media. We need to reform the sport at the top end because of that. But what they [the Grand Tour organisers] want to do is to go back to the Seventies. That is what they are proposing, going back in time. If cycling was to follow that route, we are never going to succeed as a major sport.
Looking at the press release they issued, I feel that they are picking on very little details. Take the fact that some races get one point while others get 50 points or get 80 points. What I would say to that is that in the first year of the series, a competition is evolving. We put out the ProTour for the first time this season and it is a completely new package. Naturally there are going to be things that are a little bit wrong. But what you do in that case is that you sit down in the middle of the year and you are evaluate it. You listen to each other's opinions. You either sit down as a council and discuss it, or a working group does that and then reports back to the council. Then you come up with a solution.
Anyway, we are currently in the process of doing just that. The UCI and the ProTour Council recognised halfway through the season that the points system was wrong, and we are going to change it for next year. So when they [the Grand Tour organisers] bring up a little things like that saying that the ProTour has no credibility because of points, that is all nonsense. That is no real reason to do what they are doing. They are just looking for excuses, looking for reasons to justify what they have done.
"...we don't have a commercial interest in earning money out of these events or earning money out of television rights"
-McQuaid denies that the UCI wants a slice of the Grand Tour pie for its own profit
CN: What would you say to teams and to sponsors who are concerned about Friday's developments?
PMcQ: I would say them that they need to have a long-term vision, and retain that long-term vision. The UCI needs to do the same. I think this vision of the Tours is a very short-term one, and I think there is no benefit to the future development of cycling in that sense.
Look, I will give you an example of what the ProTour can achieve. I am working with the financial department at the moment on a project that I have been developing since I came into the UCI offices. The plan is to set up quite a sizable fund which will be used for development projects. The idea is that it will be used when federations or people in any of the developing parts of the world want to set up certain types of projects. If their government or local town will put in a pound, the UCI will put in a pound as well, a one-for-one type of situation.
Anyway, it is the money from the ProTour which is going to develop that fund. The way I envisage the development of cycling is that the top helps the bottom, and the money that is floating around in the ProTour and which comes into the UCI coffers because of the ProTour should be used for the development of the sport.
I am also looking to use funds like that to benefit national federations throughout the world, the ones in need. The point is that we don't have a commercial interest in earning money out of these events or earning money out of television rights, as has been claimed by Patrice Clerc. That is one of the Grand Tour organisers' big objections, they think that in future we are going to start looking for a proportion of their television rights. But this is completely untrue. That is not our brief, that is not our mission. Our mission is to develop the sport worldwide.
That is one of the reasons why the ProTour and the continental calendars are important. They act as the pyramid upon which cycling develops. And that's why I believe the ProTour represents the best way forward.
Cyclingnews' recent coverage of the ProTour-Grand Tours split
October 4, 2008 - New ASO chief to maintain values
September 26, 2008 - UCI declares peace, appoints new VP
August 30, 2008 - UCI re-signs five ProTour races
August 22, 2008 - ProTour: Bouncing back or lame duck?
August 19, 2008 - Stapleton analyses 'world calendar'
August 18, 2008 - Feedback on 'world calendar'
August 18, 2008 - UCI announces 'world calendar'
Cyclingnews' complete coverage of the ProTour-Grand Tours split