Tales from the peloton, March 14, 2004
Benvinguts en Girona
Cyclingnews visits the American pro riders' home away from home
Let's roll! George Hincapie and Christian Vandevelde lead the way
Photo ©: CN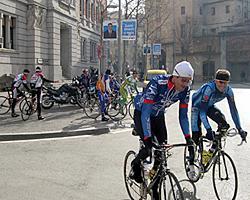 The week before Paris-Nice, Cyclingnews European Editor Tim Maloney tagged along on a training ride through the Catalan hinterlands that began when Tyler Hamilton sent out a SMS message to the Girona bike boys the day before: "Let's meet at the post office at 10:30." So on a mild but bright and sunny late winter Thursday, the gang from Girona showed at the local PO. Lets go!
Benvinguts! That means welcome in Catalan - the language usually spoken in Girona, a provincial city 80km north of Barcelona, Spain. To call Girona Spanish would be a misnomer and an insult to the locals as well, for Girona is first and foremost Catalan in its identity.
Noted for it's picturesque El Call or Jewish quarter, the typical pedestrian Rambla promenade that winds through the old quarter, quaint row houses lining the Onyar River that splits the town down the middle, a single nave cathedral and fortified Church of Sant Feliu, Girona has all the magical old Europe charm needed to seduce a bunch of American bike racers who've come to call it home.
When former USPS team director Johnny Weltz set up camp for his guys in Europe in 1996, he put them in the Costa Brava, in Girona, just down the road from his home in Olot. A former Tour de France stage winner, Weltz is originally from Denmark and he and his brother Ken had been successful pros in Spain, both having ridden for ONCE, among other teams. Eight years after the first seeds were sown, the colony of international riders, including Americans, Canadians and Danes is now up to almost twenty, thanks to Weltz and the great cycling and lifestyle available in Girona.
Floyd Landis meets George Hincapie
Photo ©: CN

10:25AM
Floyd Landis meets George Hincapie outside the main post office in Girona for a training ride. "Hey man, what are you up to?" he asks George. Hincapie is one of the nicest guys you would ever want to meet; we ask him if he's seen many changes in his eight years of living in Girona. "Well I really like this place... there is a lot of new building, but it's still a pretty quiet place." We asked George if he'd been out to the famous El Bulli Restaurant in Roses. "No, but I think Michael Barry has reservations there... he had to do it a year in advance!" When we caught up with Barry at the Vuelta Murcia later that week, he confirmed that he had, in fact, managed to secure some coveted reservations to El Bulli, but was a little worried that he might be riding the Vuelta and couldn't count on going.
Christian Vandevelde shows up
Photo ©: CN

10:28AM
Christian Vandevelde shows up in his new Liberty Seguros team kit. Landis says 'hi' while Cyclingnews asks Christian how he likes his new team and bike. "It's going good at Liberty and I like my new bike," says Vandevelde, who's hoping to be back in the Tour de France this season to support his team leader Roberto Heras.
Tyler and two Danish riders
Photo ©: CN

10:31AM
Tyler and two Danish riders from CSC show up at the same time. Hamilton is in a great mood as he greets former team-mate Thomas Bruun Eriksen, who seems to be glancing enviously at Hamilton's BMC Phonak team bike.
"So where do you guys want to go?"
Photo ©: CN

10:36AM
"So where do you guys want to go?", Hamilton asks Vandevelde. After a quick chat, everyone decides to ride together for at least an hour, so the road west to St. Gregori seems like the right route.
10:41AM
Ready, Steady, Go! Hincapie and Vandevelde hit the road first for St. Gregori as the other guys follow. Both Girona old timers George and Tyler tell Cyclingnews practically the same thing: "We never get this many guys on a ride together!"
On the road to St. Gregori
Photo ©: CN

10:52AM
On the road to St. Gregori; the eight riders head west out of Girona and in just a few minutes, they are out in the quiet Catalan countryside, cruising along double-file along the Llemana valley towards Sant Marti.
10:55AM
Landis comes back to the Cyclingnews car to explain the way; he's sporting USPS-Berry Floor's new team wear for 2004 and he's in a good mood, with a win under his belt already in Portugal and Paris-Nice to look forward to later that week.
Quick stop to answer the call of nature
Photo ©: CN

11:08AM
Quick stop to answer the call of nature outside the village of St. Gregori.
11:14AM
Thomas Bruun Eriksen comes back to the Cyclingnews car for a quick chat. We met the friendly 25 year-old Dane last year in Philadelphia, and he told us he was in good form so far this year and excited to be riding some of the classics. "Plus I always like to race in the USA and the race in Georgia [Dodge Tour de Georgia] looks good!" says Thomas.
Hamilton, Levi Leipheimer and Landis
Photo ©: CN

11:30AM
Hamilton, Levi Leipheimer and Landis chew the fat in the back of the group while Hincapie and Vandevelde are on the front. Many of the mountain peaks in the Girona area running up to the Pyrenees 100 kilometres north share the same chopped-off limestone bluffs.
The riders hang a left
Photo ©: CN

11:40AM
After passing the tiny village of Sant Esteve de Llemana (an abattoir) at the end of the valley, the riders hang a left and head up an over easy climb towards les Planes des Hostoles. The terrain is reminiscent of Northern California around Lake Berryessa and after one hour, the riders have ridden 30 kilometres out from Girona. Approaching the top of the climb, it's former track riders Vandevelde (left) and Madsen (right) at the front setting the tempo.
Dave Zabriskie and Floyd Landis
Photo ©: CN

11:50AM
In Les Planes des Hostoles, Dave Zabriskie and Floyd Landis are the first to peel off on their own; they head right towards Olat on the C-152 road for another two to three hours to put the final touches on their final preparation for Paris-Nice. Hincapie and Vandevelde head left back towards Girona, followed by Levi, Tyler and the two CSC guys.
Tyler Hamilton and Jimmi Madsen
Photo ©: CN

12:05PM
With Hincapie and Vandevelde going onwards and Thomas heading out on his own to do sprint intervals, Tyler Hamilton and Jimmi Madsen pause at the base of the Sant Mart Sacalm climb, a tough one-way ascent where both Hamilton and Leipheimer will check their climbing form before Paris-Nice. Tyler introduces us to Madsen, saying, "This is Jimmi; he was my horse in the Giro when I rode for CSC." We've know Madsen for a while; he's a very experienced 35 year-old all-around rider, who is at home in a 6-day as he is in a Grand Tour.
"I'm not going to follow him,"
Photo ©: CN

12:08PM
We pass Madsen as we follow Hamilton up the ascent. He and Tyler started together, but the Dane is not planning to match the American's climbing pace. "I'm not going to follow him," grunts Madsen.
12:15PM
Ty's all smiles as we come alongside him early on the sunny climb up Sant Mart Sacalm. He hands over his thermal vest to us, noting that the temp's warm today. He peels down to his Phonak long sleeve jersey and tights for most of the climb.
Hamilton's riding fast but steady,
Photo ©: CN

12:20PM
The smile is gone halfway up and the remnants of the snow line the Sant Mart Sacalm ascent. Hamilton's riding fast but steady, and his face is now a mask of concentration and focus. Hamilton's good-looking Phonak kit stands out well, and we imagine plenty of his rivals will be watching his Phonak bedecked derriere disappearing up the road in July's Tour de France.
Ty's all smiles again
Photo ©: CN

12:34PM
Ty's all smiles again as we come alongside him at the top of the climb. "I just went hard the last five minutes," he says, hardly out of breath. We followed Hamilton at a discreet distance up the last few clicks of Sant Mart Sacalm, and as always, we were impressed at how fast pro riders climb, even in training. Hamilton simply flew up the difficult ascent, usually riding at between 20km/hr (on the steep sections) and 30km/h, where it flattened out and he used his big ring. Plus the power he generates is something extraordinary; every time he came to a hairpin turn, he was out of the saddle, re-launching himself.
Ty's Phonak BMC team bike
Photo ©: CN

12:40PM
As Hamilton takes a quick breather and puts on his windbreaker for the descent, we take a pic of his BMC team bike. In addition to the unique carbon fibre seat tube configuration, the down tube, top tube and seat stays also in carbon fibre. Ty's bike also has an Easton carbon fibre fork, bars, stem and seatpost, with a Selle Italia saddle and SRM cranks and powermeter, as well as Speedplay pedals.
Hamilton calls his wife
Photo ©: CN

12:55PM
Back down at the base of Sant Mart Sacalm, Hamilton calls his wife Haven to meet up for an hour of motor-pacing as Levi heads up the mountain for a test: nine minutes climbing flat out. Jimmi has headed back home to Girona to find Thomas, who has probably finished his sprint intervals. Each rider has their own cell phone with them, which comes in handy to track each other down in the Catalan hinterlands. Haven's on her way...
Quick change of plan
Photo ©: CN

13:12PM
Quick change of plan: once Levi comes back down Sant Mart Sacalm, he and Tyler talk and it turns out Levi's wife Odessa, herself a former top female rider, is already on her way out to meet him for motor-pacing, so Tyler decides to tag along and calls Haven to cancel. Hamilton, a native of Marblehead, Massachusetts, has bought a new house in the off-season in Boulder, Colorado, where he went to university at the University of Colorado. "We've always liked Boulder, but we've kept our house in Marblehead, too. Our place is just west of town up Sunshine Canyon... I have a 10 kilometres climb to 7000 feet plus to get back home."
Ouff...
Photo ©: CN

13:25PM
Ouff... Hamilton and Leipheimer head up the climb from Les Planes des Hostoles, and you can see their legs are a lot more tired after the efforts on Sant Mart Sacalm than an hour or so before.
Levi, Tyler and Odessa
Photo ©: CN

13:40PM
Back near Sant Esteve de Llemana, Levi, Tyler and Odessa ready themselves for some motor-pacing back to Girona. Levi and Tyler talk about the ITT in the Vuelta Murcia, with Juan Carlos Dominguez of Saunier Duval being Levi's favorite, while Tyler was uncertain. After an hour behind Odessa's scooter, everyone will be back home in Girona in time for a shower, some lunch and to watch the tape-delayed race on Channel 2.
Well, just another day at the office for the Girona bike boys. Thanks to Floyd, Dave, Tyler, George, Christian, Levi, Jimmi and Thomas for letting Cyclingnews tag along.