A Cyclingnews Special Report, December 11, 2003
Out of order: Eating Disorders - Part 2
A few weeks ago, French doctor Arnaud Mégret claimed that 30 percent of elite women and 10 percent of elite male cyclists in France showed some signs of disordered eating. With cycling being a gravity sport, the pressure to lose weight in order to gain power, increase speed, and, ultimately win bike races, is enormous. Although problems such as anorexia, bulimia and osteoporosis are common to both men and women, it is females who have suffered most.
In Part 2 of a Cyclingnews special report, US correspondent and former Saturn member Kristy Scrymgeour speaks with a number of current and former professional women's cyclists, who each lend their words of wisdom. Some, like Petra Rossner and Catherine Marsal have learned the hard way, whereas former World Cup champion Anna Millward experimented safely to discover what was best for her.
Part 1 of Out of order: Eating Disorders
It is possible to lose weight by eating a balanced diet. Crash starvation diets and protein diets are dangerous and will usually leave your body harmed in some way or simply confused. What follows is advice and opinions from a few athletes who have and still are riding at the highest level of women's cycling. The very balanced way of thinking about their diet proves that success can be achieved without obsession over weight.
Like Dotsie Cowden, many athletes learn to experiment with the types of food they eat when they train to become experienced in the way their body works. Some athletes even experiment with their weight - though safely - to find out which weight suits their racing style.
Petra Rossner: "No fun, no success"
Photo: © Hennes Roth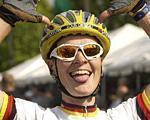 Petra Rossner tells of how she did this herself, and believes the issue relates to inner well-being. "The weight- power relation plays a big role in cycling and harms your performance, she says. "If you are too heavy, you can't climb and if you are too skinny you have no power, so in my 20 years I tried to be as fit as I could be, so I needed to find a way to be healthy, strong and light - but there is a fine line and each person reacts differently.
"I had two years where I tried to lose weight and I wanted to find the point where I wasn't fast anymore but could climb better. I did find this out for myself and it made me a better rider, but when I did it, it was hard and full of pressure from within because I thought about what would eat and what I wouldn't eat all day. The result was that I still can't climb - even when I'm skinny - and I can't win a sprint if I'm less than 63kg. Since that time, I have never put myself under that pressure again, because that was a very trying time and it was not enjoyable. Life wasn't fun and when you don't have fun there is no joy and no success. I'm happy I did it, but I'm happy that I don't have to try this again.
"It is more about how happy you are; if you are happy, eating is not the centre of attention because you do more exciting things than eating - if you are healthy and fit, your body has a healthy natural craving and if you are listening to your body, it will tell you the cravings and there is a reason for it because the human body is the most genial system.
"So if people are not happy, it becomes a problem and some people are by genetics bigger than others and some can eat anything and don't get big and some the other way around.
"I have to say that our society gets sicker and sicker; people are lost and all the commercial ads are making it worse, because people are influenced by too much so they don't know anymore what to do first. The whole society tells people what is 'good looking' and what is not and it's only one type: the skinny, fit, healthy look - but that ideal is what runs people down by chasing it.
"On the way to the getting the "perfect look" people lose the perspective of life and they chase something unreachable and that is sick and makes people sick. I know world-class athletes who are eating anything they like, even they do know a better diet. I do not say that these athletes could be even better but in my eyes it's a risk to even start thinking about it because a lot of athletes slip into an eating disorder so fast that sometimes it's better to eat normal with no thinking. Women especially are having a high risk in high performance sport to slip into eating disorders and it could easily ruin their lives forever. Never say to a girl 'your ass is too big'; you might harm the rest of the life for this young girl by getting her into an eating disorder."
Saturn provided discipline and solid advice for Anna Millward
Photo: © Jeff Jones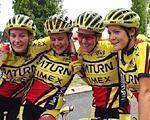 Anna Millward says you have to eat to be healthy and have energy. "Although it's clear that it's no good to over-eat, or eating lots of deep-fried foods or sweets at the expense of a balanced diet, it's also clear that going hungry all the time doesn't lead to great performances.
"My best advice is to discover for yourself what your limits are. If you can do 100 kilometres on a bottle of water alone and you're still able to attack at the end and feel strong, then you can go ahead and race 100 kilometres on water only. But if you're like most people and start to fade without some kind of intake then you have to learn when the fading begins and how much you have to eat and/or drink to keep yourself and maximum output.
"I think if the focus is on eating so that you can push the pedals the hardest and longest that it is possible for you to do, and then you will automatically attain a size and shape that is the best it can be. The emphasis is always on this "fat-burning" intensity that is low-intensity training but personally, I always found high intensity training to really lean the body down. If you're not eating enough you can't do the high intensity stuff.
"If the focus is on eating for the size you want to be, you are likely to cycle poorly and your body won't strip the fat off because it is too stressed. I think every human needs to put some thought into their diet and make sure they are getting an adequate balance of foods. Everyone can benefit from learning what foods agree with them particularly well and what foods they might enjoy eating but don't make them feel the best later on.
"I think athletes need to pay attention to the same things. Leading up to races, it's important that athletes are aware enough of their own metabolisms to eat the foods that will make them feel the best.
"So, I think athletes do need to put care into their diets and have the discipline to then carry out what they know is best for them. But this is different from just trying to minimize calories and feeling proud of completing arduous training on half a bottle of water. I think girls up to the age of 21 should not be subjected to skin-folds or any kind of weight or body-fat assessment. It is an enormously damaging experience for most people, but I think young girls have enough pressure to be skinny from magazines and advertising and society in general without getting an extra does of pressure from their sport.
"The whole emphasis in cycling needs to be on reducing times to complete certain courses, rather than on attaining certain skinfolds or body fat percentages, or on being disciplined enough to never have an ice cream!"
Judith Arndt wants to say something to the coaches and parents of young cyclists: "I only want to say that coaches or parents should be more careful what they do with young riders, and that weight watching in junior age is not necessary and can destroy the person's whole life. I have seen this. It is very possible to be successful as a cyclist without obsessing about your weight, there are many examples."
Nicole Cooke: "What we eat fuels our bodies to do some incredible things"
Photo: © Jeff Jones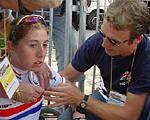 Nicole Cooke says "There is no need for obsession, but there is a need for control. What we eat fuels our bodies to do some incredible things, and this aspect of our performance can not be dismissed. I think something for young athletes to be aware of is what happens when they leave home and have to look after themselves.
"I noticed that when I moved over to Italy, I found myself on a number of occasions thinking about the next meal... I don't know if this was because I was now cooking for myself whereas in the past my mum had always prepared the meals, or if it was the increased focus put on diet that exists in Italy. But no matter what, it is a critical time that people should be prepared for."
Catherine Marsal says simply, "I think it's very important for the young riders to make them understand that the best diet is eating healthy. Having suffered osteoporosis problems myself, I wish somebody would have warned me of the dangers and those crazy 'don't eat but ride as much as you can' diet!
"Eating disorders usually link to the absence of the menstruation and you can get in trouble very fast. Studies have shown that in one year of non-menstruations, a woman's body can lose up to 150 grams of bone. I have been without them for 13 years... I'll let you do the calculations! An eating disorder is one thing, but all its consequences bring athletes to health troubles. So it's important to not try to lose weight alone; if you don't know what you are doing, then ask help from a dietician - especially when you are young.
"Control issue" for Dotsie Cowden: "Society is not to blame"
Photo: © Bill Parsons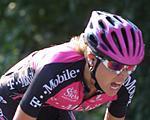 Dotsie Cowden has many ideas on the subject. "Mostly for me it was always a control issue. I think society is not to blame. You are the master of your own idea of yourself and what you put out into the world. Yes, we all think if we could be rail thin that we would climb better, but that simply is not true. We all have our ideal weight where we are most effective and most efficient and most powerful, and it is not necessarily the lightest.
"I think your weight needs to only be one component of your overall fitness/ training program. It should be treated just like you treat your recovery, training, rest, stretching, massage etc. You need to eat healthily so you can get the most out of your machine and treat it with respect and love."
Nicole Freedman says "A few riders that have the best metabolism and genetics do have an advantage. But I do think you can be up there but not winning consistently without thinking about your diet. A lot of top riders in their heyday of winning were much thinner. For happiness sake, they seem to stop obsessing, race a bit heavier. They are still awesome but are lacking that edge."
Coach Kendra Wenzel says elite level racing isn't necessarily healthy. "We overdevelop certain muscle groups, we push our bodies beyond the aerobic limits that are generally thought to be beneficial for health, and we push our body fat down to levels where we maintain power but have our engine running as efficiently as possible. It's a choice. And for most it's not a life or death choice, but definitely one that can have complications in the future. Racers who severely restrict their nutrition intake to the point where they are risking osteoporosis at a younger age, damaging their metabolism, or risking their reproductive ability are potentially making a choice they don't realize could be devastating until it's too late."
A professional cyclist who asked not to be named recommends, "Estimate the energy request, and after that decide what level you want to perform at and what terrain you want to be good at. Also try to be reasonable with the food intake, reduce the fat and balance the other important factors as protein, carbo's, nutrition etc. And also after the season, at least give yourself a break in the 'hard discipline' and allow yourself some 'naughty' food and sweets - I really love this period!"