An interview with Matti Breschel, May 17, 2007
The peloton's next top model
Most aggressive rider
Photo ©: Shane Goss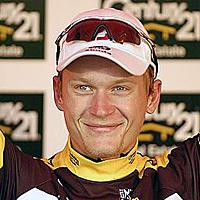 At the tender age of 17, Matti Breschel left his home in Denmark to work as a model in New York City. At 20, he was signed to the ProTour team CSC. He's got looks, he's got legs, and now, after a rocky 2006, Breschel placed top-twenty in Paris-Roubaix and third in the GP Herning this year, and finds himself among the peloton's top models. Cyclingnews' Katharina Schulz finds out more about this young Dane.
Matti Breschel was on the brink of winning the 2006 edition of the Driedaagse van West-Vlaanderen when he crashed in the final sprint. He had already won the intermediate sprint and was only seconds behind the current leader Robbie McEwen, and he felt sure that he would be stronger than the Aussie in the finale, when they both went down and Breschel hit the barriers.
McEwen was relegated for irregular sprinting and Niko Eeckhout won the overall, while Breschel couldn't remember his date of birth for almost an hour after the crash. He spent two weeks in hospital in Belgium with two fractured vertebrae, severe concussion and a few minor injuries, before he could return to Denmark to recuperate with his family. The most alarming consequence of the crash was that his short term memory was dysfunctional for a while.
"By nature I'm built for the hard cobblestone races in Belgium."
- Matti Breschel describes his strengths
Right after the crash he was "seriously pissed off", but in the meantime Breschel has had a talk with McEwen and there are no hard feelings left. They both want to move on and look ahead and feel it is unnecessary to make out a culprit – they both regard it as an accident.
"I have to admit that I have a hard time remembering what exactly happened," he wrote on his homepage afterwards. "I only know that there was space enough for the two of us, and I can't understand why he came so close. The problem was that our handle bars got entangled and then he went down, and I crashed into the barriers."
Breschel returned to the race circus for the Bayern Rundfahrt at the end of May, but didn't fare too well. The crash had cost him too much time and energy; he had lost the basis he had built up over the winter. And, more importantly, the right swing. All in all, he rightfully calls last year a "shit season."
Breschel in the USA
Photo ©: Jon Devich

The crash came just when Breschel was in excellent form and things were looking very promising for his favourite races: the Spring Classics. "By nature I'm built for the hard cobblestone races in Belgium," he says, and this is also where he hopes to get good results in the future. "What I dream of most are the classics and all the spring races, although there are many exciting races in autumn, too," he told Danish TV2.
Thwarted in his ambitions last year, he was able to prove his talents this season despite another crash. This time he was lucky though, and fears that he had broken his elbow when he crashed during the Ronde van Vlaanderen where unfounded. Thus he was able to race Gent-Wevelgem, but more importantly, fulfil his role in Paris-Roubaix.
"The plan was that I should make it into the early escape group, so that the team wouldn't have to do too much work in the peloton," he describes the mission set by his team. Due to the extraordinarily good weather conditions – it hadn't rained in weeks and the temperatures were around 25° C – the race took an unusual course and early in the race, there was a very large breakaway that held over 30 riders at one point.
Breschel made it into the group as planned, together with his CSC colleagues Stuart O'Grady and Luke Roberts. "I was sure that it would be possible for a large group of 10-15 riders to get away, and also that they would be able to get really far because of the weather," he later wrote on his homepage. But then his team-mates fell victim to the cobbles of Arenberg like so many others: they both had a flat, and suddenly Breschel was left alone in the group.
"All of a sudden it was my turn to take matters into my own hands. It felt a bit strange, and so I started to count down the kilometres: 80 km to go, 60 km to go and so on…" he described the scene on his homepage. He didn't stay alone for long, though: "Then Lars [Michaelsen], Leukemans and Flecha come up from behind, and all I have to do is to ride as hard as I can. The only thing Lars actually manages to say to me is: 'Now you just make damn sure you don't let go!', and that's really all I can do. In fact, they just ride past us and tear the whole group apart. I was happy then that I could hold on. I realised that I actually had good legs."
Matti at team camp in 2006
Photo ©: Sabine Sunderland

Others, however, had even better legs that day, and as his team-mate from Australia caught up to the group, he just had to let him pass. "As Stuart O'Grady and Steffen Wesemann come up, I have to accept that I don't have much strength left. I had a certain speed I could go at, but I couldn't go much faster. I simply lacked a little top speed."
But even without that little extra he was able to come in 14th place, and there were quite a few people who were impressed by him. Fellow countryman Lars Michaelsen, who retired after this year's Paris-Roubaix, has been a kind of mentor for Breschel in his first years as a pro rider, and he was full of praise after the race. He thinks it was an important step for Matti: "It is important for him that he was part of the breakaway from the beginning. Now he knows that you can't build a chimney from the top," Michaelsen told the Danish newspaper Ekstra Bladet. "You have to start with the foundation, and what happened to Matti today will be valuable for him in the future."
But Michaelsen's not the only one who has noticed the young Dane: Tom Boonen recently said that Breschel reminds him of himself when he was younger. Breschel himself is flattered by the praise but tries to keep his feet on the ground: "I'm still very young and have a lot to learn in the game, but it's great to know that people like Boonen have noticed me - and the rest time will tell!" he says.
As far as his result in Paris-Roubaix is concerned, one can sense disappointment and pride at the same time. It is obvious that this is one of the races he dreams to win, and that thus a 14th place is not good enough for him, even though he knows he is still at the beginning of his career. But on the other hand he is realistic enough to be happy to realise that this is a very good result at this point: "It's great to have been able to get that far and I hope I can keep on developing in that direction and that one day I can get really, really far."
Breschel is riding his first Grand Tour with this year's Giro d'Italia. "I'm excited, and maybe just a little nervous, but I'm looking forward to it. I've had the Giro on my preliminary schedule the whole year, but I got the final word after Paris-Roubaix," he told TV2.
CSC is going into this year's Giro with a completely different goal than last year: In 2006, they started with a team that was all set on getting the title with Ivan Basso, and win they did. It was, however, already during the last weeks of May that Ivan Basso and Jan Ullrich were alleged to be involved in the scandal that was unfolding around Eufemiano Fuentes, and by the end of the year, Basso had left CSC. This year's Giro d'Italia is taking place without the reigning champion, because he has admitted to at least have tried to dope himself for the Tour de France 06.
Thus the Giro 2007 is a whole different game for Team CSC. They have put up a team where only four of the nine riders were born before 1980; the youngest, Andy Schleck, was born in 1985. Breschel's goal for the Giro is "to finish it and hopefully get a good result. My task is also to help JJ Haedo in the sprints and maybe give a hand to Andy."
Breschel was signed in 2005
Photo ©: Michael Gernaa

Breschel has been described as impatient and it is obvious he wants to make up for the messed up season last year. But he tries to control his temper: "Of course I'm aiming high, and I still have a lot in store, but I'm trying to take it easy even though that's hard to do." Working as a model and living alone in New York at the age of 17 hasn't really taught him all that much that would help in reaching those aims, "but it taught me to be able to look after myself."
Bjarne Riis had been keeping an eye on Breschel for a while and was therefore very happy when he signed him at the end of 2004. "I'm very glad we managed to get Matti on our team. Matti has an enormous potential and is one of the sport's biggest talents," Riis said back then.
Breschel moved to Italy, where he lived at Riis's house together with Brian Vandborg amongst others. Like others on Team CSC, Breschel worked together with Luigi Cecchini, a doctor who now has a more than infamous reputation. But, as everyone on Team CSC, he has now terminated the co-operation with Cecchini. Doping has become a massive cloud that overshadows the sport of cycling, and CSC has come under attack, too.
"This is a hard time for cycling, but it's good to know that something's being done to clear up things, and that's obviously an advantage especially for us younger riders," Breschel says. It remains to be hoped that the proclaimed winds of change and the comprehensive antidoping programmes of Team CSC and others are more than lip service. If so, the future for cycling might look as bright as this young man's.