News Feature, February 8, 2009
Future Hopes: Keller and Fahlin
Columbia - Highroad teammates Luise Keller (l) and Emilia Fahlin
Photo ©: Shane Stokes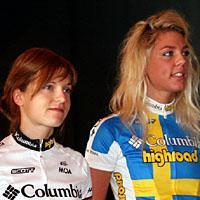 Columbia riders Luise Keller and Emilia Fahlin will line out on Sunday in their distinctive national championship jerseys, getting the 2009 season underway in the women's Tour of Qatar. Cyclingnews's Shane Stokes recently spoke to both at the team training camp in Majorca and asked them about their strong 2008 races, their highlights of the season plus their programme and targets for the months ahead.
Coming to the end of 2008, the Columbia-Highroad women's team had two things to celebrate. One was the huge success of the squad; it took a total of 68 victories during the season, winning more than half the races it started and ending the year as the world's number one.
The second was the performances of its young riders. While older competitors such as Ina Yoko Teutenberg and World Cup victor Judith Arndt landed the biggest number of wins, the strong performances of the new generation means that the team can expect more good results in 2009 and beyond.
This group includes competitors such as Luise Keller and Emilia Fahlin, national champions of Germany and Sweden, and both return as team members in 2009. On Majorca they honed their form via long training rides and also got reacquainted with the other Columbia riders. They are now preparing to begin racing in the first ever women's Tour of Qatar, which starts on Sunday.
"In the wintertime I usually study quite a bit."
- Keller is one of the many women who have to juggle pro cycling with work or studies.
At 24, Keller is the older of the two. She's successful despite juggling her time training and racing with work towards a university degree. That requires a lot of dedication but, as she says, many women in cycling do something other than just practice their sport.
For example, Olympic silver medallist Emma Pooley is doing a PhD in Zurich, while others work part-time during the off season in order to earn more money. Women's cycling is not in any way as lucrative as men's, and so there are clear differences in some areas.
"I am doing environmental engineering and in the wintertime I usually study quite a bit," Keller told Cyclingnews, when asked what she did in the off-season. "I always carry books or something with me at the stage races, and when I have time I try to study something."
Once clipped into the pedals the small and slight German is forceful, and she highlighted her ability with several strong results in 2008. Those included a successful defence of her national road race title. She also won two stages plus the overall in the Route de France and finished second in the Plouay World Cup.
The Route de France win was her highlight. "Taking that did a lot for my confidence," she admitted. "It was a pretty long race for us. Not all of the top girls were there, but it was quite challenging because of the length."
German national champion Keller enjoyed Majorca
Photo ©: Shane Stokes

Keller was eleventh in the prologue, then made her big move on stage three when she attacked on the second big climb of the day, bridged across to two breakaway riders and then soloed to victory. She finished 46 seconds clear of Rosane Kirch (S.C. Michela Fanini Record Rox) and ended the day 51 seconds ahead in the general classification.
"From that point on my team supported me really well," she said. "I was nervous the next day, it really feels different to be responsible for the overall. But the team was very good for me. When people believe in you and show you that they support you, that is very important."
Columbia controlled things until the penultimate day's time trial. Keller sealed her victory with a dominant win in the race against the clock, finishing 40 seconds ahead of the closest rider Tatiana Antoshina (Fenixs). She added almost 90 seconds to her lead over Kirch and won the race by two minutes and 19 seconds. "It was my first stage race win, so it was really special," she said, smiling.
National champions
Fahlin prior to a training ride in her Swedish champ outfit
Photo ©: Shane Stokes

Prior to that, retaining the white jersey of German champion was also big for her. "Winning the national title again was pretty special," Keller said. "A lot of people had the chance to go for that, so it was a really nice moment.
"The whole race went very well for our team," she elaborated. "Anke Wichmann was in the group from the start of the race and the break survived until the last lap. She was in really good shape and had a really good day, almost winning the race. But with ten kilometres to go we caught her little group. That was the moment when I attacked and could win again solo."
She'd taken gold the year before and so had already had the privilege of standing atop that podium. The victory was a confirmation; as for teammate Fahlin, her own win in the Swedish road race champs was a first-time coronation.
"That first year was really, really hard."
- Fahlin remembered the tough beginning in 2007.
"To get the national title was of course one of the highlights," Fahlin told Cyclingnews, standing in the striking blue and yellow jersey before a training ride. "That was one of my long term goals, so to achieve that [as soon as] last season wasn't even in my thoughts. It was a surprise…it is such a cool feeling to be riding in the national kit."
Fahlin said that due to a tough course, she wasn't actually sure that she would finish the race. She describes herself as a rider suited to flatter parcours, yet she went clear in a break on the first climb and spent the rest of the day out front.
"In the end it was just down to me, Emma [Johannson] and Susanne [Ljungskog]," she continued. "They dropped me on the two climbs on the course, but I fought back and then attacked them with two kilometres to go. They couldn't agree on the work, so I got to solo to the win. I was delighted to get it, as the jersey is really nice…it is beautiful."
Like Keller, Fahlin also lists the Route de France as one of her biggest memories.
Swedish rider Emilia Fahlin
Photo ©: Shane Stokes

"That race was one of my best experiences from last year," she explained. "Doing such a long tour was great, and we had such a great team there and had so much fun. I learned a lot and ... I think I made one or two steps up after that, because it was the longest one I had ever done. Of course we had Louise taking the GC too, which was amazing."
Despite riding for experienced riders like Teutenberg and Arndt, the younger ones have a chance to chase personal success, too. Out of the combined 42 men and women that represented the team in 2008, 31 won at least one race.
"It is cool when one of the younger riders who is normally just a helper gets a chance to ride for the GC," said Fahlin, referring to Keller's win. "It is cool that she made it all the way in…the Route de France and she really deserved it."
The Swede also landed good success of her own. Apart from her national title, she also took victories on a stage of the Redlands Classic, the Santa Rosa Grand Prix, the Merced Criterium and the Merco Cycling Classic Road Race. Not bad for a rider who is so young and, who by her own admission, struggled a lot during her first season.
"That first year was really, really hard. I think it took me that year to get into everything…not even just the racing itself, but it is also so much about the tactical stuff that I hadn't done before as a junior. Also, going from racing as juniors straight up to competing with the best in the world is very tough."
New season, new targets
Luise Keller and team owner Bob Stapleton
Photo ©: Shane Stokes

Keller's early programme is main Europe-based, but will start off with a new race, the Women's Tour of Qatar. "I am really looking forward to Qatar – it is new for women and I think it will be very interesting," she said. "Then we head to Italy for a few races, after which I will do the Classics. I look forward to that, it is always nice to ride races like Flanders and Flèche. Then the first big stage race will be in May, the Tour de l'Aude.
"As regards to goals, I would like to improve, obviously. Maybe I can win a World Cup or win stages in bigger stage races…something like that."
Fahlin heads further west after Qatar. "I will go to California again and stay there for one and a half months, doing some races there," she said. "I finish up with Redlands and then I will go back to Europe, doing the spring races in Holland and Belgium. After that I think I will be doing the Tour de l'Aude, which should be interesting."
Keller and Fahlin are both national champions of their respective country
Photo ©: Shane Stokes

As regards specific personal targets, she has three in mind. "The European championships are one of my main goals. It will not be with the team but it is always one of my big aims for the season as it is a championship.
"But I think my dream would be to get one UCI win in my Swedish national jersey…that would be a nice win. And to try to defend the jersey too, even though it is going to be difficult to do so."
Team manager and coach Petra Rossner is one of those who is impressed by both riders. "They are brilliant talents and brilliant characters, and they already learned a lot from the years on the team," she told Cyclingnews.
"Emilia has been with us for two years and Luise joined last season. They have already developed really well as riders, and should continue to do so."
See also:
Judith Arndt: From Flanders to Beijing.
Team Columbia: Columbia unveils its new colours.
High Road's Stapleton on Columbia future.
Photography
For a thumbnail gallery of these images, click here
Images by Shane Stokes/Cyclingnews.com