Recently on Cyclingnews.com
Tales from the peloton, April 22, 2009
Doin' the Ardennes double
By Greg Johnson
The past winners list for both Liège-Bastogne-Liège and La Flèche Wallonne reads like a who's who of cycling's rich history. But even on a list featuring cycling's finest, there are a handful that stand out as winners of the Ardennes double.
In fact just six riders throughout history have managed to claim both race wins in the same season. It's a prestigious club of men who, combined, have won anything that truly matters in the sport of cycling.
They share six world championships, victories in each of the three Grand Tours, and wins in every other major classic race (thanks largely to Eddy Merckx).
1951 & 1952 - Ferdinand Kübler
Ferdi Kübler
Photo ©: Marcel Segessemann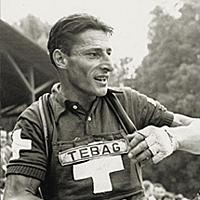 Doing the Ardennes double in 1951 just wasn't enough for Swiss rider Ferdinand Kübler. So to prove his ability, he returned the following year to claim the title once more.
Not only is he the only rider to claim two Ardennes doubles, but Kübler did it back-to-back while riding for Frejus during what were his strongest years as a professional cyclist.
Now 89 years old, Kübler's major race winning streak started in 1948 when he claimed both the Tour de Suisse and Tour de Romandie. It was the beginning of a glorious run for the Swiss road, hill climb, cyclo-cross and pursuit champion.
After taking his third Tour de France stage win in 1949, he returned the following year to double his stage win tally en route to winning the race overall. It opened up the flood gates for Kübler, who went on to win the World Road Championship crown the next year, along with Liège-Bastogne-Liège, La Flèche Wallonne, Tour de Romandie and Tour de Suisse, plus another Swiss road race champion crown for good measure.
While Kübler claimed the double again in 1952, they were his only major wins during what would be his second last successful season on the international scene. A Bordeaux-Paris was the only feature in a quiet 1953, before he went on to be a contender for the final time at the Tour in 1954. He finished with the points classification and two stage wins, and took second place on general classification.
Kübler, the oldest surviving Tour winner, won Milan-Turin the following year before concluding his career in 1957 at the age of 38.
Career at a glance
Road World Champion: 1951
Liège-Bastogne-Liège: 1951, 1952
La Flèche Wallonne: 1951, 1952
Tour de France: 1950, eight stage wins
National titles: 11 in total (across all disciplines)
1955 - Stan Ockers
Stan Ockers did the double
Photo ©: Jacques Burremans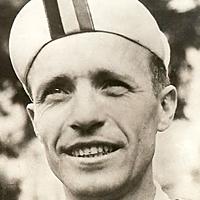 The name of Belgian professional Stan Ockers probably would have appeared in the Ardennes results a couple more times had his life not been tragically cut short. While Ockers was in the latter stages of his cycling career when he was killed during a track race in Antwerp in 1956, they were also some of his most successful seasons as a rider.
1955 was a particularly successful season for Ockers, who was 35 years old by that stage. Having already won La Flèche Wallonne in 1953, Ockers returned in 1955 and claimed his second win there, adding to it a Liège-Bastogne-Liège title to earn his position as the second Ardennes double winner.
Ockers joined Ferdinand Kübler on the short list of riders who had won Le Weekend Ardennais. Not only had they claimed the Ardennes double, but they did so when the races were held on consecutive days of the same weekend.
Ockers' success in 1955 also netted him a World Road Championship and the Tour de France's green jersey. He won events like Rome-Naples-Rome and Trophée Gentil that year and also the Challenge Desgrange-Colombo, a world ranking including the most important races.
The following season he added another Tour green jersey to his collection, but then his life was cut short on October 1, 1956, two days after he crashed at the Antwerp Sportpalais. The following year a monument which includes a stone statue of Ockers riding was appropriately erected in Les Forges in Belgium's Ardennes region.
Career at a glance
Road World Champion: 1955
Tour de France: Three stage wins, Two green jerseys (1955, 1956)
La Flèche Wallonne: 1953, 1955
Liège-Bastogne-Liège: 1955
1972 - Eddy Merckx
Eddy Merckx won just about everything
Photo ©: AFP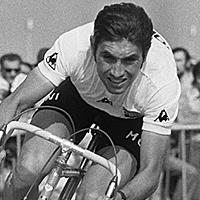 There are few sports people who have competed that, no matter how great the introduction, it is still a disservice to their career. Eddy Merckx is one such athlete.
The statistics behind the Belgian's career are truly mind-boggling. Five wins apiece at the Giro d'Italia and Tour de France, plus a Vuelta a España win for good measure. World road championships? How does three sound? Milan-Sanremo, Ronde van Vlaanderen, Paris-Roubaix…the list goes on.
So it's little surprise that Merckx is among those who have done the Ardennes double. Having won Liège-Bastogne-Liège on five occasions and La Flèche Wallonne on three, perhaps the only real surprise is that Merckx didn't join Ferdinand Kübler as a multiple-time Ardennes double winner.
Having already won both races on two occasions, it was in 1972 that the planets finally aligned for Merckx to do the double. While not one of his World Championship years, 1972 was undoubtedly one of Merckx's finest seasons. On top of his Ardennes victories, he also topped the podium at the Tour de France, Giro d'Italia and Milan-Sanremo to name just a few.
Of course all that wasn't enough to please Merckx, so that October he decided to set a benchmark hour record for modern cycling. Merckx, 27-years-old at the time, laid down 49.431 kilometres over an hour in a record which stood for just under 12 years until Francesco Moser took the mark to 51.151 km in January, 1984.
Not bad for a years work, don't you think?
Career at a glance
World Road Champion: 1967, 1971, 1974
Tour de France: 1969, 1970, 1971, 1972, 1974, 34 stage wins
Giro d'Italia: 1968, 1970, 1972, 1973, 1974, 24 stage wins
Vuelta a España: 1973, six stage wins
Milan-Sanremo: 1966, 1967, 1969, 1971, 1972, 1975, 1976
Ronde van Vlaanderen: 1969, 1975
Paris-Roubaix: 1968, 1970, 1973
Liège-Bastogne-Liège: 1969, 1971, 1972, 1973, 1975
La Flèche Wallonne: 1967, 1970, 1972
Giro di Lombardia: 1971, 1972
National Champion: 1970
1991 – Moreno Argentin
Moreno Argentin in retirement
Photo ©: Nordmilch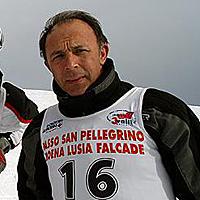 Italy's Moreno Argentin was incredibly successful at both Liège-Bastogne-Liège and La Flèche Wallonne, yet surprisingly that success only overlapped in 1991. Now 48 years of age, Argentin enjoyed a successful career both in road and track racing which saw him claim the World Championship race in 1986, a swag of Grand Tour stage wins and four Italian championships, two of which were the road racing title.
Argentin claimed four victories at Liège throughout his extensive career, which drew to a close in 1994. After three consecutive victories at Liège-Bastogne-Liège from 1985, he returned in 1991 to move one win closer to equaling Eddy Merckx's five victories – an accomplishment he never matched.
The 1986 World Champion had already won La Flèche Wallonne in 1990, but backed it up with another win in 1991 to become the fourth Ardennes double winner. He went on to again claim victory at La Flèche Wallonne in his curtain call year, 1994.
Known as The Boss, Argentin's career kicked off in 1981, one year after he became Italian amateur track cycling champion in the team pursuit while riding for San Giacomo. Glory soon followed Argentin's move up to the professional ranks, and he claimed two Giro d'Italia stage wins during his first professional season with Sammontana.
Career at a glance
World Road Champion: 1986
Tour de France: Two stage wins
Giro d'Italia: 13 stage wins
Liège-Bastogne-Liège: 1985, 1986, 1987, 1991
Ronde van Vlaanderen: 1990
Giro di Lombardia: 1987
La Flèche Wallonne: 1990, 1991, 1994
Italian Road Race Championship: 1983, 1989
2004 – Davide Rebellin
Davide Rebellin looks shocked to have won
Photo ©: AFP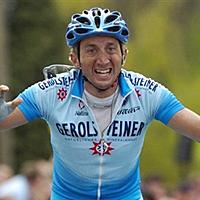 Italian Davide Rebellin had claimed five top 10 finishes between Liège-Bastogne-Liège and La Flèche Wallonne during the first nine years of his career. He even stood on the podium two years in a row in Liège, in 2000 and 2001, but victory was ever elusive. It must have come as a relief then, when he claimed victory in not one but both races during 2004.
Rebellin is Mr. Consistency when it comes to the Ardennes races. While he claimed another Flèche win in 2007, the near-misses heavily outweigh his successes.
Even after his Ardennes double in 2004 Rebellin reverted to his old ways. Excluding his win in 2007, Rebellin has claimed another four top 10 finishes between the two events since 2004. That takes Rebellin's top 10 tally in the Ardennes region to 12, including his victories.
The story is reminiscent of Rebellin's history at the Amstel Gold Race. While he won the event in 2004, the rider has had four other top five finishes at the event. The first came in 1994 when he claimed fifth place, in 2004 it was fourth place, he took second in 2007 before adding another fourth place finish at last year's race.
One of two current professionals to have done the Ardennes double, Rebellin is expected to lead his Serramenti PVC Diquigiovanni - Androni Giocattoli (did we miss anyone?) squad at this year's events. Whether Rebellin will add to his Ardennes double efforts or maintain the consistency title remains to be seen.
Career at a glance
Giro d'Italia: One stage win
Liège-Bastogne-Liège: 2004
La Flèche Wallonne: 2004, 2007
Amstel Gold Race: 2004
Tirreno-Adriatico: 2001
Clásica de San Sebastián: 1997
Paris-Nice: 2008
2006 - Alejandro Valverde
Alejandro Valverde took his first Ardennes Classic
Photo ©: ISPA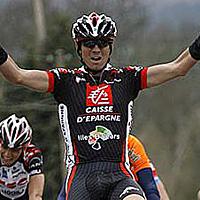 Spain's Alejandro Valverde made a name for himself as a Grand Tour rider from the early days in his career, but it wasn't until claiming the Ardennes double in 2006 that Valverde's Spring Classics ability and desire really shone through. The Ardennes success came after Valverde's first Tour de France stage win in 2005 and in the same year as the first of two UCI ProTour white jerseys.
As Valverde's win count continued its upward trajectory, so did the rider's desire for more Ardennes success. Valverde came frustratingly close to Ferdinand Kübler's back-to-back Ardennes success when he finished second at not just Liège-Bastogne-Liège but also La Flèche Wallonne in 2007.
Valverde put that frustration aside as he returned to the races last year. Hopes of a second Ardennes double were quashed at Flèche, when he finished 32 seconds down in 21st place, but Valverde bounced back just days later to claim another victory in Liège.
The Caisse d'Epargne rider still has a chance at adding to his Ardennes tally and could yet match Kübler's feat. Curiously Valverde didn't want to risk injury to defend his Paris-Camembert Lepetit title this week, and he is entered in both races once more this year. Watch this space, 'ey Alejandro?
Career at a glance
UCI ProTour: 2006, 2008
Tour de France: Three stage wins
Vuelta a España: Five stage wins
La Flèche Wallonne: 2006
Liège-Bastogne-Liège: 2006, 2008
Clasica de San Sebastian: 2008
Critérium du Dauphiné Libéré: 2008
National champion: 2008
Photography
For a thumbnail gallery of these images, click here
Images by Jacques Burremans
Images by Nordmilch
Images by Marcel Segessemann
Images by AFP Photo
Images by ISPA/www.ispaphoto.be