Tales from the peloton, November 16, 2008
Kelly's latest challenge
Sean Kelly looking confident
Photo ©: Sarah W. Staber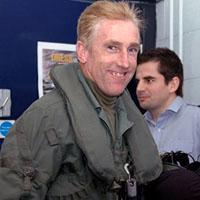 What does one of Ireland's best-ever former professional riders do when he's not working as a commentator for Eurosport? Make bets with RAF Flight Lieutenants. Sarah W. Staber recounts Sean Kelly's recent adventure in flight.
Head are turning and whispering is heard as cycling great Sean Kelly is escorted to the various rooms at the RAF Leuchars for fittings, check ups and a quick lunch. Why is Sean Kelly at the base in the first place?
Rewind: Puig Major, Majorca, April 2007. Sunny, 22 degrees centigrade. RAF Flight Lieutenant Marc Preece took part in one of SportActive's cycling tours and struggled to the top of a climb when all of a sudden Sean Kelly flew by him, gently teasing him about his lack of fitness. It hurt the Flight Lieutenant more than the screaming burn in his legs at that moment. When Preece realised that it was a legend of Irish cycling, he summoned up all his energy to catch him and while Kelly playfully pushed him up to the finish, Preece shot back a dare. "Come fly with the RAF in a Tornado jet fighter then we will see how much you can take."
Fast forward: RAF Leuchars base, Fife, Scotland October 23, 2008. Kelly and SportActive, for whom he rides six weeks a year, took on the bet. While any pilot can throw his leg over a bike, the trip up in the fighter jet included quite a bit more preparation for Kelly, including advice on how to deal with the massive g-forces he would encounter during the flight.
"You have to tense all the muscles in your arms and legs like you're constipated, it's not very dignified, I'll admit," RAF doctor McGrath concedes to the man sitting across from him as he describes what to do when the g-forces hit him. Still in his civies, the Hard Man himself, Sean Kelly, is wearing that "tell nothing" poker face he had used so often when he raced. As he listens to the doctor, a slight twitch of his fingers which dangle from his knees is the only sign that perhaps Sean isn't quite as cool as he looks.
Kelly was at the RAF Leuchars air station, located in Leuchars, Fife on the east coast of Scotland near the university town of St. Andrews. He was taking part in the first edition of the SportActive Challenge® in which a well known athlete attempted to do something out of his range. SportActive, which runs walking, triathlon and cycling tours in Majorca, utilises Kelly's experience in its cycling programs. It forms part of the Irishman's life after the bike but enables him to maintain fitness and a connection with the grassroots of cycling.
So, instead of donning a cycling kit, Kelly was being custom fitted into RAF flying gear that must fit perfectly. His head was measured for a helmet which fit so snugly that when he took it off his ears were bright red. "I think I prefer my medium-sized cycling helmet. I can sure put it on faster!" he joked, rubbing his ears.
The compression pants - the Air Force's answer to cowboy's chaps - had gone over the regulation jumpsuit and didn't quite fit like knicks, but kept Kelly busy with their varied zippers and toggles that gave it a respectable fit. "How do these things work?" mused a journalist who watched the Irishman struggle with the ankle zippers.
In a flash Kelly was led over to a machine which attached to his pants and started blowing up the compartments. "The pants inflate like this anytime you hit a g-force. When they inflate, they restrict the blood from going into your legs. The blood stays in your upper body, feeding the organs and your head - otherwise you would grey out," explained the fitter. "OK, I'll take 'em," grinned Kelly. You could tell those g-pants were going to one of his closest companion for the next few hours!
Kelly weathered a storm and a Tornado
Fully concentrated
Photo ©: Sarah W. Staber

With weather conditions dramatically contrasting to those of Majorca, the RAF personnel were frantically trying to hurry proceedings. "Weather is getting worse, we have to take off soon," someone barked. Kelly was now completely suited up, the white gloves ready. He had been through his physical, had a briefing on what to do in case of emergency, and met his pilot.
The look in his eye was a combination of fascination at the thought of actually flying in a jet fighter and apprehension of the unknown. "Perhaps it is just too windy to fly? What do you say?" Kelly tested the water, toying with the idea of cancelling the flight to anyone who was listening. "We're on," smiled the pilot, Wing Commander David Hazell. "Come on Sean, let's show you another kind of speed." Martin Birney, MD of SportActive and creator of the idea of the SportActive Challenge® patted Sean on the back. Kelly mustered up a smile, picked up his helmet and gloves and moved out.
A look of relief
Photo ©: Sarah W. Staber

Kelly was escorted out on the tarmac; a camera crew, newspaper reporters and photographers and a good part of the RAF cycling team were there to greet him. In that company, Sean loosened up again. When asked if he is scared, Kelly said, "When they started to instruct me on what I had to do to eject from the plane, I could feel my heart beat rising, but now I am at the point of no return."
It took a good 10 minutes to get him fastened in and explain where the buttons were and what they did, with Kelly's eyes showing an intense concentration, the kind of which he needed to win on the pave of Paris-Roubaix. The thumbs up from both Kelly and pilot indicated all was ready as the plane taxied down the runway and came back, taking to the air a few minutes later. Flames shot from the back of the plane and lit up the grey sky, and the noise was enormous.
Half an hour later the noise, and Kelly, returned. As he dismounted a big smile broke over his somewhat pale face. "Wow. That was an experience of a lifetime," was all he could get out as the camera crew swamped him. Kelly removed his helmet and his hair was damp. "The take off was amazing, the force just flattened me back into my seat. I was just stuck there, I couldn't move if I had wanted to," he explained, adding that, "You don't know what is happening or how to deal with it at the moment. It was out of my control and that is a difficult feeling to master. That ride took me to my absolute limit. I have often pushed myself to the limit on my bike, but this was something else. Once we hit clear skies I did get to pilot the plane a bit, which was a wonderful sensation."
Kelly and the RAF Cycling Squad
Photo ©: Sarah W. Staber

"Sean did a great job up there. He was happier once we found clear skies as it was really bumpy in the clouds, and coupled with that we had a hard landing - two things that are not exactly conducive to sick-free flying," explained Hazell. Hopefully Kelly had followed the tip from Dr McGrath and placed his sick bags where he could easily reach them. Walking off the tarmac Hazell teased, "Sean, did you bring your used bags with you?" "No way. I left them in the cockpit." Kelly smiled sheepishly.
"You're buying the beer tonight then!" said the pilot as they entered the Commando Centre.
The SportActive Challenge® had been successfully completed. Birney grinned as he got into the car, and on the way back to the officer's mess, Kelly sat quietly in the car intently trying to fix the zipper pull on his jacket. Small talk was on the menu. It was time to let the stress of the previous eight hours dissipate. "You did a great job, Sean," said Birney reassuringly. Before we got out of the car, Kelly leaned over and said, "You know, I think I would take to the bike any day before going back up there again!"
Photography
For a thumbnail gallery of these images, click here
Images by Sarah W. Staber