Recently on Cyclingnews.com
News feature, November 22, 2006
Oscar Pereiro: Wait and see
The 2006 Tour de France winner is still to be determined. First placed Floyd Landis (Phonak) claimed the title in Paris, but a few days later, one of his doping tests came back positive for stage 17. While Landis is working to prove his doping positive was incorrect, second-place Tour finisher Oscar Pereiro must bide his time and let the judicial processes play out. Cyclingnews' Hernan Alvarez spoke with Pereiro by phone.
Spanish Oscar Pereiro of the Caisse D'Espagne team
Photo ©: AFP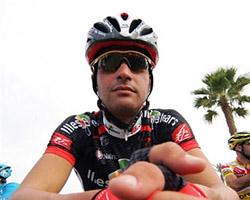 Oscar Pereiro finished second in this summer's Tour de France after performing well throughout. He wore the yellow jersey at some crucial stages during the race's final week. Pereiro said months ago that he was already glad to earn a spot on the second step on the podium in Paris. However, fate may still surprise him with a win if Floyd Landis' positive doping test from stage 17 holds up. Pereiro would be the first Spanish rider to win the Tour de France after Miguel Indurain's sensational final victory in 1995.
Oscar spoke from his home in the Northern Spanish region of Galicia where he is undertaking his pre-season preparation. This year's sudden worldwide fame did not compromise his character; he remains gentle and polite with everyone who asks him for an autograph, a picture, or an interview. The 2007 season looms close for Pereiro, who is now the virtual Tour winner. "We've start doing the first things, training, going to the gym, etc. I ride on my mountain bike two or three days a week," said Pereiro.
Pereiro shined in France, but not at his own national tour, the Vuelta a España, where he finished 49th in the general classification. It was obvious that he could not maintain his Tour peak performance for months. "I did as I thought I would do," said Pereiro about his Spanish Tour performance. "After the Tour de France, it was horrifying, and I reached a point when I was overwhelmed by interviews, tributes, and many other things a sportsman should not do when he wants to train for a grand tour. Therefore, I arrived at the beginning of the race [the Vuelta a España] psychologically tired and badly trained".
USA's Floyd Landis (Phonak/Swi) celebrating his yellow jersey as overall leader with second-placed overall Spain's Oscar Pereiro (Caisse d'Epargne-Illes Balears/Spa)
Photo ©: AFP

Indeed it was obvious that he arrived at the Vuelta's start with very little strength. "Yes, that happened," said Pereiro. "I was hoping to get through the first ten days to get going in the race, but the only thing that happened to me was that I became more tired each day… I didn't have a bad time in the Vuelta a España. The point is that I couldn't get in among the top ten who were in the front every day, and the only thing I did was recover day by day. I finished my work [riding every stage], and I recovered for the next day." Nevertheless, he did his best to support Illes Balears team leader Alejandro Valverde. Pereiro had said during the Vuelta he didn't have a problem helping another rider even though he was already the virtual king of France.
Asked about the Spanish tour, Pereiro said, "In general, I saw the Vuelta as thrilling. Until practically the last or the penultimate day, nothing was decided, and I saw the race as very moving. We [Illes Balears team] were about to win it with Alejandro [Valverde]. On the other hand, the fact that a rider like [Alexander] Vinokourov has won the Vuelta a España gives much prestige to the competition because Vinokourov is a man with very much quality and much strength."
Spain's Oscar Pereiro (L) and Alejandro Valverde of Caisse D'Epargne
Photo ©: AFP

2006 was Pereiro's debut year on Illes Balears. He came from Switzerland's Phonak where his potential first showed. Asked about how he felt in Eusebio Unzue's outfit, he said, "great." Without taking into account the Tour, it was a super happy year for me in which I enjoyed cycling a lot. The treatment they [the team members] have given me was great, spectacular. There is a good environment in the team that makes everything goes well. I'm so very happy for having taken the decision I took last year [moving from Phonak to Illes Balears]. I'm already eager to start again and to see them all again."
"I do want the whole thing to be over whether Floyd [Landis] is the winner or whether I am the winner."
-Oscar Pereiro regarding the uncertainty of the 2006 Tour de France outcome.
At the end of 2005, Pereiro had expressed happiness with his season, too, but 2006 was even better. Looking ahead to 2007, Pereiro said, "I am among the ones who say that one has to live day by day. To improve on 2006, I will look to other races [besides the Tour]. It is very complicated to repeat my Tour performance of this year. Besides, it is a race where one should go with much care. One has to train well, has to take care of himself very well, and has to reach the start of the Tour in the best condition possible. But my season as a whole can be improved. Yes, I think I can better it"
The ASO final decision about the doping affair drags on. Asked if he is anxious waiting for that decision and if he wished first place would go directly to him, he said, "I don't desire that, but I do want the whole thing to be over whether Floyd [Landis] is the winner or whether I am the winner. The important thing is that this ends as soon as possible. Every day we are watching, there is news…and I'm rather bored of so many questions. From now on, I have said that I will not make any kind of comment about this matter, and I will wait to hear the decision. As far as I'm concerned, I think I have said enough. I hope this reaches an end. Whether it goes to me or Floyd, it only matters that it ends."
Yellow jersey USA's Floyd Landis (Phonak/Swi) shakes hands with Spain's Oscar Pereiro (Caisse d'Epargne-Illes Balears/Spa)
Photo ©: AFP

"To improve on 2006, I will look to other races [besides the Tour]. It is very complicated to repeat my Tour performance of this year...But my season as a whole can be improved. "
-Oscar Pereiro looking ahead to 2007
The Spaniard confirmed that he said days ago that he considered unfair that the first place is declared vacant. "Yes, sure. We all know it was a rumor before the presentation of the [next 2007] Tour, but the organization has already said in a very clear way that the Tour will have a winner. I actually said that and I will say it again. But it's foolish to be talking of this after the [organizers of the] Tour have already stated that under no circumstances, the first place in the Tour will remain vacant."
If it turns out that Pereiro is the winner of the Tour, he will be the first winner ever who does not receive his prize on the Champs Elysees. However, to win the greatest race in the world deserves a big celebration. "I don't know [if I will celebrate]. We are in a moment now that we have to wait. At the moment that they [the Tour organizers] decide or reach a conclusion or lean the scales to either one side or the other, we will think about it. It's certain that if it comes [that he is declared winner], I would like to be around there and celebrate it. But as things are not clear, the best thing to do is wait and have patience. And whatever happens, just happens and that's it."
Photography
For a thumbnail gallery of these images, click here
Images by AFP