| | |
| --- | --- |
| | presents |
| In conjunction with BikeStyle | Scott Sunderland |
About Your Tour Guides
Scott and Sabine Sunderland
As readers of Cyclingnews know, the Sunderlands are the perfect people to have along as guides to the Spring Classics. Sabine is Belgian born, and Scott has lived there for more than ten years, and they both know every inch of the roads that the races will follow. A local knowledge is absolutely essential to view the race from the best positions, as you will be taken to various key points along the parcours. Scott has ridden most of the races on the tour program, and will of course be able to provide plenty of colourful insight as each race unfolds.
Lawrie Cranley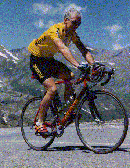 Lawrie Cranley
Lawrie Cranley has been a cyclist for 28 years. His first taste of 'live' pro bicycle racing was when Phil Anderson won the Amstel Gold Race in 1983. In the same year he was there to see Greg Lemond win his first Professional World Championship.
To say Lawrie is passionate about bicycle racing and Europe is an understatement. For the past six years he has conducted trips to Europe for people who share his passion. He likes to ensure his tourists get a complete picture of Europe from cycling to tourism and culture...not to forget the shopping and eating!
Scott & Sabine Sunderland
Desire Van Den Bosschestraat 39 b1
9620, Zottegem, Belgium
sunderland.scott@skynet.be
Lawrie Cranley,
Bikestyle Pty Ltd
8 Daniel Place, Newmarket, 4051
Queensland, Australia
Ph 61 (0)7 33524120
Fax 61 (0)7 33524270
Back to Sunderland Tours main page