Cyclo-Cross World Cup #7 - CDM
Zolder, Belgium, December 26, 2008
Main Page Results Overall standings Previous Race Next Race
Race 3 - December 26: Elite Women, 40 minutes
Vos outfoxes rivals
By Brecht DecaluwÚ with additional reporting from Gregor Brown in Zolder, Belgium
Marianne Vos (Team DSB Bank)
Photo ©: Cyclingnews.com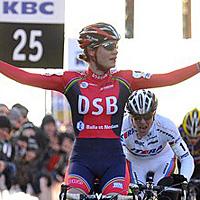 Multi-talented Marianne Vos out-sprinted her competition on the car-racing track in Zolder, Belgium, to take victory in the sixth round of the women's World Cup. The Track Olympic Champion held off World Champion Hanka Kupfernagel, Daphny van den Brand and Katie Compton. Kupfernagel built on her lead in the World Cup standings.
"It pleases me a lot to be able to win a World Cup race so soon after returning to the cyclo-cross fields. It was a very fast course and that suited me," Vos said.
"It was a very fast course and that suited me. It was important not to make any mistakes today, and especially not in the final lap in order not to lose contact with the front of the race."
In the sprint Vos took over the command from Kupfernagel although it seemed that she had started too early. "In the U23 race I saw that Walsleben had started the sprint as well. It felt harder than it probably looked, being slightly uphill and with the headwind," Vos said.
German Kupfernagel, who featured on the podium in a Christmas outfit, knew that Vos would be hard to beat in the sprint. She tried to get away earlier, together with Compton. "She [Compton] didn't support the breakaway 100 percent so we got caught again. Maybe if my name was Nicole Cooke I could've beaten Vos," Kupfernagel said.
"I had a terrible start and panicked a little when I started thinking about missing out on points for the World Cup ranking. Then I thought about the U23 race and realized that there was time to recover from a bad start."
USA Champion Compton featured in the front and led the race early on. The Team Spike rider seemed to be suffering and her competitors dropped her occasionally.
"It was a lot of cat and mouse, and no one really wanted to work. There were a lot of accelerations too, and that was hard. It was just hard today. I think the four or five of us up front attacking each other caught up with me at the end," Compton said.
Compton's husband Mark Legg explained afterwards that she was having troubles with her legs again, an ailment that has been bothering Compton on and off since the start of the season.
Third-placed Van den Brand was happy with her result, as she didn't feel comfortable on the frozen course. "Compared to the mud we had in recent races this was a big change. It wasn't my course and I took some points on Compton so I'm certainly happy," Van den Brand said.
Compton didn't add another victory in a round of the World Cup to her tally and she didn't even make it onto the podium, but still it was a special day for North American cyclo-cross with no less than four riders in the top ten of a World Cup event; behind Compton, Rachel Lloyd was seventh, Canadian Wendy Simms was ninth, and Georgia Gould recovered from a start on the back line to take tenth in Zolder.
Photography
For a thumbnail gallery of these images, click here
Images by Cyclingnews.com
Results
 
1 Marianne Vos (Ned) Team DSB Bank                      42.22
2 Hanka Kupfernagel (Ger) Itera                              
3 Daphny Van Den Brand (Ned)                                 
4 Katherine Compton (USA) Spike                          0.01
5 Maryline Salvetat (Fra) French National Team           0.13
6 Christel Ferrier-Bruneau (Fra) French National Team    1.08
7 Rachel Lloyd (USA) California Giant Berry Farms        1.20
8 Pavla Havlikova (Cze)                                  1.26
9 Wendy Simms (Can)                                      1.35
10 Georgia Gould (USA) Luna                              1.37
11 Mirjam Melchers-Van Poppel (Ned) Team Flexpoint       1.47
12 Nadia Triquet-Claude (Fra) French National Team       1.50
13 Eva Lechner (Ita) Italian National Team               1.54
14 Saskia Elemans (Ned) Team Flexpoint                   1.59
15 Sanne Van Paassen (Ned) Team DSB Bank                 2.34
16 Nikki Harris (GBr)                                    2.49
17 Sanne Cant (Bel)                                      3.09
18 Reza Hormes (Ned)                                     3.14
19 Joyce Vanderbeken (Bel)                               3.21
20 Caroline Mani (Fra) French National Team              3.31
21 Jana Kyptova (Cze)                                    3.43
22 Arenda Grimberg (Ned)                                 4.20
23 Loes Gunnewijk (Ned) Team Flexpoint                   4.31
24 Gabriella Day (GBr) Swift Racing                      4.34
25 Helen Wyman (GBr) Swift Racing                        5.04
26 Veronica Alessio (Ita) Italian National Team          5.05
27 Martina Zwick (Ger)                                   5.13
28 Nicole De Bie - Leyten (Bel)                          5.41
29 Anne Arnouts (Bel)                                    6.18
30 Christine Vardaros (USA)                              6.29
31 Nancy Bober (Bel)                                     6.59
32 Gertie Willems (Bel)                                  7.11
33 Mika Ogishima (Jpn) Japan                             7.14
34 Elke Riedl (Aut)                                      7.48
35 Susan Butler (USA) MonavieCannondale.com              8.25

One lap behind
36 Suzie Godart (Lux) Fenixs                                 
37 Nikolene Hansen (Den)                                     

Two laps behind
38 Vicki Thomas (Can)                                        
39 Zuzana Vojtasova (Svk)                                    

Standings after six rounds
 
1 Hanka Kupfernagel (Ger) Itera                                    320 pts
2 Daphny Van Den Brand (Ned) ZZPR.nl                               260
3 Katherine Compton (USA) Spike                                    210
4 Pavla Havlikova (Cze)                                            194
5 Maryline Salvetat (Fra)                                          173
6 Christel Ferrier-Bruneau (Fra) Team Lot-Et-Garonne               160
7 Sanne Van Paassen (Ned) Team DSB Bank                            153
8 Saskia Elemans (Ned) Team Flexpoint                              151
9 Helen Wyman (GBr) Swift Racing                                   150
10 Nadia Triquet-Claude (Fra) Team Pro Feminin Les Carroz          126
11 Wendy Simms (Can) Kona                                          111
12 Sanne Cant (Bel)                                                106
13 Caroline Mani (Fra)                                             102
14 Veerle Ingels (Bel)                                             100
15 Marianne Vos (Ned) Team DSB Bank                                 88
16 Joyce Vanderbeken (Bel)                                          83
17 Gabriella Day (GBr) Swift Racing                                 73
18 Georgia Gould (USA) Luna                                         67
19 Reza Hormes (Ned)                                                61
20 Arenda Grimberg (Ned)                                            60
21 Rachel Lloyd (USA) California Giant Berry Farms                  54
22 Jana Kyptova (Cze)                                               50
23 Katerina Nash (Cze)                                              45
24 Eva Lechner (Ita) Gauss Rdz Ormu                                 45
25 Veronica Alessio (Ita) S.C. Michela Fanini Record Rox            38
26 Mirjam Melchers-Van Poppel (Ned) Team Flexpoint                  35
27 Linda Van Rijen (Ned) Team Dsb Bank                              32
28 Loes Gunnewijk (Ned) Team Flexpoint                              31
29 Abke Francissen (Ned)                                            31
30 Susan Butler (USA) Monavie-Cannondale                            26
31 Nikki Harris (GBr)                                               23
32 Mika Ogishima (Jpn)                                              23
33 Birgit Hollmann (Ger)                                            22
34 Elke Riedl (Aut)                                                 19
35 Natasha Elliott (Can)                                            18
36 Loes Sels (Bel) Topsport Vlaanderen Thompson Ladies Team         16
37 Laura Van Gilder (USA) C3-Sollay                                 15
38 Daniela Bresciani (Ita)                                          13
39 Gertie Willems (Bel)                                             13
40 Jitka Skarnitzlova (Cze)                                         12
41 Lise Müller (Swi)                                                12
42 Deidre Winfield (USA) Velo Bella                                 10
43 Christine Vardaros (USA)                                          9
44 Nancy Bober (Bel)                                                 8
45 Susanne Juranek (Ger)                                             8
46 Nicole De Bie - Leyten (Bel)                                      8
47 Pauline Ferrand Prevot (Fra)                                      6
48 Jennifer Sagesser (Swi)                                           6
49 Zuzana Vojtasova (Svk)                                            5
50 Tessa Van Nieuwpoort (Ned)                                        5
51 Martina Zwick (Ger)                                               4
52 Maureen Guichardot (Fra)                                          4
53 Marzena Wasiuk (Pol) Primus                                       4
54 Anne Arnouts (Bel)                                                4
55 Francis Keizer (Ned)                                              3
56 Katrin Leumann (Swi)                                              2
57 Jana Suess (Ger)                                                  2
58 Katrien Pauwels (Bel)                                             1