Cyclo-Cross World Cup #7 - CDM
Zolder, Belgium, December 26, 2008
Main Page Results Overall standings Previous Race Next Race
Race 2 - December 26: Under 23 Men, 50 minutes
Walsleben wraps up World Cup, this time in the sprint
By Brecht Decaluwé in Zolder, Belgium
Philipp Walsleben wins the World Cup round in Zolder
Photo ©: Cyclingnews.com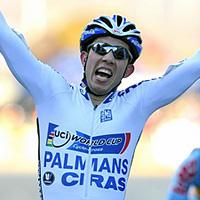 Philipp Walsleben made best use of the good tarmac of the car circuit in Zolder, Belgium, to sprint to his third victory in the World Cup. The German champion won the five-man sprint ahead of a surprisingly strong Italian Christian Cominelli and French ace Aurélien Duval.
Walsleben wraps up the World Cup competition with his win. He has 180 points to Duval's 119.
"By winning the World Cup I have reached my second goal of the season, after winning the European championships," said Walsleben. "Halfway through the race I was already up front together with Duval, but he didn't provide much help. I didn't want to pull all race long to be passed at the finish line so I decided to wait for the others."
A chase reeled in the duo just before the last lap.
"I managed to win anyway although it wasn't easy as there was more competition and less place to find a way."
According to Walsleben, the lack of support from Duval spoiled his early move. The French rider agreed that Walsleben didn't feel comfortable with his presence in the front.
"I wanted to ride attentive but in the end the others came back. Walsleben and I didn't talk, and though I did some pulls he clearly wasn't happy; physically I wasn't bad though. Before the sprint I was leading the group and there wasn't time to get a better position to start the sprint."
As a result the French 20-year-old finished third behind Walsleben and Cominelli. In the World Cup rankings Duval remains second, ahead of Belgian Kenneth Van Compernolle who finished just behind him in the sprint in Zolder.
Cominelli was delighted with his second place. Not a surprise since Cominelli failed to break the top-10 during the two previous World Cup races. "At these races Philipp is always the one to battle. I almost had him, and with one month to go until the worlds, I think I can improve that extra bit," Cominelli said.
None of the five US-starters made it into the top-10 in Zolder. US-champion Nicholas Weighall explained he didn't have the legs to fight and pulled out after five laps. Daniel Summerhill finished in fifteenth position and that was enough to be the top US-finisher.
Summerhill explained that he had a terrible start. "I crashed and my chain came off," he said. He was curious to find out if his personal lap times would be as good as those from the leaders thanks to a strong chase back.
Walsleben already accepted a new contract by the new BKHCP-team from Niels Albert to race as an elite rider next season.
Photography
For a thumbnail gallery of these images, click here
Images by Cyclingnews.com
Images by Niels De Wit/www.nielsdewit.be
Results
 
1 Philipp Walsleben (Ger) German National Team          50.39
2 Cristian Cominelli (Ita) Italian National Team             
3 Aurelien Duval (Fra) French National Team                  
4 Kenneth Van Compernolle (Bel) Belgium-A                0.01
5 Arnaud Jouffroy (Fra) French National Team                 
6 Ondrej Bambula (Cze) Czech Republic                    0.02
7 Boy Van Poppel (Ned) Netherlands                       0.19
8 Christoph Pfingsten (Ger) German National Team             
9 Micki Van Empel (Ned) Netherlands                      0.21
10 Marcel Meisen (Ger) German National Team              0.25
11 Quentin Bertholet (Bel) Belgium-A                         
12 Ramon Sinkeldam (Ned) Netherlands                     0.38
13 Vincent Baestaens (Bel) Belgium-A                     0.45
14 Romain Beney (Swi) Swiss National Team                0.46
15 Daniel Summerhill (USA) US National Team                  
16 Kevin Eeckhout (Bel) Belgium-A                            
17 Jim Aernouts (Bel) Belgium-A                          0.47
18 Sascha Weber (Ger) German National Team               1.08
19 Lukas Kloucek (Cze) Czech Republic                    1.12
20 Joeri Adams (Bel) Belgium-A                           1.29
21 Bjorn Selander (USA) US National Team                 1.38
22 Julien Taramarcaz (Swi) Swiss National Team           1.40
23 Elia Silvestri (Ita) Italian National Team            1.41
24 Jan Van Dael (Bel) Belgium-A                          1.46
25 Mitchell Huenders (Ned) Netherlands                   1.57
26 Stef Boden (Bel) Belgium-B                            2.10
27 Ivar Hartogs (Ned) Netherlands                        2.13
28 David Fletcher (GBr) British National Team            2.14
29 Lubomir Petrus (Cze) Czech Republic                   2.17
30 Gianni Denolf (Bel) Belgium-B                         2.24
31 Kevin Cant (Bel) Belgium-B                            2.49
32 Valentin Scherz (Swi) Swiss National Team             2.56
33 Max Walsleben (Ger) German National Team              2.58
34 Alessandro Calderan (Ita) Italian National Team       2.59
35 Marco Ponta (Ita) Italian National Team               3.09
36 Ole Quast (Ger) German National Team                  3.11
37 Jonathan Mcevoy (GBr) British National Team           3.23
38 Vincent Dias Dos Santos (Lux) Luxembourg              3.32
39 Scott Thwaites (GBr) British National Team            3.50
40 William Dugan (USA) US National Team                  3.55
41 Mark Thwaites (GBr) British National Team             4.35
42 Pit Schlechter (Lux) Luxembourg                       5.03
43 Jeremy Ferguson (USA) US National Team                5.14

One lap behind
44 Andrew Thomas (Can) Canadian National Team                
45 Hikaru Kosaka (Jpn) Japan                                 
46 David Hackworth (USA) US National Team                    

Two laps behind
47 Brian Robinson (Can) Canadian National Team

Standings after three rounds 
 
1 Philipp Walsleben Germany)                                       180 pts
2 Aurelien Duval (France)                                          119
3 Kenneth Van Compernolle (Belgium)                                109
4 Arnaud Jouffroy (France)                                          85
5 Ondrej Bambula (Czech Republic)                                   84
6 Cristian Cominelli (Italy)                                        83
7 Tom Meeusen (Belgium)                                             73
8 Lukas Kloucek (Czech Republic)                                    64
9 Vincent Baestaens (Belgium)                                       64
10 Jim Aernouts (Belgium)                                           59
11 Mitchell Huenders (Netherlands)                                  59
12 Joeri Adams (Belgium)                                            59
13 Quentin Bertholet (Belgium)                                      45
14 Lubomir Petrus (Czech Republic)                                  43
15 Sascha Weber (Germany)                                           42
16 Marco Ponta (Italy)                                              41
17 Marek Konwa (Poland)                                             35
18 Marcel Meisen (Germany)                                          35
19 Daniel Summerhill (United States Of America)                     34
20 Twan Van Den Brand (Netherlands)                                 32
21 Ramon Sinkeldam (Netherlands)                                    32
22 Robert Gavenda (Slovenia)                                        31
23 Jiri Polnicky (Czech Republic)                                   29
24 Boy Van Poppel (Netherlands)                                     28
25 Christoph Pfingsten (Germany)                                    26
26 Micki Van Empel (Netherlands)                                    24
27 Matthias Flückiger (Switzerland)                                 24
28 Bjorn Selander (United States Of America)                        18
29 Romain Beney (Switzerland)                                       17
30 David Menger (Czech Republic)                                    16
31 Kevin Eeckhout (Belgium)                                         15
32 Ivar Hartogs (Netherlands)                                       14
33 Julien Taramarcaz (Switzerland)                                   9
34 Rik Van Ijzendoorn (Netherlands)                                  9
35 Wim Leemans (Belgium)                                             9
36 Thomas Girard (France)                                            9
37 Elia Silvestri (Italy)                                            8
38 Lukas Prihoda (Czech Republic)                                    8
39 Jan Van Dael (Belgium)                                            7
40 Mattias Nilsson (Sweden)                                          6
41 Matthieu Boulo (France)                                           6
42 Stef Boden (Belgium)                                              5
43 Filip Adel (Czech Republic)                                       4
44 David Fletcher (Greece)                                           3
45 Ole Quast (Germany)                                               3
46 Valentin Scherz (Switzerland)                                     2
47 Gianni Denolf (Belgium)                                           1
48 Geert Van Der Horst (Netherlands)                                 1
49 Yannik-Johannes Tiedt (Germany)                                   1