An interview with Marianne Vos, November 10, 2006
Marianne Vos: the perfect year
Only 19-years-old, first-year senior Marianne Vos (Team DSB Bank-Ballast Nedam), already has two world championship titles to her name: an elite road world title from September and an elite cross championship from January. Vos has shown the world a near-perfect transition from junior to senior ranks. What drives this young Dutch racer to success? Sue George of Cyclingnews caught up with Vos between Ďcross victories at Koppenberg in Belgium and the World Cup #4 in Treviso, Italy.
Marianne Vos (Netherlands)
Photo ©: Roberto Bettini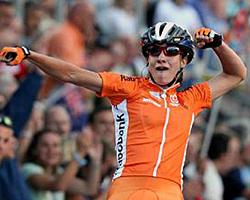 Marianne Vos
Age: 19
Born: 5/13/87
Resides: BabyloniŽnbroek, the Netherlands

Marianne Vos' website

Major results
2006
1st UCI Road World Championships road race
1st UCI Cyclo-cross World Championships
1st European Road Championships road race
1st Netherlands Dutch National Road Championships road race
2nd Netherlands Dutch National Cyclo-cross Championships
1st stage 5 Gracia-Orlova
1st Omloop van Borsele
1st stage 1 Emakumeen Bira
1st Omloop van Valkenburg
1st GC Tour Fťminin en Limousin
1st stage 1 Tour Fťminin en Limousin
1st stage 3 Tour Fťminin en Limousin
1st stage 4 Trophťe d'Or Fťminin
2005
2nd UCI Road World Championships road race (Juniors)
1st European Championship cyclo-cross
2nd Netherlands National Championship cyclo-cross
1st Netherlands Dutch National Championship road (Juniors)
3rd Netherlands National Championship time trial (Juniors)
1st Netherlands National Championship mountain bike (Juniors)
1st Mountain Bike World Cup Houffalize (Juniors)

2004

3rd Dutch National Championship road (Juniors)
3rd Dutch National Championship time trial (Juniors)
1st Dutch National Championship mountain bike (Juniors)
1st World Championship Road race (Juniors)

2003

1st Dutch National Championship Mountain bike (Juniors)
2nd Dutch National Championship time trial (Juniors)

2002
1st Dutch National Championship mountain bike (Juniors)
1st Dutch National Championship road race (Juniors)
2nd Dutch National Championship time trial (Juniors)
Marianne Vos surprised the world and herself with winning performances throughout the 2006 season. Her dual world titles in road and Ďcross would have been capstones in any veteran racerís successful season, but they stand out as unusually impressive for a first-year senior.
When asked about her success in 2006, the unassuming Vos replied, "I didnít expect it for this year. This was my first year in the elite category. Last year, I was still a junior, mostly racing one-day races. [This year] I thought I would start low and work my way up. I figured Iíd try to stay in front in national-level races, and race internationally with the goal of gaining some experience. But I had a really good season and started to win in April." Now a senior, Vos started doing more stage races to improve her fitness. "I didnít expect to be European national and world champion so soon."
Vos approached the World Championship road race in Salzberg, Austria, with no expectations. Yes, she had won cyclo-cross worlds the previous January in Zeddam, Netherlands, but the road worlds represented a more difficult challenge.
Knowing her limits, Vos conserved energy at the start. "In the first four laps, I stayed in the bunch and took it easy to save up for the final. The Dutch team did a good job for me to control the race." She found herself in a select group near the end. "It was good course with two small hills, but I made the final selection for the lead bunch with two laps to go.
Clearly in awe of her more experienced fellow racers, Vos said, "I was with big names like Judith Arndt and Nicole Cooke. Iíd seen them for years on the TV for the worlds, and now I was with them for the lead group, so I was really excited." She then pulled herself together and mustered some confidence. "I had to say to myself that Iím not only in the group, but that I can also win. I said it over ten times to myself and went for it."
On the final laps, Vos discovered herself in breaks with Ardnt, Nicole Brandli, and Cooke, and none would commit to working with her. Apparently, they did not want to sprint alone against Vos. "I was surprised that such big name [racers] wouldnít go with me to the finish," said Vos.
Despite the attacks, race would finish with a small lead group. Vos said, "It came down to a sprint with 500m to go. It was a difficult sprint with a false-flat uphill. I didnít start the sprint too fast, and then with 150m to go, I saw a gap and went as hard as I could. I got a few meters, and I couldnít believe I was the first across the line." Her amazement is evident by the expression on her face in photos capturing the moment.
Vos does not consider herself a sprinter, but acknowledged her talent for quick jumps. "I can win some races with a sprint, but I think Iím not a sprinter. My acceleration is good which is why I can do well in a sprint. In a real mass sprint, the start speed is much higher, and I havenít done as well. This year, I won 14 races, but none in mass sprints." Next year, she aims to win her first mass sprint. "Positioning is key - I can position myself pretty well, and my acceleration is also good, so I think that I could be in the front in a bunch sprint."
Growing up on a bike
Marianne Vos
celebrates
Photo ©: CJ
Farquharson

Vos started cycling by association when she was five. Sheíd go with her brother, who had just started racing, and with her dad to their training sessions. "In Holland," Vos said, "the first races in which you may compete occur when you are eight-years-old. When I was nearly six, I got a bike for myself, and I started training. I trained for two years with the older boys and girls in my club, and I liked it very much."
Racing success came early, but ebbed somewhat in her early teenage years. "I won the first 19 of 22 races I did, and those were with the boys. In the younger categories, we rode with the boys." As the young racers hit puberty, the girls had more trouble keeping up. Vos said, "So then I didnít win so much, but when I was 14 turning 15, the girls were separated again, and I became national champion in the junior category. I stayed with it and stayed winning. Two years later, I was world junior champion."
In her early years, Vos started cyclo-cross as a winter training activity. She later picked up mountain bike racing.
Vosí family supports her cycling career. "They went with me to every training session and race. My dad took me to all of them when I was younger," said Vos. "They supported me very well, and they liked to go with me to the races."
Aware that many winning juniors burn out, Vos said, "They [my family] donít push me in training or to win races." Although Vos, now 19 and living in the small village of BabyloniŽnbroek, has her own car to travel to races, her brother, who is five years older, accompanies her to all her races. "He trains often with me. He still races, but doesnít have time to compete and doesnít do as many races now."
Where to go from here
Marianne Vos (Netherlands)
Photo ©: Luc Claessen

Vos intends to stick with cycling for many more years. "I have a contract for five years [with Team DSB Bank-Ballast Nedam]. After then, we will see again. My team may go further into cycling then. I donít know." The team has grown with Vos. Next year, it will become a trade team, with one Belgian and 14 Dutch riders, and racers competing in the World Cups and major stage races.
In the meantime, she looks toward one of cyclingís most prestigious events. "Like many, my main goal will be the Olympics. I hope to be there in Beijing. I think three riders from Holland may go, and I think I can be there."
Her competitive spirit shines brightly, and obviously has helped her get where she is now. When asked about other specific races she would like to target, she said "I donít know. I want to be in front in every race I do. That can be worlds or a crit here in Holland." She is already learning that she can not always race at the front. "Stage races are hard, and different every day, but I know you canít go for everything, so I sometimes have to forgo some classification." Her enthusiasm for racing and life is infectious. "Every day is a new challenge, and I enjoy that."
Keeping the balance
Marianne Vos (Ned) wins
Photo ©: Roberto Bettini
With so much success coming prior to age 20, Vos is a prime candidate for burn-out. Inevitably, there will be pressure to repeat and build upon her early career wins - at least from the outside.
But Vos views her burgeoning career differently, "I donít see it as pressure for me. Iím 19 now, and I already have two titles in the elite championship. When I show up now, there is nothing to be ashamed or afraid of. I donít think there will be much pressure on me." She acknowledged that as she matures, she will have to play a more aggressive role in races. "Races will be more difficult because Iím not anonymous anymore. So now I will have to make the races and not only follow."
Her best weapons against pressure and burn-out may be her attitude and the balance created by her non-cycling life. Referring to her almost life-long pursuit of cycling, Vos said, "I still like it and I see it as a big hobby."
Despite being a top-level elite racer, Vos is studying biomedical science. "Every day, I go to the University. I like to talk about other things than cycling if Iím in school. I cannot always be thinking of cycling." Vos trains in the evening, which she admits cuts into her social time with school friends, but she said, "I have my social life in the sport. The evening time is my training time. Sometimes I miss events like friendsí birthday parties. But I am a cyclist."
Vos is effectively self-coached and sometimes shows wisdom beyond her years. She receives guidance from her team manager. "He sends me to the races and tells me when to train and when to take it easy. I donít really have a schedule for training, but different people help me. My dad helps me with my program, and the national federation coach helps with my schedule. The training I do for myself and I do it based on how I feel. If I feel good, I do longer training sessions, if I donít feel good, I do a shorter training. I know when I have to do more, and if I have a stage race, when I can take it easy for a few days. I try to listen to my body, I think itís best for my training - better than following a set schedule."
Many disciplines
Marianne Vos (Netherlands)
Photo ©: Luc Claessen

As a junior, Vos raced road, Ďcross, and mountain bikes, but now she limits herself to road and Ďcross. "Mountain biking was hard to do with road racing this year, because the races are at the same time, and the big races overlap weekends. I didnít mountain bike this year and next year, it will be difficult to do it, too, but maybe I can pick it up again in the future," said Vos.
She took one week off after winning her road world title, and then transitioned to Ďcross. Only four weeks separated road worlds from her first Ďcross world cup event, in which Vos finished second. "Iím Ďcross world champion, so I will defend my jersey this season and will try to do both seasons again next year."
Vos will enjoy a bigger break after Ďcross season. "I have two months between races after last race in mid-February. My first road race will be in mid-April. I will take rest for a month in between."
One time, at the request of the Dutch federation, Vos tried track, but it did not catch her interest. "Track would be too difficult for me to do in combination with the [conflicting] cyclo-cross season. I will have my hands full this year with Ďcross and on the road." She also noted that Dutch tracks are located in the west of Holland, and she lives in the south, where more people race Ďcross.
Vos enjoys variety in her sports and her studies. "I like to do the two [cycling] disciplines. I hope I can do the combination of the different disciplines for many years. I also do some speed skating in the winter on the ice, one day in the week. I prefer to do different things, and thatís true also with my studies." Speaking philosophically, Vos said, "You can be focused on cycling one day, but the other things are what keep you focused on cycling in the races."
One day, she acknowledges that she may have to specialize, but she said, "I hope not until Iím older, like maybe 30."
Reflections on the sport and doping
Marianne Vos (Netherlands)
Photo ©: Brecht Decaluwť

Vos has no particular hero or mentor in the sport. "Some riders I look up to, but none really influenced me. I like the sport more than any one sportsman or woman. I like racing when it is hard, and thatís the beauty of cycling - when everyone struggles."
More optimistic about doping problems in the womenís peloton than the menís, Vos said, "From my experience as a junior and one year as an elite woman, I donít think there are many female riders involved in doping." She thinks her rise in the senior ranks would be unlikely in the menís peloton, be it due to tougher competition or possibly more prevalent doping. Referring to her leap to the front of the womenís peloton, "In womenís cycling and sports, I donít think doping is a big issue. Otherwise, I would not be able to make this step in my career now."
Vos would not comment on doping in the menís peloton. "I canít say much about the menís side because I really donít know. Itís obvious that several riders do dope, and thatís not good for the sport because all the media goes toward that and is negative. I donít think every rider in the menís category uses doping, but there will be some who do, and Iíd guess more than in the womenís." Why might female cyclists dope less? Vos mused, "We donít have the big pressures like the men. Our races are not as important for the riders."
Looking forward, Vos sees womenís cycling getting more professional each year. "Internationally, itís a big sport. We have many professional cyclists already, but may be a bit under-rated by the media. The menís races are big and many fans only pay attention to the womenís world championships. Most of the women in the world championships have a small job, but we are also very professional with our sport. We want to win just like the men and have hard races, too. We have smaller races, so the first hours of the menís races are not so interesting, but we donít have that."
Barring injury or burnout, look for Vos on podiums for years to come.