Cyclo-cross news & racing roundup for September 30
Edited by Laura Weislo and Bjorn Haake
Welcome to our regular roundup of what's happening in cyclo-cross. Feel free to send feedback, news and releases to mtb@cyclingnews.com.
Battle brewing over Belgian start money
This is what usually happens when Sven Nys (Landbouwkrediet-Tönissteiner) shows up to race.
Photo ©: AFP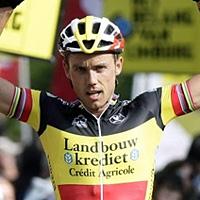 The European cyclo-cross scene may be suffering under the weight of its own success, and several disgruntled players are pinning the blame on one man - the Lance Armstrong of 'cross - Sven Nys.
Nys has dominated the European 'cross seasons for several years now, and as a result, his value to race promoters has gone up - as has his appearance fees. While fans may clamour to get a glimpse of the Belgian champion, not everybody is happy with the situation. Unlike North America, where riders make their money solely from the cash prizes given out to the top finishers, European 'cross racers (or at least the big names) are paid start fees by the race organisers.
They can do this because, unlike North American races, fans must pay to get in to watch their heroes. Every weekend, upwards of 30,000 people pay 5-10 euros to drink beer and eat frites while watching the races in person, and hundreds of thousands more tune in to the races on television.
Nys is said to garner up to 8,000 euros just to show up at a race, but the manager of the team which fields some of his biggest rivals is concerned that such high start fees are hurting the sport.
Fidea team manager Hans van Kasteren directs a squad with two former World Champions, Bart Wellens and Erwin Vervecken, as well as a host of talented young riders. He is also the organiser of the GP Zonhoven, and worries that big starting fees are going to turn away fans if promoters have to raise the ticket prices for the events in order to afford to attract the sport's top names.
"The start fees are getting too high," he told sport.be. "We don't want to lose the average fans who come with their families and also want to buy some frites and beer [in Belgium, entrance to 'cross races is typically five to ten euro - ed.] These are the people that made 'cross big."
Van Kasteren said that he doesn't encourage his riders to ask for such high fees, and this has led to a disparity between Nys and his own riders, including Wellens and Vervecken. "Last year, [Nys], as a non-world champion asked for more than the year before when he won the World Cup and Belgian Championship," he argued, adding that cyclo-cross riders do not need to rely as much on appearance fees as they have in the past. "Cyclo-cross riders now have a very good monthly salary," he said.
Nys, for his part, said that his start fee for GvA and SP races had not changed as compared to last season. "It is only for the races that are not part of a series that I am asking for more." Nys added that despite his high fees he also offers something to the races. "Every organiser gets what they deserve: A Nys who flies, who provides a spectacle and who tries to win."
Nys' manager Christophe Impens van Golazo laughed about the criticism. "Nys is worth a lot more than 8,000 euro. A university study last year estimated his economic value to between 15,000 and 20,000 euro!"
On his 'blog, Nys simply was eager to get going with the racing. "I train and in about 10 days we have the first Superprestige. The best thing will be to answer with the pedals. No more words, just action."
Three-time World Champion upset by low offers
Three-time world champion Erwin Vervecken might find it worthwhile to head back to the USA
Photo ©: Laura Weislo

Triple world champion Ervin Vervecken is one of those still negotiating his fees for the Gazet van Antwerpen (GvA) and Superprestige (SP) races. The Fidea rider was in intense negotiations with the organisers. "After long discussions and despite concessions from my side, we have not been able to reach an agreement," Vervecken said on sport.be. He pointed out that even though he understands receiving less than last year, when he was world champion, there were limits. "Sixty percent less money [than last year], I can't accept that."
Van Kasteren blamed Nys' high start fees for the crisis of Vervecken. "Nys has to be careful that he doesn't become the victim of his own success," van Kasteren said.
Vervecken offered a greatly reduced rate, but found that it wasn't enough. "I was willing to start for half the money, but even that didn't go down well with the Gazet van Antwerpen and Superprestige." Vervecken was especially upset when he heard about the start fees for some of his competitors. "[Enrico] Franzoi still has to win a big race," Vervecken said.
Vervecken said that he will still appear at some of the series races, even if he cannot come to an agreement with the overall series coordinators, as he has negotiated deals with individual race organisers.
Trebon repeats, Compton upgrades at Cross Vegas
By Mark Zalewski, North American Editor in Las Vegas
Ryan Trebon (USA) Kona
Photo ©: Mitch Clinton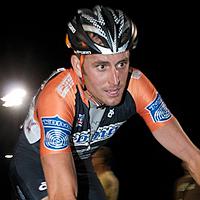 The second year event Cross Vegas attracted huge crowds to a soccer complex west of the Vegas strip, easily surpassing last year's numbers. And the thousands were not disappointed in their trek into the real Las Vegas, with fast racing from an intense field of men and women. In the men's race, it was Ryan Trebon (Kona) going solo with 2.5 laps to go, notching his first win of the season, following two seconds last weekend, and repeating as winner of the event. In the women's race it was US champion Katie Compton (Spike) able to upgrade her second place from last year thanks to strong riding and a little bit of lady luck.
"Some people are just going to try to be opportunistic and so I wanted to make the race," Trebon told Cyclingnews about his decision to attack alone. "I saw every time we went hard it was just me, Tim [Johnson] and [Jonathan] Page with nobody else wanting to work, so I had to try something."
On the previous lap, Geoff Kabush (Maxxis) launched his own attack, lasting an entire lap – however, it seemed to be too early and the leading group of 12 chased him back. "It's what you have to do, you have to try your move," said Trebon about Kabush. "Nobody was doing anything out there. I think Page and Johnson did some work, then Geoff went and people were willing to sit-up. I was more frustrated, and then getting more power because of all the negative racing!"
"When Kabush went it was great because it gave us a rabbit to speed up to," said US champion Tim Johnson (Cyclocrossworld-Cannondale). "He was giving it all he could to nail a spot on the podium because I don't think he though he had the legs at the end if it was going to be a sprint. But it definitely made the race hard and it definitely wasn't going to be twelve guys coming to the line."
See the full report, result and photos.
Armstrong jets to CrossVegas
By Mark Zalewski, North American Editor in Las Vegas
Lance Armstrong chases
Photo ©: Michael Robertson

Aside from the top men and women competing on the outskirts of Las Vegas, one of the other attractions of the second CrossVegas was the presence of a certain seven-time Tour de France winner on the start grid. Number 38, Lance Armstrong (Livestrong), was given the first starting spot not taken up by UCI point earners. And despite a crash near him in the scramble for the hole shot, he was off and racing with the field. A few riders in front of him were gapped on the second lap and he spent the rest of the race working in the chase group, taking hard pulls with former teammate Tony Cruz (BMC).
"It was a long day and I was a little shocked by the start," he said. "These guys ride fast, there is not doubt about that. They are obviously well-trained for this. It looks so easy on the bike... It's not so easy, and hats off to these guys!"
"I didn't have any grand ambition or big dreams that I would ride away. They are strong and clearly it is their time of year. But it feels good. I come as a cyclist first and foremost, and as a bicycle shop owner as well. It's great to see the support out there, especially from the young kids who thought we would just go across [the gap] on the last lap and win the race!
When asked about the rest of his cyclo-cross plans, he joked, "They just got re-evaluated! But really it's hard, being up at 2:30 a.m. Vegas time on the east coast and then flying here all day – I would need more and better preparation to jump into an hour race and go for it.
North American 'cross season bigger and better
By Mark Zalewski North American Editor and Kirsten Robbins
The US cyclo-cross peloton has grown
Photo ©: Jon Devich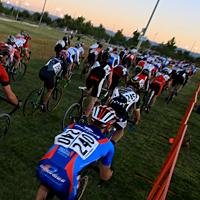 It is official: cyclo-cross is here to stay in North America and is as popular as ever. More and more riders are choosing to spend their fall and winter hopping barriers and plowing through mud baths and sand pits, and the level of competition has gone up steadily. There are now 40 races on the USA Cycling National Racing Calendar, the list of events which earn valuable UCI points, nine of which are category 1 UCI (C1) races which have the highest point value of any North American race. There are also a few UCI races in Canada and a healthy amount of un-rated races around the country for all levels of racers.
The large number of UCI races allows riders to become more competitive in international competitions, where racers are lined up at the start by their UCI ranking. In 'cross, like mountain biking, a front row start is critical for a high placing, especially when it comes to national championships, World Cups and the World Championships. C1 races earn 60 points for the win, while C2 races yield 30. By contrast, World Cups (which are only held in Europe at this time) have 300 points on the line, giving European races a huge advantage.
With the number of riders from the USA and Canada heading to Europe for the World Cups and World Championships increasing, the competition for points on this side of the Atlantic has become increasingly fierce, but UCI ranking isn't the only prize on offer. Prestigious series rankings, a US national ranking and more prize money than ever is on the line this year.
Two major series make-up the bulk of the North American cyclo-cross season this year; the US Grand Prix of Cyclo-cross (USGP) and the newly-formed North American Cyclo-cross Trophy Points Championship (NACT). The number or races in the US alone are more than any other country in the world. The racing is already hot and heavy: the opening weekend saw UCI-ranked races in Washington state, Michigan and Pennsylvania.
The NACT series continues in October with the Grand Prix of Gloucester in Massachusetts, then with two weekends in November with the Boulder Cup in Colorado and finishing with the Super Cross Cup in Southampton, New York. The series also boasts $40,000 in cash prizes and an additional $7,000 in bonuses for the top three men's and women's season finishers. And the series is adamant that it is all cash.
Euro 'cross briefs
By Tomas Nilsson
Rob Jebb (Wheelbase) won the 46th annual Three Peaks Cyclo-Cross in North Yorkshire this weekend in record breaking style. Not only did he post the fastest winner,s time ever, 2:52:22, but it also was his seventh consecutive win in this special 38 mile cyclo-cross event. No less than 421 riders finished, also a record.
Jebb is actually a pell runner who rides cyclo-cross in the winter. Considered a Three Peaks specialist, he has developed into a full breed cyclo-cross racer with participations in the last two World Championships. Heather Dawe (JD Cycles) took the women's crown ahead of Sara Symington.
Magnus Darvell, acknowledged mountain biker and road pro with the Latvian Rietumu Bank Riga team won the first leg of the Swedish cyclo-cross series in Skövde ahead of Alexander Wetterhall. The latter took the lead but suffered a crash and mechanical problems, and Daarvell was far ahead. Third was Johnny Rulle of Mariestad.
This season there will be ten 'cross races in Sweden plus the Swedish Championships in Mölndal on November 29. News for the season is that there will be more classes since the interest in cyclo-cross has risen rapidly. This fall there will be Prestige classes for men and women for those who wish to compete against the elite. For those with more humble ambitions, but still on 'cross bikes, there are Men Senior and Men Veteran (30+).
There will also be a Sports class for men and women wanting to try the 'cross format on any type of bike. Most events will also have races for youth.
The Swedish Cross calendar 2008:
September 28: Focus Crossen, Skövde
October 11: Gruvcrossen, Norberg
October 12: Almby CX, Almby
October 18: De Hel Crosskoers van Bosön, Lidingö
October 19: TelgeCrossen, Södetälje
October 25: Åstorps CK CX, Åstorp
November 2: Borlänge CX, Borlänge
November 22: CX-cup, Huskvarna
November 29: National Championships, Möldal
November 30: Merida CX Grand Prix, Mölndal
US National Calendar standings
Jonathan Page (Planet Bike) and Natasha Elliott (Emd Serono/Stevens) have secured the top spots at the USA Cycling National Calendar rankings this week with back to back victories in the MadCross events in Wisconsin, and in Michigan the previous week. Page leads CrossVegas winner Ryan Trebon (Kona), who took second in the Rad Racing GP and Starcrossed events, by 45 points. US Champion Tim Johnson is in third ahead of of Jamey Driscoll.
Elliott has a 28 point lead over Amy Dombrowski, who won both of the Green Mountain C2 events this weekend.
USA Cycling Cyclo-cross National Calendar standings after 10 races:
Elite Men
1 Jonathan Page   145 
2 Ryan Trebon     100  
3 Tim Johnson      93 
4 Jamey Driscoll   90 
5 Michael Mueller  76
Elite women
1 Natasha Elliott   80 
2 Amy Dombrowski    52 
3 Devon Haskell     47 
4 Sarah Kerlin      41 
5 Sue Butler        40  
Equal prize lists for men and women in Cincinnati
Georgia Gould (Luna Chix)
Photo ©: Mitch Clinton

The organizers of the Cincinnati International Cyclo-cross Festival have increased the purse for the top five women at the weekend's second race, the Java Johnny's / Lionhearts International, bringing all three women's races on par with the men's pay-outs for the top five riders. Olympian Georgia Gould pushed for equal pay-outs in a petition to the UCI last year, and will be on hand to compete for the prizes in Cincinnati on October 10-12.
Gould touched a nerve with her petition, and women racers like US Champion Katie Compton are coming out in support of the race because the promoters have agreed to equitable pay. "I'm mainly racing (in Cincinnati) for the money since Mitch [Graham] is offering more for the women than any other race in the country right now," said Compton. "I do this as a job and yes, I love racing bikes, but when I show up to a national event and make less money winning the race than someone who wins "most aggressive rider" there is something wrong with that. Would you want your wife or daughter getting paid 50% less than a male co-worker simply because she is a girl?"
Other promoters have listened as well. The recent two-day UCI C2 MadCross featured equal men's and women's pay-outs on both days. For a C1 race such as the Harbin Park event, the third Cincinnati race, the difference between the UCI's mandated prize list for women and what will actually be paid is significant. Still, promoter Mitch Graham thinks it is worth it. "I have to give credit to Myles Romanow. He did the equal prize money at his Southampton races last year and it raised my eyebrow.
"Late in the season I read Georgia's petition on equal pay for top five and it simply made sense, a perfect fit for Harbin Park for '08. Danica Patrick is the biggest star in Indy Car racing, Venus and Serena Williams are two of the most recognizable tennis players in the world, and Katie and Georgia are two of the biggest draws as far as attracting amateur racers to American cyclo-cross races. There's a real, discernable value to a promoter when athletes like this participate."
Compton agreed, and added that racers have a responsibility, too. "It's also up to us to respond when a promoter supports us. If we, as women, don't support the races that support us, what incentive will promoters have to continue paying us more?"
The Cincinnati International Cyclo-cross Festival is three days of UCI-sanctioned cyclo-cross racing, and is also part of the Zipp OVCX Tour.
October 10: The Darkhorse Cyclo Stampede (C2) in Burlington, Kentucky
October 11: The Java Johnny's - Lionhearts International (C2) in Middletown, Ohio
October 12: Bio Wheels – United Dairy Farmers Harbin Park International (C1) in Cincinnati, Ohio
Over 100 riders from Switzerland, Denmark, New Zealand, Canada and throughout the United States are already entered in the Festival with over two weeks to go. For more information on the Cincinnati International Cyclocross Festival, including direct links to registration on BikeReg.com, see http://cincinnatiuci3.blogspot.com/
Wissahickon adds handmade bike show
The Mid-Atlantic Cyclo-cross series Wissahickon race on October 19 has added a unique attraction to the well-regarded UCI C2 event. Taking advantage of the space afforded at the Ludwig's Corner Horse Show and Country Fairgrounds, the race will also feature a hand-made bicycle show featuring some of the greatest craftsmen in the industry.
"The mini handmade show will be showcasing builders that have had a presence in the cyclo-cross scene over the years of it becoming popular within the US and East Coast," said Drew Guldalian, owner of race sponsor Wissahickon Cyclery in Philadelphia. "Currently, we have Engin Cycles, Richard Sachs, Bilenky Cycle Works, Ingleheart Custom Frames, Circle A Cycles, Independent Fabrication and Vicious Cycles already committed. And we're working on some other big names as well."
Another of Guldalian's passions is music, and he's once again bringing live music to the race in the form of the hard-rockin' jam band "Murder House". Also returning is the popular Victory Brewing Beer tent. According to race promoter Kelly Cline, "This year's beer tent is larger than ever before. And Victory Brewing is setting us up with primes and prizes for various classes, as well as free samples in the tent."
For more information on the double-header weekend of MAC 'powered by SRAM' racing featuring the legendary UCI C1 Cyclocross at Granogue and the UCI C2 Wissahickon Cyclocross and Mini Handmade Bike Show, see BikeReg.com
NCNCA Cup adds new races
The Northern California and Nevada cyclo-cross series (NCNCA) gained new sponsors and new races for 2008. Santa Cruz Bicycles has signed on as the title sponsor for the 2008-2009 NCNCA Cup and will be offering up three Santa Cruz Stigmata frames to lucky winners at the series finale on January 4. Timbuk2 Designs has also graciously kicked in custom NCNCA Cup embroidered messenger bags for series winners in all categories.
The series will kick off on October 12 on a brand new course which has yet to be announced. Keith Defiebre is finalizing one of two courses that he promises will be among the finest 'cross courses Northern California has to offer. Race two on October 26th is the spooky return of Velo Bella's Spirit of Surf City Halloween Race at Soquel HS.
New this year is a back-to-back weekend on November 8-9 with the Sacramento and Sagebrush series' teaming up for a great weekend of racing. Race give on November 30 will be the return of Bay Area Super Prestige's most popular venue, Golden Gate Park. And finally, on January 4th (finals) the NCNCA Cup takes its first foray into the "Peak Season" and celebrates the New Year with a grand finale at everyone's favorite venue - Watsonville Fairgrounds.
2008-2009 NCNCA Cup races:
October 12, 2008 - CCCX (TBA)
October 26, 2008 - Velo Bella (Soquel HS)
November 8, 2008 - Sagebrush Series (Hidden Valley Park, Reno, NV)
November 9, 2008 - Sacramento Series (Discovery Park, Sacramento)
November 30, 2008 - Bay Area Super Prestige Series( Golden Gate Park, SF)
January 4, 2008 - Peak Season Cyclocross Series (Watsonville Fairgrounds)
Sayers transitions to 'cross with SterlingWins
Long-time road professional Mike Sayers is making the transition into cyclo-cross after retiring from the road after the Tour of Missouri this year. Sayers will be races as part of the team 'SterlingWins.com presented by Leopard Bikes', based in Northern California.
Team manager Matt McNamara is happy to usher Sayers into the sport. "I'm honored to have Mike on the team. His leadership and approachability will be great assets to our young team," said McNamara. In addition to Sayers, the team boasts several top tier athletes including multiple State Champion Liza Rachetto, promising juniors Matt Valencia and Anthony Delivannis, several speedy Masters and a quartet of Elite B riders looking to move up. The team's most inspirational member, Chris Carroll, received a heart transplant in 2002.
Sayers is looking forward to 'cross with the team. "It's going to be really nice to be a part of this program. I'm sure having fun is the name of the game." The team is focused on rider development through an innovative program that provides each rider with a personalized coaching program, weekly training rides, event and equipment support, and camaraderie. The team will focus on the Northern California calendar including the Bay Area Super Prestige Series, Central Coast and Sacramento Series, with a couple of National level events likely. The team will ride the brand new, 1100 gram, Carbon Fiber Leopard CX1 bike adorned with Ritchey WCS components, and SRAM drive trains.
Recent UCI Cyclo-cross results
Upcoming UCI Cyclo-cross races
October 4: Cyclo-cross International Podbrezova, Podbrezova (Svk) C2 ME
October 4: Radquer Wädenswil, Wädenswil (Swi) C2 ME/WE
October 5: Badiquer Schmerikon, Schmerikon (Swi) C1 ME/WE
October 5: GP AVB - Zonhoven, Zonhoven (Bel) C2 ME/MU
October 5: National Trophy Round 2, Bicton Arena, Exeter (GBr) C2 ME
October 5: Cross im Park, Berlin (Ger) C2 ME
(All rights reserved/Copyright Future Publishing (Overseas) Limited 2007)