Cyclo-cross news & racing roundup for November 26
Edited by Les Clarke
Welcome to our regular roundup of what's happening in cyclo-cross. Feel free to send feedback, news and releases to mtb@cyclingnews.com.
Nys reigns in snow
Sven Nys (Landbouwkrediet-Tönissteiner)
Photo ©: Roberto Bettini
There were amazing scenes in Hamme Zogge last Sunday as Sven Nys demonstrated why he's the best exponent of international cyclo-cross with a win in the Superprestige round held in the Belgian town. In conditions more conducive to skiing than riding bikes, heavy snow fell throughout the race, adding an extra element to an already-tough course.
The steps were treacherous, as Nys attested to after taking the win. "That last lap was more than I could take. If it would've taken any longer someone would have been injured. This is a hard sport, but if you can win in these weather conditions then that makes up for all the efforts," he explained.
The time gaps at the finish were fairly consistent despite the tough conditions, with Klaas Vantornout finishing 11 seconds behind his countryman, and Bart Wellens maintaining his good run with a podium place 24 seconds behind Nys. Having won the previous day in Hasselt, Wellens summed up his experience in Hamme Zogge on his personal website, saying, "I'm pleased with this performance... tyre choice was certainly important. I didn't have the best day but I think Nys deserved the win for sure."
As usual, Nys used tactics that suited both the competition he faced and the conditions he was up against. Holding off his attack until the later stages of the race, Nys explained after the finish that, "Purposely I didn't wait until the end to ride away from Klaas because then you need to take risks and it is dangerous in this weather; I only accelerated in the sections where I felt good.
"Before that, Klaas and I just tried to build up a safe gap on the others before thinking about the victory. In the end I think I can say that I was the strongest rider today."
Belgians for Koksijde world cup
On Monday Belgian coach Rudy De Bie announced his selection for the world cup round held next Saturday in Koksijde. There are eight riders representing Belgium instead of the usual eight due to the injury to Niels Albert; the rider leading the world cup series cannot be replaced. Albert was recently released from hospital and won't be back on the bike for at least four weeks. Dieter Vanthourenhout, who replaced Erwin Vervecken in the previous round, now finds himself a reserve.
Belgian selection for Koksijde
Elite men: Sven Nys, Bart Wellens, Kevin Pauwels, Bart Aernout, Erwin Vervecken, Sven Vanthourenhout, Klaas Vantornout, Rob Peeters. Reserves: Jan Soetens and Dieter Vanthourenhout
Women: Sanne Cannot, Veerle Ingels, Joyce Vander Beken, Loes Sels, Patsy Larno, Katrien Pauwels, Anne Arnouts, Nicolle De Bie-Leyte. Reserves: Nancy Bober, Gertie Willems.
Boom uncertain for Koksijde
Lars Boom isn't sure if he'll compete in the world cup round held in Koksijde and the Superprestige round in Gieten this weekend. Last weekend Boom fell ill after the races in Hasselt and Hamme-Zogge.
The reigning world champion explained to the dea news agency that, "The high fever has disappeared and I everything feels better. We shall see what happens." The Dutchman is still experiencing a kidney inflammation which affects his pelvis, and he'll therefore wait until just before the weekend to make a decision.
Trebon and Gould claim inaugural NACT series
By Kirsten Robbins
Ryan Trebon (Kona) wins by a huge margin.
Photo ©: Dave McElwaine
The North American Cyclo-Cross Trophy (NACT) series came to a close in its inaugural season as Ryan Trebon (Kona) and Georgia Gould (Luna) claimed their respective titles during the final weekend of racing. The trophy was kept secret until the series podium presentation, held at the Whitmore's Landscaping Super Cross Cup. The grand prize? A silver 'heavy weight' trophy belt, $7,000 cash prizes and UCI C1-level points.
Trebon became the NACT series' inaugural champion, solidifying his title during round seven of the eight-round series. He accumulated 360 points, winning three of the eight events; two in Gloucester and one in Southampton this weekend, plus podium places in the rest. Trebon's victory did not arrive without strong competition from runner up Tim Johnson (Cyclocrossworld.com) and third-place Todd Wells (GT). Johnson was trailing Trebon by 10 points going into round seven, but a knee injury rendered him unable to start the final weekend of racing and out of contention for the overall (see below).
"The NACT is a great series with good money, a lot of points and C1 level racing," Trebon said. "Tim not starting this weekend meant that I automatically took the series victory on Saturday. I'm super happy to have locked up the NACT, it means a lot to me to win a series. But, it's not just about winning a series, it's nice to be actually winning races again."
On the women's side, Georgia Gould (Luna) won both races at the Whitmore's Landscaping Super Cross Cup and accumulated enough points to take the NACT 'heavy weight' trophy belt in the last race. She went into the finale sitting in second place, just 18 points behind the previous leader Amy Dombroski (Velo Bella-Kona). After an exciting finale she tallied 240 points to take the overall title ahead of second placed Dombroski and Sue Butler (Monavie/Cannondale) in third place.
Georgia Gould (Luna Women's MTB) took the win
Photo ©: Dave McElwaine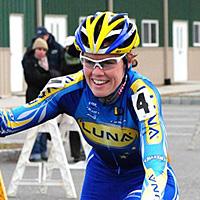 "I'm excited to support a race like this because it offers equal prize money and I think it's important to support that," said Gould, who took on the UCI in 2007 with an equal prize money for female cyclist petition signed by nearly 3,500 supporters. "I also think the NACT is a great series and I would be really happy to win the overall. The organisers did a great job offering UCI points and great venues for the entire series."
Myles Romanow, NACT co-founder and Whitmore's Landscaping Super Cross Cup race director was pleased with the outcome of the newly created series. The series combined eight of most well-known cyclo-cross races in North America, all sanctioned under the UCI's 2008-09 calendar. It began in September at the FSA Star Crossed and Rad Racing GP and moved on to the Gran Prix of Gloucester, the Boulder Cup, ending with the Whitmore's Landscaping Super Cross Cup.
"This is the end and the beginning of a great series," said Romanow upon the conclusion 2008 trophy presentation. "I think we were really fortunate that the four groups really embraced the idea of a national series. Everyone showed enthusiasm to benefit the racers with UCI points, cash prizes and national attention. We all feel that cyclo-cross is the fastest growing segment of cycling in America and we want to be on the forefront of bringing attention to it.
"This sport is fast, spectator-friendly and it's not attention-intensive like road racing can be; everything Americans need. Working out the details of this series was simple and everyone was on the same page and very supportive. We are already talking about the series in 2009 with better planing and bringing more national sponsors on board – it's going to be spectacular next year."
Full details of day one and day two racing from Southhampton.
Johnson injured in peak condition
By Kirsten Robbins
Johnson before his injury
Photo ©: Mitch Clinton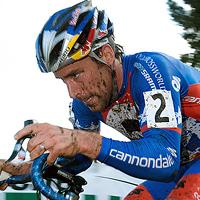 One man who wouldn't have enjoyed the final round of the North American Cyclo-Cross Trophy (NACT) last weekend was Cyclocrossworld.com's Tim Johnson. A knee injury knocked the reigning US national champion off the USGP pedestal in the previous weekend's Mercer Cup and left him unable to contend the NACT series decider held in Southampton this weekend.
"Getting the USGP leader's jersey on Saturday and not being able to start on Sunday was brutal," Johnson told Cyclingnews. "Not racing was one of the hardest decisions I had to make in my cycling career. In terms of the NACT, I definitely would have given Ryan [Trebon] a good run for his money and I was confident that I would have been able to win this series too. I missed three C1's – all good races and good prize money."
The doctors original prognosis was that of a torn bursa on the top of his knee cap, nothing that a few days of bed rest could not heal. However, upon a second check up later in the week, it was determined that the damage done to his bursa was not the only issue.
"I had an MRI and it showed a severe bone bruise at the end of my femur and patella," Johnson said. "There's nothing that can be done about it except to let it heal. It's a matter of handling the pain. I thought I could handle a lot of pain but this hurts like hell. Racing cross means getting off the bike, running, getting over barriers and being dynamic and I just couldn't do it."
According to Johnson there is no long term damage and the injury has gotten much better after taking seven days of rest. He is hoping to be back in full force before the final USGP in Portland. "All I can do is be positive," Johnson said. "I have to do the work to recover and I'm lucky that I have good people to rely on for advice and I'll be fine."
Johnson fell into a wooden course stake and injured his knee while on his way to a solo victory and the USGP lead in last weekend's USGP round, the Mercer Cup in West Windsor, New Jersey. He was forced to give it up his leading role, unable to start the second day's event.
"It definitely sucks but it's not all doom and gloom," Johnson continued. "Having a long road season and then going straight into cyclo-cross means I don't normally get a lot or rest or recovery. I'm always running a little fatigued. I'll have the week off now then getting in some good training rides before Portland and nationals – I'm confident I will have some good rides in those races."
Recent Cyclo-cross results
November 22: N. American Trophy #7, Whitmore's Landscaping Super Cross Cup 1, Southampton, NY (USA) C1
November 22: North Carolina Grand Prix - Race 1, Hendersonville, NC (USA) C2
November 22: GP van Hasselt, Hasselt (Bel) C2
November 22: TOI TOI CUP, Mnichovo Hradiste (Cze) C2
November 23: Superprestige Hamme-Zogge, Hamme-Zogge (Bel) C1
November 23: N. American Trophy #8, Whitmore's Landscaping Super Cross Cup 2, Southampton, NY (USA) C1
November 23: Trofeo Città di Lucca - 150° anniversario Giacomo Puccini, Lucca (Ita) C2
November 23: Internationales Radquer Meilen, Meilen (Swi) C2
November 23: Challenge de la France Cycliste 2, Le Creusot (Fra) C2
November 23: Kansai Cyclo-cross Meeting Yasu Round, Yasu City, Shiga (Jpn) C2
November 23: North Carolina Grand Prix - Race 2, Hendersonville, NC (USA) C2
Upcoming UCI races
November 29: Carousel Volkswagen Jingle Cross Rock - Rock 1, Iowa City, Iowa (USA) C2
November 29: Baystate Cyclocross, Sterling Massachusetts (USA) C2
November 29: Coupe du Monde UCI / UCI World Cup, Koksijde (Bel) CDM
November 30: 33e Internationale Nissan Super Prestige Cyclocross Gieten, Gieten (Ned) C1
November 30: Grand Prix de la Commune de Niederanven, Niederanven (Lux) C2
November 30: Carousel Volkswagen Jingle Cross Rock - Rock 2, Iowa City, Iowa (USA) C2
(All rights reserved/Copyright Future Publishing (Overseas) Limited 2008)