10th Grote Prijs Sven Nys (Gazet van Antwerpen Trofee Veldrijden #6) - C1
Baal, Belgium, January 1, 2009
Main Page Results Previous Race
Race 3 - January 1: Elite Men
Nys shows off new jersey in Baal
By Brecht Decaluwé
Belgian Champ Sven Nys (Landbouwkrediet-Colnago) wins in his hometown of Baal
Photo ©: Roberto Bettini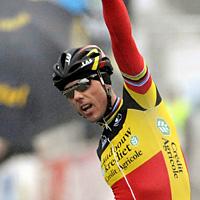 A lot of new team kits were spotted in Baal but it was Sven Nys' jersey that received the most attention as he won the traditional first race of the new year in his hometown. It was Nys' eighth victory in his own GP. The race is part of the Gazet van Antwerpen trophy in which Nys now holds a secure lead over Bart Wellens and Zdenek Stybar.
"This was the most beautiful and toughest edition ever," Nys said. "Yesterday I was thinking a lot about this race and I absolutely wanted to win it."
In contrast to last year, the big crowds were offered a great duel on the frozen course between their local hero and the man in form from the Czech Republic, Zdenek Stybar. With less than three laps to go Belgian champion Nys had jumped away from a 10-man leader's group together with Stybar. After creating a 10 second gap on this chasing group, Nys started focusing on getting rid of Stybar, but he had his hands full succeeding in this feat. Despite a huge effort from Nys in the technical sections of the course during the penultimate lap, Stybar stayed glued to Nys' back wheel.
Eventually a chain problem from Stybar created the first gap of a couple of meters which the Belgian exploited to maximum advantage. Nys completed the last lap in the fastest time of the race, reaching a blistering average speed of almost 30 kilometers an hour on the technical frozen course.
Belgian Sven Nys (Landbouwkrediet-Colnago)
Photo ©: Roberto Bettini

"After the barriers I went full gas, taking a couple of meters, and I continued to take some risks. Reaching the stairs I had nothing left but from then on it's harder to come back," Nys said. "This has always been a great New Year celebration for me. I think the crowd has seen boring races in the past but I think the people could warm themselves up with this spectacle. I've got some good form going now," Nys said to Sporza.
After winning two races last week Stybar was a big favorite for the win in Baal. In the end he had to settle for second and the Czech champion explained he was more than happy with that. "Today I wasn't as good as in Loenhout and Diegem. I didn't have power. It was difficult for me to follow. Second place was the most I could get," Stybar said to Sporza. The key moment in the race occurred in the last lap when Stybar seemed to struggle with his bike. "I had a problem with my chain at the rear dérailleur just before the barriers and I ended up sitting on my frame. I lost ten meters and after losing contact with Nys' back wheel it was impossible for me to win," Stybar said.
Behind the two protagonists a five-man group sprinted for the remaining podium spot. Despite missing his start completely Niels Albert came back to the leader's group halfway the race. Teammate Radomir Simunek played team tactics in the final sprint by touching his brakes to make sure Albert could grab maximum points for the GvA-Trophy, while holding off Sven Vanthourenhout. Thus Albert finished third ahead of Simunek and a protesting Vanthourenhout. "I led the chase during the last two laps," Albert said," and I also started the sprint. I noticed Simunek would easily win it and thought I would finish fifth or sixth. Then he made a generous move by allowing me to finish ahead of him," Albert said.
Sven Vanthourenhout wasn't enjoying the move from Simunek and he didn't hide his annoyance at all. "Sven [Vanthourenhout] said we were dirty riders but he did the same with Simunek in Hoogstraten. A sprint is a sprint and I don't think we moved from our line," Albert reacted.
The win from Nys logically results in a bigger lead in the GvA-Trophy. With only two rounds to go it is unlikely Nys will lose out on the overall win, though Wellens and Stybar theoretically could still win the series as well. Thanks to Stybar's second place and the sixth place from Wellens it is more likely that there's going to be an exciting battle for second place in the overall classification. The next round of the GvA-Trophy will be held in Lille, Belgium on February 7, 2009.
Photography
For a thumbnail gallery of these images, click here
Images by Roberto Bettini/www.bettiniphoto.net
Results
1 Sven Nys (Bel) Landbouwkrediet-Colnago                        57.51
2 Zdenek Stybar (Cze) Fidea Cycling Team                         0.09
3 Niels Albert (Bel) BKCP-Powerplus                              0.25
4 Radomir Simunek (Cze) BKCP-Powerplus                               
5 Sven Vanthourenhout (Bel) Sunweb Projob                            
6 Bart Wellens (Bel) Fidea Cycling Team                              
7 Kevin Pauwels (Bel) Fidea Cycling Team                             
8 Thijs Al (Ned) AA Drinks Cycling Team                          0.35
9 Richard Groenendaal (Ned) AA Drinks Cycling Team               0.40
10 Dieter Vanthourenhout (Bel) BKCP-Powerplus                    0.55
11 Davy Commeyne (Bel) Wielergroep Beveren 2000                  0.59
12 Bart Aernouts (Bel) Rabobank                                  1.09
13 Wilant Van Gils (Ned) ZZPR.NL                                 1.10
14 Gerben De Knegt (Ned) Rabobank                                1.13
15 Jan Verstraeten (Bel) KDL-Trans                               1.17
16 Thijs Van Amerongen (Ned) Vacansoleil Cyclingteam             1.27
17 Ben Berden (Bel) Revor Cycling Team                           1.40
18 Christian Heule (Swi) Rendementhypo Cycling Team                  
19 Tim Van Nuffel (Bel) Rendementhypo Cycling Team               1.52
20 Mariusz Gil (Pol)                                             2.38
21 Tom Van Den Bosch (Bel) Rendementhypo Cycling Team            3.07
22 Patrick Van Leeuwen (Ned)                                     3.20
23 Jan Soetens (Bel) Revor Cycling Team                              
24 Bart Verschueren (Bel) Revor Cycling Team                     3.45
25 Brian Matter USA)                                             4.35
26 Troy Wells (USA)                                                  
27 Roger Hammond (GBr)                                               
28 Roy Van Heeswijk (Ned)                                        4.43
29 Wesley Van Der Linden (Bel)                                   5.00
30 Tom De Kort (Bel) AVB Cycling Team                            5.24
31 Jimmy Tielens (Bel) Team Saeco Heist O/D Berg                 5.39
 
One lap behind
32 Koen Diels (Bel) V.Z.W. Royal Antwerp Bicycle Club                
 
Two laps behind
33 Steven De Schoesitter (Bel) Rudyco Cycling Team                   
 
Three laps behind
34 Freddy De Meester (Bel) Rijschool AH - Gentse VS                  
35 Rene Mertens (Bel) MD CT Team                                     
36 Kurt Loef (Bel) Team Saeco Heist O/D Berg                         
 
Intermediate sprint
1 Sven Nys (Bel) Landbouwkrediet-Colnago                            3 pts
2 Radomir Simunek (Cze) BKCP-Powerplus                              2
3 Bart Wellens (Bel) Fidea Cycling Team                             1
 
Gazet van Antwerpen Trofee standings after six races
1 Sven Nys (Bel) Landbouwkrediet-Colnago                          206 pts
2 Bart Wellens (Bel) Fidea Cycling Team                           168
3 Zdenek Stybar (Cze) Fidea Cycling Team                          161
4 Kevin Pauwels (Bel) Fidea Cycling Team                          148
5 Bart Aernouts (Bel) Rabobank                                    142
6 Thijs Al (Ned) AA Drinks Cycling Team                           138
7 Gerben de Knegt (Ned) Rabobank                                  116
8 Niels Albert (Bel) BKCP-Powerplus                                  
9 Dieter Vanthourenhout (Bel) BKCP-Powerplus                      112 
10 Richard Groenendaal (Ned) AA Drinks Cycling Team               105
11 Radomir Simunek (Cze) BKCP-Powerplus                           104
12 Rob Peeters (Bel) Landbouwkrediet - Colnago                     99
13 Lars Boom (Ned) Rabobank                                        97
14 Sven Vanthourenhout (Bel) Sunweb Projob Cycling Team            92
15 Wilant van Gils (Ned) Pro Cycling Team ZZPR.nl-Destil-Merida    79
16 Ben Berden (Bel) Revor Cycling Team                             73
17 Jan Verstraeten (Bel) Sunweb Projob Cycling Team                71
18 Tom Van den Bosch (Bel) Rendementhypo Cycling Team              69
19 Petr Dlask (Cze) Fidea Cycling Team                             60
20 Thijs Van Amerongen (Ned) Van Vliet EBH Elshof                  54
21 Erwin Vervecken (Bel) Fidea Cycling Team                        53
22 Davy Commeyne (Bel) Revor Cycling Team                          50
23 Christian Heule (Swi) Rendementhypo Cycling Team                48
24 Mariusz Gil (Pol)                                               45
25 Jan Soetens (Bel) Revor Cycling Team                            43
26 David Willemsens (Bel) Revor Cycling Team                       35
27 Enrico Franzoi (Ita) Liquigas                                   33
28 Marco Bianco (Ita) L´Arcobaleno Carraro Team                    30
29 Tim Van Nuffel (Bel) Easypay Cyclocross Team                    29
30 Wesley Van der Linden (Bel) Sunweb Pro Job                      28
31 Klaas Vantornout (Bel) Sunweb Projob Cycling Team               27
32 Nico Berckmans (Bel) DCM-GB Vorselaar Cycling Team              24
33 Eddy van IJzendoorn (Ned) AA Drinks Cycling Team                21
34 Patrick Van Leeuwen (Ned) Het Snelle Wiel                       20
35 Jeremy Powers (USA) Cyclocrossworld.com / Cannondale            18
36 Jonathan Page (USA) Planet Bike                                 14
37 Roy Van Heeswijk (Ned)                                            
38 Roger Hammond (GBr)                                             13 
39 Marek Cichosz (Pol)                                             12
40 René Birkenfeld (Ger) Stevens Racing Team                       12
41 Ian Field (GBr) Hargroves Cycles                                 8
42 Jody Crawforth (GBr) Arctic Premier                               
43 Oscar Vazquez (Spa)                                              7 
44 Jimmy Tielens (Bel) Team Mega Saeco - Heist o/d berg              
45 Bart Verschueren (Bel) Revor Cycling Team                         
46 Martin Zlámalík (Cze) Prodoli Racing Team                        6 
47 Steven De Schoesitter (Bel) Rudyco Cycling Team                   
48 Andre Sutton (Can) Hardcore Cycling Club                          
49 Tim Heemskerk (Ned)                                               
50 Brian Matter (USA)                                                
51 Gusty Bausch (Lux) VC Diekirch                                   5 
52 Stijn Huys (Bel) BKCP-Powerplus                                   
53 Troy Wells (USA) TIAA CREF/Clif Bar                               
54 Pieter Ghyllebert (Bel) Topsport Vlaanderen                      4 
55 Magnus Darvell (Swe) Rietumu Bank-Riga                            
56 Kamil Ausbuher (Cze) Exe Jeans                                    
57 Carlos Hernandez (Spa)                                           3 
58 Freddy De Meester (Bel) Rijschool AH - Gentse VS                  
59 Jerry Kallenfels (Ned) Easypay Cyclocross Team                   2 
60 Ken Smets (Bel)                                                  1
61 Tom De Kort (Bel) AVB Cycling Team                                
 
Intermediate sprint classification
1 Sven Nys (Bel) Landbouwkrediet-Colnago                           11 pts
2 Lars Boom (Ned) Rabobank                                          7
3 Kevin Pauwels (Bel) Fidea Cycling Team                            6
4 Niels Albert (Bel) BKCP-Powerplus                                 3
5 Zdenek Stybar (Cze) Fidea Cycling Team                            2
6 Bart Wellens (Bel) Fidea Cycling Team                              
7 Radomir Simunek (Cze) BKCP-Powerplus                               
8 Thijs Al (Ned) AA Drinks Cycling Team                              
9 Gerben De Knegt (Ned) Rabobank                                    1