10th Grote Prijs Sven Nys (Gazet van Antwerpen Trofee Veldrijden #6) - C1
Baal, Belgium, January 1, 2009
Race 1 - January 1: Juniors
No luck for De Bie, Van Kessel wins
Courtesy of Niels De Wit
Van Kessel at the front before storming to victory
Photo ©: Niels De Wit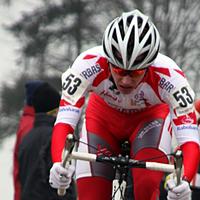 The junior men race had to do it without big names. Only Sean De Bie, third in the European championship this season, was able to come out of his bed early on the first day of the new year. But the victory went to another rider, Dutchman Corné Van Kessel.
Already in the first lap De Bie placed an attack. Corné Van Kessel and Zach McDonald were able to follow him, but when De Bie attacked again, nobody was strong enough to stick in his wheels. De Bie took an advantage of thirty seconds, more than enough to take another victory.
But with three laps to go De Bie had some troubles with his bike. The Belgian lost more than a minute and Van Kessel and McDonald passed him. More riders would leave De Bie behind, but he didn't give up and tried to ride to the front again.
Unfortunately, the gap was too big. Van Kessel took the lead and McDonald couldn't follow him. The Dutchman finished first and was very happy with his win. McDonald was also very pleased, as he crossed the finish line on his back wheel. De Bie crossed the line in third, a bit disappointed.
Photography
For a thumbnail gallery of these images, click here
Images by Niels De Wit/www.nielsdewit.be
Results
1 Corné Van Kessel (Ned)                                       39.55
2 Zach McDonald (USA)                                           0.14
3 Sean De Bie (Bel) Kon. Balen B.C. V.Z.W.                      0.21
4 Vinnie Braet (Bel) Cyclingteam Oost-West VZW                  0.28
5 Gianni Vermeersch (Bel) Mez Team Belgium Snellegem            0.37
6 Ruben Scheire (Bel) Avia Cycling Team                         0.46
7 Karl Peeters (Bel) De Dijlespurters V.V. Mechelen             1.14
8 Angelo De Clercq (Bel) Cyclingteam Oost-West VZW              1.23
9 Hendrik Sweeck (Bel) Cycling Team 99 V.Z.W. Schriek           1.28
10 Karel Hnik (Cze) Atlasromerscze                              1.54
11 Wilco Van Beusekom (Ned) JVR De Batauwers                    2.25
12 Ritchie Denolf (Bel) Cyclingteam Oost-West VZW               2.48
13 Joeri Hofman (Bel)                                           3.02
14 Cody Kaiser (USA)                                            3.31
15 Raf Risbourg (Bel) Koninklijke Hoboken W.A.C. VZW            3.34
16 Floris De Tier (Bel) Cyclingteam Oost-West VZW               4.05
17 Bert Noterman (Bel) Heylen Meubelcentrale Zlwc St.Truiden    4.10
18 Cody Cox (USA)                                               4.15
19 Joseph Dombrowski (USA)                                      4.22
20 Morgan Ryan (USA)                                            4.30
21 Bert Noterman (Bel) KSC Dendersteek Labiekes                 4.40
22 Pieter-Jan Van Overstraeten (Bel)                            4.48
23 Nick Van Dijke (Ned)                                         4.59
24 Rutger La Haye (Bel) Edegem Bicycle Club V.Z.W.              5.17
 
One lap behind
25 Nick Van Den Eynde (Bel) De Dijlespurters V.V. Mechelen          
26 Mike Van Aken (Bel)                                              
27 Olivier Smet (Bel)                                               
28 Manuel Timmermans (Ned)                                          
29 Klaas Vermetten (Bel) Koninklijke Hoboken W.A.C. VZW             
30 Dorien Raeymaekers (Bel) Off Road Club Bmx 2000 Dessel VZW       
31 Jonas Van Rensbergen (Bel)