Krawaten Cross (Gazet van Antwerpen Trofee Veldrijden #7) - C1
Lille, Belgium, February 7, 2009
2008 results Results Past Winners
Heroic duel between Belgian titans earns Albert a crepe
Nys secures overall victory in Gazet van Antwerpen Trophy
By Brecht Decaluwé
Niels Albert (BKCP-Powerplus) gets it with a bike throw
Photo ©: Cyclingnews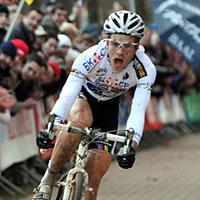 Freshly crowned cyclo-cross World Champion Niels Albert and Belgian champion Sven Nys fought out a great duel in the Krawatencross in Lille, Belgium. In the end it was 23-year-old Albert who threw his bike just ahead of Nys' at the finish line. It was Albert's first victory as World Champion. The second place from Nys was enough for the Belgian to secure the overall victory in the Gazet van Antwerpen Trophy. Overall second-placed Bart Wellens missed his start in Lille and was only able to do damage control by finishing third on the day.
"I'm dead empty," Albert said right after crossing the line. "After such an intense week, fatigue is playing an important role. I gave all I had after a bet with my physiotherapist. He said that I wouldn't crack the top-5 with my crappy legs... now I've won a crepe, but he's going to pay it; I'm longing to see his face when he does that," Albert smiled.
Despite realising he wasn't as fresh as the other riders Albert opted to make it a hard race, chasing the glory of a crepe. Copying his winning move at the World Championships Albert put the hammer down already during the second lap. Three men were left in contention for the victory and out of a group with Sven Vanthourenhout, Zdenek Stybar and Sven Nys it was the latter who escaped in search of Albert. At one moment an unleashed Albert led by seventeen seconds.
When Belgian champion Nys started his solo effort he quickly got back to ten seconds. The gap remained constant as the two rode over the technical sandy course. At the half-way mark it was still eight seconds. It took Nys two more laps to get back to the front and during the two remaining laps the two had a cease-fire.
"There was no other option than to sprint for it," Nys said. "It took a lot of effort to get back to Niels. During the first half of the race I made a lot of technical mistakes but once I got into the rhythm I stopped losing time. It took a lot of time but I knew I was getting back to the front," Nys said.
Sven Nys and Niels Albert battle it out
Photo ©: Cyclingnews

Neither one is regarded as a good sprinter. Albert led it out and Nys was able to hold the wheel. Nys came over on the right hand side and side-by-side the two Belgians stormed to the finish line.
"I saw that Sven was coming so I moved to the right to get on his wheel. It took a while before he came over... and apparently he was unable to get over me," Albert said. Nys suffered and he couldn't get past Albert before the line. "I'm happy with my sprint since I was able to get next to him. I lacked the energy that I lost to get back to him during the race. I'm pleased with the fact that I was battling along for the victory," Nys said.
In the background Wellens showed up as best of the rest. The Belgian missed his start and was forced to pick up riders early on. With four laps to go he bridged up with Sven Vanthourenhout and Stybar. He left thw two behind but was still at 38 seconds to the front with two laps to go. "At the start a lot of stuff happened. I got away reasonably well but at the first sandy 180° corner some nobodies were pushing and kicking their way past me. A few moments later they have to let go of the good guys but for me it's over then. By the time I moved to the front of the big group those two champions [Nys and Albert] were gone," Wellens said.
Nys secured the overall victory in the Gazet van Antwerpen Trophy. He leads the classification with 239 points ahead Wellens (197). With one round left Stybar still has a chance to overtake his teammate Wellens for second place as he is only seven points back. Kevin Pauwels leads a group of four riders who will fight for fourth place. Bart Aernouts has 160 points, Thijs Al has one point less while today's winner Albert has 155 points. Due to a crash in November Albert was unable to ride all rounds of the GvA-Trophy.
Photography
For a thumbnail gallery of these images, click here
Images by Cyclingnews
Images by Tom de Meyer/www.TomDeMeyer.be
Results
Elite Men (45 starters)
 
1 Niels Albert (Bel) BKCP - Powerplus                                59.20
2 Sven Nys (Bel) Landbouwkrediet-Colnago                                  
3 Bart Wellens (Bel) Fidea Cycling Team                               0.44
4 Zdenek Štybar (Cze) Fidea Cycling Team                              1.07
5 Sven Vanthourenhout (Bel) Sunweb-Projob                             1.29
6 Dieter Vanthourenhout (Bel) BKCP - Powerplus                            
7 Kevin Pauwels (Bel) Fidea Cycling Team                                  
8 Richard Groenendaal (Ned) AA Drink - Be One                             
9 Erwin Vervecken (Bel) Revor-Jartazi Continental Team                    
10 Thijs Al (Ned) AA Drink - BeOne                                    2.29
11 Marco Bianco (Ita) L Arcobaleno Carraro Team                       2.34
12 Gerben de Knegt (Ned) Rabobank                                     2.40
13 Bart Aernouts (Bel) Rabobank                                       2.32
14 Rob Peeters (Bel) Landbouwkrediet-Colnago                          3.00
15 Ben Berden (Bel) Revor-Jartazi Continental Team                    3.05
16 Jan Verstraeten (Bel) KDL Trans NV                                 3.15
17 Christian Heule (Swi) RendementhypoCycling Team                    3.37
18 Tom Van Den Bosch (Bel) Rendement Hypo Cyclingteam VZW             3.46
19 Thijs Van Amerongen (Ned) Van Vliet EBH Elshof                     4.40
20 Petr Dlask (Cze) Fidea Cycling Team                                    
21 Patrick Van Leeuwen (Ned) Het Snelle Wiel                          5.49
22 Jan Soetens (Bel) Revor-Jartazi Continental Team                       
23 Mariusz Gil (Pol) LKS Pom Strzelce Krajenskie                      6.03
24 Magnus Darvell (Swe)                                               6.24
25 Bjorn Rondelez (Bel) Lingier Versluys Beachbikers Team             6.35
26 Mike Thielemans (Bel) Team-Thielemans & Co                         6.44
27 Tim Van Nuffel (Bel) Rendement Hypo Cyclingteam VZW                    
28 Sten Raeymakers (Bel)                                              7.10
29 Tom De Kort (Bel) AVB - Cycling Team                               7.13
 
One lap behind
30 Stijn Huys (Bel) Palmans-Cras                                          
 
Two laps behind
31 Nico Berckmans (Bel) Dcm-Gb Vorselaar Cycling Team VZW                 
 
Three laps behind
32 Jo Naert (Bel) Lingier Versluys Beachbikers Team                       
33 Ken Smets (Bel)                                                        
34 Andre Sutton (Can) Hardcore Cycling Club                               
 
Four laps behind
35 Bram Wind (Ned)                                                        
 
Five laps behind
36 Freddy De Meester (Bel) Rijschool Ah - Gentse Vs                       
37 Dries Cauwelier (Bel) Cycling Team Cauwelier Roeselare                 
38 Jochen Danckaers (Bel)                                                 
39 Jan Willem Kamphof (Ned)                                               
40 Kurt Loef (Bel)                                                        
 
Intermediate sprint
1 Niels Albert (Bel) BKCP - Powerplus                                    3 pts
2 Zdenek Štybar (Cze) Fidea Cycling Team                                 2
3 Sven Nys (Bel) Landbouwkrediet-Colnago                                 1
 
GvA Trophy Standings 

1 Sven Nys (Bel) Landbouwkrediet-Colnago                               239 pts
2 Bart Wellens (Bel) Fidea Cycling Team                                197
3 Zdenek Štybar (Cze) Fidea Cycling Team                               190
4 Kevin Pauwels (Bel) Fidea Cycling Team                               172
5 Bart Aernouts (Bel) Rabobank                                         160
6 Thijs Al (Ned) AA Drink - BeOne                                      159
7 Niels Albert (Bel) BKCP - Powerplus                                  155
8 Dieter Vanthourenhout (Bel) BKCP - Powerplus                         137
9 Gerben de Knegt (Ned) Rabobank                                       135
10 Richard Groenendaal (Ned) AA Drink - Be One                         128
11 Sven Vanthourenhout (Bel) Sunweb-Projob                             118
12 Rob Peeters (Bel) Landbouwkrediet-Colnago                           116
13 Radomír Šimunek Ml (Cze) BKCP - Power Plus                          104
14 Lars Boom (Ned) Rabobank                                             97
15 Ben Berden (Bel) Revor-Jartazi Continental Team                      89
16 Jan Verstraeten (Bel) KDL Trans NV                                   86
17 Tom Van Den Bosch (Bel) Rendement Hypo Cyclingteam VZW               82
18 Wilant van Gils (Ned) Pro Cycling Team ZZPR.nl-Destil-Merida         79
19 Erwin Vervecken (Bel) Revor-Jartazi Continental Team                 75
20 Petr Dlask (Cze) Fidea Cycling Team                                  71
21 Thijs van Amerongen (Ned)                                            66
22 Christian Heule (Swi) RendementhypoCycling Team                      62
23 Davy Commeyne (Bel) Wielergroep Beveren 200                            
24 Marco Bianco (Ita) L Arcobaleno Carraro Team                         50 pts
25 Mariusz Gil (Pol) LKS Pom Strzelce Krajenskie                        45
26 Jan Soetens (Bel) Revor-Jartazi Continental Team                     43
27 David Willemsens (Bel) Revor - Jartazi Cycling Team                  35
28 Enrico Franzoi (Ita) Liquigas                                          
29 Tim Van Nuffel (Bel) Rendement Hypo Cyclingteam VZW                  33 pts
30 Wesley Van Der Linden (Bel) Afdeling Oost-Vlaanderen WBV - VZW       28
31 Klaas Vantornout (Bel) Sunweb-Projob                                 27
32 Nico Berckmans (Bel) Dcm-Gb Vorselaar Cycling Team VZW               24
33 Eddy van IJzendoorn (Ned) AA Drink - BeOne                           21
34 Patrick Van Leeuwen (Ned) Het Snelle Wiel                            20
35 Jeremy Powers (USA) Cyclocrossworld.com-Cannondale                   18
36 Jonathan Page (USA) Planet Bike                                        
37 Roy Van Heeswijk (Ned) Sint Oedenrode                                14 pts
38 Roger Hammond (GBr) Cervelo Test Team                                13
39 Marek Cichosz (Pol) Legia 192                                          
40 René Birkenfeld (Ger) Stevens Cyclocross Team Hamburg                12 pts
41 Magnus Darvell (Swe)                                                 11
42 Ian Field (GBr) Hargroves Cycles/Trant/Next/GSI                        
43 Jody Crawforth (GBr) Arctic - Premier RT                              8 pts
44 Oscar Vazquez (Spa)                                                    
45 Jimmy Tielens (Bel) Team Saeco Focus 201                               
46 Bart Verschueren (Bel) Revor-Jartazi Continental Team                 7 pts
47 Martin Zlámalík (Cze) Prodoli Racing Team                              
48 Steven De Schoesitter (Bel) Rudyco Cycling Team                        
49 Andre Sutton (Can) Hardcore Cycling Club                               
50 Tim Heemskerk (Ned) Edmonton                                           
51 Brian Matter (USA)                                                     
52 Stijn Huys (Bel) Palmans-Cras                                          
53 Bjorn Rondelez (Bel) Lingier Versluys Beachbikers Team                6 pts
54 Gusty Bausch (Lux) LC Kayl                                             
55 Troy Wells (USA)                                                       
56 Mike Thielemans (Bel) Team-Thielemans & Co                            5 pts
57 Pieter Ghyllebert (Bel)                                                
58 Kamil Ausbuher (Cze) Exe Jeans                                         
59 Carlos Hernandez (Spa)                                                 
60 Freddy De Meester (Bel) Rijschool Ah - Gentse Vs                       
61 Tom De Kort (Bel) AVB - Cycling Team                                   
62 Sten Raeymakers (Bel)                                                 3 pts
63 Jerry Kallenfels (Ned) Easypay Cyclocross Team                        2
64 Ken Smets (Bel)                                                       1
 
Women (28 starters)
 
1 Daphny van den Brand (Ned) ZZPR.nl-Destil-Merida                   39.33
2 Marianne Vos (Ned) DSB Bank Ladies Cycling-Team - VVHP              0.19
3 Sanne Cant (Bel) A.D.S. Selle Italia Guerciotti                     0.41
4 Sanne van Paassen (Ned) ZZPR.nl-Destil-Merida                       1.52
5 Saskia Elemans (Ned) Team Flexpoint                                 2.06
6 Joyce Vanderbeken (Bel) J&G Cycling Team                            3.03
7 Reza Hormes-Ravenstijn (Ned) ZZPR.nl-Destil-Merida                  3.53
8 Abke Francissen (Ned) Team Brabant 2000                             3.56
9 Nicolle De Bie-Leyten (Bel) AVB - Cycling Team                      4.05
10 Arenda Grimberg (Ned) Team Ton Van Bemmelen Sports-Merida              
11 Katrien Pauwels (Bel) Empella Czech Team                               
12 Christine Vardaros (USA)                                               
13 Lana Verberne (Ned)                                                    
14 Iris Ockeloen (Ned)                                                    
15 Karen Verhestraeten                                                    
16 Katrien Thijs (Bel) Edegem Bicycle Club V.Z.W.                         
17 Ellen Van Loy (Bel)                                                    
18 Britt Jochems (Ned) ZZPR.nl-Destil-Merida                              
19 Katrien Vermeiren (Bel) Emversport International C. T. Vzw             
20 Gitte Van Ende (Bel)                                                   
21 Alleleijn ten Haaf (Ned)                                               
22 Sharon Defoor (Bel) Asfra Racing Team                                  
23 Sandie Verriest (Bel) Asfra Racing Team                                
24 Inge Van Raemdonck (Bel)                                               
25 Tessa De Moyer (Bel)                                                   

GvA Trophy Standings after 2 races
 
1 Daphny van den Brand (Ned) ZZPR.nl-Destil-Merida                      50 pts
2 Marianne Vos (Ned) DSB Bank Ladies Cycling-Team - VVHP                41
3 Saskia Elemans (Ned) Team Flexpoint                                     
4 Sanne Cant (Bel) A.D.S. Selle Italia Guerciotti                       26 pts
5 Katherine Compton (USA) Spike                                         22
6 Hanka Kupfernagel (Ger) Itera-Stevens                                   
7 Joyce Vanderbeken (Bel) J&G Cycling Team                                
8 Sanne van Paassen (Ned) ZZPR.nl-Destil-Merida                         17 pts
9 Rachel Lloyd (USA) California Giant Cycling Team                        
10 Arenda Grimberg (Ned) Team Ton Van Bemmelen Sports-Merida            16 pts
11 Mirjam Melchers (Ned) Team Flexpoint                                 15
12 Nikki Harris (GBr) Sprinters Malderen                                  
13 Reza Hormes (Ned) Team ZZPR.nl-Destil-Merida                         14 pts
14 Pauline Ferrand (Fra)                                                  
15 Abke Francissen (Ned) Team Brabant 2000                              13 pts
16 Georgia Gould (USA)                                                    
17 Nicolle De Bie-Leyten (Bel) AVB - Cycling Team                       12 pts
18 Pavla Havlikova (Cze) KC Kooperativa SG Jablonec                     11
19 Katrien Pauwels (Bel) Empella Czech Team                             10
20 Gabriella Day (GBr) Vision                                             
21 Christine Vardaros (USA)                                              9 pts
22 Wendy Simms (Can) Kona Cyclocross Team                                 
23 Larna Verberne (Bel)                                                  8 pts
24 Iris Ockeloen (Ned)                                                   7
25 Sue Buetler (USA)                                                      
26 Karen Verhestraeten                                                   6 pts
27 Katrien Thijs (Bel) Edegem Bicycle Club V.Z.W.                        5
28 Helen Wyman (GBr) Vision                                               
29 Ellen van Loy (Bel)                                                   4 pts
30 Mika Ogishima (Jpn)                                                    
31 Britt Jochems (Ned) ZZPR.nl-Destil-Merida                             3 pts
32 Katrien Vermeiren (Bel) Emversport International C. T. Vzw            2
33 Ayako Toyooka (Jpn)                                                    
34 Gitte Van Ende (Bel)                                                  1
 
U23 (49 starters)
 
1 Jan Denuwelaere (Bel) Rendement Hypo Cyclingteam VZW               49.06
2 Philipp Walsleben (Ger) Team BKCP-Power Plus                            
3 Tom Meeusen (Bel) Fidea Cycling Team                                    
4 Kenneth Van Compernolle (Bel) Sunweb-Projob                         0.15
5 Jim Aernouts (Bel) BKCP - Powerplus                                 0.19
6 Jan Van Dael (Bel) Sunweb-Projob                                        
7 Arnaud Jouffroy (Fra) Vendée U Pays de la Loire                         
8 Mitchell Huenders (Ned) AA Cycling Team                             0.33
9 Quentin Bertholet (Bel) Fidea Cycling Team                              
10 Kevin Cant (Bel) AVB - Cycling Team                                0.52
11 Vincent Baestaens (Bel) Fidea Cycling Team                         0.59
12 Ramon Sinkeldam (Ned) Rabobank                                     1.01
13 Stef Boden (Bel) AA Drink Cycling Team                             1.06
14 Dave De Cleyn (Bel) AVB - Cycling Team                             1.17
15 Gianni Denolf (Bel) BKCP - Powerplus                               1.49
16 Robert Gavenda (Svk) Fidea Cycling Team                            1.51
17 Twan van den Brand (Ned) Sunweb Projob Cycling Team                1.52
18 Marcel Meisen (Ger) Team Kuota - Indeland                          2.33
19 Rik van IJzendoorn (Ned)                                           2.38
20 Wim Leemans (Bel) BKCP - Powerplus                                 3.01
21 Lukáš Kloucek (Cze) Sunweb - Projob Cycling Team                   3.24
22 Ruben Veestraeten (Bel) AVB - Cycling Team                         3.27
23 Kobus Hereijgers (Ned)                                             3.29
24 Sven Beelen (Bel) Easypay Cyclocross Team                          3.35
25 Zeb Willems (Bel) AVB - Cycling Team                               3.37
26 Matthias Nilson (Swe)                                              3.53
27 Kristof Cop (Bel) AVB - Cycling Team                               3.59
28 Robby Cobbaert (Bel) Xcluziv Cycling Team                          4.01
29 Dennis Verhoeven (Bel) AVB - Cycling Team                          4.07
30 Bart Hermans (Bel) Easypay Cyclocross Team                         4.14
31 Matthias Onghena (Bel) SDC - Rogelli Cycling Team                  4.44
32 Michiel Dieleman (Bel) Vanomobil MTB Cycling Team                  4.50
33 Edwin Arts (Ned)                                                   5.23
34 Jonathan Bervoets (Bel) Heylen Meubelcentrale Zlwc St.Tru          6.11
35 Simon Geets (Bel) AVB - Cycling Team                               7.10
36 Jonas De Boey (Bel) WSC Hoop Op Zegen - Beveren                        
 
One lap behind
37 Jens Gys (Bel)                                                         
38 Kenny Maes (Bel)                                                       
39 Nick De Proost (Bel) Off Road Club Bmx 200                             
40 Glenn Van Ginneken (Bel)                                               
 
Two laps behind
41 Cristian Izquierdo                                                     
42 Kenneth Speltinck (Bel)                                                
43 Lorenzo Messine (Bel) Cyclo Cross Team WAArschoot                      
44 Rick van Deursen (Ned)                                                 
45 Tom Desmet (Bel) Asfra Racing Team                                     
 
U23 GvA Trophy Standings after 7 races
 
1 Philipp Walsleben (Ger) Team BKCP-Power Plus                         147 pts
2 Kenneth Van Compernolle (Bel) Sunweb-Projob                          100
3 Jim Aernouts (Bel) BKCP - Powerplus                                   98
4 Vincent Baestaens (Bel) Fidea Cycling Team                            78
5 Mitchell Huenders (Ned) AA Cycling Team                               77
6 Jan Denuwelaere (Bel) Rendement Hypo Cyclingteam VZW                  73
7 Tom Meeusen (Bel) Fidea Cycling Team                                  71
8 Marcel Meisen (Ger) Team Kuota - Indeland                             70
9 Stef Boden (Bel) AA Drink Cycling Team                                65
10 Quentin Bertholet (Bel) Fidea Cycling Team                           64
11 Kevin Cant (Bel) AVB - Cycling Team                                  57
12 Sven Verboven (Bel)                                                  48
13 Dave De Cleyn (Bel) AVB - Cycling Team                               47
14 Lukáš Kloucek (Cze) Sunweb - Projob Cycling Team                     43
15 Arnaud Jouffroy (Fra) Vendée U Pays de la Loire                      40
16 Jan Van Dael (Bel) Sunweb-Projob                                     38
17 Gianni Denolf (Bel) BKCP - Powerplus                                 37
18 Lubomír Petruš (Cze) BKCP - Power Plus                               35
19 Robert Gavenda (Svk) Fidea Cycling Team                              30
20 Wim Leemans (Bel) BKCP - Powerplus                                   28
21 Dries Dewit (Bel)                                                    24
22 Ramon Sinkeldam (Ned) Rabobank                                       23
23 Pawel Szczepaniak (Pol) LKS Pom Strzelce Krajenskie                  22
24 Sascha Weber (Ger) FC Rheinland-Pfalz Flonheim                       21
25 Twan van den Brand (Ned) Sunweb Projob Cycling Team                  17
26 Björn Selander (USA)                                                 16
27 Joeri Adams (Bel) Rabobank                                             
28 Julien Taramarcaz (Swi) GS Selle Italia Guerciotti - VC Mendrisio    15 pts
29 Aurélien Duval (Fra) UV Aube                                         14
30 Ondrej Bambula (Cze) Cyklo Team Budvar Tábor                         13
31 Daniel Summerhill (USA)                                              12
32 Rudy Kowalski (Fra)                                                  11
33 Thomas Vernaeckt (Bel) Sunweb-Projob                                  9
34 Janiszewski (Pol)                                                     8
35 Michiel Dieleman (Bel) Vanomobil MTB Cycling Team                      
36 Boy van Poppel (Ned) Rabobank                                         7 pts
37 Kaj Slenter (Ned)                                                     6
38 Sven Beelen (Bel) Easypay Cyclocross Team                              
39 Kristof Cop (Bel) AVB - Cycling Team                                   
40 Tomasz Repinski (Pol) Legia 192                                        
41 Jonathan McEvoy (GBr) 100% Me                                          
42 Rik van IJzendoorn (Ned)                                              5 pts
43 Jan Van Zeebroeck (Bel) Wk Noord West Brabant                          
44 Kacper Szczepaniak (Pol) LKS Pom Strzelce Krajenskie                   
45 Jelle Brackman (Bel) MTB Dreamteam AArtselAAr                         3 pts
46 Mauro Gonzalez (Spa)                                                   
47 Matthias Nilson (Swe)                                                  
48 Dany Lacroix (Bel) Easypay Cyclocross Team                             
49 Mathieu Boulo (Fra) AC Lanester                                        
50 Bart Bruyndonckx (Bel) Rock Werchter-Chocolade Jacques                2 pts
51 Marco Minnaard (Ned)                                                   
52 Johim Ariesen (Ned)                                                    
53 Kristof Zegers (Bel) Cycling Team 9                                   1
 
Juniors (39 starters) 
 
1 Wietse Bosmans (Bel)                                               44.08
2 Tijmen Eising (Ned)                                                 0.31
3 Corné van Kessel (Ned)                                              0.53
4 David van der Poel (Ned)                                            1.13
5 Gianni Vermeersch (Bel)                                             1.23
6 Jens Adams (Bel)                                                    1.45
7 Mike Teunissen (Ned)                                                    
8 Niels Koyen (Bel)                                                       
9 Valentijn Van de Velde (Bel)                                        2.11
10 Hendrik Sweeck (Bel)                                               2.34
11 Zeb Veestraeten (Bel)                                              3.02
12 Raf Risbourg (Bel)                                                 3.10
13 Jelle Cant (Bel)                                                   3.20
14 Jordy Van Staeyen (Bel)                                            4.45
15 Michaël Peeters (Bel)                                              4.59
16 Sieën Veestraeten (Bel)                                                
17 Joeri Hofman (Bel)                                                 5.13
18 Rinze De Proost (Bel)                                              5.38
19 Simon Lapeire (Bel)                                                5.40
20 Thomas Verbeek (Bel)                                               5.42
21 Ingmar Uytdewilligen (Bel)                                         5.47
22 Bert Noterman (Bel)                                                6.02
23 Nick van Dijke (Ned)                                               6.38
24 Jeffrey Mellemans (Bel)                                                
 
One lap behind
25 Laudelino Lammens (Bel)                                                
26 Jens Van den Bosch (Bel)                                               
27 Yoeri Bertels (Bel)                                                    
28 Olivier Vandevyver (Bel)                                               
29 Stijn Heyse (Bel)                                                      
30 Michiel Janssen (Bel)                                                  
31 Rutger La Haye (Bel)                                                   
 
Two laps behind
32 Niek Cherlet (Bel)                                                     
33 Mike Van Aken (Bel)                                                    
34 Pieter Joris (Bel)                                                     
 
Beginners (51 starters)
 
1 Laurens Sweeck (Bel)                                               30.04
2 Diether Sweeck (Bel)                                                1.17
3 Jeroen Eyskens (Bel)                                                1.25
4 Maxim Panis (Bel)                                                   1.51
5 Jorn Claes (Bel)                                                    2.19
6 Daan Hoeyberghs (Bel)                                               2.23
7 Wout Van Aert (Bel)                                                 2.35
8 Daan Soete (Bel)                                                    2.41
9 Timo Verschueren (Bel)                                              2.53
10 Ruben Geerinckx (Bel)                                              3.03
11 Jens Coucquyt (Bel)                                                    
12 Stan Godrie (Ned)                                                      
13 Lorenzo Pepermans (Bel)                                                
14 Gregory Vandaele (Bel)                                                 
15 Michael Vanthourenhout (Bel)                                           
16 Pjotr van Beek (Ned)                                                   
17 Dieter Van de Putte (Bel)                                              
18 Jellen Schiettecatte (Bel)                                             
19 Lorenzo Vanderschueren (Bel)                                           
20 Jochen Vervoort (Bel)                                                  
21 Gertjan Bervoets (Bel)                                                 
22 Joni Geeraerts (Bel)                                                   
23 Jordy Vermeire (Bel)                                                   
24 Toon Aerts (Bel)                                                       
25 Michael Dhondt (Bel)                                                   
26 Jelto Veroft (Bel)                                                     
27 Jorne Kockaerts (Bel)                                                  
28 Niels Verdijck (Bel)                                                   
29 Tjebbe Lievens (Bel)                                                   
30 Michiel Van Echelpoel (Bel)                                            
31 Jeffrey Jansegers (Bel)                                                
32 Jago Goedefroy (Bel)                                                   
33 Glenn Thys (Bel)                                                       
34 Jens Van Rompaey (Bel)                                                 
35 Glenn Vissers (Bel)                                                    
36 Robbie van Bakel (Ned)                                                 
37 Stef Beyers (Bel)                                                      
38 Tom Bosmans (Bel)                                                      
39 Nick Van Roy (Bel)                                                     
40 Sibe Smets (Bel)                                                       
41 Steff Heyns (Bel)                                                      
42 Niels Boons (Bel)                                                      
43 Nathalie Nijns (Bel)                                                   
44 Kris Van Looveren (Bel)                                                
45 Steffy Van den Haute (Bel)                                             
46 Siebe Jacops (Bel)                                                     
47 Caren Commissaris (Bel)                                                
48 Caitlyn La Haye (Bel)                                                  

Past Winners
2008 Niels Albert (Bel) Palmans-Cras
2007 Sven Nys (Bel) Rabobank
2006 Sven Nys (Bel) Rabobank
2005 Sven Nys (Bel) Rabobank