Superprestige #6 Hoogstraten- C1
Hoogstraten, Belgium, February 8, 2009
2008 results Results Past Winners
Excellent Nys with a Superprestige move
By Brecht Decaluwé
Sven Nys (Landbouwkrediet Colnago)
Photo ©: Cyclingnews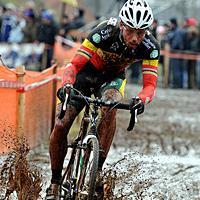 One day after the heroic battle between Niels Albert and Sven Nys in the GvA Trophy race, it was the latter who had clearly recovered better and Nys came out swinging. Belgian champion Nys unleashed his force in the mud of Hoogstraten just before halfway the race and build up an impressive lead to win the so-called strawberry-cross. World Champion Albert emerged from a chasing group with Bart Wellens and Zdenek Stybar to secure second place.
With just one round left for the overall ranking of the Superprestige Series, Nys pulled away from Klaas Vantornout (Sunweb), who was only able to come in fifth place and now lags six points behind Nys in the standings.
"The past taught me that the overall victory is only decided after the last race; I'll remain focused. Too bad that I lost valuable points in Diegem," Nys said. "One can never sell a bear's skin before it was shot... or something like that," Nys said.
World Champion Niels Albert took off like a rocket at the start and got away with Nys, Vantornout, Kevin Pauwels, Zdenek Stybar, Klaas Vantornout and Thijs Al. Once again Wellens had missed his start completely and he was forced to organize the chase from the second lap on.
"I blew my engine during that first lap and everybody was overtaking me. I realized that I had to find my own pace and that's what I did," Wellens said.
During the second lap Nys launched an attack which was only followed by Stybar and Albert. Vantornout was thrown back with a flat tyre. "It happened at a bad moment but even without that flat tyre I wouldn't have been able to follow Nys today. For half a lap I rode on that tyre and things were looking awkward for me. Luckily I was able to pick up the pace again and finish fifth. In the Superprestige Series second place will be the best I can get as taking six positions on Nys is a lot; I'll certainly give it a try to do better," Vantornout said.
Nys was on a mission up front, and clearly was not waiting for Vantornout. "Honestly, I wasn't worrying about Vantornout. It's better to ride your own race," Nys said. During the third lap Nys was able to get rid of Stybar and Albert, and the Belgian champion quickly had a gap of twelve seconds. In the background Wellens was making his classic comeback and halfway through the race he was riding in fifth position together with his teammate Pauwels.
Bart Wellens (Fidea) had to chase
Photo ©: Cyclingnews

As Albert and Stybar were struggling on the selective soaked course, Wellens bridged up to the two youngsters. It seemed like the experienced Belgian would be able to drop the boys but instead it was new World Champion Albert who found his second wind. Albert powered away and dropped Stybar and Wellens. During the penultimate lap Wellens rode away from an ailing Stybar. "I had a bad lap and was forced to slow down and let them go," Stybar said.
Wellens closed in on Albert and during the penultimate lap Albert was back within the reach of Wellens, with only a gap of ten metres to close down. "I thought I had bridged up to Niels, but I was unable to close the last metres. After a bike change I was riding with a bike that clearly wasn't as ready as it was supposed to be. I couldn't shift and mentally that made me crack," Wellens said.
Unbothered by these background battles Nys strolled towards another great victory and took one step closer to securing the Superprestig Series. "Actually I felt this wasn't as hard as yesterday's race," Nys said. "This was a pure 'cross course again and although we don't need them in every race, it is good to have them once in a while. Maybe yesterday's 'cross helped me to get the engine going again after the World Championships," said Nys.
Niels Albert (BKCP-Powerplus)
Photo ©: Cyclingnews

Albert held on for second place and the young Belgian applauded the performance of Nys. "I quickly realized that Nys was better today and I intentionally didn't join him in the attack. At one moment I was really struggling, but after a bike change wider tyres gave me the spirit to fight for second place once again," Albert said.
A few seconds later Wellens made sure that the podium in Hoogstraten featured the same riders as the one in Lille a day earlier. Stybar finished fourth, well ahead of Vantornout and the Dutch tandem from AA-drink Thijs Al and Richard Groenendaal. Pauwels clearly blew up his engine and the young Belgian lost a lot of position during the second half of the race; he finished ninth ahead of triple world champion Erwin Vervecken.
Photography
For a thumbnail gallery of these images, click here
Images by Cyclingnews
Images by Tom De Meyer/www.tomdemeyer.be
Results
Elite Men (36 starters)

1 Sven Nys (Bel) Landbouwkrediet-Colnago                     1.00.30
2 Niels Albert (Bel) BKCP - Powerplus                           0.47
3 Bart Wellens (Bel) Fidea Cycling Team                         1.05
4 Zdenek Štybar (Cze) Fidea Cycling Team                        1.39
5 Klaas Vantornout (Bel) Sunweb-Projob                          2.08
6 Thijs Al (Ned) AA Drink - BeOne                               2.24
7 Richard Groenendaal (Ned) AA Drink - Be One                       
8 Kevin Pauwels (Bel) Fidea Cycling Team                        2.59
9 Erwin Vervecken (Bel) Revor-Jartazi Continental Team          3.16
10 Gerben de Knegt (Ned) Rabobank                               3.24
11 Sven Vanthourenhout (Bel) Sunweb-Projob                      3.41
12 Bart Aernouts (Bel) Rabobank                                 4.30
13 Rob Peeters (Bel) Landbouwkrediet-Colnago                    5.00
14 Ben Berden (Bel) Revor-Jartazi Continental Team              5.18
15 Christian Heule (Swi) RendementhypoCycling Team              5.40
16 Petr Dlask (Cze) Fidea Cycling Team                          5.57
17 Thijs Van Amerongen (Ned) Van Vliet EBH Elshof               6.24
18 David Derepas (Fra) UVCA Troyes                              7.39
19 Dieter Vanthourenhout (Bel) BKCP - Powerplus                 7.48
20 Martin Zlámalík (Cze) Prodoli Racing Team                    8.12
21 Tim Van Nuffel (Bel) Rendement Hypo Cyclingteam VZW          8.33
22 Magnus Darvell (Swe)                                         8.42
23 Stijn Penne (Bel) SDC - Rogelli Cycling Team                     

One lap behind
24 Joachim Parbo (Den) CCV Cyclo crosss Team                        
25 Roy Van Heeswijk (Ned) Sint Oedenrode                            
26 Mariusz Gil (Pol) LKS Pom Strzelce Krajenskie                    
27 Patrick Van Leeuwen (Ned) Het Snelle Wiel                        

Two laps behind
28 Bart Verschueren (Bel) Revor-Jartazi Continental Team            

Three laps behind
29 Ken Smets (Bel)                                                  
30 Andre Sutton (Can) Hardcore Cycling Club                         

Four laps behind
31 Freddy De Meester (Bel) Rijschool Ah - Gentse Vs                 
 
Superprestige standings after 7 rounds
                                                  
1 Sven Nys (Bel) Landbouwkrediet-Colnago                          99 pts
2 Klaas Vantornout (Bel) Sunweb-Projob                            93
3 Bart Wellens (Bel) Fidea Cycling Team                           86
4 Kevin Pauwels (Bel) Fidea Cycling Team                          71
5 Thijs Al (Ned) AA Drink - BeOne                                 58
6 Erwin Vervecken (Bel) Revor-Jartazi Continental Team            50
7 Zdenek Štybar (Cze) Fidea Cycling Team                          46
8 Niels Albert (Bel) BKCP - Powerplus                             42
9 Rob Peeters (Bel) Landbouwkrediet-Colnago                       37
10 Gerben de Knegt (Ned) Rabobank                                 36
11 Bart Aernouts (Bel) Rabobank                                   35
12 Sven Vanthourenhout (Bel) Sunweb-Projob                        29
13 Lars Boom (Ned) Rabobank                                       25
14 Dieter Vanthourenhout (Bel) BKCP - Powerplus                   22
15 Petr Dlask (Cze) Fidea Cycling Team                            21
16 Richard Groenendaal (Ned) AA Drink - Be One                    18
17 Christian Heule (Swi) RendementhypoCycling Team                12
18 Wilant van Gils (Ned) Pro Cycling Team ZZPR.nl-Destil-Merida    9
19 Radomír Šimunek Ml (Cze) BKCP - Power Plus                       
20 Jan Verstraeten (Bel) KDL Trans NV                              7 pts
21 Martin Zlámalík (Cze) Prodoli Racing Team                        
22 Thijs Van Amerongen (Ned) Van Vliet EBH Elshof                   
23 Martin Bína (Cze) Cyklo Team Budvar Tábor                       6 pts
24 Jan Soetens (Bel) Revor-Jartazi Continental Team                 
25 Jonathan Page (USA) Planet Bike                                  
26 Ben Berden (Bel) Revor-Jartazi Continental Team                 5 pts
27 Marco Bianco (Ita) L Arcobaleno Carraro Team                    2
28 Tom Van Den Bosch (Bel) Rendement Hypo Cyclingteam VZW           
29 Eddy van IJzendoorn (Ned) AA Drink - BeOne                      1

U23 Men
 
1 Philipp Walsleben (Ger) Team BKCP-Power Plus                 48.05
2 Jan Denuwelaere (Bel) Rendement Hypo Cyclingteam VZW          0.15
3 Tom Meeusen (Bel) Fidea Cycling Team                          0.25
4 Marcel Meisen (Ger) Team Kuota - Indeland                     0.40
5 Kenneth Van Compernolle (Bel) Sunweb-Projob                   0.49
6 Mitchell Huenders (Ned) AA Cycling Team                       1.32
7 Quentin Bertholet (Bel) Fidea Cycling Team                        
8 Jim Aernouts (Bel) BKCP - Powerplus                           1.53
9 Kevin Cant (Bel) AVB - Cycling Team                           2.31
10 Arnaud Jouffroy (Fra) Vendée U Pays de la Loire              2.41
11 Ramon Sinkeldam (Ned) Rabobank                               2.56
12 Dave De Cleyn (Bel) AVB - Cycling Team                       3.12
13 Stef Boden (Bel) AA Drink Cycling Team                       4.00
14 Robert Gavenda (Svk) Fidea Cycling Team                      4.25
15 Jan Van Dael (Bel) Sunweb-Projob                             4.35
16 Kevin Eeckhout (Bel) Sunweb-Projob                           4.50
17 Gianni Denolf (Bel) BKCP - Powerplus                         4.58
18 Kristof Cop (Bel)                                            5.08
19 Thomas Vernaeckt (Bel) Sunweb-Projob                         5.20
20 Edwin Arts (Ned)                                             5.35
21 Kobus Hereijgers (Ned)                                       6.18
22 Jonathan Bervoets (Bel) Heylen Meubelcentrale Zlwc St.Tru    7.05
23 Geert Van Der Horst (Ned) Asito-Craft cyclingteam            7.17
24 Zeb Willems (Bel) AVB - Cycling Team                         7.33
25 Ivar Hartogs (Ned) ZZPR.nl-Destil-Merida                     8.01
26 Bart Barkhuis (Ned)                                          8.38
27 Jordy van Erp (Ned) ZZPR.nl-Destil-Merida                    8.45
28 Bart Hermans (Bel) Easypay Cyclocross Team                       
29 Arnaud Van Den Abeele (Bel) BKCP - Powerplus                     
30 Lorenzo Messine (Bel) Cyclo Cross Team WAArschoot                
31 Kenneth Speltincx (Bel) Kon. W.C. De Rupelspurters Boom          
32 Vincent Van Hooste (Bel)                                         
 
U23 classification
 
1 Philipp Walsleben (Ger) Team BKCP-Power Plus                    84 pts
2 Kenneth Van Compernolle (Bel) Sunweb-Projob                     75
3 Mitchell Huenders (Ned) AA Cycling Team                         62
4 Tom Meeusen (Bel) Fidea Cycling Team                            61
5 Quentin Bertholet (Bel) Fidea Cycling Team                      46
6 Marek Konwa (Pol) LKS Trasa Zielona Góra                        41
7 Joeri Adams (Bel) Rabobank                                      40
8 Lukáš Kloucek (Cze) Sunweb - Projob Cycling Team                39
9 Jim Aernouts (Bel) BKCP - Powerplus                             32
10 Vincent Baestaens (Bel) Fidea Cycling Team                     30
11 Marcel Meisen (Ger) Team Kuota - Indeland                      29
12 Stef Boden (Bel) AA Drink Cycling Team                         27
13 Arnaud Jouffroy (Fra) Vendée U Pays de la Loire                  
14 Jan Denuwelaere (Bel) Rendement Hypo Cyclingteam VZW           23 pts
15 Jan Van Dael (Bel) Sunweb-Projob                               22
16 Ramon Sinkeldam (Ned) Rabobank                                 21
17 Lubomír Petruš (Cze) BKCP - Power Plus                         19
18 Dave De Cleyn (Bel) AVB - Cycling Team                         17
19 Wim Leemans (Bel) BKCP - Powerplus                               
20 Kevin Cant (Bel) AVB - Cycling Team                            16 pts
21 Twan van den Brand (Ned) Sunweb Projob Cycling Team            15
22 Rik van IJzendoorn (Ned)                                       12
23 Robert Gavenda (Svk) Fidea Cycling Team                        11
24 Geert Van Der Horst (Ned) Asito-Craft cyclingteam              10
25 Davy de Scheemaeker (Bel) AVB Cycling Team                       
26 Pawel Szczepaniak (Pol) LKS Pom Strzelce Krajenskie             8 pts
27 Julian van Dijk (Ned)                                            
28 Sascha Weber (Ger) FC Rheinland-Pfalz Flonheim                  7 pts
29 Ruben Veestraeten (Bel) AVB - Cycling Team                       
30 Jasper Ockeloen (Ned)                                           6 pts
31 Kaj Slenter (Ned)                                               5
32 Bart Barkhuis (Ned)                                             4
33 Marco Minnaard (Ned)                                             
34 Gianni Denolf (Bel) BKCP - Powerplus                            3 pts
35 Kevin Eeckhout (Bel) Sunweb-Projob                               
36 Dennis Verhoeven (Bel) AVB - Cycling Team                        
37 Ivar Hartogs (Ned) ZZPR.nl-Destil-Merida                         
38 Micki van Empel (Ned) ZZPR.nl-Destil-Merida                      
39 Daniel Summerhill (USA)                                         2 pts
40 Kevin Smit (Ned)                                                 
41 Kristof Zegers (Bel) Cycling Team 9                             1
 
Juniors (35 starters) 
 
1 Wietse Bosmans (Bel)                                         40.02
2 Tijmen Eising (Ned)                                           0.20
3 Michiel van der Heijden (Ned)                                     
4 Vinnie Braet (Bel)                                            1.43
5 Corné van Kessel (Ned)                                        1.59
6 Mike Teunissen (Ned)                                          2.06
7 David van der Poel (Ned)                                      2.40
8 Gianni Vermeersch (Bel)                                       2.50
9 Hendrik Sweeck (Bel)                                          2.57
10 Niels Koyen (Bel)                                            3.20
11 Xandro Meurisse (Bel)                                        3.22
12 Raf Risbourg (Bel)                                           3.40
13 Jens Adams (Bel)                                             4.00
14 Jesper Baelen (Bel)                                          4.07
15 Jelle Lugten (Ned)                                           4.22
16 Valentijn Van de Velde (Bel)                                     
17 Zeb Veestraeten (Bel)                                        4.45
18 Rinze De Proost (Bel)                                        5.50
19 Wilco van Beusekom (Ned)                                     6.14
20 Jens Joosen (Bel)                                            6.25
21 Jelle Cant (Bel)                                             7.03
22 Jeffrey Mellemans (Bel)                                      7.45
23 Nick van Dijke (Ned)                                         8.06
24 Pieter Van Overstraeten (Bel)                                8.45
25 Ingmar Uytdewilligen (Bel)                                   9.16
26 Andy Wagemans (Bel)                                          9.45
 
One lap behind
27 Rutger La Haye (Bel)                                             
28 Wim Allary (Bel)                                                 
 
Two laps behind
29 Mike Van Aken (Bel)                                              
30 Thibeaut De Winter (Bel)                                         
  
Juniors classification
 
1 Tijmen Eising (Ned)                                             84 pts
2 Wietse Bosmans (Bel)                                            79
3 Lars van der Haar (Ned)                                         69
4 Michiel van der Heijden (Ned)                                   66
5 David van der Poel (Ned)                                        54
6 Mike Teunissen (Ned)                                            46
7 Jelle Lugten (Ned)                                              36
8 Corné van Kessel (Ned)                                          30
9 Gianni Vermeersch (Bel)                                         29
10 Jens Adams (Bel)                                                 
11 Niels Koyen (Bel)                                              27 pts
12 Vinnie Braet (Bel)                                             26
13 Angelo De Clercq (Bel)                                           
14 Hendrik Sweeck (Bel)                                           25 pts
15 Matthias Bossuyt (Bel)                                           
16 Gert-Jan Bosman (Ned)                                          19 pts
17 Daan Meijers (Ned)                                             18
18 Ruben Scheire (Bel)                                            15
19 Jan Nesvadba (Cze)                                             14
20 Ritchie Denolf (Bel)                                             
21 Xandro Meurisse (Bel)                                          11 pts
22 Zach McDonald (USA)                                            10
23 Milan Svoboda (Cze)                                              
24 Valentijn Van de Velde (Bel)                                     
25 Bart De Vocht (Bel)                                             8 pts
26 Robin Wennekes (Ned)                                             
27 Dennis Stultiens (Ned)                                          7 pts
28 Bas Krauwel (Ned)                                               6
29 Sieën Veestraeten (Bel)                                          
30 Kenzie Boutté (Bel)                                              
31 Jesper Baelen (Bel)                                              
32 Elmar Reinders (Ned)                                            5 pts
33 Zeb Veestraeten (Bel)                                            
34 Guillaume Van Keirsbulck (Bel)                                   
35 Frederik Geerts (Bel)                                            
36 Gavin Mannin (USA)                                               
37 Raf Risbourg (Bel)                                              4 pts
38 Daniel Vesely (Cze)                                              
39 Niels Wytinck (Bel)                                              
40 Milan van den Ende (Ned)                                        3 pts
41 Lukas Müller (Swi)                                               
42 Wilco van Beusekom (Ned)                                         
43 Dylan van Baarle (Ned)                                          2 pts
44 Arjan Smit (Ned)                                                1

Beginners (48 starter) 
 
1 Laurens Sweeck (Bel)                                         32.31
2 Maxim Panis (Bel)                                                 
3 Valentijn Van de Velde (Bel)                                      
4 Daan Soete (Bel)                                                  
5 Koen Weijers (Ned)                                                
6 Daan Hoeyberghs (Bel)                                             
7 Toon Aerts (Bel)                                                  
8 Diether Sweeck (Bel)                                              
9 Lorenzo Pepermans (Bel)                                           
10 Jens Couckuyt (Bel)                                              
11 Stan Godrie (Ned)                                                
12 Rob Leemans (Bel)                                                
13 Jordy Vermeire (Bel)                                             
14 Jochen Vervoort (Bel)                                            
15 Jellen Schiettecatte (Bel)                                       
16 Matthias Ballet (Bel)                                            
17 Lars van der Zyden (Ned)                                         
18 Bryan Vispoel (Bel)                                              
19 Pjotr van Beek (Ned)                                             
20 Michael Dhondt (Bel)                                             
21 Glenn Thys (Bel)                                                 
22 Dimitri Soetaert (Bel)                                           
23 Birger Vandael (Bel)                                             
24 Robin Van den Bruel (Bel)                                        
25 Stijn Gielen (Bel)                                               
26 Bart De Zutter (Bel)                                             
27 Kenneth Van Dessel (Bel)                                         
28 Stef Beyers (Bel)                                                
29 Jorne Kockaerts (Bel)                                            
30 Robbie van Bakel (Ned)                                           
31 Eelke van der Horst (Ned)                                        
32 Glenn Vissers (Bel)                                              
33 Patrick Mulder (Ned)                                             
34 Lana Verberne (Ned)                                              
35 Sibe Smets (Bel)                                                 
36 Jeffrey Jansegers (Bel)                                          
37 Pepijn Martens (Bel)                                             
 
One lap behind
38 Alexander Verslegers (Bel)                                       
39 Nathalie Nijns (Bel)                                             
40 Dennis Heyns (Bel)                                               
41 Steffy Van den Haute (Bel)                                       
 
Two laps behind
42 Yolan Brems (Bel)                                                
43 Sofie Leemans (Bel)                                              
44 Caitlyn La Haye (Bel)                                            


Past Winners
Men

2008 Niels Albert (Bel) Palmans-Cras
2007 Sven Nys (Bel)
2006 Sven Nys (Bel) Rabobank
2005 Erwin Vervecken (Bel)
2004 Erwin Vervecken (Bel)
2003 Sven Nijs (Bel)
2001 Erwin Vervecken (Bel)
2000 Richard Groenendaal (Ned)
1999 Sven Nijs (Bel)
1998 Bart Wellens (Bel)
1997 Peter Willemsens (Bel)
1995 Paul Herijgers (Bel)
1994 Peter Willemsens (Bel)
1993 Paul Herijgers (Bel)
1992 Gustaaf Van Bouwel (Bel)
1991 Dirk Pauwels (Bel)
1990 Wim Lambrechts (Bel)
1989 Kurt De Roose (Bel)

Women

2000 Daphny Van Den Brand (Ned)