Rad Racing GP (NACT#2) - C2
Lakewood, WA, USA, September 21, 2008
North American national champions rule
By Mark Zalewski in Lakewood, Washington
Johnson out-sprints Trebon for win
Tim Johnson (Cyclocrossworld-Cannondale) takes the 'sprint'
Photo ©: Mark Zalewski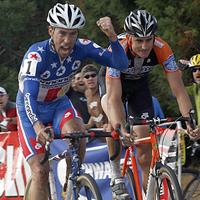 No, that is not a typo and yes we are talking about United States of America national champion Tim Johnson (Cyclocrossworld-Cannondale) sprinting...and actually winning! Though to be fair, Johnson beat Ryan Trebon (Kona) in the sprint after Trebon was forced to lead the last two laps of the Rad Racing GP, as Johnson's team-mate Jeremy Powers was closing in on the two leaders. But still, even Johnson was surprised he was able to find the fast-twitch muscle fibres for the win.
"I've seen the 46-11 once before," Johnson told Cyclingnews. "It's a big gear, so once I got that thing going, we were going pretty fast! But as you can see in the photo it was a shock."
Johnson readily admits that he owes much of his win to his team-mate, which softened Trebon. "Inside three laps to go Jeremy was off the front - we caught him and there was a surge," said Johnson. "We gapped Jeremy off but then Ryan was forced to lead the last two laps, almost the entire way. Going into the last lap Jeremy was within 10 seconds so I let Ryan set the pace. He did a couple of surges, on the climb, but he didn't drop me. That is all I needed to build my confidence.
"Then [Trebon] started the sprint really early because I slid out in a corner at 500 metres," Johnson continued. "He heard me slide out and he hit the gas there - but it was way far out. So when he came around the last corner onto the pavement he was already going full gas and I just hit it as hard as I possibly could - shifted all the way down and at 50 metres I just came around him."
Barry Wicks (Kona)
Photo ©: Mark Zalewski

Trebon said the combination of the two-pronged attack from Johnson and Powers, who also bested him the previous night at the Star Crossed race, and not feeling well in the running department took out all his attacking options.
"I thought I would feel better on the run-up but I didn't," he said. "Then with Jeremy attacking the only thing I could do. Andy [Jacques-Maynes] and [Joachim] Parbo weren't strong enough to do anything - so it was just me to ride against Tim and Jeremy. Having to lead-out for like the last four laps, I just didn't have anything left in my legs for the sprint."
Not having legs for the run-up is not always a race-defining issue - except here where the run-up is at the UCI limit of 80 metres long (some argued longer) and boast steep pitched of around 14 percent...ouch!
Jeremy Powers (Cyclocrossworld-Cannondale)
Photo ©: Mark Zalewski

"I was running with Tim and I was running a little faster," said Trebon. "I tried to [attack] there on the last lap but Tim and Jeremy are both riding good, and I just didn't have it at the end. It was two against one - it's annoying, but what can you do? [Tim] had to race against me and Barry the last couple of years so I guess it is payback."
Though Powers beat Trenon last night, he knew today was all for Johnson. "My strong suit is not an 80 metre climb," he joked. "I told Tim that this was his day to win, it was more his course. I did the attacks to take some out of Ryan's legs, and then set Tim up to do the big digs later on. I had third sewn up so the most important thing was to keep the pressure on Ryan, and give Tim the free ride."
With the win by Johnson and third place by Powers, the two team-mates are tied at the top of the newly formed North American Cyclo-cross Trophy series.
"I was happy we could win last night and today," said Powers. "It's a successful weekend considering we just got on these bikes less than 48 hours ago."
Simms evens score with Butler
Wendy Simms (Kona)
Photo ©: Mark Zalewski

Canadian champion Wendy Simms (Kona) and Sue Butler (Monavie-Cannondale) rode away from the field in Saturday night's Star Crossed - and Sunday's Rad Racing GP was more of the same. But unlike Saturday, Simms was able to use the tough uphill course to her advantage over Butler, gapping her on the run-up on the final lap to take the win and tie her for the North American Cyclo-cross Trophy series lead.
"It helped racing against Sue yesterday because I saw she was super strong and that she was really solid in the flat sections," Simms told Cyclingnews. "She doesn't consider herself a runner so I just kept an eye on her for the first two laps."
Simms' longer legs were definitely an advantage over Butler on the monster run-up - something that Butler readily admitted was her weak point. "My strategy, since I'm not a good runner, was to get in front of her on the run, because it is hard to pass. I was dreading that run-up," Butler laughed.
Sue Butler (Monavie-Cannondale) and Wendy Simms (Kona)
Photo ©: Mark Zalewski

The two were off the front for the entire race, though they had to keep their speed up as a hard-charging Amy Dombrowki (Velo Bella) was always behind in third.
"We got a nice gap but Amy Dombrowski was coming up pretty strong, so I was a little worried about that," said Simms. "I rested up on the second-to-last lap and made my move on the climb. Sue had been pulling for most of the second-to-last lap and I knew I wanted to make my move on the run-up.
"I was able to pop off my bike pretty well and keep my momentum," she added. "I could hear I had a little bit of a gap so I just pushed it and it was enough to hold until the end."
"She was in front of me going into it and there was no chasing her down," said Butler. "She is a runner and I was hoping I could close it. I gave chase and closed it a little bit but I didn't have enough time to catch her."
Photography
For a thumbnail gallery of these images, click here
Images by Mark Zalewski/Cyclingnews.com
Results

Elite men
 
1 Timothy Johnson (USA) Cannondale/Cyclocrossworld.Com                
2 Ryan Trebon (USA) Kona                                              
3 Jeremy Powers (USA) Cannondale/Cyclocrossworld.Com                  
4 Joachim Parbo (Den) Ccv Leopard Cycles                              
5 Andy Jacques-Maynes (USA) Specialized/Kmc Pb Cal Giant              
6 Barry Wicks (USA) Kona                                              
7 Russell Stevenson (USA) Benaroya Research Institute Cycling Team    
8 Todd Wells (USA) Team Gt                                            
9 Bart Gillespie (USA) Monaviecannondale.Com                          
10 Justin Robinson (USA) California Giant Berry Farms/Specialized     
11 Eric Tonkin (USA) Kona                                             
12 Kevin Bradford-Parish (USA) Redlinebikes.Com                       
13 Shannon Skerritt (USA) Vanilla Bicycles                            
14 Solomon Woras (USA) Vanilla                                        
15 Kevin Noiles (Can) Trek Red Truck Racing                           
16 Sean Worsech (USA) Rad Racing                                      
17 Troy Wells (USA) Team Clif Bar                                     
18 Chris Sneddon (Can) Kona                                           
19 Steve Fisher (USA) Rad Racing/Hagens Berman                        
20 Craig Richey (Can) Team Aviawest - Van Dessel                      
21 Joshua Berry (USA)                                                 
22 Matthew Wills (USA) Veloshop                                       
23 Jake Wells (USA) Mafiaracing.Com                                   
24 Jeremy Ferguson (USA) California Giant Berry Farms/Specialized     
25 David Yeater (USA) River City Bicycles                             
26 John-Christian Flack (USA) The Valley Athletic Club                
27 Jesse Giordano (USA) Nob Hill Velo                                 
28 Chris Parrish (USA) Hagens Berman                                  
29 Travis Mcmaster (USA) Mafiaracing.Com                              
30 Kevin Thorpe (Can) Trek Red Truck Racing P/B Mosaic Homes          
DNF Nicholas Weighall (USA) Rad Racing/Hagens Berman                  
DNF Molly Cameron (USA) Vanilla                                       
DNF Nathan Bannerman (USA) Bicycle Centres/Collision 1                
DNF Kyle McGilvray (USA) Old Town Bicycle                             
DNF Evan Hyde (USA) Nashvillecyclist.Com P/B Bike Pedlar              
DNF Ryan Iddings (USA) Team Redline                                   
 
Elite women
 
1 Wendy Simms (Can) Kona                                              
2 Susan Butler (USA) Monaviecannondale.Com                            
3 Amy Dombroski (USA) Velo Bella - Kona                               
4 Wendy Williams (USA) River City Bicycle Team                        
5 Sarah Kerlin (USA) Hrs /Rock Lobster                                
6 Emily Van Meter (USA) River City Bicycles                           
7 Rhonda Mazza (USA) Team S&M                                         
8 Dawn Anderson (Can) Everti/ Oak Bay Bikes                           
9 Sarah Stewart (Can) Total Restoratoin                               
10 Josie Jacques-Maynes (USA) Specialized/Kmc Pb Cal Giant            
12 Kathy Sherwin (USA) Velo Bella - Kona                              
13 Ann Knapp (USA) Kona                                               
14 Kristi Berg (USA) Redline Bicycles                                 
15 Ingrid Spies (USA) Recycled Cycles                                 
16 Jenni Gaertner (USA) Bob'S-Bicycles.Com                            
17 Shannon Gibson (USA) Velobella                                     
18 Jaymie Mcgowan (Can) Oak Bay Bikes                                 
19 Jadine Riley (GBr) Team Group Health                               
20 Allison Beall (USA) Vanderkitten                                   
21 Coryn Rivera (USA) Team Redline                                    
DNF Heather Gundersen (USA) Veloshop                                 

NACT Overall standings (after two races)

Elite Men

1 Tim Johnson (USA) Cyclocrossworld-Cannondale
1 Jeremy Powers (USA) Cyclocrossworld-Cannondale
3 Ryan Trebon (USA) Kona

Elite Women

1 Wendy Simms (Can) Koma
1 Sue Butler (USA) (Monavie-Cannondale)