US Gran Prix of Cyclocross - Derby City Cup - C2
Louisville, USA, October 25-26, 2008
Main Page Results Overall standings Previous Race Next Race
Race 2 - October 25: US GP of Cyclocross #1 - Elite Men
Trebon rolls in Louisville, Anthony continues comeback
By Mark Zalewski, North American Editor in Louisville, Kentucky
Ryan Trebon (Kona) celebrates
Photo ©: Trish Albert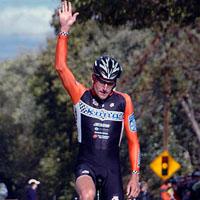 Ryan Trebon (Kona) continued his strong form in the North American cyclo-cross season by taking the opening round of the US Grand Prix series in Louisville in convincing fashion. Trebon rode away from Jesse Anthony (Jamis) in the final two laps after the two rode away from the rest of the field, with Anthony holding on for second place ahead of the field, led by Jeremy Powers (Cyclocrossworld-Cannondale.)
"I didn't have a very good start, and it narrowed down really fast," Trebon told Cyclingnews. "I was a little too far back so it took me that first lap to move up. When I got there Matt Shriver attacked and I went with him, then I had a little gap so I jumped him."
Trebon rode off the front for more than a lap, maintaining the gap behind, while Anthony dangled in between him and the main pack.
"I was just following Tim and Ryan for the first lap," said Anthony. "Then Trebon attacked early - I was a little behind, but I jumped at the right time where everyone was going to follow me or just sit up. They happened to sit-up and Ryan waited for me a little. It was a long race so I don't think he wanted to go it alone."
Indeed, the wind during the first half of the race made a solo effort less enticing for Trebon. "I had a pretty good gap but I was suffering out there in the wind by myself," said Trebon. "Jesse was at about the same pace behind me so I slowed down a little and waited for him - it was nice to have someone to work with for a few laps.
The pack behind dwindled to the two Cyclocrossworld riders in Powers and Tim Johnson, and the brothers Wells. But none of the four were able to get away to bridge up to the leading two. Helping was that Trebon and Anthony were working well together.
"I had to work with [Trebon] because he had Barry [Wicks] in the next group and I wanted the podium spot," said Anthony. "But from them on it was just damage control when he attacked me with 2.5 laps to go."
"I [attacked] with four to go but couldn't quite get the gap I wanted," Trebon said about his strategy with Anthony. "I was pretty confident I would win, but Jesse is really impressive because he is really good a just suffering -- he can put his dead down and just stay on a wheel! He is riding strong."
Jeremy Powers (Cyclocrossworld.com)
Photo ©: Mitch Clinton

But with a little more than two to go, Trebon put in another dig that snapped the elastic for Anthony. "I could tell he was slowing down, his acceleration in the turns was a little slower," said Trebon. "I started punching it out of the sand sections and got a little gap, and kept the pressure on."
The sprint for third was bobbled a bit by Jeremy Powers, who felt a little sheepish about taking the last podium spot. "My apologies to the Wells'," he said. "Just after the last run-up, Troy had come around Todd and I went around the other side to close the gap, but I caught my shifter under Troy and then Todd t-boned us! Those guys are great and I felt bad -- I would never do that to do those guys intentionally."
After tag-teaming Trebon most of the season thus far, riding in the second group was a little disappointing for Powers and Johnson. "I'm kinda fighting a bit of a head cold, so about half-way through the race I knew I was racing for third with those two off the front. I don't think Tim was feeling great either, so we'll lick our wounds and come back tomorrow."
The win for Trebon is nice, but he said he is looking ahead to something else. "I am really looking forward to getting though Boulder next week and then being home for two weeks! It's hard when you are racing six weeks in a row, looking forward to getting some training in."
For Anthony, the second place serves as a confidence booster as he returns from a broken wrist suffered in July. "I raced with no brace or tape today and it felt great. I've been taping it up and working with a physical therapist, and it didn't hurt at all."
Photography
For a thumbnail gallery of these images, click here
Images by Trish Albert/www.southeasterncycling.com
Images by Dave McElwaine/www.trailwatch.net
Images by Mitch Clinton/www.clintonphoto.com
Images by Mark Zalewski/Cyclingnews.com
Results

1 Ryan Trebon (Kona-YourKey.com)                     
2 Jesse Anthony (Team Jamis Bikes)                   
3 Jeremy Powers (Jelly Belly Pro Cycling)            
4 Troy Wells (Team Clif Bar)                         
5 Todd Wells (Team GT)                               
6 Timothy Johnson (Cyclocross Worlds.com)            
7 James Driscoll (FIORDIFRUTTA)                      
8 Matt Shriver (Jittery Joe's Pro Cycling Team)      
9 Barry Wicks (Kona)                                 
10 Andy Jacques- (California Giant Berry)            
11 Christopher Jones (Sonic/Louis Garneau)           
12 Brian Matter (Team Geargrinder)                   
13 Mark Lalonde (PLANET BIKE)                        
14 Jesse Lalonde (Planet Bike)                       
15 Adam Mcgrath (Van Dessel)                         
16 Joseph Thompson (Rocky Mountain Chocolate)        
17 Justin Lindine (TARGETRAINING/ FASTAR)            
18 Nicholas Keough (Sakonnet Technology)             
19 Braden Kappius (Clif Bar Development Cross)       
20 Mitchell Peterson (Devo)                          
21 Andrew Llewellyn (Calistoga Racing Team)          
22 William Dugan (CCB/Volkswagen)                    
23 Derrick St. John (Stevens Cross)                  
24 Ben Popper (HRS / Rock Lobster)                   
25 Ben Raby (unattached)                             
26 Grant Berry (Team Rocky Mtn Choc)                 
27 Mike Sherer (Alderfer Bergen)                     
28 Ryan Knapp (Alderfer Bergen)                      
29 Dave Hackworthy (Bianchi/Grand Performance)       
30 Mike Purvis (Barbasol)                            
31 Mitchell Kersting (Barbasol)                      
32 Richard Visinski (Exodus Road Racing)             
33 Kip Spaude (nova/IScorp)                          
34 Nathan Rice (Michelob Ultra-Big Shark)            
35 Michael Kennedy (Barbasol/Rapid Transit)          
36 Mark Batty (Team Race Pro)                        
37 William Elliston (Fuji)                           
38 Charles Totaro (Human Zoom / Pabst Blue)          
39 Joseph Schmalz (HRRC / Trek Stores)               
40 Greg Lewis (Directory Plus/ Trek)                 
41 Stephen Cummings (Indiana Regional Medical)       
42 John Grant (Texas Roadhouse Cycling)              
43 Nicholas Shaffer (Human Zoom/ Pabst Blue)         
44 Andrew Reardon (Krystal)                          
45 Nathanael Wyatt (Santa Cruz Bicycles/Carolina)    
46 Isaac Neff (Alderfer Bergen)                      
47 Scott Ogilvie (Bare Knuckle Brigade)              
48 Brendan Shafer                                    
49 Mitchell Graham (Bio Wheels Racing)               
50 Jeremy Ferguson (California Giant Berry)          
51 Scott Moro (Ohio Orthopedic-Moro Cycling)         
52 Aaron Hawkins (Chrysalis Ventures Cycling)        
53 William Street (Team Geargrinder)