European Championships Cyclo-cross - CC
Liévin, France, November 2, 2008
2007 Results Results Past winners
Kupfernagel wins thrilling race in final meters
By John Pierce
Hanka Kupfernagel (Germany) rode strongly
Photo ©: Fabrice Lambert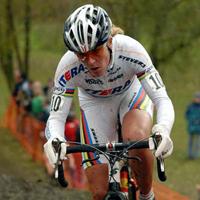 German Hanka Kupfernagel (ITERA-Stevens) won the European Cyclo-cross Championship on Sunday at Liévin. On a difficult track, she outpaced local hero Maryline Salvetat (France) by three seconds and Katerina Nash (Czech) by 13 seconds.
This year's championships took place near Roubaix uncommonly early in the season. After days of rain, the track was muddy and difficult to ride. Fortunately the weather changed to leave race day itself dry. So the conditions for racers, spectators, mechanics and material were better than the previous day and better than expected. About 3,000 spectators gathered to watch the women, who raced just after the U19 men.
"This was some hard work," said Kupfernagel, catching her breath just after finish. To win her third title after previous victories in 2003 and 2005, she had exhausted herself totally.
"This was one of my toughest races at all. There was one moment where I was about to give up, but instead I then decided to give everything," said the new European champion at the post-race press conference.
From the start, a group of five escaped together. During the race, two dropped from the fast pace. Of those left, Kupfernagel was the only one able to ride directly up a steep hill while her competitors had to dismount for part of it.
"On lap two I had a small lead here, but it was too early for a solo ride at this point, and I backed off again," said Kupfernagel who changed her bike often during the competition due to the muddy, slushy conditions.
The espoirs podium
Photo ©: Fabrice Lambert

Even a small crash on the second last lap didn't slow the World Champion down. "But it definitely cost me power to get the three seconds back since the the competition uses every small mistake to attack."
Tension rose as Kupfernagel led the last lap together with Salvetat when the German had to change her bike unexpectedly again.
"Hanka lost about 50 meters during the change - sounds like a little, but especially on difficult terrain, it is a big gap. It made the locals cheer on Maryline even more," said Mike Kluge who was, as always, urging his protege to remain calm and concentrated.
Kupfernagel caught up to Salvetat just in time and then at the right moment, launched her sprint with 300 meters to go.
"I know my strengths and used the heavy grassy stretch before finish to my benefit," the winner said. "Now I'm really happy to have won the European Championship title and to have had the nerves at such an exciting race to wait for the right moment to attack.
"The Czech cyclists were surprisingly strong today. The power of the female 'cross racers is always increase, and therefore next week will bring more exciting racing!" Kupfernagel is headed next weekend to the World Cup in Pijnacker (Netherlands).
"Of course I will not be able to win every race - but at least I can try!" she said.
Photography
For a thumbnail gallery of these images, click here
Images by Fabrice Lambert
Images by John Pierce/Photosport International
Results
Women
 
1 Hanka Kupfernagel (Germany)                 
2 Maryline Salvetat (France)              0.03
3 Katerina Nash (Czech Republic)          0.13
4 Christel Ferrier Bruneau (France)       0.22
5 Daphny Van Den Brand (Nederlands)       0.30
6 Saskia Elemans (Nederlands)             0.53
7 Pavla Havlikova (Czech Republic)        1.36
8 Helen Wyman (Great Britain)             1.45
9 Sanne Cant (Belgium)                    2.07
10 Caroline Mani (France)                 2.09
11 Sanne Van Paassen (Nederlands)         2.14
12 Pauline Ferrand Prevot (France)        2.26
13 Nadia Triquet Claude (France)          3.22
14 Veerle Ingels (Belgium)                3.51
15 Linda Van Rijen (Nederlands)           4.18
16 Gabriella Day (Great Britain)          4.23
17 Jana Kyptova (Czech Republic)          4.28
18 Veronica Alessio (Italia)              4.32
19 Daniela Bresciani (Italia)             4.35
20 Arenda Grimberg (Nederlands)           4.53
21 Francesca Cucciniello (Italia)         5.40
22 Jitka Skarnitzlova (Czech Republic)    6.53
23 Jennifer Sagesser (Switzerland)        7.43

One lap behind

24 Jana Suss (Germany)                        
25 Zuzana Vojtasova (Slovakia)                
DNF Joyce Van Der Beken (Belgium)             
DNF Stefania Vecchio (Italia)                 
DNF Lise Muller (Switzerland)                 
 
U23
 
1 Philip Walsleben (Germany)                  
2 Aurélien Duval (France)                 0.56
3 Kenneth Van Compernolle (Belgium)       1.04
4 Quentin Bertholet (Belgium)             1.14
5 Marcel Meisen (Germany)                 1.29
6 Romain Lejeune (France)                 1.38
7 Robert Gavenda (Slovakia)               1.43
8 Guillaume Perrot (France)               1.46
9 Jiri Polnicky (Czech Republic)          1.50
10 Joeri Adams (Belgium)                  1.55
11 Jim Aernouts (Belgium)                 2.07
12 Arnaud Jouffroy (France)               2.17
13 Ivar Hartogs (Nederlands)              2.32
14 Wim Leemans (Belgium)                  2.42
15 Ondrej Bambula (Czech Republic)            
16 Twan Van Den Brand (Nederlands)        2.47
17 Mitchell Huenders (Nederlands)         3.02
18 Ramon Sinkeldam (Nederlands)           3.09
19 Clément Bourgoin (France)                  
20 Marco Ponta (Italia)                   3.14
21 Kevin Eeckhout (Belgium)                   
22 Nico Brüngger (Switzerland)                
23 Cristian Cominelli (Italia)                
24 Ole Quast (Germany)                        
25 Matthieu Boulo (France)                3.30
26 Lubomir Petrus (Czech Republic)        3.39
27 Thibaud Toury (France)                 4.15
28 Valentin Scherz (Switzerland)          4.21
29 Lukas Prihoda (Czech Republic)             
30 Yannick Tiedt (Germany)                4.39
31 Alessandro Calderan (Italia)           4.50
32 Micki Van Empel (Nederlands)           5.01
33 Matthias Rupp (Switzerland)            6.04

One lap behind

34 Stephan Sprinke (Germany)                  
35 Sascha Weber (Germany)                     
36 Scott Thwaites (Great Britain)             
37 Matteo Trentin (Italia)                    
DNF Tom Meeusen (Belgium)                     
DNF Vincent Baestaens (Belgium)               
DNF Thomas Girard (France)                    
DNF Mark Thwaites (Great Britain)             
DNF Lukas Kloucek (Czech Republic)            
DNF David Menger (Czech Republic)             
DNF Mathias Flückiger (Switzerland)           
 
Juniors
 
1 Tijmen Eising (Nederlands)                  
2 Lars Van Der Haar (Nederlands)          0.11
3 Sean De Bie (Belgium)                   0.16
4 Jan Nesvadba (Czech Republic)           0.31
5 Bryan Falaschi (Italia)                 0.33
6 Pierre Garson (France)                  1.04
7 Valentin Hadoux (France)                1.11
8 Luca Braidot (Italia)                   1.21
9 Karel Hnik (Czech Republic)             1.26
10 Matthias Bossuyt (Belgium)             1.37
11 Jimmy Turgis (France)                  1.51
12 Daniele Braidot (Italia)                   
13 Radek Polnicky (Czech Republic)        2.14
14 Wietse Bosmans (Belgium)               2.19
15 Michiel Van Der Heijden (Nederlands)       
16 Emilien Barben (Switzerland)           2.43
17 Vinnie Braet (Belgium)                 2.49
18 Mike Teunissen (Nederlands)                
19 Flavien Dassonville (France)           2.59
20 Michael Boros (Czech Republic)         3.04
21 Valentijn Van De Velde (Belgium)       3.08
22 Lukas Müller (Switzerland)             3.11
23 Michele Tatto (Italia)                 3.14
24 Ritchie Denolf (Belgium)               3.20
25 Emilien Viennet (France)               3.21
26 Nicolas Genebrier (France)             3.30
27 Angelo De Clercq (Belgium)             3.41
28 Corne Van Kessel (Nederlands)          3.54
29 Anthony Grand (Switzerland)            3.58
30 Enno Quast (Germany)                   4.13
31 Zeb Veestraeten (Belgium)              4.23
32 Matej Lasak (Czech Republic)           4.31
33 Toni Bretschneider (Germany)           4.38
34 Matei Medved (Slovakia)                5.33
35 Anthony Maldonado (France)             5.43
36 Joel Peter (Switzerland)               6.10
37 Daniel Mclay (Great Britain)           6.28
38 Jannick Geisler (Germany)              6.35
39 Oliver Webster (Great Britain)         6.52
40 Thomas Lowe (Great Britain)            7.03

One lap behind

41 Christop Altenkirch (Germany)              
42 David Nichols (Great Britain)              
DNF Tomas Paprstka (Czech Republic)           


Past winners

U23 Men
 
2007 Niels Albert (Belgium)                         
2006 Niels Albert (Bel)
2005 Niels Albert (Bel)
2004 Lars Boom (Ned)
 
Women
 
2007 Daphny Van der Brand (Netherlands)   
2006 Daphny Van Den Brand (Ned)
2005 Marianne Vos (Ned)
2004 Hanka Kupfernagel (Ger)
 
Juniors 
 
2007 Lubomir Petrus (Czech Republic)               
2006 Vincent Baestaens (Bel)
2005 Robert Gavenda (Slovakia)
2004 Julien Taramarcaz (Swi)