NBX Grand Prix of Cross #2 - C2
Warwick, Rhode Island, USA, December 7-, 2008
Main Page Results Overall standings Next Race
Race 1 - December 7: Elite women
Van Gilder sweeps, Wellons crowned
By Dave McElwaine in Warwick, Rhode Island
Laura Van Gilder (C-3 Solay) wins
Photo ©: Dave McElwaine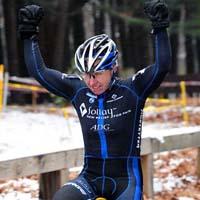 Most cyclo-cross pundits would not have picked Laura Van Gilder to win in today's snow and mud at Goddard State Park. She won even more convincingly than her victory on the fast dry course yesterday, however. And Natasha Elliot (EMD Sorono) made it two days in a row as runner up. The former collegiate 1500 metre runner handled the long beach runs easily as she again challenged Van Gilder for the top step of the podium.
Series leader Rebecca Wellons got a much better start today and went on to finish third, which also gave her the New England Championship. Having been runner-up two years in a row, this was a day that Wellons has been dreaming about. "It feels fabulous. I always had hope that I could pull it off... it's been a goal on mine for a long time," said Wellons.
Turning in another impressive effort was Sally Annis (NEBC/Cycle Loft/Devonshire Dental) to take fourth place. Anna Milkowski (Vello Bella) was fifth.
The Rhode Island weather made today's racing a major challenge. A minor storm arrived around midnight and dumped up to two inches of snow on the course. Freezing temperatures added ice to the mix and made cornering treacherous. The elite women enjoyed slightly better surface conditions than the amateur racers who preceded them, although most of the course had become tacky frozen mud by race time while the shady parts of the course remained frozen.
Natasha Elliot (EMD Sorono/Stevens)
Photo ©: Dave McElwaine

Van Gilder, an accomplished road racer admitted, "I was nervous going into today. I've never raced in conditions such as this, and it's my first cross season, so everything is new". She added that, "I decided to really attack the course and not be intimidated. A lot of people thought that I would get schooled technically today but I proved them wrong."
"I felt really strong and rode to the best of my ability... I am really pleased with the result."
Wellons, on the other hand, normally thrives in nasty conditions. "I really enjoyed the conditions today, and that gives me a boost of confidence (heading to Nationals in Kansas City).
Rebecca Wellons (Ridley) runs the beach
Photo ©: Dave McElwaine
While Wellons got the hole shot today, it was Van Gilder who emerged from the first wooded section of the course in front. By the third lap, Van Gilder had opened a 100-metre gap on Natasha Elliot, and another 150 meters back to Wellons. Sally Annis, Anna Milkowski, Cris Rothfuss (NEBC/Cycle Loft/Devonshire Dental), and Amy Wallace (Richard Sachs/RGM) trailed not far behind.
With two laps to go, Van Gilder continued to extend her lead by laying down impressive displays of power on straight-aways and the paved sections of the course. Elliot handled the snow well and took the slick corners without unclipping her pedals. Wellons appeared to be giving every ounce of effort her body could muster to beat Sally Annis, who had second place in series points.
By the finish, all the lead racers were quite well separated and crossed the line alone. For Van Gilder, this makes eight wins in her first cross season. Today's victory had to be the most satisfying as she bested much more experienced crossers in nasty New England conditions.
All of the top finishers today will head to the U.S.A. National Championships in Kansas City next weekend. Van Gilder will face U.S. National Champion Katie Compton (Spike) and rising star Georgia Gould (Luna Women's MTB). Sally Annis, along with Mo Bruno-Roy will be among the favorites to win the Women's 35+ field.
Photography
For a thumbnail gallery of these images, click here
Images by Dave McElwaine/www.trailwatch.net
Images by Paul Weiss/www.paulweiss.biz
Results

1 Laura Van Gilder (C3 Sollay)                                41.19
2 Natasha Elliott (EMD Serono/Stevens)                         0.31
3 Rebecca Wellons (Ridley Factory Team)                        0.45
4 Sally Annis (NEBC/Cycle Loft/Devonshire Dental)              1.18
5 Anna Milkowski (Velo Bella-Kona)                             1.30
6 Cris Rothfuss (NEBC/Cycle Loft/Devonshire Dental)            1.38
7 Amy Wallace (RGM WATCHES - RICHARD SACHS - BOATHOUSE INC)    1.47
8 Andrea Smith (Minuteman Road Club)                           2.06
9 Linnea Koons (International Bicycle)                         2.43
10 Crystal Anthony                                             3.07
11 Vicki Thomas (Ottawa Cross)                                 3.23
12 Anna Mcloon (Harvard University Cycling Association)        4.03
13 Callie Mcdowell (Boston University)                         4.14
14 Perri Mertens (Embrolation)                                 4.36
15 Rebecca Blatt (Team Kenda Tire)                             5.02
16 Mackenzie Dickey (Verge Sport Test Pilot)                   5.37
17 Sarah Coney (Ride with Rendall)                             5.48