Steenbergcross - C2
Erpe-Mere, Belgium, September 16, 2007
2006 Results Results Past winners
Albert clinches win in season's first cross
Third dog/puppy Albert exploits rivalry between Rabobank and Fidea teams
By Brecht Decaluwé in Erpe-Mere
Niels Albert (Palmans)
Photo ©: Brecht DecaluwÚ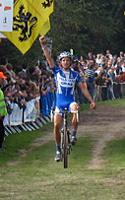 The first international cyclo-cross of the season in Erpe-Mere, Belgium was a test case for the big guns in this so-called winter sport. With warm weather and a dry course there were unusual conditions but only the riders complained about this while the large crowd enjoyed the sun (and their beers).
In a tactical race that was dominated by the two biggest cyclo-cross teams, Rabobank and Fidea, the flowers were eventually captured by Niels Albert (Palmans). The blonde youngster didn't react when Zdenek Stybar and Klaas Vantornout (Fidea) tried to make the selection, saving his energy for the final lap.
"I wanted to be riding in the top two when entering the last lap," Albert explained to Cyclingnews after the finish. "Suddenly I had a gap although I didn't really attack." Asked if he was exploiting the rivalry between Rabobank and Fidea, the 21 year-old replied: "I was riding very strong in that last lap and I guess nobody could really come back on me. I was suffering when there were some accelerations, so I guess I still have a physical deficit on the others."
"Nevertheless," he continued, "I managed to pull off a two-on-two this year [Albert also won a national race in Dudzele last week], knowing that I only won four races last year you can tell I am a happy man."
So far, it has been close but no cigar for Klaas Vantornout, just like last week in the national race at Dudzele he was confronted with a smart Niels Albert. "I tried a couple of times, just like Stybar and when he attacked I dropped a gap to make the Rabobank team work a bit," explained Vantornout of the Fidea tactics, which ultimately didn't pay off as Albert profited from the rivalry.
World champion
Photo ©: Brecht DecaluwÚ

"[Sven] Nys allowed Niels [Albert] to ride away, he was probably frustrated about our tactics," Vantornout smiled. "Anyway, I was already feeling very well before today and now I'm feeling even better. Halfway through October I should be at my best but I'm already very strong now."
By showing his strength in the season's first races, Vantornout is putting himself in the picture for new sponsors since his contract is due to end in March. "I'd like to stay where I am because there's a great atmosphere in the team," he said of his Fidea squad. "Hopefully there will be a new contract very soon."
World champion Erwin Vervecken was suffering a lot to stay in touch with the leaders today, but he overcame all that and even a crash in the second half of the race to eventually sneak onto the podium in Erpe-Mere. "I certainly wasn't the third strongest rider here but that doesn't bother nor worry me, I deliberately choose to be in form later on this year," the world champion explained to Cyclingnews.
Jonathan Page
Photo ©: Brecht DecaluwÚ

By contrast, there was little good news for the Sunweb-Projob team who were confronted with the absence of team leader Sven Vanthourenhout, bad luck and mainly an overall bad performance. Jonathan Page is clearly far away from the form that brought him to a silver medal at the world championships last year; the American rider abandoned the race shortly before the end. "It's all new this year," said Page, who was previously riding as an individual in cyclo-cross. "But I have no excuses, maybe the only excuse I have is that I didn't do everything correct."
Page went on to explain that he had been building his bike until 10:30pm the night before the race. "I'm not panicking but it felt bad. I've come from altitude and I could expect to blow up my legs," explained Page, who spent last week training in Switzerland, a tactic he hopes will pay dividends when he returns for a campaign on the US cross circuit.
How it unfolded
Sven Nys pulled off the hole-shot in Erpe-Mere ahead of Klaas Vantornout, Bart Aernouts and Bart Wellens. Meanwhile Jonathan Page started off badly, entering the course in about 15th position. During the first three laps there was no big selection made up front while at the back some riders noticed they weren't as good as expected. Among them were some Sunweb-Projob riders like David Willemsens, Page, and especially Tom Vannoppen.
The cyclo-cross peloton gets ready
Photo ©: Brecht DecaluwÚ

During the fourth lap there was a spectacular crash involving Jan Verstraeten (Sunweb) on a steep downhill ramp. Davy Commeyne couldn't avoid the bike from Verstraeten and also crashed heavily. Both riders pulled out with Verstraeten needing most treatment.
Meanwhile Vantornout launched an attack in front with Albert and Stybar following at five seconds, and world champion Vervecken and Bart Aernouts not too far back either. At that stage big guns Wellens and Nys weren't taking part in the battles and following at about 25 seconds behind Vantornout.
During the fifth lap the three men up front came together while six men were chasing them at only 15 seconds with Nys regularly spotted hammering the group along. Behind them, Dieter Vanthourenhout, Ben Berden and young Tom Meeusen were the first to drop from the front and trailing at 40 seconds, while Page and Willemsens were one minute down. Michael Muller and Oscar Vazquez were pushing each other to a decent result at 1'30 off the leaders.
During the sixth lap, nine men seemed to come together but Stybar wasn't happy and launched another Fidea attack. He quickly gained 25 seconds on Aernouts, Nys, Wellens, Vervecken and Albert. Gerben De Knegt (Rabobank) and Thijs Al (BeOne) were distanced by the accelerations and couldn't come back again.
Seven men enter the final lap,
Photo ©: Brecht DecaluwÚ

Behind the leaders, some guys were clearly suffering from the speed, and maybe the heat. By that time Page was trailing at 1'40, followed by Vazquez, while Tom Vannoppen was already 2'10 down. Stybar lost a bit of his lead as Nys went in search of the young Czech rider with Vantornout the only Fidea rider able to mark Nys.
On the eighth lap five men regrouped up front: Stybar, Nys, Vantornout, Albert and Wellens. After that group of five including Aernouts and Vervecken were fighting hard to keep the leaders in sight. Thijs Al and De Knegt were 25 seconds behind.
After the race Vervecken explained to Cyclingnews that he was on the verge of collapsing. "I couldn't follow and took too many risks, I went over the handle bars," he said. "I continued though and kept pushing hard and eventually managed to come back on the leaders."
Klaas Vantornout
Photo ©: Brecht DecaluwÚ

The reason that Vervecken came back, together with Aernouts, on the penultimate lap, was a cease-fire between the in-form men. By that time veteran Peter Van Santvliet bridged up to Jonathan Page who then probably decided he had gone through enough misery and abandoned the race.
Going into the final lap Aernouts made a slipper and lost touch while Albert powered away in front. The young Belgian held on to his small lead and finished alone before Vantornout who won the sprint before world champion Vervecken. Stybar and Wellens made sure Fidea had four riders in the top five, making up a little for the fact they couldn't win today.
Aernouts finished sixth while Nys didn't push on in the last metres and finished as last rider of the group in seventh position. Al, De Knegt and Dieter Vanthourenhout completed the top-10 in Erpe-Mere.
Photography
For a thumbnail gallery of these images, click here
Images by Brecht DecaluwÚ/Cyclingnews
Images by Stijn Vercaemer
Results

Elite men
 
1 Niels Albert (Bel) Palmans-Cras
2 Klaas Vantornout (Bel) Fidea Cycling Team        0.06
3 Erwin Vervecken (Bel) Fidea Cycling Team         0.08
4 Zdenek Stybar (Cze) Fidea Cycling Team           0.18
5 Bart Wellens (Bel) Fidea Cycling Team            0.21
6 Bart Aernouts (Bel) Rabobank Continental team
7 Sven Nys (Bel) Rabobank Continental team
8 Thijs Al (Ned) BeOne                             1.08
9 Gerben De Knegt (Ned) Rabobank
10 Dieter Vanthourenhout (Bel) Easypay
11 Ben Berden (Bel) Webking
12 Tom Meeusen (Bel) Fidea
13 David Willemsens (Bel) Sunweb-Projob
14 Peter Van Santvliet (Bel) USspa
15 Tim Van Nuffel (Bel) Easypay
16 Michael Muller (Ger) Inovex
17 Oscar Crespo Vazquez (Spa) Spol Caixanova
18 Tom Vannoppen (Bel) Sunweb-Projob
19 Stijn Huys (Bel) Palmans-Cras
20 Jerry Kallenfels (Ned) Easypay
21 Dave De Cleyn (Bel) Scott
22 David Bertram (Ger) Rig Saar
23 Raphael Dervaux (Fra)
 
Juniors
 
1 Vincent Renaux (Fra)                             
2 Witse Bosmans (Bel)                              
3 Zeb Willems (Bel)                                
4 Steven Van Leijen (Ned)                          
5 Ruben Scheire (Bel)                              
6 Robby Cobbaert (Bel)                             
7 Simon Geets (Bel)                                
8 Bert Vermeiren (Bel)                             
9 Steven Galens (Bel)                              
10 Dany Lacroix (Bel)                              
11 Thomas Gysbrechts (Bel)                         
12 Vinnie Braet (Bel)                              
13 Lennert Van Den Bleeken (Bel)                   
14 Robin Poelvoorde (Bel)                          
15 Axel Zas (Ger)                                  
16 Michael Peeters (Bel)                           
17 Arnaud Van Den Abeele (Bel)                     
18 Kenneth Marien (Bel)                            
19 Maxim Danckers (Bel)                            
20 Gert-Jan Opsomer (Bel)                          
21 Enzo Vandekerckhove (Bel)                       
22 Kristof Van Den Eynde (Bel)                     
23 Kevin Callebaut (Bel)                           
24 Andy Wagemans (Bel)                             
25 Dimi Diels (Bel)                                
26 Maxim Decrucq (Fra)                             
27 Jonas Plasschaert (Bel)                         
28 Jordan Becquet (Bel)                            
29 Kenneth Goossens (Bel)                          
30 Kim Van Renterghem (Bel)                        
 
Novices
 
1 Jens Vanderkinderen (Bel)                        
2 David Van Der Poel (Ned)                         
3 Xandro Meurisse (Bel)                            
4 Jens Adams (Bel)                                 
5 Robin Van Goethem (Bel)                          
6 Joeri Hofman (Bel)                               
7 Wannes Couwenberg (Bel)                          
8 Michael Vanthourenhout (Bel)                     
9 Jeffrey Mellemans (Bel)                          
10 Tim Deceuninck (Bel)                            
11 Kenny Bultynck (Bel)                            
12 Kris Vermeir (Bel)                              
13 Stijn Heyse (Bel)                               
14 Joshua Omez (Bel)                               
15 Jellen Schiettecatte (Bel)                      
16 Pierre-Yves Toussaint (Fra)                     
17 Gianni Bordui (Ned)                             
18 Jens Verhaegen (Ned)                            
19 Jarno Du Mongh (Ned)                            

Courtesy of cyclo-cross.info


Past winners
2006 Sven Nys (Bel) Rabobank 
2005 Bart Wellens (Bel)  
2004 Sven Nijs (Bel) Rabobank
 
Past winners by Mario Stiehl, www.world-of-cycling.com