MABRA 'Cross #1 - Charm City Cyclo-cross - NE
Baltimore, Maryland, USA, September 23, 2007
Frattini and Popovic take season-opening wins at Charm City
By Marc Vettori
Davide Frattini (Colavita/Sutter Home)
Photo ©: FJ Hughes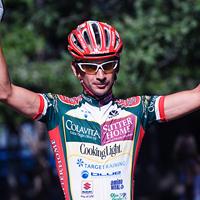 Over 412 riders from around the Mid Atlantic converged upon Druid Hill Park, nestled in the heart of Baltimore, Maryland, for the official kick-off of the MABRA Cyclocross series. The event, part of the country's fastest growing cyclo-cross series, has become the annual kick-off for the 'cross season in the region.
Hosted by Team C3-Sollay.com, the unseasonably warm temperatures marked the opening of the 2007 season. The course rolled around the beautiful grounds of Druid Hill Park, and forced riders off the bike four times per lap, twice with artificial barriers, once through a sandpit and once around a "natural barrier". Featuring tight cornering, and open power sections, it was a challenging loop designed by Chris "Sven" Nystrom and Kris Auer that benefited riders possessing strong technical skills.
In the elite women's race Carolyn Popovic riding for Team C.I.C.L.E. won a hotly contested race, carving her way through the field and taking a direct path to the top of the podium. Erica Yozellof the Fort Factory Team took second place honors as Jessica Hill of Trail's End Cycles brought home the bronze medal. C3-Sollay.com rider Lisa Vible, the defending Bikereg.com MABRA women's champion, was fourth.
Early in the race, Carolyn Popovic (Team C.I.C.L.E) leads
Photo ©: FJ Hughes

In the elite men's race, the Italian powers that are Davide Frattini and Luca Damiani of Colavita/Sutterhome presented by Cooking Light team, charged to the front with C3-Sollay.com teammates Andy Wulfkuhle and Weston Schempf in tow. A mid-race attack by Schempf was successful in splitting up the Italians. Two laps later, Frattini launched his own attack, and opened a small gap on Schempf that he was able to keep to claim the victory. Hometown hero Schempf would take the second step on the podium, followed by Damiani, and Dan Wilson riding for Monster Heath Cycling in fourth.
Greg Ferguson, Mid-Atlantic cross legend and Fort Factory rider, won the elite masters race, followed by Blair Saunders, of Henry's Bikes and Mike Yozell, also from the Fort Factory team.
The next stop on the BikeReg.com MABRA Championship series will be next week at the Ed Sander Memorial Cyclocross in Buckeystown, Maryland, on September 30, 2007.
Photography
For a thumbnail gallery of these images, click here
Images by FJ Hughes/www.FHughesPhoto.com
Images by Michael L.Kirk/www.MLKimages.com
Results
Men 1/2/3

1 Davide Frattini (Colavita/sutter home presented by Cooking light)    
2 Weston Schempf (C3-Sollay!)                                          
3 Luca Damiani (Colavita/Sutter Home presented by Cooking Light)       
4 Dan Wilson (Monstr Health Cycling)                                   
5 Bobby Lea (Toyota-United Pro Cycling Team)                           
6 Greg Ferguson (Fort Factory Team)                                    
7 Greg Wittwer (FORT Factory Team)                                     
8 Stephan Kincaid (Rite Aid Pro Cycling)                               
9 Kyle Hammaker                                                        
10 Blair Sanders (team delaware)                                       
11 Stephen Cummings (Meredith Group - GPOA)                            
12 Mark Kutney (Van Dessel Factory Team)                               
13 Andrew Wulfkuhle (C3/Sollay.com)                                    
14 Michael Yozell (Fort Factory Team)                                  
15 David Wood (Cannondale/Bike Doctor)                                 
16 Todd Hesel (Hunt Valley Bicycles/Marathon Roofing)                  
17 Dave Weaver                                                         
18 James W. Wagner                                                     
19 Randall Root (ABRT/Latitude)                                        
20 Jared Nieters (Haymarket Bicycles/World Gym)                        
 
Women 1/2/3

1 Carolyn Popovic (Team C.I.C.L.E)                                     
2 Erica Yozell (FORT Factory Team)                                     
3 Jessica Hill (TRAIL'S END CYCLING)                                   
4 Lisa Vible (C3-Sollay.com)                                           
5 Jennifer Maxwell (TEAM KENDA TIRE)                                   
6 Jennifer Bodine (Velo Bella - Kona)                                  
7 Arley Kemmerer (Human Zoom/Pabst Blue Ribbon)                        
8 Melanie Swartz (Velo Bella - Kona)                                   
9 Lynda Maldonado (C3-Sollay.com)                                      
10 Heidi Von Teitenberg (C3-Sollay.com)                                
11 Kristine Church (Human Zoom/Pabst Blue Ribbon)                      
12 Kami Tremblay (Boston Scientific Cycling)                           
13 Beth Mason (C3-Sollay.com)                                          
14 Tammy Ebersole (Evolution Racing)                                   
15 Diane Grim (C3-Sollay.com)                                          
16 Laura Hanlon (Avalon Cycles)                                        
 
Juniors U18

1 Sam Okeefe (C3-Sollay.com)                                           
2 Thomas Mackay (Family Bike Shop)                                     
3 Jake Danoff (DCMTB/City Bikes)                                       
4 Justin Mauch (NCVC)                                                  
5 Ian Schon                                                            
 
Men 3/4

1 Ethan Townsend (C3-Sollay.com)                                       
2 Eric Linder (Hunt Valley Bicycles/Marathon Roofing)                  
3 Patrick Bradley (Cape Atlantic Racing/Team Beacon)                   
4 Morgan Gerlak (C3-Sollay.com)                                        
5 Jeff Bahnson (C2S/Henry's Bikes)                                     
6 Jim Mudd (Hunt Valley Bicycles/Marathon Roofing)                     
7 Robert Campbell (NCVC/Inova Health System)                           
8 David Duke (Page Valley Cycling)                                     
9 Terry Anderson (Haymarket Bicycles)                                  
10 Steve Fife (ETS / Silver Cycles)                                    
11 Thomas Wood (Philadelphia Cyclismo)                                 
12 David Crouse (The Bike Lane)                                        
13 Tim Scesney (ETS-Silver Cycles)                                     
14 Robert Thomas (Henry's Bikes)                                       
15 Dan Conrad (Allied Milk)                                            
16 Jacob Humm                                                          
17 Trevor Shattuck (Hunt Valley Bicycles/Marathon Roofing)             
18 Andrew Mckeegan (KBS)                                               
19 Jonathan Kahler (Human Zoom/ Pabst Blue Ribbon)                     
20 Mark Russell (Independent Fabrication)                              
 
Men 4

1 Adam Driscoll (Adventures for the Cure)                              
2 Stephen Wahl (AVC/ Team Hagerstown-Washington Co)                    
3 Ian Mathias (Hunt Valley Bikes)                                      
4 Christopher King (Route 1 Velo / Capitol Hill Bikes)                 
5 Mark Broadwater (Kelly Benefit Strategies/LSV)                       
6 Chris Gurr (0)                                                       
7 Jordan Cross (Squadra Coppi/IM Saab)                                 
8 Henry Schlitzer (Whole Wheel Velo)                                   
9 Eric Chessler (Velo Club of Baltimore)                               
10 Mike King (Rowlett's/Design Physics)                                
11 William Cusmano (Squadra Coppi/IM Saab)                             
12 Benjamin Stephens (Carnegie Mellon University)                      
13 Carey Jackson Yonce (0)                                             
14 Ed Kallatch (Bayside Velo/ Bike Doctor)                             
15 Kevin Dillard (Velocity Photo Racing/C3)                            
16 Evan Robinson (TRM Cycles)                                          
17 Todd Gue (dhbd /bicycle place velo)                                 
18 Ronald Barry (All American Bicycle Club)                            
19 Josh Feazell (0)                                                    
20 Timothy Paul (0)                                                    
 
Women 3/4

1 Elizabeth Harlow (Hunt Valley Bicycles/Marathon Roofing)             
2 Nikki Thiemann (Human Zoom Pabst Blue Ribbon)                        
3 Terri Spanogle (NCVC/Inova Health System)                            
4 Christina Briseno (Route 1 Velo/Capitol Hill Bikes)                  
5 Kristina Adams                                                       
6 Cynthia Anderson (AMVC/DND Inc.)                                     
7 Karen Tourian (Guy's Racing)                                         
8 Jean Colsant (Squadra Coppi)                                         
9 Diane Vettori (C3- Sollay.com)                                       
10 Doron Peterson (NCVC/Inova Health System)                           
11 Jennifer Pitt (Hunt Valley Bicycles/Marathon Roofing)               
12 Laurie Johnston                                                     
13 Mary Zadnik Newell (Hunt Valley Bicycles/Marathon Roofing)          
14 Tracy Lea (Team FUJI)                                               
15 Anne Rock (Sturdy Girl Cycling)                                     
16 Laura Jones (YBR)                                                   
17 Tris Newbury (DCMTB/CityBikes)                                      
18 Christie Finney (The Children in the Shoe)                          
19 Kathleen Wulfkuhle (C3-Sollay.com)                                  
20 Chauncey Monte-Sano                                                 
 
Men 35+/45+, Cat 3/4

1 Marc Vettori (C3 - Sollay.com)                                       
2 Bernard Mcdonald (C3-Sollay.com)                                     
3 Chris Nystrom (C3-Sollay.com)                                        
4 Jeff Cordisco (C3-Sollay.com)                                        
5 Roger Masse (All American Bicycle Club)                              
6 Ron Huebner (Potomac Velo Club)                                      
7 Mark Featherman (Guys)                                               
8 David Lowe (Human Zoom/Pabst Blue Ribbon)                            
9 Charles Chichester                                                   
10 Douglass Gray (Christiana Care PT+/FSVS)                            
11 Matt Michel (NCVC / Inova Health System)                            
12 Michael Kolb (Chrsitiana Car PT+ / FSVS)                            
13 Larry Kaufman (Van Dessel Factory Team)                             
14 Scott Thompson (Squadra Coppi/IM Saab)                              
15 Mike Czupryna (Christiana Care PT+/FSVS)                            
16 David Blodgett (AABC)                                               
17 Steven Dontigny (Team Bike Lane)                                    
18 Jeff Anderson (HPC/List)                                            
19 George Schulz (Evolution Cycling/ Team DLS)                         
20 James Revere (Team Cobblestone)                                     
 
Men 35+

1 Fred Wittwer (Charlottesville Racing Club)                           
2 Leo Pizzini (Henry's Bikes)                                          
3 Rob Lea (Team FUJI)                                                  
4 Nunzio Dibiasi (Yellow Breeches Racing)                              
5 James Carlson (Potomac Velo Club)                                    
6 R. Michael Williams (Wilmington Velocity)                            
7 James Wagner (Clean Currents p/b Don Beyer Volvo)                    
8 Larry Dell (Antietam Velo)                                           
 
Juniors U16

1 Steven Kendall (NCVC/INOVA Health System)                            
2 Justin Mauch (NCVC/Inova Health System)                              
3 Josh Starr (Yellow Breeches Racing)                                  
4 Marc Frazer                                                          
5 Ethan Revere (Team Cobblestone)                                      
6 Dustin Tucker                                                        
7 Jake Thompson (Squadra Coppi/IM Saab)                                
8 Zeke Rogers (Clean Currents p/b Don Beyer Volvo)                     
9 Alicia Styer (Velo Bella - Kona)                                     
10 Wyatt Saint Clair (Main Line Cycling - BiKyle)