Thrilla Cyclo-Cross Series Finale - NE
Bend, Oregon, USA, October 4, 2007
Bend's Local Thrilla 'cross series wraps up with big names and fast racing
By Henry Abel of WebCyclery.com in Bend, Oregon
Adam Craig leads the chase group with Tim Jones, Carl Decker, and Carson Miller in tow.
Photo ©: Derek Faller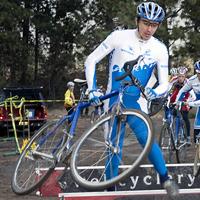 For the last three years The Shops At The Old Mill in Bend, Oregon, have played host to WebCyclery's Thrilla In The Milla Cyclo-cross Series. The weekly Thursday night race put on by the shop and members of its team brings out locals for some early season 'cross racing - a good tune-up for those who went to get their 'cross legs before making the long drives over to the Valley for the big races. A course used in previous years was no longer available so organizers moved to a new venue at The Center for the race's fourth year.
In a town where athletes and sporting events are many, the Thrilla has been a welcome addition to the 'cross scene. After all, the majority of the big, weekend cyclo-cross races are held over 100 miles away in Portland and Eugene. And with all of the pro cyclists, both competing and retired, that make Bend their home - there are some big names that have shown up for our race over the last four years. WebCyclery's Todd Gorman was proud to point out that "lots of our hometown pros have used the Thrilla as a good workout when it falls into their schedule." Past Thrilla racers have included Steve Larson, Bart Bowen, Ryan Trebon, Adam Craig, Carl Decker, and Chris Sheppard.
Racing begins
Chris Sheppard
Photo ©: Derek Faller

For the first two weeks of racing, the Men's A Race was won by Damien Schmitt (Sunnyside Sports) who was only bumped off of the top step of the podium when, much to our delight, Ryan Trebon (Team Kona) decided to formally announce his move to Bend by coming out and showing the locals why he's got stars and stripes on his new skinsuits.
The first three weeks of the women's race were dominated by Patty Buerkle (WebCyclery.com) who had been consistently riding away from the group each week. Patty was a no show at the fourth race which had the crowd looking for a new favorite.
Thursday's final Thrilla round was special in that, for the first time, several of the pros in town all came out at once. The Men's A Race had Adam Craig and Carl Decker of Team Giant, and Aaron Olson of T-Mobile (who told me that he, too, had just moved to Bend) lined up next to Bart Bowen (Rebound SPL), Chris Sheppard (Vanilla Urban Threads) and local singlespeed hero Tim "Fonzie" Jones (WebCyclery.com).
And while the first three races of the series were met with sunny and dry conditions, the fourth race was held in true cross-like conditions. The cold and rain throughout the week eased up (well, at least the rain did) just in time for the race to start. Despite the wet weather, WebCyclery still had the weekly watering truck on hand and added another 4,000 gallons of moisture to the (normally dry and dusty) course. With some man-made puddles on the course, darkening skies, and race time temps in the low 40s (degrees Fahrenheit) it was the perfect finale for the series.
Aaron Olson's To Do List: Finish The Giro (check!),
Photo ©: Derek Faller

Ryan Trebon was at the start line, but much to the crowd's disappointment he was donning a parka and jeans instead of his Championship Kona Jersey. He defended himself by saying that "I'm flying out in the morning, and packing up a dirty race bike late at night doesn't really sound like fun. Plus, it's pretty cold!"
The Men's A Race got off to an entertaining start when Carl Decker, who was starting from the back, took off running with his bike past the leaders while they were clipping in and mashing gears to get up to speed. Decker's secret plan looked like a good move. Only problem was that by the time Decker got to the front and jumped on his bike he was moving four miles per hour while the rest of the field was going 15, so it didn't stick. All Decker's years of running in college almost paid off.
As an after work race, time is short, so the fun of the Thrilla is that all four fields start within two minutes of each other. The start order is Men's A, followed by Men's B, Masters, and then the Women. The finale round was 35 minutes plus three laps - the shorter time of the fourth race was mandated by the usual 6:00 pm start time and the days getting shorter. With the reduced race times and top heavy field, nobody was surprised to see the beginning of what had immediately become a super-fast race.
On the first lap, the tightly packed fields rubbed elbows as they tried to sort themselves out during the tight and technical course. Sheppard quickly moved off the front where the field seemed content to let him stay for the first half of the race.
Adam Craig
Photo ©: Derek Faller

Schmitt held is own near the front of the pro-studded field, but easily stayed ahead of Olson who later confessed that, despite his impressive pink kit, 'cross racing was something new for him.
Craig, Decker, and Tim Jones took up the lead chase group. Somewhere around lap seven, Craig decided that it was his turn to give the crowd the show they were hoping for. By the time lap nine was completed, he had worked his way up to and overtaken Sheppard with his lead eventually growing to 20 seconds.
Jones, who had moved his single speed up to fourth place, was looking like he was really hurting to try and match the pace of Decker. And Decker was smiling way too much for somebody that was riding that fast.
Jones would say afterwards that "with about three laps to go, I was so ready to puke. Carl (Decker) had a good crash and I got past him while he was down. I think he kind of sat up after that and I was able to hold onto third."
Decker later described his crash as "me overtaking a few lapped riders on the sidewalk and then hauling it onto the singletrack. While I was aiming for the berm my front wheel kind of duffed into some soft stuff and down I went. A few other riders went down too. I didn't take them out, so much as they kind of saw that I was going flying and they decided to flee!"
Sheppard worked hard to try and keep Craig in his sights, but Craig had the race in hand and in the final laps delighted his home crowd by bunny hopping the double barriers in case any of us were wondering if it could really be done. Craig skipped his customary victory wheelie and instead simply motored across the line. For his efforts, Craig took home a congratulatory handshake (actually about 50 handshakes) and a six-pack courtesy of Cascade Lakes Brewing Company right across the street from the course.
Sheppard rolled in with his second place finish and Jones finished third proving that mustache bars aren't just for commuter bikes. After racing three of the four series events, he said,. "I haven't raced in two years and it feels great to be here, and I love racing my bike. This race is awesome!"
The women's race was invigorated by the absence of a clear favorite and was ultimately won by Joanne Stevens (Sunnyside Sports) who was just fast enough to beat a hard-charging Stephanie Uetrecht (WebCyclery.com) and Karen Kenlan (Sunnyside Sports). This being the last of the four races, Wade Beauchamp of Vulture Cycles continued his Thrilla tradition of welding up some killer trophies for the overall series winners. Created from a mix of scrap metal and bike parts, and using healthy amounts of 1" Prestige head tube stock, his creations were given to each of the overall series winners.
Supporters of the race are hoping the new venue doesn't have an orthopedic center built on it a year from now.
Photography
For a thumbnail gallery of these images, click here
Images by Derek Faller
Results
Men A
 
1 Adam Craig (Giant)                                      
2 Chris Sheppard (Vanilla Urban Threads)                  
3 Tim Jones (WebCyclery.com)                              
4 Ben Thompson (Bend Elite)                               
5 Carson Miller (Fred Meyer Cycling Team/NW Adventure)    
6 Damian Schmitt (Sunnyside Sports)                       
7 Brandon Groza (Therapeutic Assoc.)                      
8 Carl Decker (Giant)                                     
9 Timmy Evans (Rebound)                                   
10 John Hansen (Sunnyside Sports/Organic Athlete)         
11 Derek Stallings (Therapeutic Assoc.)                   
12 Aaron Olson (Telekom)                                  
13 Eric Martin (Guiness)                                  
14 Mike Schindler (Sunnyside Sports)                      
15 John Rollert (WebCyclery.com)                          
16 Michael Nyberg                                        
17 Mike Olson (WebCyclery.com)                            
18 Bart Bowen (Rebound SPL)         

Women
 
1 Joanne Stevens (Sunnyside Sports)                       
2 Stephanie Uetrecht (WebCyclery.com)                     
3 Nicole Strong                                          
4 Karen Kenlan (Sunnyside Sports)                         
5 Tracey Walker (Hutch's Bend)                            
6 Megan Haase                                            
7 Lea Julson (Bend Bike and Sport)                        
 
Men B
 
1 Weston Fitzsimmons (Fred Meyer Cycling Team)            
2 Eric Nelson                                            
3 Lance Waltjen                                         
4 Chad Lowe (Guiness)                                     
5 Michael Dennis                                         
6 Chris Maley (Hutch's Bend)                              
7 Brian Nelson                                           
8 Doug LaPlala                                           
9 Keyth Beck                                             
10 Kevin Sivertson (Therapeutic Assoc.)                   
11 Robin DeClerk (Team Rob)                               
12 Byron Roe (Therapeutic Assoc.)                         
13 Mark Miskowiec (Collins Cycle Shop)                    
14 Aaron Walton                                       
15 Cameron Coker                                         
16 Alex Reightley (Veloce/Felt)                           
17 Nick Rice (WebCyclery.com)                             
18 Andrew Titmus                                         
19 Jonathon Strandberg)                                   
20 Jake Ruhl                                            
21 Keyth Beck                                          
22 Brian Jorgensen                                       
23 Jake Ruhl                                             
 
Men 40+
 
1 Jim Juenger (Sunnyside Sports)                          
2 Jeff Kleihauer (WebCyclery.com)                         
3 Mike Albright (Redline)                                 
4 Matt Engel (WebCyclery.com)                             
5 David Baker (Sunnyside Sports)                          
6 Art Schwadron                                          
7 Walter McKnight                                        
8 Matthew Lasala (Bend Bike 'n Sport)                     
9 Mike Mara                                             
10 Mark Reinecke (Bend Bike and Sport)                    
11 Amory Cheney                                          
12 Dan Davis (Sierra Express)                             
13 Dave Fahrner (WebCyclery.com)                          
14 Allen Lucas (BBNS)                                     
15 Alan Commet                                           
16 Karl Jackson (Sunnyside Sports)                        
17 Keith Cloudes                                         
18 Tracy Smith (Half Fast Velo)                            

Series Winners

Men's A

1 Damian Schmitt (Sunnyside Sports)

Women

1 Patty Buerkle (WebCyclery.com)    

Men's B 

1 Eric Nelson

Men's 40+ 

1 Jim Juenger (Sunnyside Sports)