Iowa State Championships- NE
Iowa, USA, October 28, 2007
Iowa crowns state champions
John Olney (Mercy Specialized)
Photo ©: Stevie Fry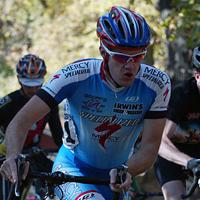 Despite being the same week that the Maytag Corporation closed forever in Newton, Iowa, it turned out to be a fantastic day for the race, with nice large fields and exciting racing. After six years of race promotion in the community, the promoters created the perfect course including a grueling run-up, long s-curves and a roller-coaster downhill - uphill combination.
The race for the category fours was exciting, with William Huntsberger (DICE), Michael Edwards (Two Bee), and Chad Bishop each trading blows throughout the race. Edwards would lead a lap or two, then Huntsberger would storm to the front. Then Bishop would make an appearance at the front only to then be brought back by Huntsberger and Edwards. In the end, Huntsberger would come out victorious by five seconds over Edwards and nine seconds over Bishop.
Women's racing was dominated by Robin Williams (Mercy / Specialized), the current leader of the Iowa Cyclo-cross Championship Series, taking the gold over team-mate Jane Riessen (Mercy / Specialized) and Tammy Meehan (Kenda).
Brian Eppen (Mercy / Specialized) took the lead early and never looked back, gradually building up a lead to finish over two minutes up on second place John Olney (John Olney). There was some suspense, however as Olney and Sean Walker (ATLAS) would fight it out for second and third places. Andy Lueck (Rasmussens) earned the gold in the category three race.
The Iowa State Cyclo-cross Championship is part of an annual fundraiser for the Crohn's and Colitis Foundation of America, Iowa Chapter. The racers have raised over US$5,000 since 2001.
Report courtesy of Marc Hollander
Photography
For a thumbnail gallery of these images, click here
Images by Stevie Fry
Results

 
Women Open 

1 Robin Goforth (ICCC)                       54.56

One lap down
2 Jane Riessen (ICCC)                             
3 Tammy Meehan (Team Kenda Tire)                  
4 Sandy Kessler (Team Skin)                       
5 Darcy Sanford (Team Skin)                       
6 Kathleen Porter (BikeTech Racing)               
7 Andrea Venteicher (Atlas/Core Cycling)          
8 Brittany McConnell (ICCC)                       

Two laps down
9 Kelli Mente (Punk Rock)                         
10 Deb Wood (Team Kenda Tire)                     
11 Emily Schaapveld (Punk Rock)                   

DNF Lindsay Wetzel (Team Kenda Tire)   

Men Cat 1/2/3 

1 Brian Eppen (ICCC)                       1.03.08
2 John Olney (ICCC)                           2.22
3 Sean Walker (Atlas/Core Cycling)            2.34
4 Andy Lueck (Rasmussen)                      3.32
5 Bryan Moritz (DICE)                         4.06
6 Jay Chesterman (Powerade/IF)                4.36

One lap down
7 Kyle Sedore (ICCC)                              
8 Rob Versteegh (Team 14)                         
9 Thaddeus Neil (Team 14)                         
10 Matt Gumm (All9Yards.com)                      

Two laps down
11 Marc Hollander (All9Yards.com)                 

Three laps down
12 Taylor Webb (ICCC)                             

DNF Chris Maharry (Team 14)                        
 
Men Cat 4 

1 William Huntsberger (DICE)                 49.25
2 Michael Edwards (Two Bee Racing)            0.05
3 Chad Bishop (Melon City)                    0.09
4 Kevin McConnell (ICCC)                      0.26
5 Steve Bullerman (BikeTech Racing)           0.42
6 Gary McNabb (Two Bee Racing)                1.17
7 Jason Halfpad                               1.30
8 Carl Buchanan                               1.40
9 John Peter                                  1.59
10 Mike Morrison                              2.06
11 Tyree Williams (Melon City)                2.42
12 Bryan Abbot                                    
13 Ryan Hill (UofI Cycling)                   3.07
14 Norbert Koenigsfeld (BikeTech Racing)      3.09
15 Steve Robinson (All9Yards.com)             3.15
16 Bruce Reese (ICCC)                         3.26
17 Kyle Williams (ICCC)                       4.30
18 Reed Renderknecht (All9Yards.com)          5.21
19 Ken Peterson (Powerade/IF)                 5.44
20 Jeff Abel (DICE)                           5.50

One lap down
21 Jason Plunkett (Rasmussen)                     
22 Mike Johnson (BikeTech Racing)                 
23 Jeff Corcoran (Team Skin)                      
24 Keith Snoop                                    
25 Eric Dalmberg                                  
26 Scott Sumpter (BikeIowa)                       
27 Evan Olson                                     
28 Paul Varnum (Team 14)                          
29 Randy Catron (DMOS)                            
30 Eric Follmuth (Powerade/IF)                    
31 Mike Clark (World of Bikes)                    
32 Jesse Gerlits (DMOS)                           
33 Scott Robinson (All9Yards.com)                 
34 Tobin Bennett                                  

Three laps down
35 Randle Boyd                                    

DNF Jeff Dullard (Team Skin)      

Juniors 

1 Sam McElmeel (SugarBottom)                 53.07                        
 
Masters Men 30+ 

1 Lee Venteicher (All9Yards.com)           1.04.13
2 Chad Vandelune (All9Yards.com)              0.22
3 Tracy Thompson (Atlas/Core Cycling)         0.37
4 Greg Aronson (DICE)                         2.34

One lap down
5 Steve Bullerman (BikeTech Racing)               
6 Carl Buchanan                                   
7 Matt Scotton                                    

Two laps down
8 Mike Johnson (BikeTech Racing)                  
 
Masters Men 40+ 

1 Dominic Moraniec (Atlas/Core Cycling)    1.07.48
2 Cully Todd (Team Skin)                      0.09

One lap down
3 John Meehan (Priority Health)                   
4 Bruce Grell (DICE)                              
5 Jeff Barnes (ICCC)                              
6 Chris Eastburn (HBA)                            
7 Larry Kinter (Midwest Cycling)                  

Two laps down
8 Brad Patty                                      
9 Sean Myers (Team 14)                            
 
Masters MEn 50+ 
              
1 James Hopson (ICCC)                      1.04.03
2 John Adamson (BikeTech Racing)              0.15
3 Phil Curran (DICE)                          2.04

One lap down
4 Gerry Voelliger (DICE)                          

Two laps down
5 Kim West (All9Yards.com)                        
6 Kathleen Porter (BikeTech Racing)               
7 Richard Gilmore (BikeTech Racing)