Granogue Cross - C1
Wilmington, USA, October 20, 2007
Johnson ready for European season
By Kirsten Robbins in Granogue, Delaware
Tim Johnson (Cannondale / Leer / Cyclocrossworld)
Photo ©: Todd Leister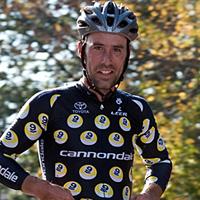 The first American to stand on the podium at the cyclo-cross world championships, former U23 medallist Tim Johnson (Canondale/Leer/Cyclocrossworld), opened up a canyon between himself and his team-mate Jeremy Powers and Barry Wicks (Kona) to claim a solo victory. The Granogue event was one of the most challenging cyclo-cross circuits on the North American UCI calendar.
"When I attacked I wanted keep things hard because I thought we were kind of settling down a little bit," said Johnson, while watching his team-mate Powers ride in for second place. "It looked like both Barry and Jeremy were comfortable so I attacked just to see what would happen."
The usual suspects sped through the first 2.9-kilometre circuit, but when they came out of the woodworks at the end of the lap, the race was on between six riders Johnson, Powers, Wicks, Chris Jones (Nerac), Jesse Anthony (Jamis) and Matt White (Fiordifrutta). Wicks tested his legs on the first lap, opening up a small gap on his four competitors but realised his legs weren't up for the challenge when Powers reeled him in just a few minutes later.
Johnson attacked on the third lap when he felt a lull in the group, forcing Wicks to rise to the challenge. Second placed Powers noted that though he and Johnson may have played a little tag team against Wicks, he seemed to be having a bad day and normally would have been able to respond to the tactics.
Jeremy Powers (Cyclocrossworld) stays wide
Photo ©: Todd Leister

"I attacked a couple of laps in," said Powers. "Once we regrouped it was just Tim, Chris and Barry and I did another lap on the front before Tim attacked. It's great that we ride under the same banner so I didn't have to chase, leaving a lot of the work to Barry. I don't think Barry was riding like his normal self today because he probably would have closed that gap."
With Johnson long gone on his way to victory and Jones slightly off the back, Powers took the opportunity to gain a sizeable lead on Wick's with three laps to go. "To Barry's defense, I attacked him on the backside of the course right after he did a bunch of work to try to bring Johnson back and I was able to extend it by riding smooth to the finish," added Powers.
Wicks, from Santa Cruz, California, noted that Johnson and Powers had fantastic races and that his performance may have struggled due to his travel schedule in recent weeks. "I think Tim was really motivated after last weekend and all his bad luck," said Wicks. "I just didn't feel that great today, probably the worst I've felt all year and I just didn't have it.
"There's a lot of climbing on this course and so you can't fake it out here," he added. "I tried not to panic when Tim attacked and just rode tempo to hopefully reel him in, try to recover a little bit, but I was pretty gassed after covering attacks. I think the five trips home in the last three weeks have been really hard on me."
Barry Wicks (Kona/YourKey) long legs
Photo ©: Todd Leister

Both Johnson and Powers experienced the brutal reality of cyclo-cross mishaps in last weekend's UCI Gran Prix of Gloucester, where they were set back due to multiple crashes and flat tyres. It was a round of bad luck that Johnson credits to his Granogue win.
"I've got to thank the weekend of Gloucester for all the bad luck it gave me because it showed me that I can ride hard for an hour and up until then I wasn't confident that I could do that anymore," said Johnson. "I had a slow start to the season and was feeling a bit of the leftovers from the road. But now it feels good to be back. Jeremy has been riding great all season too and always in the front five of the race. I think when we are off to Europe it will be the two of us having good rides"
Danish national champion Joachim Parbo (CCV Protek) made another appearance in a North American UCI race, while on a two-month quest for points before returning to the European circuit in December. Parbo noted that the Granogue 'cross course reminded him of the old-school style of 'cross racing with a lot of climbing and difficult terrain to contend with. "There are two reasons that I'm here racing cyclo-cross in the USA," Parbo noted. "I like to come over here and race in a great atmosphere where everyone is really friendly and willing to talk to one another. There are no posh reactions toward one another, as riders. And the second reason is to get some extra points."
Barholt wins from early lead
The elite women get underway with Kerry Barnholt
Photo ©: Todd Leister

Mountain bike sensation Kerry Barnholt (Tokyo Joes/VanDessel) took the early lead in the women's race and held off a chasing Rebecca Wellons (Ridley Factory Team) and Megan Monroe (BMC-Sports Garage) to claim victory. "This course really suits my riding style," said Barnholt, a 2007 US World Championships team member. "It was a super fun course. Even though I normally mountain bike, I did a few 'cross races last year and really liked it."
Anna Milkowski (Velo Bella) started the 40-minute race in the lead, setting the pace that Barholt took over by the end of the first lap. "Today was a very challenging and technical course which I like and I felt like I had an advantage in those tight cornering spots," said Barnholt.
Barnholt used her strong technical skills to open up a gap on the fast descent after the climb up to the clock tower. Her gap continued to grow until it was too big to close.
Without a competitor in-sight, Kerry Barnholt (Tokyo Joes/Van Dessel)
Photo ©: Todd Leister

With Barnholt off the front the race for second was on between Wellons, Monroe, Milkowski and Maureen Bruno-Roy (Independent Fabrications). Milkowski held onto a significant gap which resulted from chasing Barnholt, but was taken over by Wellons with three laps remaining. Wellons noted that a rough start cost her time while her persistence allowed her to close in for second place.
"I made the mistake of soft-pedaling through a couple of corners where I shouldn't have and a gap opened," said Wellons. "Anna rode awesome the first couple of laps, she was flying but I think I started to bring myself back over the barriers and on the remount after the run up, using my strengths in those spots. I slowly started reeling in Anna and unfortunately she had an accident that set her back.
"This course has a lot of elevation change, more than any other course we ride," added Wellons. "The climbs take a lot out of you and there are only a couple of spots to rest. You have to jump in and out of every corner."
Monroe won a two up sprint for third place against Bruno Roy, admitting that she may have had a slight advantage. "I had a rough start so I tried to keep jumping from group to group to catch back up," said Monroe. "I saw that there was no one between Rebecca and me and Maureen and no one close behind us either. The climbs really favored Maureen and the flat sections were better suited to me so I think I had a slight advantage over her on the flat, paved finish."
Photography
For a thumbnail gallery of these images, click here
Images by Todd Leister/www.leisterimages.com
Images by Fj Hughes/www.fhughesphoto.com
Results

Elite Men

1 Tim Johnson (Cannondale/Leer/CXworld.com)                              58.22
2 Jeremy Powers (cyclocrossworld.com)                                     0.55
3 Barry Wicks (KORA YOUR-KEY.COM)                                         1.40
4 Christopher Jones (Nerac Pro Cycling)                                   1.56
5 Jesse Anthony (Jamis)                                                   2.14
6 Joachim Parbo (CCV Protek)                                              2.56
7 Troy Wells (Team CLIF BAR Cyclocross)                                   2.58
8 Jamey Driscoll (Fiordifrutta)                                           2.59
9 Jon Hambler (RGM)                                                       3.18
10 Danny Summerhill (CLIF Bar)                                            3.33
11 Michael Gallagher (U S Armed Forces)                                   3.56
12 Ryan Leech (GPOA-Cannondale)                                           3.59
13 Matt White (FiordiFrutta)                                              4.25
14 Adam Myerson (Nerac Pro Cycling)                                       4.30
15 Davide Frattini (Colavita/Sutter Home p.b. Cooking light)              4.31
16 Weston Schempf (C3-Sollay.com)                                         4.37
17 Justin Spinelli (RGM Watches- Richard Sachs)                           4.53
18 tyler Wren (Colavita/sutter home p.b. Cooking light)                   5.41
19 Adam McGrath (Team Maxxis)                                             5.58
20 Daniel Neyens (Hagens-Berman Cycling Team)                             6.05
21 Greg Wittwer (FORT Factory Team)                                       6.37
22 Ryan Dewald (RIDE AID)                                                 6.47
23 Toby Marzot (Fiordifrutta)                                                 
24 Peter Rubijono (Cambridge bike/Igleheart frames)                       6.50
25 Michael Yozell (FORT Factory Team)                                     7.16
26 Matt Kraus (RGM Watches - Richard Sachs)                               7.33
27 Stephen Cummings (Meredith group GPOA Cannondale)                      8.03
28 Stephan Kincaid (Rite Aid Pro Cycling)                                 8.23

One lap down
29 Ward Solar (Test Pilot/Verge Sport)                                        
30 Bobby Lea (Toyota-United Pro Cycling Team)                                 
31 Kyle Hammaker (Cadence/kuota bikes)                                        
32 John Minturn (Meredith Group - GPOA)                                       
33 Aaron Oakes (Van Dessel)                                                   
35 Joseph Reynolds (Wissahickon/Theusweare)                                   
36 Joseph Ruggery (Freddie Fu Cycling Team)                                   
37 Chad Totaro (Human Zoom / Pabst Blue Ribbon)                               
38 Nicholas Shaffer (Human Zoom/ Pabst Blue Ribbon)                           
39 Gregory Lindstrom (Hunt Valley Bicycles/Marathon Roofing)                  
40 Christian Favata (Verge Test Pilot)                                        
41 Albert Pedemonte (kissena cycling club)                                    
42 Adam Szczepanski (Wissahickon)                                             
43 Todd Hesel (Hunt Valley Bicycles / Marathon Roofing)                       
44 Molly Cameron (Vanilla bicycles-Stumptown coffee)                          
45 Matt Shriver (Jittery Joe's/Sonic Cyclocross)                              
DNF Tyler Johnson (Alan North American Cycling)                               
DNF Chris Mcgill (FORT Factory Team)                                          
DNF Jacob Fetty (Myogenesis)                                                  
DNF Steve Tillford (KCCX/Verge/Erickson)                                      
DNF Brian Hanes (rgm)                                                         
DNS Dan Wilson (Monstr Health Cycling)                                        
DNS Chris Newell (Hunt Valley Bicycles/Marathon Roofing)                      
DNS Andrew Wulfkuhle (C3/Sollay.com)                                          
 
Elite women

1 Kerry Barnholt (Tokyo Joes / VanDessel)                                37.42
2 Rebecca Wellons (Ridley Factory Team)                                   1.00
3 Megan Monroe (BMC-Sports Garage)                                        1.15
4 Maureen Bruno Roy (IF/Wheelworks/SRAM presented by General Catalyst)    1.16
5 Melanie Swartz (Velo Bella - Kona)                                      1.27
6 Megan Elliott (unattached)                                              1.45
7 Catherine Walberg (Team Kenda Tire)                                     1.51
8 Carolyn Popovic (Team CICLE)                                            2.04
9 Erica Yozell (Fort Factory Team)                                        2.17
10 Marci Titus Hall (DeSalvo Custom Cycles)                               2.32
11 Anna Milkowski (Velo Bella-Kona)                                       2.43
12 Betsy Shogren (Fort Factory Team)                                      2.49
13 Jennifer Maxwell (Team Kenda Tire)                                     3.34
14 Kristen Kelsey (Evolution Racing)                                          
15 Lisa Vible (C3-Sollay.com)                                             4.22
16 Brenda Bahnson (Independent Fabrication)                               4.34
17 Amy Breyla (Fort Factory Team)                                         4.41
18 Amy Wallace (RGM Watches - Richard Sachs)                              4.54
19 Megan Bilodeau (Hup United)                                            5.02
20 Jennifer Bodine (Velo Bella/Kona)                                      5.15
21 Keristine Chruch (Human Zoom/Pabst Blue Ribbon)                            
22 Diane Grim (C3-Sollay.com)                                             5.43
23 Heidi Von Teitenberg (C3-Sollay.com)                                   6.00
24 Arley Kemmerer (Human Zoom/Pabst Blue Ribbon)                          6.12
25 Jessica Hill (Trail End Cycling)                                       6.19
26 Cecelia Pleva (CRCA/Radical Media)                                     6.20
27 Tammy Ebersole (Evolution Racing)                                      7.07
28 Jessica Singerman (Wissahickon/Twin 6)                                 7.24
DNF Rebecca Much                                                              
DNF Lynda Maldonado (C3-Sollay.com)                                           
 
Elite masters

1 Roger Aspholm (Westwood Velo)                                          42.24
2 Todd Cassan (Westwood Velo)                                             0.44
3 Blair Saunders (Henry's)                                                0.51
4 Troy Kimball (Westwood Velo)                                            0.53
5 Kristopher Auer (C3-Sollay.Com)                                         0.59
6 Mike Hebe (GPOA-Cannondale)                                             1.33
7 Glenn Turner (Human Zoom / Pabst Blue Ribbon)                           1.41
8 Gunnar Shogren (Fort Factory Team)                                      1.50
9 Gerry Pflug (Freddie Fu Cycling Team)                                       
10 Christopher Long (Independent Fabrication/Gotham)                      1.52
11 Ralf Warmuth (Westwood Velo)                                           1.58
12 Brian Wieczorek (Freddie Fu Cycling Team)                                  
13 Ransom Weaver (Guys Racing)                                            2.30
14 Kirk Reisinger (Wissahickon)                                           2.32
15 Matthew Howard (GS Gotham)                                             2.35
16 Brant Hornberger (BikeReg.com)                                         2.46
17 John Verheul (BikeReg.com)                                             3.02
18 Andy Gorski (NetApp - Viner p/b kinetic-koffee.com)                        
19 Joseph Piccillo (Evolution Racing)                                         
20 Sean Kelsey (Evolution Racing)                                         3.17
21 Dave Weaver                                                            3.19
22 Sean Mealey (HVB/Marathon Roofing)                                     3.20
23 Marc Gwadz (DCMTB/City Bikes)                                          3.41
24 Kevin Saint Clair (Main Line Cycling - Bikyle)                         3.58
25 Martin Jones (Team Somerset / Van Dessel / Bike King)                  4.04
26 Judd Milne (Squadra Coppi/IM Saab)                                     4.20
27 Michael Kolb (Christiana Car PT+ / FSVS)                               4.23
28 Bernie Shiao (Kelly Benefit Strategies/LSV Amateur Cycling)            4.29
29 Charles Mcdaniel (Secret Henry's Team)                                 4.36
30 Jeff Cordisco (C3-Sollay.com)                                          4.38
31 Fred Wittwer (Van Dessel Factory Team)                                 4.54
32 Douglass Gray (Christiana Care PT+/FSVS)                               4.56
33 Roger Masse (All American Bicycle Club)                                5.13
34 Charles Chichester (CRC)                                               5.37
35 J.D. Bilodeau (supaFan.com)                                                
36 Kevin Fryberger (Human Zoom/Pabst Blue Ribbon)                         5.45
37 John Lux (Hunt Valley Bicycles/Marathon Roofing)                       5.50
38 Michael Birner (All American Bicycle Center)                           6.07
39 Kevin Breckenmaker (Yellow Breeches Racing)                            6.10
40 David Lowe (Human Zoom/Pabst Blue Ribbon)                              6.12
41 John Miller (Guys Racing Club)                                         6.17
42 Todd Kruger (Hermes)                                                   6.18
43 Charles Erndl (Human zoom cycling)                                     6.23
44 Larry Kaufman (Van Dessel Factory Team)                                6.57
45 Jeffrey Appeltans (Primus Mootry/Denver Boulder Couriers)              7.18
46 Josh West (Bikeman.com)                                                7.32
47 Mark Dontigny (Central Penn Racing/The Bicycle Shop)                   8.14
48 Albert Greene (Yellow Breeches Racing)                                 8.21

One lap down
49 Barry Holman (Team Fuji)                                                   
DNF Richard Sachs (RGM WATCHES - RICHARD SACHS)                               
DNF Kelly Cline (Wissahickon)                                                 
DNF Mark Laser (Yellow Breeches Racing)                                       
DNF Mark Kutney (Van Dessel Cycles)                                           
DNF Robert Campos (HVC/Jessies)                                               
DNF Jay Downs (Fort Factory Team)                                             
DNF Jim Bronson (LSV/Kelly Benefit Strategies)                                
DNF Bradley Patches (gretna bikes)                                            
DNF Steve Crail (KL/Shirts)                                                   
DNS Greg Ferguson (Fort Factory Team)                                         
DNS Fafar Bayat (Highland Park Hermes)                                        
DNS Doan Pendleton (Watchung Wheelmen)                                        
 
B Masters / 55+

1 Fred Wittwer (Van Dessel Factory Team)                                 40.11
2 John Cleary (Henry's Bikes)                                             0.25
3 Trevor Williams (Guy's Bicycle Racing)                                  0.34
4 Richard Bilson (Fort Factory Team)                                      0.35
5 Steven Dontigny (Team Bike Lane)                                        0.45
6 Henry Tremper (Christiana Care PT +)                                        
7 Joseph Gadomski (Guys Racing)                                           0.56
8 Michael Hosang (TRIPOWER)                                               1.06
9 Mike Czupryna (Christiana Care PT+/FSVS)                                1.13
10 Raymond Zeimet (Cycle Sports/Zaveta Construction)                          
11 Kevin Horvath (TRIPOWER)                                                   
12 Bernard Mcdonald (C3/Sollay.com)                                       1.21
13 Michael Kirk (The Secret Henry's Team)                                 1.32
14 Douglas Dicks (bennetts bikes)                                         1.40
15 Robert Campbell (NCVC/Inova Health System)                             1.59
16 Karl Connolly (Kelly Benefit Strategies/LSV Amateur Cycling)           2.02
17 James Perren (Breakaway Racing/QCW)                                    2.21
18 Leo Pizzini (Henry's Bikes)                                            2.28
19 Tim Bowman (Trophy Bikes)                                              2.34
20 Jeff Anderson (HPC/List)                                                   
21 Dennis Smith (Secret Henry's Team)                                     2.39
22 Sean Westby (Bean's Bikes)                                             2.41
23 Chip Sovek (Potomac Velo Club)                                             
24 Johnny May (C3-Solay.com)                                                  
25 Chris Schaefer (Yellow Breeches Racing)                                2.50
26 Scott Thompson (Squadra Coppi/IM Saab)                                 3.30
27 David Stauffer (Team Cycle Works)                                          
28 Jeffrey R. Guy (FORT Factory Team)                                     3.52
29 Thor Engblom (NCVC/Inova Health System)                                4.03
30 Rolf Windh (Guy's Racing Team)                                         4.09
31 David Troop (First State Velo Sport)                                   4.40
32 Brian Burgess (Team Beacon)                                            5.19
33 Mike Connair (First State Velo/Christiana Care Plus)                       
34 Marc Fraze (LSV Valley)                                                5.34
35 David Berson (Human Zoom/Pabst Blue Ribbon)                            5.39
36 Joe Mulligan (Montclair Bikery)                                        5.47
37 Kevin Kuzus (Guy's Racing Team)                                        5.53
38 Chris Thaler (Evolution Racing)                                        5.56
39 Christopher Stine (Cedar Bike)                                             
40 Nunzio Dibiasi (Yellow Breeches Racing)                                6.15
41 Ken Woodrow (Squadra Coppi/IM Saab)                                    6.28
42 Michael Taylor (Yellow Breeches Racing)                                6.40
43 Jay Pruderte (Guy's Racing Team)                                       6.50
44 Dave Manhardt (Secret Henry's team)                                    7.13
45 Todd Peterson (Team Bulldog/Campmor)                                       
46 Jeffrey Sutherland (Cape Atlantic Racing/Team Beacon)                  7.17
47 Bob Perna (beans bikes)                                                    
48 Gary Dugovich (Beaver Valley Velo)                                     7.21
49 John Mcburney (Geisinger Medical Group)                                7.23
50 James Carlson (Potomac Velo Club)                                      7.53
51 Bob Jaggand (Pro Pedals)                                               8.08
52 Rob Lea (T.E.A.M Fuji)                                                 8.25
53 Rob Spillman (Deno's Wonder Wheel)                                     4.53
54 R. Michael Williams (Wilmington Velocity)                              9.13
55 Gustavo Sanchez (Evolution Racing)                                    10.25
56 Michael Mcgraw (Guys)                                                 10.59
57 Bob Mahoney (Guys Racing)                                             11.03

One lap down
58 Phillip Esempio (Kelly Benefit Strategies/LSV Amateur Racing)              
59 Scott Demarzio (Velocity Sport/ CC Evesham)                                
60 Alan Romefelt (LSV Valley)                                                 

Two laps down
61 Stephen Gualana                                                            
62 Hunt Bartine (TrailDawgs)                                                  
DNF David Crouse (The Bike Lane)                                              
DNF Barry Holman (Team Fuji)                                                  
DNF Tom Grim (ERA Cycling)                                                    
DNF Mike Connair (First State Velo/Christiana Care Plus)                      
DNS Sapp Neal (BMC/RacePace Columbia)                                         
DNS Thaddeus Newnam                                                           
 
B Men

1 Eric Linder (Hunt Valley Bikes / Marathon Roofing)                     45.20
2 Ethan Townsend (C3-Sollay.com !)                                        0.39
3 Patrick Bradley (Cape Atlantic Racing/Team Beacon)                          
4 Pete Smith (Cambridge Bicycle / Igleheart Frames)                       0.46
5 Jeff Bahnson (C2S/Henry's Bikes)                                        0.49
6 Evan Ellicott (team n-tieractive/Bike Doctor-Waldorf)                   1.00
7 Matthew Budd                                                            1.08
8 Jeremy Dunn (Cambridge Bicycle presented by Igleheart Frames)           1.09
9 Mike Stubna (Meredith Group-GPOA-Cannondale)                            1.38
10 Michael Mihalik (Beaver Valley Velo)                                   1.53
11 Nick Fischer (Freddie Fu)                                              2.06
12 Marc Bavineau (Essex County Velo)                                      2.07
13 John Brewer (Squadra Coppi/IM SAAB)                                    2.08
14 Jim Mudd (Hunt Valley Bicycles/Marathon Roofing)                       2.16
15 Marc Vettori (C3-Sollay.com!)                                          2.18
16 Daniel Brill (Cape Atlantic Racing/Team Beacon)                        2.30
17 Frank Zgoda (Skylands Cycling)                                             
18 Charles Florek (Rutgers University Cycling Team)                       2.38
19 Craig Lebair (philadelphia ciclismo)                                   2.56
20 Steve Fife (ETS / Silver Cycles)                                       2.58
21 Joel Moats (Yellow Breeches Racing)                                    3.08
22 Conrad Tufte (Funky Talk)                                              3.12
23 Andrew Crooks (NYC Velo)                                                   
24 Dave Mccutcheon (verge test pilot)                                     3.14
25 Joshua Delmanzo (Sandhills Cycling Club)                               3.19
25 Christopher Pagoda                                                         
27 Chris Nystrom (C3-Sollay.com)                                          3.36
28 Nathan Goates (Faulkner Honda Racing)                                  4.02
29 Matt Harris (Philadelphia Ciclismo)                                    4.11
30 Mark Vareschi (Rutgers University Cycling Team)                            
31 Chad Culbertson (CRCofA / BM&G-Pete's Bikes)                           4.14
32 Jonathan Kahler (Human Zoom/ Pabst Blue Ribbon)                        4.18
33 Charlie Rey (Carl Hart)                                                4.33
34 Johann Liljengren (Faulkner Honda Racing)                              4.45
35 Michael Jenks (Highland Park Hermes)                                   5.12
36 Chris Harshman (ABRT/Latitude)                                         5.17
37 Eric Morgan (Wissahickon)                                              5.22
38 Joseph Hu (Quaker City Wheelmen/Breakaway Racing)                      5.25
39 Tom Mains (Van Dessel Factory Team)                                    5.39
40 Don Yungher (Rutgers University Cycling Team)                          5.43
41 Phillip Smith (Pit Bike Maryland)                                      5.46
42 Ian Mathias (Hunt Valley Bicycles / Marathon Roofing)                  5.50
43 John Hostetter Iii (C3-Sollay.com)                                     6.07
44 Wade Hess (Cape Atlantic Racing/Team Beacon)                           6.14
45 Shawn Stafford (Bike Line)                                             6.18
46 Mark Kilgore (Hunt Valley Bicycles/ Marathon Roofing)                  6.22
47 Zac Felpel (Red Rose Rockets)                                          6.24
48 Bruce Freehoff (Cape Atlantic Racing/Team Beacon)                      6.42
49 Charles Southgate (Funky Talk)                                         6.52
50 Erik Leaver (NCVC/Inova Health System)                                 7.03
51 Peter Kennedy (C3 Sollay.com)                                          7.32
52 Joseph Ashman                                                              
53 Werner Freymann (Easy Riders Cycling)                                  7.42
54 Alex Monte-Sano                                                        7.59
55 Robert Thomas (Secret Henry's team)                                        
56 Ken Deitch (Human Zoom\Pabst Blue Ribbon)                              8.28
57 Geoffrey House (Housatonic Wheel Club)                                 8.31
58 Ben Anemone (Henrys Bikes)                                             8.51
59 Shawn Johnson (Central Penn Racing - The Bicycle Shop Inc.)            9.00
60 Judd Walencikowski (team n-tieractive/Bike Doctor-Waldorf)             9.06
61 Matt Hennessy (BBC)                                                    9.49

One lap down
62 Charles La Punzina (Kissena Cycling Club)                                  
63 Eloy Anzola                                                                
64 Charles Gardiner (Human Zoom/Pabst Blue Ribbon)                            
DNF Dan Conrad                                                                
DNF Erik Mitchell (Quaker City Wheelmen/Team Breakaway)                       
DNF Robert May (Holitna River Lodge)                                          
DNF Saverio Fiorino (DC Racing/Danny's Cycles)                                
DNF Ethan Atkins (CRCA/nyvelocity)                                            
DNF Morgan Gerlak (C3-Sollay.com)                                             
DNF Kevin Kralik (Guy's Racing)                                               
DNF David Stokes (Kissena)                                                    
DNF John Raley (Artemis)                                                      
DNF Mark Lorie (Kelly Benefits Strategies/LSV Amateur Cycling)                
DNF Craig Goodstein (CRCA/Sanchez-Metro)                                      
DNF Michael Berk (DC Racing)                                                  
DNF Justin Turner (Meredith Group-GPOA-Cannondale)                            
DNS Peter Nicoll (Squadra Coppi/ IM Saab)                                     
DNS Ian Landau (Kissena)                                                      
DNS Michael Jernigan (ProGraphics Cycling)                                    
DNS Nathan Wilson (NCVC/Inova Health System)                                  
DNS Adam Duncan (CRCA/Avenue A-Razorfish)                                     
DNS Trevor Shattuck (Hunt Valley Bicycles/Marathon Roofing)                   
 
C-Men & Under 19 Men

1 Matthew Spinks (Skyland Cycling)                                       34.58
2 Geoffrey House (Housatonic Wheel Club)                                  1.47
3 John Hunter (Independence)                                              2.23
4 Paul Wahner (Well Adjusted Racing/Wahner Chiropractic)                  2.49
5 Joseph Zorn Iii (Christiana Care PT+ / FSVS)                            2.55
6 Brian Swehla                                                                
7 Steve Schwarz (Kuhl Cycling Team)                                       3.16
8 Jason Eicholtz (Bike & Blade)                                           3.20
9 Adam Duncan (CRCA/Avenue A-Razorfish)                                   3.41
10 Jason Bergwall (Bents)                                                 3.52
11 Kevin Dillard (C3-Sollay.com)                                          4.02
12 Ed Kallatch (Bayside Velo/ Bike Doctor)                                4.06
13 Matthew Neugebauer (Christiana Care PT+/FSVS)                              
14 Corey Twyman (Hub Racing)                                              4.17
15 Andrew Eckstein                                                        4.29
16 Carey Jackson Yonce                                                        
17 Andrew Webster (Loweriders)                                                
18 Joseph Bruce                                                           4.33
19 Thom Moore (Potomac Velo)                                              4.49
20 Erik Peterson (Cambridge/Igleheart)                                        
21 Tyler Brown (Christiana Care PT+/FSVS)                                 4.53
22 Nick Capriotti (Loweriders)                                                
23 Richard Kassan (Rutgers University Cycling Team)                           
24 Benjamin Garrett (Independence)                                            
25 Aaron House (Housatonic Wheel Club)                                        
26 Saverio Fiorino (DC Racing/Danny's Cycles)                             5.07
27 Lyal Tressler                                                          5.13
28 John Linvill (Main Line Cycling - BiKyle)                              5.33
29 Evan Robinson (TRM Cycles)                                             5.36
30 Keith Plunkett (South mountain cycles)                                 6.00
31 Peter Nelson                                                           6.14
32 Dave Vannier (DCMTB/City Bikes)                                            
33 Christophe Jammet (CRCA/ NY Velocity)                                  6.37
34 Chris Macon (Kelly Benefits Strategies)                                6.50
35 Vaughn Wallace (Trek of Pittsburgh)                                    7.12
36 Gary Sterner                                                           7.16
37 Trevor Miller (Family Bike Shop)                                       7.25
38 James Doherty                                                              
39 Syd Lea (Team FUJI)                                                    7.32
40 Mark Fitzwater (Secret Henry's Team)                                   7.53
41 David Kim (Rutgers University Cycling Team)                                
42 Seth Witman (Team Cycle Works pres. by Harp & Fiddle)                      
43 Andy Guy                                                               8.00
44 Will Saunders (HPC List)                                               8.30
45 Russell Lebo (Breakaway Racing)                                            
46 Barry Jones (No cents)                                                 8.52
47 Dag Anderson (Team Somerset)                                           9.05
48 Jason Yeager (Team Cycle Works)                                        9.19
49 Zach Bender (GS Park Ridge / Team Cyclesport)                          9.21
50 Bill Perry (Bike & Blade)                                             10.27
51 Dave Parramore (Cadence Cycling)                                      10.51
52 Greg Hoffman (Bike Doctor)                                            12.09

One lap down
53 Michael Berk (DC Racing)                                                   
54 Leon Chou (Prince William Elite Racing)                                    
55 Phillip Esempio (Kelly Benefit Strategies/LSV Amateur Racing)              
56 Andrew Haggerty (Velocity Sports/ C.C.E.)                                  
57 Patrick Littlefield (CRCA/Avenue A-Razorfish)                              
58 Justin Mauch (NCVC/Inova Health System)                                    
59 Robert Sands (Evolution Racing)                                            
60 Joseph Ventosa (PROTEUS)                                                   
61 Jospeh Manning (Guy's Racing Club)                                         
62 Larry Difstefano (Biketopia)                                               
63 Offie Clark (Chesapeake Wheel)                                             
64 David Jones (NCVC/Inova Health System)                                     
65 Anthony Skorochod (Gotham Cyclists/Hensley Racing)                         
DNF Norman Brach (C3-Sollay.com)                                              
DNF Matthew Hennessy (Team BBC)                                               
DNF Frank Brigandi (Biketopia)                                                
DNF Joseph Orsini                                                             
DNF Sam Okeefe (C3-Solay.com)                                                 
DNF Steven Burke (Hunt Valley Bicycles/Marathon Roofing)                      
DNF Craig Goodstein (CRCA/Sanchez-Metro)                                      
DNF Harry Langdon (Guys Racing)                                               
DNF James Mcneely (Squadra Coppi / IM Saab)                                   
DNF Matthew Peterson (HP Hermes)                                              
DNF Luke Sandusky                                                             
DNS Louis D'amelio (Van Dessel Factory Team)                                  
DNS Stephen Gualano                                                           
DNS Noah Letwin (Team BBC)                                                    
DNS Joe Lillibridge (Kelly Benefit Strategies/LSV Amateur Racing)             
DNS Eric Martin (QuadCycles)                                                  
DNS Frank J. Schlipf Iii (Guy's Racing Club)                                  
 
B Women, 45+ & U19

1 Nikki Thiemann (Human Zoom Pabst Blue Ribbon)                          40.39
2 Terri Spanogle (NCVC/Inova Health System)                               0.30
3 Elizabeth Harlow (Hunt Valley Bicycles/Marathon Roofing)                0.50
4 Diane Grim (C3-Sollay.com)                                              0.56
5 Cecelia Pleva (CRCA/Radical Media)                                      1.09
6 Jill Waggett (Guy's Racing)                                             1.16
7 Christine Fennessy (South Mountain Cycles)                              2.08
8 Christina Briseno (Route 1 Velo/Capitol Hill Bikes)                         
9 Dina Disantis (Alans)                                                   2.44
10 Kim Dubeck (Beans Bikes)                                               3.40
11 Kristy Swope (CSE / CSS / Riptide Cycling)                             4.08
12 Catherine Large (Yellow Breeches Racing)                               4.27
13 Kristin May (Holitna River Lodge)                                          
14 Kristin Gavin                                                          4.59

One lap down
15 Tracy Lea (T.E.A.M. Fuji)                                                  
16 BIANCA Grecv (Human Zoom Pabst Blue Ribbon)                                
17 Karen Tourian (Guy's Racing)                                               
18 Liz Seward (CRCA/Third Nature)                                             
19 Diane Vettori (C3-Sollay.com !)                                            
20 Kathrin Schumacher (CRCofA / BM&G - Pete's)                                
21 Jean Colsant (Squadra Coppi)                                               
22 Lindsey Hillesheim (Squadra Coppi/IM Saab)                                 
23 Sarah Hanswa                                                               
24 Rebecca Letwin (Team BBC)                                                  
25 Anne Rock (Sturdy Girl Cycling)                                            
26 Kathleen Wulfkuhle (C3-Sollay.com)                                         
27 D Peterson (NCVC/Inova Health System)                                      
28 Kerry Combs (Hup United/Zanconato Custom Cycles)                           
29 Denise Clearwater                                                          
30 Chauncey Monte-Sano                                                        
DNS Janel Demeter (Guys Racing)