Chicago 'Cross Cup #3 - NE
ABD Sunrise Park, Bartlett, Illinois, USA, October 28, 2007
Haskell & Lenzi power through the Chicago Cyclo-cross Cup #3
By Imelda March with assistance from Jim Nowak
Off they go...
Photo ©: Scott and Melissa Van Maldegiam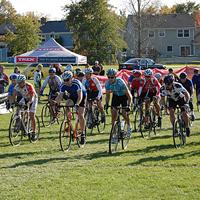 Cross like weather arrived in Chicagoland with an early morning frost and temperatures rising to 50 degrees Fahrenheit late in the day. Over 170 'cross racers competed in the sun-filled day at Sunrise Park in Bartlett, Illinois.
The new course unveiled by ABD (Athletes by Design) featured open grass fields, run-ups, multiple sections of pavement and two wooded sections. The run up was challenging because it forced the racers to ride through a narrow section then immediately turn right to power up a small hill. With enough momentum from the small climb a racer could zip down the hill, turn left to the start/finish then back again through the technical course.
Devon Haskell (Team Get A Grip Cycles) is the woman to beat and her category 1/2/3 competitors are asking themselves whether she can be beat. June Upshaw (Verdigris Custom Homes) attempted to mix things up with vigor, but in the end, Devon put on the "after burners" and arrived in the front again followed by Upshaw in second and Holly Klug (Killjoy) in third.
Spectators witnessed excitement building in the men's Pro/1/2 race. Luca Lenzi (Vision Quest) raced to victory in a sprint over Alistair Sponsel (Colavita Racing) with Brian Conant (Pony Shop) arriving third.
In the women's category four race, Lindsay Jones increased her overall series lead with a second win in a row followed by Heidi Sarna (Mission Bay) in second and Nicole Borem (HammerHead) in third.
A group of racers
Photo ©: Scott and Melissa Van Maldegiam

Michael Truison (Pony Shop) took a win over the juniors. John Tomlinson (XXX Racing AthletiCo) rode from the front for the majority of the race; however, Truison made his move immediately after the last run up and finished ahead.
Brian Dougherty (Verdigris Custom Homes) attacked several times in the men's category three race. Neither Jason Knauff (Team Clif Bar) nor John Firak (Active Endeavors) could respond to the attacks, and Dougherty was victorious.
Masters 30+ series leader, Brian Conant (Pony Shop) pulled away early in his race to take a commanding victory and collect his third consecutive win. He was followed by Kevin Klug (Killjoy) in second and Brian Rheude (MetLife/Pony Shop) in third.
Things heated up in this Masters 40+ category because Verdigris Custom Homes brought out some guns ready to take the field on. The team scored four of the top six places with its Tim Boundy solidifying his lead. Team-mate Christando Lombardo placed second and Chris Henning (Northbrook) placed third.
Racing will continue Saturday, November 3 with round four of the Chicago Cyclo-cross Cup in Campton Park. The race will be held in the Village of St. Charles. The series will end with race #6 on Sunday, December 9 with the Illinois State Cyclo-cross Championship.
Photography
For a thumbnail gallery of these images, click here
Images by Scott and Melissa Van Maldegiam
Results
Women Category 1/2/3

1 Devon Haskell (Team Get A Grip Cycles)          
2 June Upshaw (Verdigris Custom Homes)            
3 Holly Klug (Killjoy)                            
4 Laura Stark (SemiCustom Paint)                  
5 Christine Raymo (SRAM)                          
6 Debbie Pielet (Albertos)                        
7 Jessica Prinner (ABD)                           
 
Women Category 4

1 Lindsay Jones                                   
2 Heidi Sarna (Mission Bay)                       
3 Nicole Borem (HammerHead)                       
4 Leah Sanda                                      
5 Imelda March (Team Kenda Tire)                  
6 Gina Kenny (ABD)                                
7 Liz Hayes (Vision Quest)                        
8 Mary Roe (Apache)                               
9 Sue Semaszczuk (ABD)                            
10 Lori Ginger Jansen     

Men Cat 1/2

1 Luca Lenzi (VisionQuest)                        
2 Alistair Sponsel (Colavita Racing)              
3 Brian Conant (Pony Shop)                        
4 Matthew Stewart (Bicycle Heaven)                
5 Frank Rowley (City Cyclery)                     
6 Kevin Klug (Killjoy)                            
7 Joseph Farris (WDT)                             
8 John Kapkus (Bicycle Heaven)                    
9 Ara Oggoian (Bicycle Heaven)                    
 
Men Cat 3

1 Brian Dougherty (Verdigris Custom Homes)        
2 Jason Knauft (Cliff Bar)                        
3 John Firak (Active Endeavors)                   
4 Bryan Rheude (MetLife/Pony Shop)                
5 Jason Schisler (VisionQuest)                    
6 Teordoro Ramos (Snickers Marathon)              
7 J. Brooks Porter (Higher Gear)                  
8 Adam Clark (XXX Racing AthletiCo)               
9 Brian Parker (XXX Racing AthletiCo)             
10 Bryan Bos (SRAM)                               
11 Mike Kelsall (D'Arcy Cycling)                  
12 Michael Hoffart (Alberto's)                    
13 Devon Haskell (Team Get A Grip Cycles)         
14 Brian Boyle (XXX Racing AthletiCo)             
15 Matthew Smith (Big Shark)                      
16 Rich Delgado (Redline)                         
17 Robert Antinelli (XXX Racing AthletiCo)        
DNF Mark Zalewski (Morris Trucking)               
 
Men Cat 4-A

1 Brad Zoeller                                    
2 Aspen Gorry                                     
3 Christian Soto (Turin)                          
4 Nicholas Dornik (Turin)                         
5 Tim Yuska                                       
6 Jacques Cartier (XXX Racing AthletiCo)          
7 Joel Wandrey                                    
8 Luke Seeman                                     
9 Ryan Gingerich                                  
10 All Urbanski                                   
11 Dave Norton (Johnny Sprockets)                 
12 Michael Hemme (Killjoy)                        
13 Alex Voitik (Turin)                            
14 Maxwell Riordan (XXX Racing AthletiCo)         
15 Ted Burger (Flatlandia)                        
16 Andrew Nordyke (XXX Racing AthletiCo)          
17 Michael Kirby (XXX Racing AthletiCo)           
18 Michael Truison (Pony Shop)                    
19 Liam Bradshaw (UCVC)                           
20 William King                                   
21 Erik Arntzen (Alberto's)                       
22 Tobir DePaw (NorthCentral)                     
23 Cliff Goiz (Met Cycling)                       
24 Michael Wakeley (Verge Sports)                 
25 Jason Alvarado (XXX Racing AthletiCo)          
26 Aaron Post (Mission Bay)                       
27 Frank Shapiro (Alberto's)                      
28 Dan Penner (CU Racing)                         
29 Ernesto Ciccolini                              
30 Scott Starbuck (Pony Shop)                     
31 Brian Kavanagh (2CC)                           
32 Tioy Ciady (Mission Bay)                       
33 Elvis Falbo (Beverly Bike-Vee Pak)             
34 Christian Sheridan (SCW)                       
35 David Schertz (NorthBranch)                    
36 Ben Fietz (XXX Racing AthletiCo)               
37 Michael Kelly (SCW)                            
38 Mike Conroy (Mission Bay)                      
39 Brian Van (Mack)                               
40 Paolo Urizar (Johnny Sprockets)                
41 Anthony Rienks (Beverly Bike-Vee Pak)          
42 Patrick Montag (Turin)                         
43 Joel Andal                                     
44 Ryan Cooper (Flatlandia)                       
 
Men Cat 4-B

1 Geoff Scott                                     
2 Scott Michalik (VisionQuest)                    
3 Keven Herman (Bosch Norway)                     
4 Adrian Silva                                    
5 James Buckroyd                                  
6 William Jackson                                 
7 Brendan Gately                                  
8 Kevin Pietka                                    
9 Naz Hamid (XXX Racing AthletiCo)                
10 John Hoffman                                   
11 Damon Nelson (Beverly Bike-Vee Pak )           
12 George Steinhardt                              
13 Jason Blake                                    
14 Thomas Kenny (Team Extreme)                    
15 James Chiappetta                               
16 Mark Hoffman (ABD)                             
17 Paul Zelewsky (ABD)                            
18 Roger Masson                                   
19 Guy Graves (Mission Bay)                       
20 Todd Puch (UCVC)                               
21 Gavin Coyle                                    
22 Shane Dykhuis (ABD)                            
23 Jonathan Cain                                  
24 Justin Andrews                                 
25 Ron Seark (PCS International)                  
26 Ken Dorado                                     
27 David Pilotto                                                          
 
Juniors 

1 Michael Truison (Pony Shop)                     
2 John Tomlinson (XXX Racing AthletiCo)           
3 Adam Kosela (Bikeline)                          
4 David Lombardo (Verdigris Custom Homes)         
 
Masters 30+

1 Brian Conant (Pony Shop)                        
2 Kevin Klug (Killjoy)                            
3 Bryan Rheude (MetLife/Pony Shop)                
4 Mike Heagney (PYOC/RRB)                         
5 Louis Kuhn (Pony Shop)                          
6 Jason Wagner (Flatlandia)                       
7 Mark Feary (Pony Shop)                          
8 Matt Silvia                                     
9 Robert Schrank (Team Type 1)                    
10 Brian Boyle (XXX Racing AthletiCo)             
11 Marc Dietrich (Vision Quest)                   
12 Jeffery Whiteman (Northbrook Garner)           
13 Eugene Lenzi (Pony Shop)                       
14 Greg Poulsen (Northbranch)                     
15 Gregory Gohman (Redline)                       
16 James Buckroyd                                 
17 Walid Abu Ghazaleh                             
18 Ken Krebs (ABD)                                
19 Peter Allen (XXX Racing AthletiCo)             
20 Dan Rudrud (Pony Shop)                         
21 William Jackson                                
DNF Jason Meshburg (Flatlandia)                   
DNF Rory Shackles (Turin)                         
DNF Greg Youngen (Verge Gear)                     
 
Masters 40+

1 Tim Boundy (Verdigris Custom Homes)             
2 Christando Lombardo (Verdigris Custom Homes)    
3 Chris Henning (Northbrook)                      
4 Steel Bokhof (Turin)                            
5 Henry Saha (Verdigris Custom Homes)             
6 Wayne Simon (Verdigris Custom Homes)            
7 Scott Arrigoni (Skypaint)                       
8 Jay Corgiat (ABD)                               
9 Eugene Lenzi (Pony Shop)                        
10 William Waters (SCW)                           
11 Greg Youngen (Verge Gear)                      
12 Jim Nowak (ABD)                                
13 Robert Antinelli (XXX Racing AthletiCo)        
14 Franco Panveno (Albertos)                      
15 Dan Rudrud (Pony Shop)                         
16 Chris McKenny                                  
17 Roman Mandzij (2CC)                            
18 E. Michael Ozment (Mack)                       
19 John Duncker                                   
20 John Bucksbaum (VisionQuest)                   
21 Fred McDonald (Flatlandia)                     
22 Joel Roth (UCVC)                               
23 Michael Ruzich (Velo Club)                     
24 Tim Belton (UCVC)                              
25 Jeff Provisor (Northbranch)                    
26 Jim Brady (C4)                                 
27 Julien Coupland (Velo Club)                    
28 Imelda March (Team Kenda Tire)                 
29 Robert Sliwinski (Northbranch)                 
30 Richard Kryszak (SCW)