Chicago 'Cross Cup #2 - NE
Carpenter Park, Illinois, USA, October 21, 2007
Haskell, McLaughlin victorious in Chicago
By Imelda March
Mens 30+ race:
Photo ©: Justin Pierson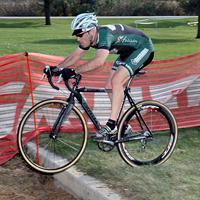 Summer hit Chicagoland once again for the Carpenter Park, Chicago, Cyclo-cross Cup Race #2; this marked a contrast from last year's rainy, damp and cold day. Temperature hovered around 80 degrees Fahrenheit which did not stop 200 cross racers (164 in 2006) from braving the heat to get in some 'cross racing. In addition, to the great racing the day was filled with music, food and local vendors.
In the women 1/2/3, collegiate sensation Devon Haskell (Get-A-Grip/University of Chicago) continued her local domination by holding off the field of seven chasing women. June Upshaw (Verdigris Custom Homes) came in second followed by Debbie Dust (Team Kenda Tire) in third. Haskell (Get-A-Grip/University of Chicago) probably has her eyes set on the state championship jersey in the upcoming Illinois State Cyclo-cross Championship on December 9.
The women's cat 4 race was wide open after Debbie Pielet (Albertos) upgraded and is now racing in the higher category. With this in mind, the win was there for the taking. Ten women lined up at the starting line and once the whistle blew the charging field hit the first left turn. Three women were together through lap one; however, with some women having better technical skills than others this allowed a separation and a gap was formed. The gap proved difficult to close down and in the end, Lindsay Jones took the win with Heidi Sarna and Imelda March (Team Kenda Tire) chasing.
John Tomlinson (XXX Racing/AthletiCo) dominated in the junior once again and rode away with the win.
The men's pro/1/2 race saw Scott McLaughlin (SRAM Factory Team) take the victory followed by Luca Lenzi (Vision Quest) and David Sachs (Vision Quest).
Photography
For a thumbnail gallery of these images, click here
Images by Justin Pierson
Mens 30+ race: A Verdigris Custom Homes Rider readies for the sand-pit
Results
Elite Women (Category 1/2/3)

1 Devon Haskell (Team Get-A-Grip Cycles)          
2 June Upshaw (Verdigris Custom Homes)            
3 Debbie Dust (Team Kenda Tire)                   
4 Holly Klug (Kill Joy)                           
5 Debbie Pielet (Albertos)                        
6 Jessica Primer (ABD)                            
DNF Laura Stark (Sem Custom Paint)   

Elite Men (Category 1/2)

1 Scott McLaughlin (SRAM Factory Team)            
2 Luca Lenzi (Vision Quest)                       
3 David Sachs (Vision Quest)                      
4 Joe Farris (WDT International Cycling Team)     
5 Alistar Sponsel (Coavita Racing)                
6 Matthew Stewart (Bicyle Heaven)                 
7 John Dapkus (Bicycle Heaven)                    
8 Kurt Tromp (Turin)                              
DNF Brian Conant (Pony Shop)                      
DNF Mike Heagney (PYOC/RRB)                
 
Women Category 4

1 Lindsey Jones                                   
2 Heidi Sarna                                     
3 Imelda March (Team Kenda Tire)                  
4 Gina Kenny (ABD Cycling Team)                   
5 Sue Semuszczuk (ABD Cycling Team)               
6 Mary Roe (Team Apache)                          
7 Amy Dykema (Team Mack)                          
8 Liz Hayes                                       
9 Leah Sanda                                      
10 Carolyn Golz                                   
 
Juniors 

1 John Tomlinson (XXX Racing AthletiCo)           
2 Kody Soper                                      
3 Adam Kosela (BikeLine of Naperville)            
4 Aaron Harrison (XXX Racing AthletiCo)           
5 Ian Simpson (XXX Racing AthletiCo)              
6 Andrew Harrison (XXX Racing AthletiCo)          
7 George Havlir (Flatlandia)                      
8 Zachary Morrison                                
9 Cory Groh                                       
 
Masters 30+

1 Brian Conant (Pony Shop)                        
2 Kuhn Lou (Pony Shop)                            
3 Kevin Klug (Kill Joy)                           
4 Bryan Rhende (Pony Shop)                        
5 Jason Wagner (Flatlandia)                       
6 Mike Heagney (PYOC/RRB)                         
7 Marc Dietrich (Vision Quest)                    
8 Mark Feary (Pony Shop)                          
9 Jason Meshberg (Flatlandia)                     
10 Christian Soto (Turin)                         
11 Mike Jones (Pony Shop)                         
12 Brad Dach (ABD)                                
13 Robert Schrank (Typer 1)                       
14 Ken Dawson                                     
15 Greg Heck (XXX Racing AthletiCo)               
16 Jeffrey Whiteman (Northbrook/Garner)           
17 Mike Kelsall (Darcy)                           
18 Keith McMahon (Bandit)                         
19 Marc Moeller (North Branch Cycling)            
20 Walid Abu Ghazalet                             
21 Michael Kirby (XXX Racing AthletiCo)           
22 Greg Poulson (North Branch Cycling)            
23 William Jackson                                
24 Joe Sutton                                     
DNF Dan Mallek                                    
DNF Tim Bachara                                   
DNF Kevin Heppker (Kill Joy)                      
DNF Peter Allen (XXX Racing AthletiCo)            
DNF Mark Smith                                    
DNF Greg Younger (Verge Gear)                     
DNF Jim Kowak (ABD)                               
 
Masters 40+

1 Tim Bounoy (Verdigris Custom Homes)             
2 Pete Rolowicz (Met Life Cycling)                
3 Christando Lombardo (Verdigris Custom Homes)    
4 Chris Henning (Northbrook/Garner)               
5 Steel Bokhof (Turin)                            
6 Wayne Simon (Verdigris Custom Homes)            
7 Mike Jones (Pony Shop)                          
8 Scott Arrigoni (Skypoint Chiropractic)          
9 Henry Saha (Verdigris Custom Homes)             
10 Vince Boyer (Village Cyclosport)               
11 Jim Nowak (ABD)                                
12 Marc McNichal                                  
13 Chris Dimmick (Turin)                          
14 Greg Youngen (Verge Gear)                      
15 Tim Waters (South Chicago Wheelmen)            
16 France Panvero (Alberto's Sport)               
17 Scott Boyd (ABD)                               
18 Peter Di Teresa (U. of Chicago Veloclub)       
19 Robert Antinelli (XXX Racing AthletiCo)        
20 John Bucksbaum (Vision Quest)                  
21 Fred McDonald (Flatlandia)                     
22 Mike Ozment (Team Mack)                        
23 Romar Madndzij (2CC)                           
24 John Ducker                                    
25 Barry Taerbaum (Alberto's Sport)               
26 Joel Roth (U. of Chicago Veloclub)             
27 Mike Ruzich (Velo Club Roubaix)                
28 Al Weigel (Velo Club Roubaix)                  
29 Julian Coupland (Alberto's Sport)              
30 Jeff Provisor (North Branch Cycling)           
31 Duane Higgs (Village Cyclosport)               
32 Jim Rolette (South Chicago Wheelmen)           
33 Greg Andrews                                   
34 Rich Kryszak (South Chicago Wheelmen)          
35 Robert Sliwinski (North Branch Cycling)        
36 Tim Snyder                                     
DNF Josh Mallan (Pony Shop)                                           
 
Men 3

1 Brian Dougherty (Verdigris Custom Homes)        
2 Jason Schisler (Vision Quest)                   
3 Bryan Rherde (Pony Shop)                        
4 Ted Ramos (Sniders Marathon)                    
5 Jason Knauff (Clif Bar Midwest)                 
6 Bryan Parker (XXX Racing AthletiCo)             
7 Rich Delgado (Village Cyclosport)               
8 Michael Hoffart (Alberto's)                     
9 Joel Feinberg (Clif Bar Midwest)                
10 Matthew Smith (Big Shark)                      
11 Robert Thomas (Midwest Flyers)                 
12 Robert Antiwelli (XXX Racing AthletiCo)        
13 Devon Haskell (Team Get-A-Grip Cycles)         
14 Bryan Merrill (Team Get-A-Grip Cycles)         
DNF Greg Heck (XXX Racing AthletiCo)              
 
Men 4-A

1 Brad Zoller                                     
2 Joel Wandrey                                    
3 Aspen Gorry                                     
4 Kevin Cooper (Flatlandia)                       
5 Jacques Cartier (XXX Racing AthletiCo)          
6 Tim Yuska (Team Get-A-Grip Cycles)              
7 Andrew Nordyke (XXX Racing AthletiCo)           
8 Michael Kirby (XXX Racing AthletiCo)            
9 Christian Soto (Turin)                          
10 Gerald Torrance                                
11 Michael Stec                                   
12 Dave Norton (Johnny Sprockets)                 
13 John Tomlinson (XXX Racing AthletiCo)          
14 Ryan Gingerich                                 
15 Ted Burger (Flatlandia)                        
16 Al Vrbadski (XXX Racing AthletiCo)             
17 Michael Campbell (Cycle Therapy Racing)        
18 Michael Wakeley (Verge Sports)                 
19 Will King                                      
20 Michael Hemme (Killjoy)                        
21 Cliff Golz (Met Life)                          
22 Jason Mathis                                   
23 Maxwell Riordan (XXX Racing AthletiCo)         
24 Luke Seemann (XXX Racing AthletiCo)            
25 Troy Crady                                     
26 Scott Starbuck                                 
27 Eddie Bartley (ABD)                            
28 Christian Sheridan (South Chicago Wheelmen)    
29 Tony Roienks                                   
30 Brian Van (Team Mack)                          
31 Aaron Post (Mission Bay)                       
32 Gary Chadu (Apache)                            
33 Ernie Ciccolini                                
34 Erik Arntzen (Alberto's)                       
35 Frank Shapiro (Alberto's)                      
36 Michael Kelly (South Chicago Wheelmen)         
37 Chuck Rulich                                   
38 Ben Fietz (XXX Racing AthletiCo)               
39 Sean Palmer (Johnny Sprockets)                 
40 Robert Roop (North Branch Cycling)             
41 James Jacobs (Redline Ltd.)                    
DNF Kevin Gumz                                    
DNF David Schertz (North Branch Cycling)          
DNF Joel Andal                                    
DNF Nicholas Dornik (Turin)                       
 
Men 4-B

1 Liam Bradshaw                                   
2 Scott Micholik                                  
3 David Pilotto                                   
4 Adrian Silva                                    
5 James Buckroyd                                  
6 William Jackson                                 
7 Kevin Clank                                     
8 Elvis Falbo (Beverly Bike/Vee Pak)              
9 Wesley Walker                                   
10 Brendan Gatelco                                
11 Kevin Pietka                                   
12 John Sujak                                     
13 Damon Nelson                                   
14 Mark Hofmann                                   
15 Jason Blake                                    
16 Thomas Kenny (Team Extreme)                    
17 Michael Seguin                                 
18 Woracha Thapthimkunk (What U Said PKO Team)    
19 Brian Lee                                      
20 Shawn Peters                                   
21 Guy Graaves                                    
22 Erik Martin (Dog Fish)                         
23 Philip Lisius                                  
24 David Gucciardi                                
25 Christian Perdrock                             
26 Chris Ege (Pegasus)                            
27 Justin Andrews                                 
28 Erik Achramowicz                               
29 Gavin Coyle                                    
30 Dan Gucciardi                                  
31 Ron Searle                                     
32 Oliver Gross                                   
DNF Joseph Bagnasco                               
DNF Robbie Sliwinski                              
DNF Garrison Riegel